#48: SOS by ABBA
Peak Month: December 1975
16 weeks on Vancouver's CFUN chart
Peak Position #2
Peak Position on Billboard Hot 100 ~ #15
YouTube.com: "SOS"
Lyrics: "SOS"
ABBA is a pop band from Sweden. Agneta Fältskog was born in 1950 in the lakeside city of Jönköping in southern Sweden. Fältskog wrote her first song at the age of six, which she named "Två små troll" ("Two Small Trolls"). In 1958, she began taking piano lessons, and also sang in a local church choir. In early 1960, Fältskog formed a musical trio, the Cambers. At age 15 she left school to pursue a career in music. She considers Connie Francis, Lesley Gore, Aretha Franklin and Marianne Faithfull as her prime influences on her musical style. Fältskog worked on reception for a car firm while performing with the Bernt Enghardt band. In 1967 she wrote "Jag var så kär" ("I Was So in Love"), after a dating relationship ended. The single topped the Swedish pop charts in early 1968. That year she met Björn Ulvaeus, a member of the Hootenanny Singers. Ulvaeus was born in the western coast city of Gothenburg, Sweden, in 1945. In the early Sixties, Ulvaeus joined the Hootenanny Singers. They had a #5 hit in Sweden in 1964 with "Gabrielle", based on the Russian folksong "May Here Always Be Sunshine". The folk group had many Top Ten hits in Sweden into the early 70s, including a cover of "Green, Green Grass of Home" ("En sång en gång för längese'n").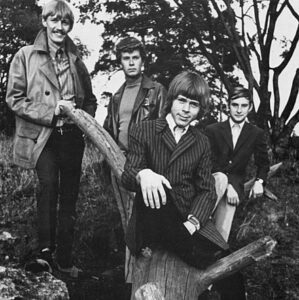 Björn Ulvaeus (2nd right) in Hootenanny Singers
In 1968 Björn Ulvaeus released an adaptation of Bobby Goldsboro's "Honey". In the Swedish lyrics for "Raring", Björn sings "the ugly cactus you bought at Christmas, it blooms sometimes. I see a cracked vase and smile. I remember it falling on your toe. I comforted you, we went to the cinema after that and just held each other. I see a hole in our fence and laugh to myself. I know you did it with our new car. You were in bad mood for seven days." He subsequently covered "Harper Valley P.T.A" and "Where Do You Go to My Lovely?"
In 1966, Björn met Hep Stars Benny Andersson, who was born in Stockholm in 1946. In 1957 Anderson got a piano and was prompted to explore new musical styles based on the piano found in the Elvis Presley song "Treat Me Nice". A few years later he learned to play "Baby Elephant Walk" by Lawrence Welk. In October 1964, Andersson joined the Hep Stars on keyboards. That winter the band charted in Sweden with a Top 5 cover "A Tribute To Buddy Holly". And in 1965 began to chart their first of eight singles to number-one in Sweden, "Farmer John" and "Cadillac". By the end of 1969, the Hep Stars charted ten singles into the Top Ten on the pop charts in Sweden. In 1969, after a bandmate left, Björn Ulvaeus was invited to join the Hep Stars for a tour and what turned out to be their final year before disbanding in August '69.
In 1969, Andersson wrote "Hej, Clown". The song was wound up in second place at the Eurovision Song Festival finals. While at the event, Andersson met Anni-Frid Lyngstad, who was born in 1946 in northwestern Norway. Her father was an sergeant in the Wehrmacht during the German occupation of Norway. He returned to Germany after the war, leaving Anni-Frid's mother and grandmother to raise her. But, her mother died at age 21 of kidney failure. (She would meet her half-brother, Peter Haas, in 1977, after a German teen magazine, Bravo, wrote a story about ABBA). Anni-Frid married Ragnar Fredriksson in 1964, and formed the Anni-Frid Four. She had launched her career as a jazz singer in Sweden in 1967. Anin-Frid got divorced in 1970, and became engaged to Benny Andersson in 1971 (whom she married in 1978).
In 1972 ABBA was formed with the four members divided into two romantic relationships: Fältskog and Ulvaeus, and Lyngstad and Andersson. The band's name, ABBA, was an acronym of the four first names of the bandmates: Agnetha, Björn, Benny and Anni-Frid. In 1972, the band released the single, "People Need Love". The single, from the album Ring Ring, was followed by the single release of the title track "Ring Ring". The single peaked at #1 in Sweden and Denmark, and Top Five in eight more nations, and #7 in Australia.
In 1974 the band released Waterloo. The title track, "Waterloo" won Sweden and ABBA their first Eurovision Song Contest award. The single went Top Ten in twenty countries, including #1 in Belgium, Denmark, Finland, Ireland, the Netherlands, Norway, South Africa, Switzerland, the UK and West Germany.
In 1975, their self-titled album ABBA, featured "I Do, I Do, I Do, I Do, I Do", a #1 hit in Australia, Belgium, New Zealand, South Africa, and Switzerland). This was followed by "SOS".
"SOS" is a song written by Benny Andersson, Björn Ulvaeus and the groups' manager Stig Anderson. The song drew on influences from Phil Spector's Wall of Sound instrumentation and Beach Boys melodies. The song begins with a woman wondering what happened to the romance she was involved in: "Where are those happy days, they seem so hard to find?
I tried to reach for you, but you have closed your mind." It's incredible with her distress, that when he is near her he can't seem to hear her SOS. She can't understand his change of heart in the face of what seemed to her to be such a good relationship between them.
An SOS is a Morse code distress signal. Wireless telegraphy (the forerunner to radio) was developed in the late 1890s. It was quickly recognized as an important aid to maritime communication. Previously, seagoing vessels had adopted a variety of standardized visual and audio distress signals, using such things as semaphore flags, signal flares, bells, and foghorns. However, initially cooperation in standardizing radio distress signals was limited by national differences and rivalries between competing radio companies.
In 1903, Captain Quintino Bonomo was the Italian representative at the Berlin Preliminary Conference on Wireless Telegraphy. He discussed the need for common operating procedures, including the suggestion that "ships in distress… should send the signal SSS DDD at intervals of a few minutes". However, procedural questions were beyond the scope of this conference. No standard signal was adopted at the time, although Article IV of conference's Final Protocol stated that "Wireless telegraph stations should, unless practically impossible, give priority to calls for help received from ships at sea"
In 1904 the Marconi International Marine Communication Company established "CQD" as its distress signal. the CQ was an abbreviation of the French word sécurité, and the D was added to signal "distress." However, among wireless telegraphy companies in general, a CQ call was simply a "general call." And if the communication was poor the "D" might get left off, and fail to signal a serious All Stations Alert.
In both the April 1, 1905 German law, and the 1906 international regulations, the distress signal is specified as a continuous Morse code sequence of three dots / three dashes / three dots. There is no mention of any alphabetic equivalents. However, in International Morse, three dots comprise the letter "S", and three dashes the letter "O", and it soon became common to informally refer to the distress signal as "S O S". On January 12, 1907 Electrical World stated that "Vessels in distress use the special signal, SOS, repeated at short intervals."
On April 15, 1912, the RMS Titanic radio operator Jack Phillips initially sent CQD calls as this was still common for British ocean liners. Harold Bride, the junior radio operator, suggested using SOS, saying half-jokingly that it might be his last chance to use the new code. Phillips thereafter began to alternate between CQD and SOS.  Although Bride survived, Phillips perished in the sinking of the Titanic.
On November 15, 1975, ABBA performed "SOS" on American Bandstand and later that day on Saturday Night Live.
"SOS" peaked at #1 in Columbus (OH), Salt Lake City, Sioux Falls (SD), Bismarck (ND), Springfield (IL), Minneapolis/St. Paul, Vancouver (WA), and Springfield (MO), #2 in Vancouver (BC), Louisville (KY), and Bakersfield (CA), #3 in Buffalo, and Peoria (IL), #4 in Milwaukee (WI), Chicago, Salem (OR), and La Crosse (WI), #5 in Easton (PA), Las Vegas, Portland (OR), New Haven (CT), Denver, and Tacoma (WA), #6 in Dayton (OH), Pittsburgh, Wheeling (WV), and Reading (PA), #7 in Cleveland, Allentown (PA), Seattle, and Troy (NY), #8 in Philadelphia, #9 in Kansas City (MO), and #10 in Lancaster (PA), Honolulu, and Flint (MI).
Internationally, "SOS" climbed to #1 in Australia, Belgium, New Zealand, South Africa, and West Germany, #2 in Austria, Italy, the Netherlands, Norway, and Rhodesia, #3 in Switzerland, #4 in Ireland, #6 in the UK, #7 in Denmark, and #10 in France. In 2001 the single reached #15 on the pop chart in Japan.
"SOS" by ABBA is the only single to chart on the Billboard Hot 100 in which both the title of the song and the name of the recording artist are palindromes. This would not be the case had "CQD" prevailed over "SOS" as the internationally recognized call from ships in distress.
In 1976, ABBA released a Greatest Hits album, which featured the single "Fernando". It was also included on the Australian and New Zealand album Arrival. "Fernando" charted into the Top Ten in over twenty nations, including number-one in Australia, Austria, Belgium, Ireland, the Netherlands, Portugal, South Africa, Switzerland, the UK and West Germany.
The international version of Arrival, outside "down under" however, didn't include "Fernando". But more hit singles appeared to populate the international pop charts in 1976-77. These include "Dancing Queen" (#1 in Australia, Belgium, Canada, Denmark, Ireland, the Netherlands, New Zealand, Norway, South Africa, Soviet Union, Sweden, the UK, USA and West Germany. It was inducted into the Grammy Hall of Fame in 2015. The followup from the album, "Money, Money, Money", peaked at #1 in Australia, Belgium, France, Mexico, the Netherlands, New Zealand and West Germany. A third smash single, "Knowing Me, Knowing You", shot to number-one in Belgium, Ireland, South Africa, the UK and West Germany. Though comparatively modest to the huge success of the other singles from the album, it still made the Top Ten in over a dozen nations.
In 1977, ABBA: The Album was the fifth studio album released by the band. While only climbing to #1 in the UK, "The Name of the Game" was a Top Ten hit in 14 countries. While "Take A Chance On Me" was equally successful, topping the charts in Austria, Belgium, Ireland and the UK.
In 1978, the non-album single "Summer Night City", was a big hit across Europe, peaking at #1 in Finland, Ireland and Sweden, and over a dozen countries internationally. In 1979, ABBA released Voulez-Vous. The album continued to add to ABBA's irresistible appeal. The debut single, "Chiquitita", was a chart-topper in Belgium, the Netherlands, New Zealand and Switzerland. It was another monster hit across Europe. The next single from the album was "Does Your Mother Know".
While "Does Your Mother Know" was on the Vancouver pop charts, ABBA performed in concert at the Pacific Coliseum on September 15, 1979.
The followup title track, "Voulez-Vous", though a Top Ten hit in five European nations, was a modest success by ABBA standards. While an additional track from the album, "I Have A Dream", went to number-one in Austria, Belgium, the Netherlands and Switzerland.
ABBA released Greatest Hits Vol. 2 in 1979 which included another new hit single, "Gimme! Gimme! Gimme! (A Man After Midnight)". With this single, ABBA had another international hit, peaking at #1 in Belgium, Finland, Ireland, Japan and Switzerland. As well, "Gimme! Gimme! Gimme!…" made the Top Ten in another six countries in 1979-80.
With the increase of their popularity, their personal lives suffered, which eventually resulted in the collapse of both marriages. The relationship changes were reflected in the group's music, with latter compositions featuring darker and more introspective lyrics. In 1980-81, with the album Super Trouper, ABBA released "The Winner Takes It All". The single topped the charts in Belgium, Ireland, the Netherlands, South Africa and the UK, and Top Ten in 13 other countries. The title track from the album, "Super Trouper", followed. It too was a chart topper, peaking at #1 in Belgium, Ireland, the Netherlands, Norway, Spain, the UK and West Germany. As well, it became a Top Ten hit in five more nations.
With the news of both marriages ending in divorce, Björn and Benny penned "One Of Us". The subject concerned one partners efforts to save a relationship that has died. The song climbed to number-one in Belgium, Denmark, Ireland, the Netherlands, and West Germany. In seven other countries, the single made the Top Ten. But in the USA, "One Of Us" stalled at #107 below the Billboard Hot 100.
In 1982 Anni-Frid, credited as Frida, had an international Top Five hit in fifteen countries with "I Know There's Something Going On". The song peaked at #1 in Belgium and Switzerland.
In 2021, ABBA released a ninth studio album titled Voyage. A double-sided single, "I Still Have Faith In You"/"Don't Shut Me Down" was a hit in a number of countries in Europe.
ABBA were the first group from a non-English-speaking country to achieve consistent success in the charts of English-speaking countries. They are the biggest selling pop recording act from Sweden, and best selling band from continental Europe. In 1999, the music of ABBA was set to the musical Mamma Mia! The original West End London production resulted in a run at the Royal Alexandria Theatre in Toronto from 2000 to 2005. While a run on Broadway from October 2001 to September 2015 had Mamma Mia! see 5,773 performances before closing. The year it opened, Mamma Mia! received five Tony Award nominations. A 2008 film adaptation with Meryl Streep and Pierce Brosnan earned over $600 million box office sales. Both the film and Meryl Streep earned Golden Globe Award nominations. And a 2018 sequel, Mamma Mia! Here We Go Again, earned over $400 million at box offices.
March 20, 2023
Ray McGinnis
References:
"Benny Andersson – bio," Biography.com.
"Björn Ulvaeus – bio," Biography.com.
"Agnetha Fältskog – bio," Biography.com.
"Anni-Frid Lyngstad – bio," Biography.com.
Frederick M. Winship, "Mamma Mia: 'Cats' yields to ABBA," UPI, November 1, 2001.
Paul Mansfield, "Mamma Mia! – Unfazed by the fuss in Skopelos," Telegraph, July 15, 2008.
Laura Harding, "Meryl Streep and Cher to be Dancing Queens of Mamma Mia 2 Premiere," Irish Independent, July 16, 2018.
"ABBA – Canada Concert Dates," setlist.fm.
Dick Clark, "ABBA – Interview," American Bandstand, November 15, 1975.
"International Radio Telegraphic Convention," Electrical World, January 12, 1907.
"Thrilling Story By Titanic's Surviving Wireless Man: Bride Tells How he and Phillips Worked…," New York Times, April 19, 1912.
"CFUN Weekly Survey," CFUN 1410 AM, Vancouver, BC, December 27, 1975.
For more song reviews visit the Countdown.