#286: Step by Step by the Crests
Peak Month: April 1960
10 weeks on Vancouver's CFUN chart
Peak Position #2
Peak Position on Billboard Hot 100 ~ #14
Youtube.com: "Step By Step"
Lyrics: "Step By Step"
The Crests were a doo-wop group formed by J.T. Carter with Talmadge Gough, Harold Torres and Patricia Van Dross. With a group in place Carter chose Johnny Mastrangelo to be the lead vocalist and had his name on the billing as Johnny Mastro (later changed to Johnny Maestro). Maestro's vocal style helped The Crests rack up five Top 40 hits on the national Billboard Hot 100 in the USA. Their first record was in 1957 with "Sweetest One". Van Dross left the group after their debut single release. Their second single release, "16 Candles", climbed up to #2 on the Billboard Hot 100 in early 1959. Other Top 40 hits included "Six Nights A Week", "The Angels Listened In", "Step By Step" and "Trouble In Paradise". the late 1950's, The Crests performed on several national teen dance shows, including American Bandstand and The Dick Clark Show. The group was inter-racial: African-American, Puerto Rican and Italian-American.
From 1958 to 1960 The Crests released ten singles. At this time the group was almost permanently on the road. In 1959 the Crests had a song on the CKWX charts in Vancouver for 23 weeks. In 1960 the group was on the the pop charts in Vancouver for 28 weeks. Their biggest hit in Vancouver that year was "Step By Step".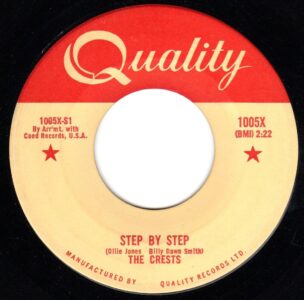 "Step By Step" was cowritten by Billy Dawn Smith and Ollie Jones. Born William Paul Smith in 1931, he also wrote other hits for the Crests including "Six Nights A Week", "A Year Ago Tonight", "The Flower Of Love", "The Angels Listened In", "The Journey Of Love" and "Trouble In Paradise". As well, Smith wrote "To The Aisle" for the Five Satins in 1957. He wrote "Send For Me" for Nat King Cole (with Ollie Jones), "Love Makes The World Go Round" for Perry Como (with Ollie Jones), "Tiger" for Fabian (with Ollie Jones), and "I'll Be There" for Damita Jo. Smith died at the age of 87 in 2018.
"Model Girl" was cowritten by Lockie Edwards Jr. and Ollie Jones. Lockie Edwards Jr. was born in 1936, in Bay City, Texas, USA. He attended public school in Galveston and after graduating, joined the US Army, serving during the Korean Conflict. He later moved to New York in pursue of becoming a professional songwriter. He wrote songs for Jimmy Jones, Louis Prima, Nat "King" Cole, Neil Diamond, Ray Peterson, Pat Boone, Timi Yuro, Baby Washington, Dionne Warwick, Roy Hamilton, Long John Baldry, The Isley Brothers, and others and also produced several singles and albums. He died on Friday, January, 13, 2012, The other songwriter for "Step By Step" was Ollie Jones who was born in Philadelphia in 1923. He was an original member of The Ravens who charted nine Top Ten singles in the American R&B charts between 1948 and 1952, including a cover of "'Ol Man River". He joined the Benders and in 1954 The Cues. With the latter group he was a backing vocalist on Big Joe Turners' "Flip, Flop and Fly", LaVern Baker's "Tweedle Dee" and "Jim Dandy", and Roy Hamilton's "Don't Let Go", among others. Jones was also with The Cues for "Why", a Top Ten hit in Vancouver in 1957. Ollie Jones songs have been covered by The Ronettes, Patti LaBelle, The Stylistics, Johnny Ray, Perry Como, Maynard Ferguson, Gene McDaniels, Gene Vincent, Brook Benton, Jerry Butler, Fontella Bass and Fleetwood Mac. In 1990 Ollie Jones died at the age of 66.
"Step By Step" is a song describing a path forward to falling in love. It happens "kiss by kiss" and "hand in hand." The lyrics explain:
"1st step, a sweet hello
2nd step, my heart's aglow
3rd step, we had a date
4th step, we stayed up late
5th step, I walk you home
6th step, we're all alone
7th step, we took a chance…sweet romance…"
"Step By Step" climbed to #2 in Vancouver (BC), Rochester (NY), Pittsburgh, and Los Angeles, #3 in Denver, Wilmington (DL), and Dayton (OH), #4 in San Francisco, Lewiston (ID), and Oxnard (CA), #5 in Newburyport (MA), and Seattle, #6 in New York City, Calgary (AB), Winnipeg (MB), Jacksonville (FL), and Ventura (CA), #7 in Ann Arbor (MI), #8 in Muskegon (MI), McAllen (TX), and Portland (OR), #9 in Boston, and Santa Ana (CA), and #10 in Philadelphia, Spokane (WA), and Davenport (IA).
The followup to "Step By Step" was "Trouble In Paradise". Though it stalled at #20 nationally in the USA, the single peaked in Vancouver at #8 in the summer of 1960. While "The Journey Of Love" climbed only to #81 on the Billboard Hot 100, in Vancouver it sailed to #15. Johnny Maestro left the group in 1961 to pursue a solo career. But before he left the group, taking with him his signature voice that was identified so much with The Crests "sound," he gave contributed his vocals to "Isn't It Amazing". While the song only spent one week on the Billboard Hot 100 at position #100, the song climbed into the Top Ten in Vancouver, cresting to #9.
Mastro's decision to go solo in 1960 (subsequently calling himself Johnny Maestro) weakened the band, although they did replace him with James Ancrum. As a solo recording artist, Maestro got two Top 40 hits, "Model Girl" and "What A Surprise". The later was a birthday themed song, like The Crests, "16 Candles". While "Model Girl" was written by Ollie Jones. Both singles climbed to #6 in Vancouver. However, the Crests never charted another single into the Billboard Hot 100 again.
After "Little Miracles" failed to break the Billboard Top 100, Talmadge Gough moved to Detroit and a job with General Motors. More strife followed as the Crests were became caught up in legal disputes with Coed Records over the ownership of their name. The Crests eventually moved to Selma Records. The songs Selma Records made available to the group were now significantly inferior in calibre and quality. These included "You Blew Out The Candles", a poorly conceived sequel to "16 Candles." The song tried to generate excitement about the moment people sing happy birthday the moment a birthday girl blows out the candles. And it anticipated wedding cake candles to blow out in the future. The band continued to tour throughout the 60s, though Harold Torres had left to become a jeweller, leaving a core of Carter and Ancrum. They were joined by a guy named Gary Lewis (not to be confused with Gary Lewis of The Playboys).
Meanwhile, Johnny Maestro had a Top 30 hit in the summer of 1961 in Vancouver titled "Mr. Happiness". It made the Top Ten in Tuscon, Arizona. Billed now as Johnny Maestro and The Coeds, the constant changes in how he was billed may have been confusing for some of his fans as well as the DJ's who'd spin his records. In the summer of 1962 Johnny Maestro had a minor hit co-written by Barry Mann and Cynthia Weil titled "Before I Loved Her" which got some chart action in California and New York. In July 1963 Maestro scored a Top 20 hit called "Over The Weekend" in Hermiker, New York. With the British Invasion, Johnny Maestro fell off the radar. However, he made a comeback in 1969 with his group Brooklyn Bridge and a Top Ten single titled "Worst That Could Happen".
The Crests continued to perform as a trio until 1978 when J.T. Carter left to join the 50's doo-wop group, The Drifters, on oldies revival tours. In June 1987 the original line-up of The Crests, as they were when they recorded "16 Candles" in 1958, was re-formed for a show in Peepskill, New York, with J.T. Carter, Talmadge Gough, Harold Torres and Johnny Maestro back together again.
In 2004 The Crests were inducted into the Vocal Group Hall of Fame. The 1984 John Hughes teen movie, Sixteen Candles, was named after The Crests best-selling hit.
The Brooklyn Bridge made many appearances on TV, including as guests on The Ed Sullivan Show, The Mike Douglas Show and the Della Reese Show. The Brooklyn Bridge continued to perform until 2010, the year Johnny Maestro died.
September 3, 2022
Ray McGinnis
References:
Spend time in the presence of a master: Johnny Maestro, Gold Mine Magazine, Iola, WI, April 19, 2011.
Dennis Hevesi, "Johnny Maestro, Brooklyn Bridge Singer, Dies at 70," New York Times, March 26, 2010.
Andrew Scott, "J.T. Carter, an Original Member of Doo-wop's The Crests, Still Living in Harmony," Pocono Record, Stroudsburg, PA, September 3, 2012.
John Hughes, Sixteen Candles, Universal Pictures, 1984.
"The Ravens," Vocal Group Hall of Fame.
"Henry Oliver 'Ollie' Jones," Findagrave.com.
Marv Goldberg, "The Billy Dawn Quartet," Uncamarvy.com, 2009.
"Hi-Fi Forty," CFUN 1410 AM, Vancouver, BC, April 23, 1960.
For more song reviews visit the Countdown.