#803: Steps 1 And 2 by Jack Scott
Peak Month: November 1961
10 weeks on Vancouver's CKLG chart
Peak Position #9
Peak Position on Billboard Hot 100 ~ #86
YouTube.com link: "Steps 1 And 2"
Giovanni Dominico Scafone Jr. was born in 1936 in Windsor, Ontario, and spent some of his years growing up in the Detroit suburb of Hazel Park, Michigan. In 1954 he formed a band called the Southern Drifters. In 1957 he got a record deal with ABC-Paramount. He released two singles that year that sold little outside of Detroit and Cleveland. He scored four Top Ten hits on the Billboard Hot 100 and two more in the Top 30 in the USA. In Vancouver Jack Scott was a teen idol with his good looks and classic rock 'n roll. He enjoyed eight Top Ten hits on the Vancouver charts including "What In The World's Come Over You" and his most successful hit in town, "Goodbye Baby" that peaked at #2 and spent 17 weeks on the CKWX charts in 1958. At the time, Scott had more US singles in the Billboard Hot 100 (19), in a shorter period of time (41 months), than any other recording artist – with the exception of The Beatles, Elvis Presley, Fats Domino and Connie Francis. Scott charted twenty songs on the local record surveys in Vancouver between July 1958 and November 1962.
Jack Scott wrote all but one of his hits, that being "Burning Bridges." One song would be a ballad, the next a rockabilly hit, a third a doo-wop tune, and then he'd release a pop-country song. "Leroy," "Geraldine", "Save My Soul", "The Way I Walk" and "I Never Felt Like This" are the favorites by Jack Scott among rockabilly fans. Scott was versatile and his deep bass voice was always on the airwaves in that four year period along with Elvis Presley, Ricky Nelson and Roy Orbison who were also putting out a lot of singles at the time. In 1958 his first Top 40 hit was "My True Love" which showcased his bass voice. His follow up single, also on a love-related theme was "With Your Love".
Between February and May 1959, Jack Scott served in the U.S. Army. Jack Scott was one of a few Canadian pop stars in the early rock 'n roll era. Other teen idols from Canada, prior to the British Invasion in 1964, included Paul Anka and Bobby Curtola. In his book, Rockabilly: A Forty Year Journey, author Billy Poore describes Jack Scott as "the best rockabilly vocalist of any artist outside the Southern states." In 1960, Jack Scott organized two tours and shared the bill with Danny & The Juniors, The Champs and Sonny James. In November 1961, Jack Scott had his nineteenth and final hit on the Billboard Hot 100 in the USA. It was titled "Steps 1 And 2".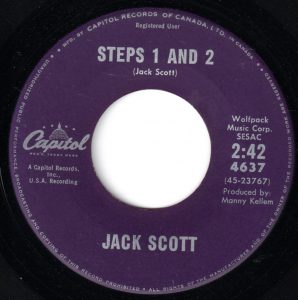 Steps 1 and 2, steps 3 and 4,
and each day I love you more.
I love you more.
Steps are often taken,
I took one and two.
Now I'm so much closer,
closer to you.
Everyone I've talked to,
knows about you,
And this old heart of mine keeps saying,
I want her too.
What's this world coming to?
Could it be that I love you?
I've taken steps 3 and 4,
and why I'll never know.
My path is set,
my mind's made up.
I just knocked upon your door.
Steps 1 and 2, steps 3 and 4,
and each day I love you more.
I love you more.
What is this strange design,
that makes me want you so?
I want you now, I need you now,
or else I'll lose my mind.
To Little Joe that's where I'll go,
I know I'll find you there.
I'll drink his wine
to ease my mind,
imagine your lips pressed to mine.
What's this world coming to?
Could it be that I love you?
I've taken steps 3 and 4,
and why I'll never know.
My path is set,
my mind's made up.
I just knocked upon your door.
Steps 1 and 2, steps 3 and 4,
and each day I love you more.
"Steps 1 And 2" is a song about a guy who is smitten with a gal. He's decided to walk over to her home and walk up the staircase to her door. He's taken the first two steps on her staircase. Once he's taken the third and fourth steps, he's at her door. It seems she's not there. Instead, she's at the home of Little Joe. So the guy goes over there and joins Little Joe and the woman he adores over a bottle of wine. In his case, he is drinking the wine to ease his mind since it seems that Little Joe is the guy who kisses this woman, not the guy who's been getting ready to ascend her staircase.
In 1957, the Rays had a song called "Silhouettes". It was about a guy who ascends a staircase to the front door of a home he assumes belongs to his girlfriend. However, once they open the door, he finds out the couple he's looking at are strangers. His girlfriend isn't two-timing him. He's simply on the wrong block.
In "Steps 1 And 2" we get a snapshot of a person getting up the nerve to ask someone out. However, they find out the person they have a crush on is predictably over at Little Joe's. In a Science of People article titled, "How to Ask Someone Out", research suggests that people generally are more averse to asking someone out on a date than asking their boss for a raise. The whole dynamics are anxiety producing for many people. The article recommends that once you've broken the ice, if you still want to ask someone on a date, be specific about what you want. For example, ask "are you free Sunday afternoon to go for a walk?" Being vague can make the other person uncertain about what you want and create awkwardness. Suggest something that is low commitment and non-threatening so this person who doesn't know can relax about your invitation. Be flexible, they may already have plans for Sunday afternoon. If they make another proposal, be open to meeting them halfway. Be casual about your interest. It's plausible they are not interested, so don't be intense about this first expression of interest. Relax and remember you'll be okay whether they say yes or no.
"Steps 1 And 2" climbed to #6 in Boston and Springfield (MA), #8 in Norfolk (VA) and #9 in Vancouver (BC).
The first stairs in ancient civilization were land stairs, created from the frequency of people walking along a path. In especially slippery and steep places on the path, journeyers climbed by pushing their feet against a root, a rock or into a rut. The footholds that were created were rough land stairs. In time, someone would put a stepping stone or plank of wood over the land steps to make them more durable for passage. On some terrain, foot holes were carved into a cliff face to make a steep cliff passable. In the middle ages, an outside staircase served a dual purpose. If a friend approached, it gave time for the servants to announce to the master of the house that a guest was approaching. But if the person approaching was an enemy, the exposed outdoor staircase let the occupants shoot arrows, throw stones, pour boiling oil or hot water on them.
Sigmund Freud surmised that whenever anyone had a dream that included stairs and staircases, these were "unquestionably symbols of copulation." For Freud, climbing up a staircase in a dream was a "direct equivalent of the sexual act." For Henry Miller, mounting a staircase was "terrifying." For the guy in Jack Scott's song, climbing the steps to the home of the girl he adores is a test of finding out what he is made of. By climbing the steps and knocking on the door to her home, he resolves not to chicken out, but have the right stuff to ask her out on a date.
Jack Scott had a few more hits on the Vancouver pop charts, including "If Only" in the fall of 1962. Over the decades, Jack Scott has continued to perform. In 1977, Jack Scott toured Europe with Buddy Knox and others during a rockabilly revival. On June 1, 1986, Jack Scott appeared in concert at the Expo Theatre during Expo '86 in Vancouver. In early February 1991, Jack Scott performed at the Tribute to Buddy Holly, Ritchie Valens and the Big Bopper, in Clear Lake, Iowa. Others on the bill were Carl Perkins and Wanda Jackson. In 2007, he performed at the five-day Rockin' 50's Fest in Green Bay, Wisconsin. Among the other performers was Little Richard.
Jack Scott has been inducted into the Rockabilly Hall of Fame and the Canadian Music Hall of Fame. Into his 81st year, Jack Scott performed infrequently and was living in suburban Detroit. (Update: Jack Scott died at age 83 in December 2019).
May 23, 2018
Ray McGinnis
References:
Jack Scott bio, Michigan Rock n Roll Legends.com.
Jack Scott bio, Rockabilly Hall of Fame.com.
How To Ask Someone Out, Science of People.com.
Rieff, Philip. Freud: The Mind of a Moralist. University of Chicago Press, Chicago, 1979, p. 177.
Templer, John. The Staircase: History and Theories, Volume 1. Massachusetts Institute of Technology, Boston, 1992.
"Fabulous Forty," CKWX 1130 AM, Vancouver, BC, November 25, 1961.
For more song reviews visit the Countdown.