#884: Swiss Maid by Del Shannon
Peak Month: September 1962
8 weeks on Vancouver's CFUN chart
Peak Position #8
Peak Position on Billboard Hot 100 ~ #64
CFUN Twin Pick August 4, 1962
YouTube.com: "Swiss Maid"
Lyrics: "Swiss Maid"
Charles Weedon Westover was born on December 30, 1934. He was known professionally as Del Shannon. Westover was born in Grand Rapids, Michigan. He learned ukulele and guitar and listened to country music. He was drafted into the Army in 1954, and while in Germany played guitar in a band called The Cool Flames. When his service ended, he returned to Battle Creek, Michigan. There he worked as a carpet salesman and as a truck driver in a furniture factory. He found part-time work as a rhythm guitarist in singer Doug DeMott's group called Moonlight Ramblers, working at the Hi-Lo Club. Ann Arbor deejay Ollie McLaughlin heard the band. In July 1960, Westover signed to become a recording artist and composer on the Bigtop label. Westover changed his name to Del Shannon. It was a combination of Shannon Kavanagh (a wannabe wrestler who patronized the Hi-Lo Club) with Del, derived from the Cadillac Coupe de Ville, which Westover's carpet store boss drove.

Apparently, Charles Westover asked a girl named Karen to go with him to the Senior Prom. She said yes, but two weeks later dumped him for another guy who was Westover's rival. Westover, who was 140 pounds and 5'6" was devastated and never got over it. Almost all fourteen of Del Shannon's singles released from "Runaway" (1961) to "Two Kinds of Teardrops" (1963) were about sadness, break-ups, and loneliness. During his career Del Shannon had just three songs in the Top Ten of the Billboard Hot 100 and four more singles that reached the Top 30. However, in Vancouver Del Shannon charted three songs to #1, six more songs into the Top Ten and seven more songs into the Top 30. In Vancouver, any Del Shannon 45 RPM had a good chance at being a big seller. One of these was "Swiss Maid".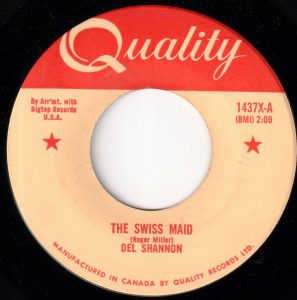 "Swiss Maid" was another sad song by Del Shannon. This song is about a Swiss maiden who lived on a mountain pining her heart away. Up on the mountain she grew more "unhappier," and "lonelier." All she had to do to possibly change her fortune was to take her dad's advise and take a chance and go down the mountain to the village in the valley in the hopes of meetings a suitor. She seems very reluctant to make a change. Near the end of the song Shannon asks the question "Did she die unhappy?" He hopes not, yo lo lady yay…
The song was penned by Roger Miller. He was born in Fort Worth, Texas, in 1936. Miller was writing songs in Nashville by 1955 and many recording artists chose to record his songs. These included Faron Young, Red Sovine, George Hamilton IV, Jim Reeves, Tab Hunter, Ray Price, Andy Williams, Burl Ives and others. Miller recorded "Fair Swiss Maiden" in 1961 and had a minor Top 40 hit in Nashville. Del Shannon was the only recorded artist to cover the song. Miller went on to have his own recording career with "King of the Road" becoming a #1 pop and country crossover hit for him in 1965. He had a number of other hit records and a TV show on NBC in the fall and winter of 1966.
In the song, the Swiss maid has an aversion to taking her life in her hands and improving her circumstances. She prefers to wallow in her unhappy state. In his Psychology Today article, Are You Addicted to Unhappiness?, David Sack offers some factors that cause individuals to stay in stuck, dissatisfying states. These include:
1) Deep-rooted insecurity leading a person to conclude they don't deserve to be happy.
2) A belief that being realistic means that things won't likely turn out like in a fairytale and so concluding life isn't going to be fair.
3) A fear of feeling joy due to the worry that exciting and blissful emotions will only set them up for regret.
4) Fear of happiness arises for some people who have only experienced sadness.
5) Taking on the world's problems makes it seem selfish to find personal happiness, when others in the world are victims of racism, world hunger, environmental catastrophes or war.
6) Mental health issues that create a world of inner thoughts that preclude taking any risks to find happiness.
The Swiss Maid seemed to have a supportive father who encouraged her to go down into the valley and increase her chances of meeting a prospective suitor. But her trajectory was about her own sabotage of opening up possibilities for her own personal happiness. Aside from its #8 peak in Vancouver, "Swiss Maid" reached #4 in Winnipeg and #5 in Fargo, ND. It may have helped that Del Shannon had recently appeared in concert at the PNE Auditorium in Vancouver (BC) on June 30, 1962.
In Switzerland, Jungfrau is the word for maiden or virgin. Jungfrau is also the name of the 30th tallest mountain in the Swiss alps, first ascended in 1811.
In 1963 Del Shannon flew to England where he toured heavily on the success of "Little Town Flirt" and to promote "Two Kinds of Teardrops". He also visited Sweden, where he was popular. By the spring of 1963 Del Shannon had seven Top Ten hits in the UK. On 18 April 1963, the Beatles were one of 15 acts to play at Swinging Sound '63, an all-star concert at the Royal Albert Hall in London. They played "From Me to You", a song just released earlier that week, and "Twist and Shout". Del Shannon was also on the line-up that night. When the concert was over Shannon told John Lennon that he was going to record "From Me to You" to give the group some exposure in America. At first, Lennon was flattered, but he quickly changed his mind. Lennon was aware that a cover version by Del Shannon might hurt the Beatles' chances of having a hit with "From Me to You" in America. In early June, Bigtop Records released Del Shannon's version of "From Me To You", which became a Top 20 hit in Vancouver. At the end of 1964 Del Shannon had one last significant hit titled "Keep Searchin'". Shannon had a few more minor hits but misjudged where to place some of his composing talent. He decided not to record the melancholy "I Go To Pieces" that then became a hit for Peter and Gordon.
In the winter of 1964-65 Del Shannon had his last notable hit titled "Keep Searching (We'll Follow The Sun)". It spent six weeks in the Top Ten on the CKLG Boss 40, including three weeks at #6. On May 26, 1965, Del Shannon returned to perform at the PNE Forum in Vancouver (BC). His appearance was as part of the Dick Clark Caravan of Stars. Others on stage included The Zombies, Shangri-Las, Dee Dee Sharp, Jewel Aikens, Tommy Roe and others. Del Shannon struggled with alcoholism and still managed to pursue a career despite having no hits after 1965.
In 1968 Shannon became a member of Alcoholics Anonymous vowing to quit his addiction to alcohol. Shannon and Bryan Hyland were roommates for several years in the late 60's when Shannon tried to help Hyland who was in his own career slump. Shannon produced Hyland's comeback hit in 1970, "Gypsy Woman", a remake of a 1961 R&B hit by The Impressions written by Curtis Mayfield.
After a rare concert at The Roxy Theatre in West Hollywood in 1976, The Los Angeles Times wrote, "Shannon's haunting vignettes of heartbreak and restlessness contain something of a cosmic undercurrent which has the protagonist tragically doomed to a bleak, shadowy struggle." Years later he was sought out by Tom Petty who had discussed with Shannon joining the Travelling Wilbury's after the death of Roy Orbison in December 1988. Shannon declined. Del Shannon next cancelled a revival tour to England. In mid-January 1990 he was prescribed Prozac by his therapist and began taking the medication. He grew steadily more agitated, paced around and had trembling hands. Without leaving a note, Shannon died by suicide three weeks later in early February 1990.
February 20, 2018
Ray McGinnis
References:
The Life of Roger Miller, Roger Miller.com.
Del Shannon Biography, Del Shannon.com.
David Sack, "Are You Addicted to Unhappiness?," Psychology Today, New York, March 5, 2014.
"C-FUNTASTIC FIFTY," CFUN 1410 AM, Vancouver, BC, September 1, 1962.
For more song reviews visit the Countdown.