#847: Tapioca Tundra by The Monkees
Peak Month: April 1968
7 weeks on Vancouver's CKLG chart
Peak Position #5
Peak Position on Billboard Hot 100 ~ #34
YouTube.com: "Tapioca Tundra"
Lyrics: "Tapioca Tundra"
Robert Michael Nesmith was born on December 30, 1942 in Houston, TX. His mother, Bette invented liquid paper and would later leave the $20 million estate to him. Affectionately nicknamed "Nez," he learned to play saxophone as a young child and joined the United States Air Force years later. After two years in the Air Force, he left to pursue a career in folk music. In 1962 Nesmith won the San Antonio College talent award, performing folk songs and writing his own songs. By 1963, he had moved to Los Angeles, with the intent of getting into the movie business. He also was hosting a hootenanny at the Troubador in West Hollywood, as the "hootmaster." Nesmith released a 45 single titled "Wandering'", which he penned. In 1964 Nesmith wrote "Different Drum", which was a #13 hit for Linda Ronstadt and the Stone Poneys on the Billboard Hot 100 and #5 in Vancouver in late 1967.
In 1964 Nesmith formed the trio named Mike and John and Bill. They recorded a single in 1965 called "How Can You Kiss Me," which was a Top 40 hit in San Antonio, Texas, in May of '65. Later that year Nesmith released a solo disc titled "A Journey With Michael Blessing" that made the Top 50 in a few radio markets in Pennsylvania and Ohio, credited to Michael Blessing. With hopes of getting a job as a songwriter, Mike auditioned for The Monkees in late-1965.
In September 1965, Daily Variety, a Los Angeles entertainment industry paper, placed an ad that read: "MADNESS!! Auditions. Folk & Roll Musician-Singers for acting roles in new TV series. Running parts for 4 insane boys." Over 400 older boys and young men lined up at the studio near Sunset Boulevard, hopeful for a chance at stardom. Stephen Stills and Harry Nilsson were among the hopefuls waiting to be discovered. Walking to the front of the line and right into the producer's office was 19-year old Davey Jones.
Born in suburban Manchester, UK, in 1945, Jones had been in the acting business since he was a child. In 1959, his Aunt Jessie answered an ad in the Manchester Evening News calling for "school boys to audition for a radio play" with the BBC She helped David, at 13, get the lead role in There is a Happy Land. He was on an episode of Coronation Street in March 1961, when he was 15 years of age. He appeared on stage as Little Michael in Peter Pan, and than as the Artful Dodger in Oliver! in the early 60's in the West End of London. In 1964 he was in a Broadway production of Oliver! and nominated for a Tony Award at the age of 18. In 1965, Jones released several singles and had two Top Ten hits in Australia, including #4 hit "The Girl From Chelsea".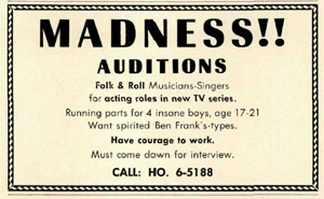 One of the people David Jones walked past in the lineup was Mickey Dolenz. Born in 1945 in Los Angeles, Dolenz started his career in show-business at the age of eleven, in 1956, in a TV show called Circus Boy. Dolenz was given the acting name, Mickey Braddock, and the role he was cast in was to play Corky, an orphaned water boy for the elephants in a one-ring circus set around 1900. The show ran through to the spring of 1958. By the mid-60's Dolenz was in a band playing mostly covers of R&B hits, including many by Chuck Berry. Dolenz sang Berry's "Johnny B. Goode" in his audition for The Monkees. In 1965 Dolenz cut recorded several singles, one of these, "Don't Do It" was released in 1967 and made the Top 20 in Edmonton and Ottawa.
Another person lining up hoping to be chosen for the new TV show was Peter Halsten Thorkelson. Born in Washington D.C. in 1942, he studied piano from the age of nine and lived in New York City. Peter got involved in the folk music scene in Greenwich Village and met Stephen Stills and other folk singers. Before he moved to California in the early 60's, he shortened his surname to Tork.
Jones, Nesmith, Dolenz and Tork were all successful in auditioning for The Monkees TV show. David Jones was introduced on the first episode of The Monkees as Davey Jones and "Davey" was how he was know from that day forward. On their debut single, Micky Dolenz sang the lead vocal on "Last Train To Clarksville." He also sang lead vocals on "I'm A Believer," the bands second #1 hit in a row. Dolenz would later sing lead vocals on their summer hit in 1967, "Pleasant Valley Sunday," written by Carole King and Gerry Goffin. Davey Jones sand lead vocals on their other Top Ten hits in '67, "A Little Bit Me, A Little Bit You" and their third #1 hit, "Daydream Believer".
While initially a TV series about a band that didn't actually exist, The Monkees did a live promotional tour of seven cities in the USA beginning on September 1 in Hollywood. The tour featured previews of The Monkees TV show on large screens and The Monkees playing a few tunes. KHJ radio in Los Angeles staged the most ambitious event of the tour on September 11, 1966. KHJ had a contest and the 400 winners rode on a train to the coastal town of Del Mar, California, twenty miles north of San Diego. The town's mayor renamed Del Mar on September 11 as Clarksville for the day in honor of The Monkees appearance. The Monkees landed on the beach in two helicopters, dressed in their signature double-breasted shirts, greeted by the KHJ contest winners. After the event, The Monkees rode in the train train with the contest winners back to Los Angeles. On one of the train cars, The Monkees gave their first true live public performance. As the train was traveling at 80 miles per hour, Micky Dolenz drum set fell over several times as no one had thought about securing the drums to the floor.
The Monkees went on tour with 16 scattered concert dates between December 3, 1966 (Honolulu) and May 6, 1967 (Wichita, KS). The concert in Honolulu was The Monkees first full length live concert. They were one of the acts performing at the Monterey Pop Festival in mid-June, 1967. They mounted a tour with dates in the USA and Britain between June and August. The tour included Jimi Hendrix as the opening act for seven of these concerts between July 8th (Jacksonville, FL) and 16th (New York City).
In 1968, The Monkees TV show featured one last song to make the Top Ten on the Billboard Hot 100 called "Valleri". The unremarkable tune was Mike Nesmith coined it "the worst record ever." The B-side to "Valleri" was "Tapicoa Tundra", written by Michael Nesmith.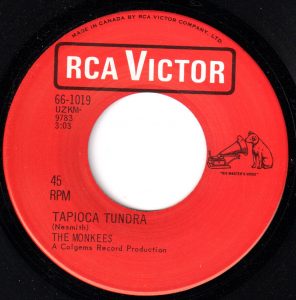 "Tapicoa Tundra" is a psychedelic romp full of elusive images. Prose and rhyme lose themselves in past times, waiting hopes cast silent spells, fields vanish, the singer walks in tattered shoes while a faded dream is saddened by the news. The repetition of the line "it cannot be a part of me, for now it's part of you," is a somewhat disorienting phrase. It likely evoked some confusion for radio listeners at the time trying to figure out what was being meant. Were the waiting hopes no longer part of the singer, but part of "you?" Were the tattered shoes no longer a part of the singer, but part of "you?" Was the faded dream saddened by the news part of "you?" And who was "you?" Why were waiting hopes, tattered shoes and faded dreams being transferred from one person to the other, or to the collective "you?" There may be people who've played this song for decades trying to unravel the deeper meaning of the song.
In the late '60's Vancouverites were in the mood for songs with a psychedelic vibe. In addition to "Tapioca Tundra," other psychedelia climbed up the charts. These included "Lydia Purple" by The Collectors, "Brain Washed" by David Clayton-Thomas & The Bossmen, "Ten Little Indians" by The Yardbirds, "A Question Of Temperature" by The Balloon Farm, "Happenings Ten Years Time Ago" by The Yardbirds, "Animal Crackers (In Cellophane Boxes)" by Gene Pitney, "The Wind Cries Mary" by Jimi Hendrix, "Smashed Blocked" by John's Children, "Early Morning" by The Collectors and "On The Way Home" by Buffalo Springfield.
After their two-season run on TV, The Monkees had a tour to Australia in September and Japan in October. In November '68, The Monkees were featured in a psychedelic film titled Head. The script was co-written by Jack Nicholson. In addition to the bandmates, the film's cast included Annette Funicello, Frank Zappa, Toni Basil, Jack Nicholson and Sonny Liston. The film was a commercial failure only managing $16,111 at the box office. The film both alienated The Monkees fan base and caused Columbia Pictures to abandon plans for any future Monkees films.
Unhappy with the bands' direction, Peter Tork left The Monkees at the end of December, 1968, after filming the bands last TV appearance that was to air on NBC in April '69. Later in 1969, the remaining three Monkees released a number of singles. Among these was "Mommy And Daddy," a song that invited children to "ask your Mommy and Daddy who really killed JFK." Jones, Nesmith and Dolenz went on a tour with 46 concert dates in Canada, the USA and Mexico. The tour opened in Vancouver (BC) on March 29, 1969, and the final concert that year was in Salt Lake City, Utah, on December 6th. The Salt Lake City concert was Mike Nesmith's last performance as Monkee until a reunion concert in 1986. He did a few promotional TV ads for The Monkees which was now airing in reruns. In 1970 Nesmith left The Monkees to form The First National Band. That year he enjoyed a Top 30 hit in the USA called "Joanne," which climbed to #3 in Vancouver. On their own, Davey Jones and Micky Dolenz appeared in concert a number of times in 1970 and released a few singles that were commercial failures. They officially split at the end of the year.
In their brief life as a recording act, The Monkees sold over 50 million records. While they officially split in 1971 after Mike Nesmith left the band, the bulk of their record sales occurred between August 16, 1966, with the release of "Last Train To Clarksville," and their final Top Ten album, The Birds, The Bees and The Monkees, in the spring of 1968. They remain the only recording act to chart four albums to #1 in a twelve month span on the Billboard 200 album chart.
In 1975 Jones and Dolenz teamed up with Tommy Boyce and Bobby Hart to do a tour of 38 cities across 13 states. In 1976, they performed in twenty cities across the USA, Japan, Singapore and Thailand. Boyce and Hart had written numbers of songs for The Monkees and were a singer-songwriting team in their own right. In 1986 Davey Jones and Peter Tork went on a 17 concert tour of Australia. An even more ambitious tour saw Jones and Tork joined by Micky Dolenz across the USA for 145 concerts between May 24 and December 3. For one of these concerts ~ the Greek Theatre in Los Angeles ~ Mike Nesmith joined the concert for an original lineup on their 20 year reunion tour. Jones and Tork returned to Australia to perform in 42 concerts in 1987. There were more tours to follow in the USA, Australia and Japan. And in 1989 Jones, Tork and Dolenz went on a 32 concert tour of Europe. The trio went on a 30th Anniversary tour of the USA in 1996. And in 1997 they were joined by Mike Nesmith on a tour of the UK.
Jones, Dolenz and Tork continued to tour as Monkees in different combinations at a trio and a duo with their last big tour in 2011, 45 years after The Monkees TV show debuted.
Davey Jones died in 2012 at the age of 66. On Friday evening, September 16, 2016, in Los Angeles, four days after the 50th Anniversary of the debut of The Monkees on NBC, Michael Nesmith walked onto the stage with Micky Dolenz and Peter Tork at the historic, and sold out, Pantages Theatre to perform what he professed would be his final concert with The Monkees. However, in June 2018, Micky Dolenz and Mike Nesmith will be on 17 concert tour billed as "The Monkees Present: The Mike Nesmith & Micky Dolenz Show." ​
March 29, 2018
Ray McGinnis
References:
Andy Greene, Davy Jones: The Life of a Monkee: How a Child Actor Joined the Best Fake Band of All Time – and Never Escaped, Rolling Stone, New York, NY, March 29, 2012.
Davey Jones bio, Davey Jones.net.
Damian Fanelli, Interview: Michael Nesmith, Micky Dolenz and Peter Tork Talk Monkees Summer Tour, 'Headquarters' and What They Learned from Jimi Hendrix, Guitar World, New York, NY, July 26, 2013.
Peter Tork bio, Wizard World.com
Micheal Nesmith bio, Monkees Rule 43.com
Micky Dolenz biography, Micky Dolenz.com
Monkees 1967 U.S. & British Tour (dates), Monkees Live Almanac.com
Bob Rafaelson ~ Director, Head ~ trailer, Columbia Pictures, 1968.
"Boss 30," CKLG 730 AM, Vancouver, BC, April 13, 1968.
For more song reviews visit the Countdown.