#364: There'll Be Peace In The Valley by Elvis Presley
Peak Month: March-April 1957
7 weeks on Red Robinson's Teen Canteen Vancouver Chart
Peak Position ~ #3
Peak Position on Billboard Hot 100 ~ did not chart
YouTube: "(There'll Be) Peace In The Valley"
Lyrics: "(There'll Be) Peace In The Valley"
Elvis Aaron Presley was born on in a two-room house in Tupelo, Mississippi, on January 8, 1935. His twin brother, Jessie Garon Presley, was stillborn. When he was eleven years old his parents bought him a guitar at the Tupelo Hardware Store. As a result Elvis grew up as an only child. He and his parents, Vernon and Gladys, moved to Memphis, Tennessee, in 1948. The young Presley graduated from high school in 1953. That year he stopped by the Memphis Recording Service to record two songs, including "That's When Your Heartaches Begin". Elvis' musical influences were the pop and country music of the time, the gospel music he heard in church and at the all-night gospel sings he frequently attended, and the black R&B he absorbed on historic Beale Street as a Memphis teenager. In 1954, Elvis began his singing career recording "That's All Right" and "Blue Moon Of Kentucky" at Sun Records in Memphis.
In late 1955, his recording contract was sold to RCA Victor. In 1956 he had his first #1 record titled "Heartbreak Hotel." He had a sound and style that uniquely combined his diverse musical influences and blurred and challenged the social and racial barriers of the time. Bill Haley & His Comets ushered in the rock 'n roll into mainstream culture in 1955 when "Rock Around The Clock," appeared in Blackboard Jungle – a film about juvenile delinquents and anti-social behavior in an inter-racial school. The song became an anthem for teenage rebellion.
However, it was Elvis in 1956 who ensured rock 'n roll was here to stay with his swiveling hips and R&B infused songs with sexually suggestive lyrics. He had his first number one hit with "Heartbreak Hotel" in February 1956. He starred in 33 successful films, made history with his television appearances and specials, and knew great acclaim through his many, often record-breaking, live concert performances on tour and in Las Vegas. Globally, Elvis Presley has sold over one billion records, more than any other recording artist.
Between 1956 and 1957, Elvis Presley continued his chart-topping ways in Vancouver (BC) with "I Want You, I Need You, I Love You", "Hound Dog", "Don't Be Cruel", "Love Me Tender", "Too Much", "All Shook Up", "(Let Me Be Your) Teddy Bear", and "Mean Woman Blues" peaking at #1. During this chart-topping streak, one of Presley's Top Ten hits in Vancouver was "(There'll Be Peace In The Valley".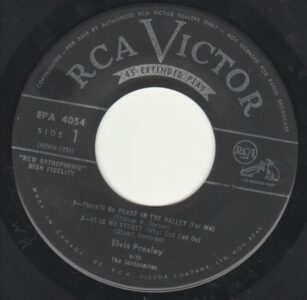 On January 6, 1957, Elvis Presley made his third and final appearance on The Ed Sullivan Show. Before an audience estimated at 54.6 million viewers, Presley closed the show by dedicating "(There'll Be) Peace In The Valley" to the 250,000 refugees fleeing Hungary after the October 23-November 10, 1956, Hungarian Revolution. During the revolt Soviet armored tanks entered Budapest on October 24-25th and again on November 3rd-4th. (Presley had made a casual appeal to send aid to Hungarian refugees during his October 28, 1956, appearance on The Ed Sullivan Show).
Because Elvis also requested that immediate aid be sent to lessen their plight, the appeal in turn yielded contributions amounting to US $6 million, or the equivalent of US $57 million in today's money. Over the next 11 months, the International Red Cross in Geneva, with the help of the US Air Force, organized the distribution of both perishables and non-perishables purchased with the above-mentioned funds to the refugees in both Austria and England where they settled. At the end of the January 6th broadcast, Ed Sullivan went out of his way to compliment Presley. "I wanted to say to Elvis Presley and the country that this is a real decent, fine boy, and wherever you go, Elvis, we want to say we've never had a pleasanter experience on our show with a big name than we've had with you. So now let's have a tremendous hand for a very nice person!"
On October 15, 1957, Presley's first Christmas album, containing a master studio recording of "(There'll Be) Peace In The Valley", was released, topping the Billboard Charts for four weeks and eventually sold over three million copies. Because of these developments, István Tarlós, the Mayor of the city of Budapest, in 2011 and as a gesture of belated gratitude, established Elvis Presley Park after "the King of Rock 'n Roll," as well as making Elvis Presley an honorary citizen. Incidentally, one of the Hungarian refugees in 1956 was B.B. Gabor, whose family ended up in Canada. His 1980 hit, "Nyet Nyet (Soviet Jewellery)", was about Soviet constraints on personal freedom, and evoked Warsaw Pact Cold War era fears about the KGB and Soviet prisons.
"Peace in the Valley" is a 1937 song written by Thomas A. Dorsey, originally for Mahalia Jackson. In 195o, 19-year-old Sam Cooke recorded the song when he was with the Soul Stirrers. The song became a hit in 1951 for Red Foley and the Sunshine Boys, reaching number seven on the Country & Western Best Seller chart. And in 1954 it was a track on an album by Jo Stafford. Elvis Presley recorded the song in January 1956, and it was released at the end of March 1957.
Thomas Andrew Dorsey (not to be confused with bandleader Tommy Dorsey), was born in 1899 in what was then the village of Villa Rica in northwestern Georgia. He was raised by parents who were sharecroppers. His family moved to Atlanta when he was eight, and he dropped out of school at the age of 12 when he was still in Grade Four. He got work at a concession stand in a vaudeville theatre. From there he began to get some bit work playing piano at rent parties (where those in the audience would pass the hat to pay for the musical performance), barrelhouses and brothels.
Thomas Dorsey moved to Chicago at the age of twenty in 1919. It was there he got the attention of people in the music business and was hired as a music arranger at Paramount Records. From 1923 to 1925, Thomas Dorsey was the pianist and leader of the Wild Cats Jazz Band accompanying "the Mother of the Blues" Gertrude "Ma" Rainey. In August 1932, Dorsey's wife Nettie Harper, died at childbirth after giving birth to an infant son. The inconsolable Thomas Dorsey wrote "Take My Hand, Precious Lord" in response. The song became a standard in Black churches across the United States. In 1933 Thomas Dorsey's Pilgrim Baptist Church choir performed at the 1933 World's Fair in Chicago. Over the decades he composed over 1,000 gospel songs and 2,000 blues songs. His 1928 blues hit, "It's Tight Like That", sold more than 7 million copies. In 1983 the documentary Say Amen Somebody, featured the music of Thomas Dorsey and renewed public interest in him.
Thomas Dorsey's "Peace In The Valley" describes an individual who is tired and weary, but determined to carry on. In their life there is sadness, sorrow and trouble. However, with "the Lamb" as the light, there will be peace in the valley. The lyric is drawn from the Book of Isaiah chapter 11:6:
The wolf shall dwell with the lamb,
and the leopard shall lie down with the kid,
and the calf and the lion and the fatling together,
and a little child shall lead them
Dorsey's lyrics similarly imagine
The bear will be gentle and the wolves will be tame.
And the lion shall lay down by the lamb.
And the beasts from the wild shall be led by a child.
The song was both an image of a changed world, and an invitation for personal spiritual transformation to accompany divine purposes.
Brian Tarling, author of Vancouver's Charted Songs '56 to '78*, writes "Elvis had not recorded Peace In The Valley (or for that matter any of the other three songs on the EP) until after his January 6th performance on Ed Sullivan. The story goes that record stores were inundated for the song starting on Monday January 7, which prompted RCA to propose an EP. All 4 songs were recorded in Hollywood on January 12, 13 & 19. The EP was released in March 1957. It is interesting to observe that 'Peace In The Valley' was recorded right after 'Mean Woman Blues' (on Jan. 13). Initially at least, Elvis didn't want to record a Christmas album (as it would be just his 4th LP). He did, however, record 8 tracks in September 1957. One wonders if the inclusion of the 4 non-Christmas songs, that were recorded in January 1957 and previously released on the EP, may have helped in getting Elvis on side for the Christmas album (just speculation on my part)."
"There'll Be Peace In The Valley" was a #3 hit on the Red Robinson Teen Canteen survey in Vancouver (BC), but it didn't chart elsewhere in Canada or the USA. This was likely due to the release in March-April 1957 being an Extended Play (or EP), with four tracks on two sides.
In 2006 "Peace In The Valley" was included in the United States Library of Congress' National Recording Registry. The registry contains recordings deemed to be "culturally, historically or aesthetically significant" in American history.
Elvis kept on topping the charts in the fall and winter of 1957 and into 1958 with "Jailhouse Rock"/"Treat Me Nice", "Don't", "Wear Your Ring Around My Neck" and "Hard Headed Woman". He also starred in several films. His second film, Loving You, was released in 1957. Though it was not featured the film, the song "Have I Told You Lately That I Love You?" made it onto the Loving You Soundtrack album.
But during his chart-topping ways, he got a letter from Uncle Sam. Sergeant Elvis Presley served with the U.S. Army from March 24, 1958, to March 2, 1960. Meanwhile, Presley managed to climb to the top of the charts once in 1959 with "Big Hunk o' Love".
His return to civilian life saw a return to a string of successful single, album and film releases. From April 1960 to March 1961, Elvis topped the Billboard Hot 100 with "Stuck On You, "It's Now Or Never," "Are You Lonesome Tonight?" and "Surrender" for a total of 17 of 52 weeks in that timeframe. The album from his first film on return from serving in Germany, G.I. Blues, was a best-seller at the box office (#2 on Variety Magazine for the year 1960) and a number one album in October 1960. He released His Hand In Mine, a collection of sacred gospel music and in November, 1960, began to record his 6th studio album, Something For Everybody. It went on to become his 13th hit album.
Presley continued to have major hits in 1961-62. In Vancouver he topped the charts with "Marie's The Name (His Latest Flame)", "Little Sister" and "Good Luck Charm". Other Top Ten hits included "Can't Help Falling In Love" and "She's Not You". In 1962 Presley released his seventh studio album, Potluck. From that album the song "Kiss Me Quick" would peak at #34 on the Billboard Hot 100 in 1964. But his song, "Suspicion", climbed onto the CFUN chart in the summer of 1962. Also in 1962 Elvis was filming a number of movies. The first to be released in the summer of '62 was Kid Galahad, which included the song "King Of The Whole Wide World".
His next film, Girls! Girls! Girls!, was released in late October. However, the debut single from the soundtrack, "Return To Sender", was released in September prior to the film appearing in theaters. In Vancouver (BC) the title track from the film, "Girls! Girls! Girls!" also charted on the C-FUNTASTIC FIFTY.
Elvis continued to enjoy more Top Ten hits between 1963 and 1965. His most notable hits were "One Broken Heart For Sale", "(You're The) Devil In Disguise", "Ain't That Loving You Baby", "Such A Night" and "Crying In The Chapel". Less successful in the USA was "Witchcraft" which stalled at #32 on the Billboard Hot 100. But in Vancouver, the song peaked at #4.
After 1965, Elvis found it increasingly challenging to enter the Top 30. Between the end of 1965 and the winter of 1968 Presley released 22 singles and only four of these made the Billboard Hot 100's Top 30. But in 1969, Presley had his best year since 1962 charting three singles into the Top Ten with "In The Ghetto", "Suspicious Minds" and "Don't Cry Daddy". Between 1970 and 1983 Elvis released 36 singles, including eight posthumous singles. Of these, "Burning Love" and "The Wonder Of You" were his most successful and six others made the Top 20 on the Billboard charts.
Over his recording career Elvis Presley earned 14 Grammy Award nominations including for Record of the Year with "A Fool Such As I" (1959) and "Are You Lonesome Tonight" (1960) and won six Hall of Fame Awards. After his comeback tour in 1968 Presley had continued to tour extensively, with 168 concerts in 1973, a pace he kept through the mid-70's. By 1976 he was suffering from multiple ailments: glaucoma, high blood pressure, liver damage, and an enlarged colon, all believed to be related to prescription drug abuse. He died on August 16, 1977, and a funeral was attended by over 80,000 mourners. His legacy continues to live on. There were also numerous sightings of Elvis including around the 40th anniversary of his death in 2017.
January 8, 2021
Ray McGinnis
References:
graceland.com (Elvis bio)
"Elvis Presley: Rock's First Icon," Rolling Stone, September 22, 1977.
Paul Lichter, The Boy Who Dared to Rock: The Definitive Elvis, (Garden City, NY: Dolphin Books, 1978).
Elizabeth Nix, "7 Fascinating Facts About Elvis Presley," History.com, July 1, 2014
Wendy Sauer, Elvis Presley: A Complete Reference, (Jefferson, NC: McFarland, 1984).
"Hungary Gives Elvis A Piece of Budapest," ahundredmonkeys.com, March 8, 2011.
"Significant Events of the Hungarian Revolution of 1956," Wikipedia.org.
"Hungarian People's Republic," Wikipedia.org.
"Thomas Dorsey, Father of Gospel Music, Dies at 93," Washington Post, January 25, 1993.
"Isaiah 11:6," New International Version.
Brian Tarling, Vancouver's Charted Songs '56 to '78*, (Brian Tarling, 2012).
For more song reviews visit the Countdown.