#76: Three Stars by Tommy Dee
Peak Month: May 1959
11 weeks on Vancouver's CKWX Chart
Peak Position #1
Peak Position on Billboard Hot 100 ~ #11
Billboard Year-End chart 1959 ~ #81
YouTube.com: "Three Stars"
Tommy Donaldson was born in Vicker, Virgina, in 1934. In the late 50s he became a disc jockey at KFXM in San Bernardino, California. He was known on air as Tommy Dee. He was working at KFXM in San Bernardino and was on air on February 3, 1959. A breaking news story told that rock n' roll stars Buddy Holly, Ritchie Valens and the Big Bopper had died in a small plane crash in rural Iowa. The day of the disaster, Dee began writing the song. He explained to writer Albert Leichter, "I was on the air, when it happened, the bells went crazy on the tele­type, 'what's this!' I started reading it. I wrote the song, right on the spot: poured my heart out. 'No, it can't be true. My friend, next door, had a little Webco (tape recorder). I just put it down as I wrote it, just a strum of the guitar. He told me I should make a record on it. I told him all I meant for it to be was a tribute to play on my show." Dee had no intention of recording it himself.
Once he'd written the words Dee took it to Sylvester Cross, the owner of Crest records. He recalled, "Cross said, 'do you mind if Eddie Cochran records this song?' I said, 'No.' Within minutes Eddie and his manager Jerry Capehart were present, they listened to it. Eddie, in tears, said, 'Let's cut it right now.'" Cochran spent several hours in the studio. But as Dee put it, "It just didn't come off." It was quite likely that Cochran was still in an emotional state from coping with the news. Though Eddie Cochran, who was good friends with Ritchie Valens, was the first to record this song, his version was not released until 1966. Cochran died the year after he recorded "Three Stars". On April 17, 1960 Cochran was killed in a car accident. In his version, it's clear he's very emotional. Cochran found it hard to sing all the way through the song without starting to cry.
Tommy Dee recorded "Three Stars" and released it in March 1959. The single debuted on the CKWX Sensational Sixty in Vancouver on March 30, 1959.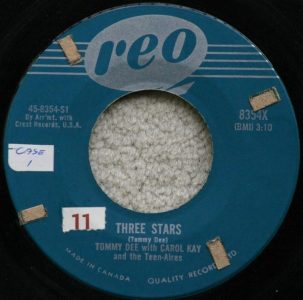 (Brian Tarling's copy of Three Stars with sandpaper strips on the label)
"Three Stars" song is a tribute to Buddy Holly, Ritchie Valens and The Big Bopper. The three stars and Dion had performed in concert at a Winter Dance Party in Clear Lake, Iowa. Buddy Holly was accompanied by the Crickets, and Dion was with the Belmonts.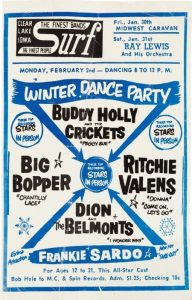 17-year-old Ritchie Valens only ended up with one of the four seats on the plane after winning a coin toss. The Big Bopper, age 28, had a flu and Buddy Holly's bandmate 21-year-old Waylon Jennings, gave him his seat. 22-year-old Buddy Holly also got a seat on the plane. It was Holly who had arranged charter the 4-seat Beechcraft Bonanza from Clear Lake, Iowa, to Moorehead, Minnesota. Holly chose to charter a flight after frustrations with the tour bus. Dion was initially slated to also fly in the plane, but he declined due to the price of the ticket. The three rock 'n roll stars – Holly, Valens and the Bopper – died in a plane crash as the plane was ascending from Clear lake on February 3, 1959, together with 21-year-old pilot Roger Peterson. That night there were moderate gusty winds and light snow with a temperature of 18F (-8C).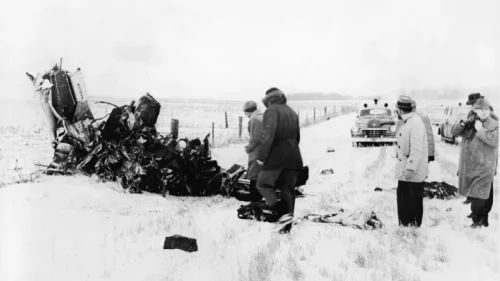 After news of the plane crash five miles from Clear Lake, Iowa, Tommy Dee was inspired to write a song about the tragedy. Dee took it to Crest Records, where he recorded it with Carol Kay And The Teen-Aires. Tommy Dee performed the narration on the song.
Tommy Dee and Carol Kay, along with her group, the Teen-Aires, only got to practice the song once before making a recording. Dee recalls, "There was no time to put together a flipside an old demo by Kay and the group was put into service. I took an acetate back to the radio station and gave it to the all-night man, 'here's my new record,' I told him, 'give it a play, if you get a chance.' I didn't have a radio in my car, I had a '47 Mercury; the radio was out. I couldn't even listen to it."
Carol Kay was born in 1944. At the age of eight, in 1953, Carol Kay was lead singer for "A Good Man Is Hard To Find" with the Red Callender Sextette. The single was recorded on the Recorded in Hollywood label.
Buddy Holly was born Charles Hardin Holley in 1936 in Lubbock, Texas. When he was five years old he won $5 when he entered a local talent show and sang "Down The River of Memories." He went on to be a rock 'n roll pioneer with many hits, including "That'll Be The Day", Peggy Sue", "Oh Boy", "Not Fade Away", "Maybe Baby", "I'm Gonna Love You Too", "It's So Easy", "Raining In My Heart" and "Rave On". Posthumously, "You're So Square (Baby I Don't Care)" climbed to #5 in Vancouver on CKWX in the fall of 1961. In 1978, a biopic titled The Buddy Holly Story was released.
Richard Steven Valenzuela was born in 1941 in Los Angeles. He learned to play the guitar and joined a band called the Silhouettes (not the "Get A Job" group of the same name). On January 31, 1957, an accident took place called the Pacoima mid-air collision. A Douglas DC-7B crashed into a US military F-89 Scorpion. The DC-78 crashed in the schoolyard of Pacoima Junior High where Richard Valenzuela was a student. Recurring nightmares of the disaster led to a fear of flying. His biggest hit was "Donna", which peaked at #2 in February 1959. It was written by Valens about his real girlfriend Donna Ludwig. The flip side, "La Bamba", was a #2 hit in Vancouver and #22 on the Billboard Hot 100. The 1987 film La Bamba tells the story of Ritchie Valens.
Jiles Perry "J.P." Richardson Jr. was born in 1930 in Sabine Pass, Texas, on the Louisiana border. From 1949 to 1955, he worked at several radio stations in Beaumont, Texas. In March 1955, Richardson was drafted into the United States Army. He was discharged in 1957. Richardson had seen college students doing a dance called The Bop, and he decided to call himself The Big Bopper. His new radio show in Beaumont ran from 3:00 to 6:00 p.m., and he soon became the station's program director. In 1958, he had a hit record with "Chantilly Lace". Before he died, he penned "Running Bear", a number-one hit for Johnny Preston in 1960.
"Three Stars" peaked at #1 in Vancouver, Denver, Pittsburgh, Montreal, Kansas City (MO), Duluth (MN), and La Crosse (WI), #2 in Boston, and Burlington (VT), #3 in Stockton (CA), San Bernardino (CA), and Seattle, #4 in Toronto, and Minneapolis/St. Paul, #5 in Ottawa (ON), #6 in Phoenix, #7 in Corpus Christi (TX), #8 in Newport News (VA), and Providence (RI), #9 in St. Louis, and #10 in Utica (NY).
"Three Stars" was covered in Britain by Ruby Wright whose recording climbed to #19 on the UK singles chart. The plane crash was coined "The Day the Music Died" in Don McLean's 1971-72 number-one hit "American Pie". In 2006 a memorial to the crash site was erected.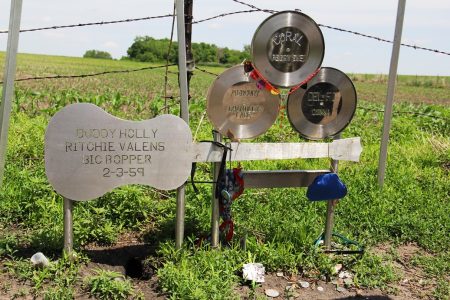 In 1959, Carol Kay and the Teen-Aires recorded "O Where, O Where" a riff about losing a boyfriend. It was based on "O Where, O Where Has My Little Dog Gone". In 1964 Kay appeared in horror-musical-comedy The Incredibly Strange Creatures Who Stopped Living and Became Mixed-Up Zombies. Kay sang "Shook Out Of Shape" with her backing band the Stone Tones.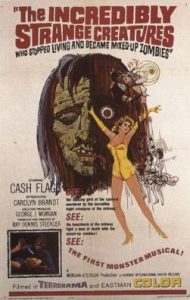 In the fall of 1959, Tommy Dee was joined again by Carol Kay and the Teen Aires on "The Chair". This is a Western tale about a guy who comes into a dance hall. A girl tells the guy that "he's the one." But, she promptly asks a stranger to dance. This so enrages the guy that he shoots the stranger dead who is (likely for the first time ever) dancing with the gal who just flattered him. Consequently, he is tried for murder and sent to the electric chair.
In the winter of 1959, Tommy Dee tried his hand at singing. He released "Merry Christmas Mary". The chorus was sung wishing Mary a Merry Christmas. Though the seasonal story of the Holy Family involves the "mother of God," who is Mary, mother of Jesus. This song is actually about a generic namesake of Mary, who had a quarrel with her boyfriend. The boyfriend is wishing Mary a Merry Christmas and a Happy New Year, although they won't be seeing each other. Apparently, they're too hot-headed to sort things out between them.
Dee released several other singles including "There's A Star-Spangled Banner Waving Somewhere". This was a song about U2 pilot Francis Gary Powers singing the "Star Spangled Banner" in a Soviet prison. On 1 May 1960, a United States U-2 spy plane was shot down by the Soviet Air Defense Forces while performing photographic aerial reconnaissance deep inside Soviet territory. The single-seat aircraft, flown by pilot Francis Gary Powers, was hit by an S-75 Dvina (SA-2 Guideline) surface-to-air missile and crashed near Sverdlovsk (present-day Yekaterinburg). Powers parachuted safely and was captured. The incident occurred two weeks before the scheduled opening of an east–west summit in Paris. Krushchev and Eisenhower had met face-to-face at Camp David in Maryland in September 1959, and the seeming thaw in U.S.-Soviet relations had led people around the world to hope for a peaceful resolution to the ongoing Cold War. The U2 incident caused great embarrassment to the United States, and shattered the amiable "Spirit of Camp David" that had prevailed for eight months, prompting the cancellation of the planned Paris summit.
In Tommy Dee's spoken-word recording begins "In a lonesome prison cell in darkest Russia." The account tells how Francis Gary Powers was "on a mission for his country." Dee worries that Powers may "never see Old Glory again." However, at night when the moon hangs over the Kremlin, the Russian jailers hear Powers sing "The Star Spangled Banner". Doubling down on the anti-Communist slant, Dee continues "In a lonesome prison cell in Godless Russia, where no Bible ever speaks His precious name." The U-2 mission is referred as a necessary effort to prevent another "Pearl Harbor."
In the mid-sixties, Dee recorded "Missing While Surfing'". The mostly spoken-word recording describes the tragedy of a sixteen-year-old Peggy Sue dying in the surf. The boyfriend tells how he and Peggy Sue went out into the surf to ride a giant wave. He rode the wave to shore, but Peggy Sue never was found.
Dee recorded a number of records through the sixties. This included his answer song to Bobbie Gentry's "Ode To Billie Joe" in 1967 with "The Return Of Billie Joe". Starting in the mid-70s, Dee became a country music producer, promoter and record executive. He stayed in the music business until he died in 2007.
In 2015 there was an effort to reopen an investigation into the crash of February 3, 1959. Though the reason the plane crashed is still officially "unknown," the National Transportation Safety Board declined to reinvestigate the incident.
December 30, 2022
Ray McGinnis
References:
Tommy Dee, "Missing While Surfing'", Sims Records, 1965.
Tommy Dee, "The Return Of Billie Joe", Jack O'Diamonds Records, 1967.
Carol Kay with Red Callender Sextette, "A Good Man Is Hard To Find" Recorded in Hollywood Records, 1959.
Carol Kay and the Stone Tones, "Shook Out Of Shape", from The Incredibly Strange Creatures Who Stopped Living and Became Mixed-Up Zombies, Fairway International Pictures.
"1959: Buddy Holly Killed in Air Crash," On This Day, BBC, February 3, 2005.
"Autopsy of 'Big Bopper' to Address Rumors About 1959 Plane Crash," Washington Post, January 18, 2007.
Ed Pilkington, "Buddy Holly plane crash : officials consider reopening 1959 probe," Guardian, March 5, 2015.
Barbara McIntosh, "The Reveries of Valens' Donna," Washington Post, September 4, 1987.
"Sensational Sixty," CKWX 1130 AM, Vancouver, BC, May 11, 1959.
For more song reviews visit the Countdown.