#410: Three Wheels On My Wagon by Dick Van Dyke
Peak Month: February 1961
7 weeks on CKWX's Vancouver Chart
Peak Position ~ #1
Peak Position on Billboard Hot 100 ~ did not chart
YouTube: "Three Wheels On My Wagon"
Lyrics: "Three Wheels On My Wagon"
Richard Wayne Van Dyke was born in 1925 in West Plains, Missouri, in south-central Missouri. His family moved to Danville, Illinois, and after high school Dick Van Dyke joined the United States Air Force in 1944. He was eventually assigned to be a radio announcer and entertained the troops, given he was "underweight." After World War II Dick Van Dyke became a radio DJ in Danville. In 1947 he became part of a pantomime duo called The Merry Mutes. They toured Washington, Oregon and California and eventually brought the act to Atlanta.
Van Dyke appeared on television for the first time in 1954 on the ABC talent show Chance of a Lifetime. hosted by Dennis James. He got a break appearing at first as a comedian, and later as an emcee for a variety show on New Orleans radio station WDSU-TV in the mid-50s. On October 1, 1957, and again on January 24, 1958, Van Dyke appeared as a guest on The Phil Silvers Show. In the late '50s Van Dyke also appeared on numerous NPR broadcasts of Wait Wait… Don't Tell Me! Other notable appearances on TV include The Pat Boone Chevy Showroom and The Polly Bergen Show. On November 29, 1959, Dick Van Dyke appeared on The Ed Sullivan Show. And in March 1960, he appeared on an episode of Alfred Hitchcock Presents.
Dick Van Dyke appeared in his first Broadway musical in November 1959 called The Girls Against The Boys. Van Dyke appeared with Burt Lahr (the Cowardly Lion in The Wizard of Oz) and comedian Shelley Berman. Van Dyke auditioned for Bye Bye Birdie and got the cast in the central role playing Albert Peterson. Among the other performers in the original caste were Paul Lynde and Kay Medford. Bye Bye Birdie went on to get eight Tony Award nominations in 1961, and won four of these including Best Musical and Best Performance by a Featured Actor in a Musical – awarded to Dick Van Dyke.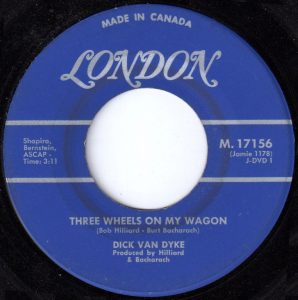 "Three Wheels On My Wagon" was co-written by Burt Bacharach and Bob Hilliard. Burt Bacharach was born in Kansas City, Missouri, in 1928. His father was a syndicated newspaper columnist and his family were non-practicing Jews. Starting in the late '50's, he teamed up with composer, Hal David, working in the Brill Building. They co-wrote "The Story Of My Life" which became a #1 hit for Michael Holliday in 1958 in the UK, and "Magic Moments" for Perry Como another #1 hit in the UK and #4 on the Billboard Hot 100 later that year. In 1961 Bacharach wrote "Tower Of Strength" for Gene McDaniels and "Baby It's You" for The Shirelles. Bacharach and David had a banner year in 1962 with hits that included "The Man Who Shot (Liberty Valance)" (Gene Pitney), "Make It Easy On Yourself" (Jerry Butler), "Don't Make Me Over" (Dionne Warwick) and "Only Love Can Break A Heart" (Gene Pitney).
In 1963 the Bacharach and David enjoyed more accolades with "Wishing And Hoping" (Dusty Springfield), "Blue On Blue" (Bobby Vinton), "Close To You" (The Carpenters, #1 in 1970) and "Anyone Who Had A Heart" (Dionne Warwick). 1964 continued their winning ways with "Walk On By" (Dionne Warwick) as well as their hit with Sandie Shaw. The next year they had a modest hit with "Trains And Boats And Planes" by Billy J. Kramer and the Dakotas (and also Dionne Warwick). In 1965 they had a #3 hit with Tom Jones singing "What's New Pussycat?" Other notable songwriting classics include "I Say A Little Prayer" (Aretha Franklin), "This Guys In Love With You" (Herb Alpert) and "Raindrops Keep Falling On My Head" (BJ Thomas). In the 1980's Burt Bacharach co-wrote with Carol Bayer Sager "On My Own" for Patti Labelle and Michael McDonald and "Arthur's Theme" for Christopher Cross. Both were #1 hits.
Born Hilliard Goldsmith in 1918, after attending public school in New York City, he got work as a lyricist in Tin Pan Alley in the late 30's. He has his first significant commercial success with "The Coffee Song" for Frank Sinatra in 1946. Hillard had another novelty hit that year with "Red Silk Stockings and Green Perfume" for Sammy Kaye. In 1947 Hillard co-wrote "Civilization (Bongo, Bongo, Bongo)" for the Broadway musical Angel in the Wings. On the pop charts, the Andrews Sisters and Danny Kaye took the song to #3. In 1948 Bob Hilliard penned a #1 country hit for Eddy Arnold titled "Bouquet Of Roses". In 1949, "Careless Hands" by Mel Torme (as well as Sammy Kaye and Bing Crosby) spent 28 weeks on the Cashbox Disc-Hits chart, peaking at #6. Sammy Kaye's version placed #26 for the year-end Billboard pop songs of 1949. That same year, Bob Hilliard also penned "Dear Hearts And Gentle People" for Dinah Shore, who had a #2 hit with the tune in early 1950. In 1950, Hilliard co-wrote "Dearie", which peaked on the Billboard pop charts at #5 for Guy Lombardo. The following year Doris Day wondered "(Why Did I Tell You I Was Going To) Shanghai", and took Bob Hilliard's tune to #9.
In 1953, Bob Hilliard wrote several songs for the Broadway musical Hazel Flagg. In 1955 Hilliard composed "In The Wee Small Hours Of The Morning" for Frank Sinatra. In 1957, Hilliard co-wrote "Moonlight Gambler" for Frankie Laine, the #32 song for the year. In 1959, Bob Hilliard penned "Seven Little Girls (Sitting In the Back Seat)" for Paul Evans. And in 1960 Anita Bryant had a Top Ten hit with "My Little Corner Of The World", written by Bob Hilliard and Lee Pockriss (composer of "Itsy Bitsy Teenie Weenie Yellow Polkadot Bikini", "Johnny Angel", Playground In My Mind" and other pop hits). That year, Bob Hilliard co-wrote his first song with Burt Bacharach titled "Please Stay", a Top 20 hit for the Drifters. In 1961, Hilliard continued to adjust to the rock era co-writing with Burt Bacharach "Tower Of Strength" for Gene McDaniels. In 1962, Hilliard and Bacharach co-wrote the soul classic "Any Day Now", a R&B hit for Chuck Jackson. That year Hilliard and Bacharach teamed up to write "Keep Away From Other Girls", a Top Ten hit for Helen Shapiro in the UK and for Babs Tino in Vancouver (BC).
Bob Hilliard's biggest hit was from writing the lyrics for "Our Day Will Come", a #1 pop hit for Ruby & The Romantics in 1963. Bob Hilliard died from a heart attack at the age of 53 in 1971.
In "Three Wheels On My Wagon" the song recounts a hazardous journey made by an American pioneer family aboard a wagon being pursued by Cherokees, with the wagon progressively losing each of its wheels. The song concludes with the Cherokees capturing the wagon, but being asked to "sing along" with the family in the final chorus: "Higgity, haggity hoggety, high. Pioneers, they never say die…"

The Cherokee are indigenous people of the Southeastern Woodlands, an area encompassing southwestern North Carolina, southeastern Tennessee, northern Georgia and northern Alabama.
They were agrarian and lived in permanent villages and began to adopt some cultural and technological practices of the European American
settlers.
The Cherokee considered warfare a polluting activity. After warfare, the warriors required purification by the priestly class before participants could reintegrate into normal village life.
Virginian traders developed a small-scale trading system with the Cherokee in the Piedmont before the end of the 17th century. F
rom 1710 to 1715 the Cherokee and Chickasaw
allied with the British, and fought the Shawnee, who were allied with the French, and forced them to move northward.
With the growth of the deerskin trade
, the Cherokee were considered valuable trading partners, since deer-skins from the cooler country of their mountain hunting-grounds were of a better quality than those supplied by the lowland tribes who were neighbors of the English colonists.
In the song "Three Wheels On My Wagon" the Cherokee are after a family of pioneers as they lose one wheel after another. There are arrows flying by, and flaming spears "that burn my ears" being thrown at the wagon. The pioneer at the reins sings "I'm all in flames… but singing a happy song."
Historically, during the Cherokee–American Wars from the 1770s to the 1790s, the Cherokee were known to pursue pioneers who passed through their territory. Skirmishes took place as far northeast as the Maryland-Virginia border and as far southwest as eastern Oklahoma, as far north as southern Ohio, and as far south as St. Augustine, Florida. From their new bases, the Cherokee conducted raids against settlers on the Holston, Doe, Watauga, and Nolichucky rivers, on the Cumberland and Red rivers, and those in the isolated frontier stations in between. The Cherokee ambushed parties traveling on the Tennessee River, and on local sections of the many ancient trails that served as "highways", such as the Great Indian Warpath (Mobile to northeast Canada), the Cisca and St. Augustine Trail (St. Augustine, Florida, to the French Salt Lick at Nashville), the Cumberland Trail (from the Upper Creek Path to the Great Lakes), and the Nickajack Trail (Nickajack to Augusta, Georgia).
During the Cherokee-American Wars, in September 1776 over 4,000 American infantry burned and pillaged Cherokee villages to "eliminate the Cherokee threat."
In August 1790, President George Washington wrote a letter to the United States Senate concerning the Cherokee and white settlers. Washington reminded the Senate that in 1785 America and the Cherokee Nation had negotiated the Treaty of Hopewell "allotting certain lands for hunting grounds." The Treaty "stipulated that no non-Native settlers would be allowed on the land." However, over "five hundred (settler) families… settled on the Cherokee lands…" Washington suggested that in view of these developments, that "new boundaries" should be negotiated with the Cherokee and that they should be "compensated" for the land they would be asked to cede. Among the incidents that prompted President Washington's letter to the Senate was one in May 1788. That month a party of Cherokee from Chilhowee came to the house of John Kirk's family on Little River, while he and his oldest son, John Jr., were out. When Kirk and John Jr. returned, they found the other eleven members of their family dead and scalped.
In the decades that followed Cherokee lands were chipped away as more and more white settlers moved into Cherokee territory. In the 1791 Treaty of Peace and Friendship with the Cherokee, the Cherokee ceded the land where present-day Knoxville, Tennessee stands. The treaty's language pointed to landmarks like "the mouth of Duck river." This broad approach that left a lot of room for creative implementation. When dealing with the Cherokee (and other Native peoples) negotiators sometimes designated a small reservation, "rather than spelling out the boundaries of the cession." This way more land was taken from Native Americans than might have if the treaties had described the lands in question more precisely. Between 1809 and 1891 the United States took more than 1.5 Billion acres from Native Americans.
In May 1838 President Martin Van Buren ordered the Cherokee removed from Tennessee (and as far east as southwestern North Carolina) and they had to walk to their new territory in eastern Oklahoma. In the winter of 1838 around 21,500 Cherokee began to march 1,000 miles west with scant clothing and most on foot without shoes or moccasins on. During their trek on the Trail of Tears, between 4,000 and 8,000 Cherokee died. In all, over 60,000 Native Americans died from the forced removal from their lands to points west of the Mississippi River.
After crossing Tennessee and Kentucky, they arrived at the Ohio River across from Golconda in southern Illinois on December 3, 1838. Here the starving Cherokee were charged a dollar a head (equal to $27.75 today) to cross the river on "Berry's Ferry" which typically charged twelve cents, equal to $3.33 today. They were not allowed passage until the ferry had serviced all others wishing to cross and were forced to take shelter under "Mantle Rock", a shelter bluff on the Kentucky side, until "Berry had nothing better to do". Many died huddled together at Mantle Rock waiting to cross. Several Cherokee were murdered by locals. The Cherokee filed a lawsuit against the U.S. Government through the courthouse in Vienna, suing the government for $35 a head (equal to $970 today) to bury the murdered Cherokee.
On December 26, 1838, a member of the Cherokee group with Moses Daniel wrote "There is the coldest weather in Illinois I ever experienced anywhere. The streams are all frozen over something like 8 or 12 inches thick. We are compelled to cut through the ice to get water for ourselves and animals. It snows here every two or three days at the fartherest. We are now camped in Mississippi River swamp 4 miles from the river; And there is no possible chance of crossing the river for the numerous quantity of ice that comes floating down the river every day. We have only traveled 65 miles on the last month, including the time spent at this place, which has been about three weeks. It is unknown when we shall cross the river…"
"Three Wheels On My Wagon" was perhaps making fun of the sometimes over-the-top portrayal of pioneers as overly optimistic in some Hollywood Western movies. The improbable obliviousness of the pioneer to his wagons deterioration and being set aflame offered a musical gag based on exaggeration. The ridiculous precariousness of the pioneer, contrasted with his "happy song" buffoonery made it a favorite at summer camps. The "happy song" the pioneer is singing is a poke by Bacharach and Hilliard at the romanticized image of the American settlers in the 18th and 19th Centuries. That caricature was of "the Pioneer Spirit" which was infused with optimism, stick-to-it-iveness, and determination to not let anything or anybody discourage you, or cause you to give up or quit. Hence the pioneer in "Three Wheels On My Wagon" is determined not to give up in the face of losing his wagon wheels, and being in flames as he pulls on the reigns.
The Cherokee did at times raid pioneers in the southeastern United States and that is the sole focus of "Three Wheels On My Wagon". The song doesn't try to incorporate the Cherokee's decimation at the hands of American government by forced removal and trek along the Trail of Tears. It was perhaps par for the course in the early sixties to offer up musical lyrics divorced from the grim reality of the historic fates of the Cherokee.
In addition, the image of the Cherokee – and all Native Americans – as being a savage warrior whose preoccupation is to antagonize the white settlers who are bringing "civilization" across the continent, was a dominant theme in portrayal of "Indians" in Hollywood films from the 1930s into the early 1960s. And "Three Wheels On My Wagon" was drawing on this familiar stereotype of Native American Indians as antagonists.
"Three Wheels On My Wagon" peaked at #1 in Vancouver (BC), #4 in La Crosse (WI) and #6 in Seattle. In over 45 states in the USA, "Three Wheels On My Wagon" saw no chart action and the single didn't crack the Billboard Hot 100.
Two pop songs that did speak to more difficult history of Native American Indians were "Indian Reservation" and "Half Breed". The former song was released by Marvin Rainwater in 1959 and got little notice the time. Rainwater was part Cherokee. The song, originally titled "The Pale Faced Indian", included native chants and calls. It was covered later by Don Fardon and then a number-one hit for The Raiders in 1971. The song laments the freedom the Cherokee lost by being forced to live on reservations.
"Half Breed" by Cher – who is of German, English and Cherokee ancestry – was a number-one hit for the pop diva in 1973. It tells the story, in the tradition of the tragic mestizo stock character, of a young woman with one white and one Cherokee parent, and describes the troubles faced by the main character. The song offers a scenario in which whites often called her "Indian squaw" while Native Americans did not accept her as one of their own because she was considered white according to Native law.
On October 3, 1961, Dick Van Dyke hosted his own TV sitcom The Dick Van Dyke Show. The show ran for 158 episodes and he played Rob Petrie, the writer of a comedy/variety show in Manhattan. The TV show invited viewers to get an inside look at how television shows were written and produced. The show co-starred Mary Tyler Moore playing the wife: Laura Petrie. The last episode ran on June 1, 1966. During its run The Dick Van Dyke Show received twenty-five Emmy Award nominations and won fifteen of these. Van Dyke personally won an an Emmy in 1964 for Outstanding Continued Performance by an Actor in a Series (Lead); and an Emmy in 1965 for Outstanding Individual Achievements in Entertainment: Actors and Performers; and an Emmy in 1966 for Outstanding Continued Performance by an Actor in a Leading Role in a Comedy Series.
From 1971 to 1974 Dick Van Dyke starred in The New Dick Van Dyke Show, unrelated in plot to his earlier TV program. Over his career Dick Van Dyke appeared in episodes of The Golden Girls, Coach, Matlock, and Sabrina The Teenage Witch, eleven episodes of The Carol Burnett Show, Columbo and others. In 1977 he received an Emmy Award for Outstanding Comedy-Variety or Music Series for Van Dyke and Company. In 1990 he received an Emmy nomination for his role as a lover of Maude (Beatrice Arthur).
In film, Dick Van Dyke appeared as Bert the chimney sweep in the 1964 musical film Mary Poppins. One of the songs he sang in the film, "Chim Chim Cher-ee", won an Academy Award for Best Original Song. Van Dyke received a Golden Globe nomination for Best Actor – Motion Picture Musical or Comedy. He received a Grammy Award for his performance in the Soundtrack to Mary Poppins. In 2018 he played Mr. Dawes Jr. in the film Mary Poppins Returns. His other notable film roles were in Chitty Chitty Bang Bang, The Comic, Curious George and Night at the Museum. To date, Dick Van Dyke has appeared in 28 feature films between 1963 – Bye Bye Birdie – and 2020 – Capture the Flag.
August 26, 2020
Ray McGinnis
References:
Dick Van Dyke, My Lucky Life In and Out of Show Business: A Memoir, (Three Rivers Press, 2012).
"Bob Hilliard", Songwriters Hall of Fame, inducted 1983.
Richard Barber, Burt Bacharach at 88: 'Why Would I Ever Want To Stop?', Telegraph, UK, June 10, 2016.
"The Dick Van Dyke Show," Wikipedia.org.
"Chim Chim Cher-ee", Mary Poppins, YouTube.com.
Neva Jacquelyn Kilpatrick, Celluloid Indians: Native Americans and Film, (University of Nebraska Press, 1999).
President George Washington, "Letter, George Washington to Senate on Cherokee Indians," Library of Congress, August 11, 1790.
"1791 Treaty with the Cherokee," The Avalon Project.
Rebecca Onion and Claudio Sault, "Interactive Time-Lapse Map Shows How the U.S. Took More Than 1.5 Billion Acres From Native Americans," Slate, June 17, 2014.
"CKWX Fabulous Forty," CKWX 1130 AM, Vancouver, BC, March 11, 1961.
For more song reviews visit the Countdown.