#351: Tina by the Easy Riders
Peak Month: June 1957
11 weeks on Vancouver's CKWX Chart
Peak Position ~ #4
Peak Position on Billboard Hot 100 ~ #96
YouTube: "Tina"
Lyrics: "Tina"
Terry Gilkyson was born in 1916 in Phoenixville, Pennsylvania. He went to the University of Pennsylvania where he studied voice, composition and harmony. He moved to Tucson, Arizona, to work on a ranch. But when World War II began he was drafted and sang folk songs over the Armed Forces radio network. After the war he was married and began to write songs. His first big break was when he wrote "The Cry Of The Wild Goose", a number-one hit in March 1950 for Frankie Laine. He recorded two albums of folk songs, The Solitary Singer, volumes 1 and 2, in 1950 and 1951. And in 1951 Gilkyson was the featured vocalist in the Weavers number-one hit in May-June titled "On Top Of Old Smokey".

In 1951 Gilkyson appeared in a western called Slaughter Trail in the role of a singer named Singalong. The film involved a stagecoach, masked bandits, the Navajo and US calvary. He also penned Top 30 hits that year for Guy Mitchell titled "Christopher Columbus", and Frankie Laine titled "Girl In The Wood". And there was the Jo Stafford and Frankie Laine duet "Gambella (The Gamblin' Lady)", a Top 20 hit in 1951 penned by Terry Gilkyson.
In 1952 Gilkyson formed the Easy Riders in Los Angeles. They took their name from the "Easy Rider Blues" (or "Cee-Cee Rider"). The original easy rider rode the rails on the Chattahoochee-Columbus railroad in Alabama and Georgia. An "easy rider" was also a nickname for an unfaithful lover. The Easy Riders was a trio with Gilkyson, Frank Miller and Richard Dehr. Frank Miller was born in Brooklyn, New York, in 1918. His mother was a piano teacher, and he learned to play piano in his childhood. Miller also learned how to play Italian street songs and how to play guitar by hanging around the neighborhood barber shop. At Purdue University, Miller was a member of the Happy Hollow Songsters.
Richard Dehr was born in Chicago in 1913. During Prohibition Dehr's mother ran a number of nightclubs that served alcohol in Chicago during the time of Al Capone. His father was an amateur musician, magician and worked as a butcher. Dehr's father introduced him to some of the musicians he got to know including Louis Armstrong, Fletcher Henderson, Bessie Smith and King Oliver. Richard Dehr worked as a truck driver, ceramic caster, silk screen printer and house painter before he started working in the music field. Richard Dehr got a scholarship to the Richard Dyer Bennett school in Aspen, Colorado, where he developed his musical skills.
In 1953 the Easy Riders released an album titled Golden Minutes of Folk Music. In 1953 Terry Gilkyson wrote "Tell Me A Story" for child singer Jimmy Boyd. At the age of 13, Boyd had a number-one hit in December-January 1952-53 titled "I Saw Mommy Kissing Santa Claus". Also in 1953, Gilkyson penned a #10 hit on the Billboard Pop chart for Doris Day titled "Mister Tap Toe". In 1955 the Easy Riders cowrote "Memories Are Made Of This". It became a number-one hit for Dean Martin for five consecutive weeks on the Billboard Best Sellers in Stores chart in January-February 1956. And the Easy Riders provided uncredited backing vocals.
In 1956 Terry Gilkyson appeared in another western titled Star in the Dust. The cast included Mamie Van Doren, John Agar, and a young Clint Eastwood. Gilkyson played a character called The Music Man.
In February 1957 Terry Gilkyson and the Easy Riders began to chart a calypso-folk tune they'd written in 1956 titled "Marianne". In Vancouver it peaked at #4 in early March, only to be superseded by another version recorded by the Hilltoppers. On the Billboard pop chart "Marianne" peaked at #4 and the Hilltoppers version climbed to #3.
While the Hilltoppers were still enjoying their fourth week in the Top Ten on CKWX in Vancouver, the Easy Riders began to chart what would soon become a Top 20 hit in Vancouver (BC) titled "Don't Hurry Worry Me". This was a track from the album Marianne And Other Songs You'll Like. The single charted on the CKWX Top Fifty for 17 weeks, peaking at #18 in April.
Overlapping this charted song, the Easy Riders were credited with providing backing vocals on a Top Ten hit by Frankie Laine titled "Love Is A Golden Ring". In April 1957, the song climbed to #9 on CKWX in Vancouver and #19 on the Cashbox Best Selling Singles chart.
Then, in mid-May, the Easy Riders had another hit single in Vancouver with "Tina".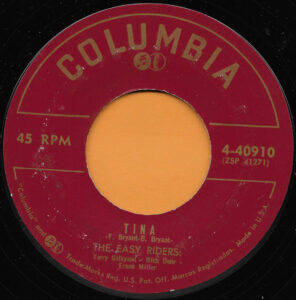 "Tina" was written by by Felice and Boudleaux Bryant. They had a string of hits including "Bye Bye Love", "Wake Up Little Susie", "Bird Dog", "Problems" and "All I Have To Do Is Dream" among others, for the Everly Brothers. They wrote "Raining In My Heart" for Buddy Holly, and "Last Date" for Floyd Cramer. They also co-wrote "Love Hurts" which was introduced in December 1960 as an album track on A Date with The Everly Brothers, but was never released as a single (A-side or B-side) by the Everlys'. The first hit version of the song was by Roy Orbison who climbed the Australian pop charts to #5. They also wrote "She Wears My Ring", a Top Ten hit in Vancouver for Jimmy Bell in 1961. And in 1961 they wrote "Private Eye" for Bob Luman.
Matilda Genevieve Scaduto was born in 1925. Boudleaux Bryant was born in 1920 in Shellman, Georgia. The two met in 1945 and eloped two days later. He nicknamed her Felice and the name stuck. She was 19 when they married. Boudleaux Bryant also wrote a number of songs on his own including "Devoted To You" for the Everly Brothers in 1958, and a Top Ten instrumental hit titled "Mexico" for Bob Moore in 1961.
"Tina" was a song about a woman who goes for a ride in her boyfriend's boat. All she wants to do while they are in rough seas is make love. But the guy complains there are sharks in the water. He candidly states "don't be a clown, Tina sit down". Moreover, as she rocks the boat she's splashing water on his "new suede coat." The guy is worried he'll get pneumonia if he gets wet and they go overboard. If Tina sits down, the boyfriend hopes he can get his fishing done and catch some tuna. Why is the boyfriend is going tuna fishing in a small boat while wearing a suede coat? It seems he's got little sense regarding what to wear when fishing. As for when they return to the harbor, the boyfriend promises he's going to give Tina a spanking. Clearly, this is a song written in a pre-women's lib era.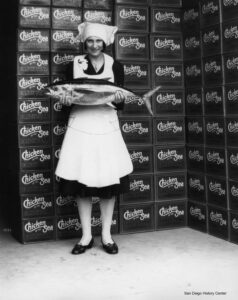 We don't know if the boat the Easy Riders were thinking of had Tina in the waters of the Atlantic or the Pacific. Either way, catching tuna is difficult for one guy wearing a new suede coat. The average size of an Albacore Tuna, the smallest of the bluefin tuna group, is 99 pounds. The only problem with choosing to fish with this "smaller" version of bluefin tuna is that it is typically found 40 to 70 miles off the coast. Bluefin Tuna can weigh as much at 1,500 pounds. In the yellowfin tuna group, the average size of a Blackfin Tuna is 31 pounds. Yellowfin tuna can weigh as much as 440 pounds. Unless he has a big net dragging behind the boat, the boyfriend with the new suede coat is likely to be unprepared to catch any tuna during his outing with Tina. Her penchant for frisky frolics aside, he's likely going to have some challenges catching these rather large fish by himself. No doubt, if he has a fishing rod, Tina's going to be groping him while he tries to reel in his catch.
Smaller sport fishing boats are at least 18 to 25 feet in length. How much rocking can Tina be doing to make a difference in a boat of that size? The boyfriend worries that if Tina keeps rocking the boat it's going to capsize. Moreover, he's worried that if his feet get wet he'll get pneumonia.
"Tina" is one of a number of songs by the Easy Riders in a calypso genre. Calypso emerged in Trinidad in the 17th Century, influenced by traditions brought by slaves from west Africa. The genre first got wide exposure when the Andrews Sisters recorded "Rum And Coca-Cola" and it peaked at number-one in 1945. The song was a cover of calypso singer-songwriter Lord Invader. The song was a critical commentary on the explosion of prostitution, inflation and other negative influences accompanying American military bases in Trinidad at the time. In 1956-57 there was a Calypso craze that included Harry Belafonte, the Tarriers, the Easy Riders and numbers of other recording artists. Later in the 70s there was a revival of calypso in Trinidad that spawned soca music. A notable soca hit was "Hot Hot Hot" by Arrow. It climbed charts variously as an international hit in 1982, 1984 – where it was #6 in Montreal – and 1987.
In June 1957 "Tina" peaked at #4 in Vancouver (BC), #9 in Toronto and Tuskegee (AL), and #10 in La Crosse (WI). However, the single stalled on the Billboard pop chart at #96.
In 1958 the Easy Riders scored the film Windjammer. The Easy Riders released five singles with Columbia between 1957 and 1959. They switched to the Kapp label in 1960, and released three more singles: "Young In Love", "Green Leaves Of Summer" and "Silver And Gold". The latter was a different tune from a popular Burl Ives Christmas song. In 1958 Terry Gilkyson penned "Fast Freight" for the Kingston Trio on their debut self-titled album. And in 1960 Gilkyson, Miller and Dehr co-wrote "Greenfields", a #2 hit for the Brothers Four that year.
By the end of 1960 Terry Gilkyson and Richard Dehr left the Easy Riders and were replaced by Jerry Yester and Doug Myres. Richard Dehr and Terry Gilkyson recorded some records after they split with Frank Miller. Meanwhile, in 1962 the reformed Easy Riders released a self-titled album. In the 1960s, Terry Gilkyson wrote music for the long-running television series The Wonderful World of Disney. In 1963 he wrote "Thomasina," sung by Robbie Lester in the film The Three Lives of Thomasina.
In 1967 Terry Gilkyson wrote the song "The Bare Necessities" which was featured in the animated film The Jungle Book. In 1970 he contributed to the score of The Aristocats. Over the years Gilkyson had his songs recorded including The Serendipity Singers, The Rocky Fellers, Marlene Dietrich, Glen Yarbrough, Astrid Gilberto, Burl Ives, Louis Armstrong, the Chipmunks, the Vogues, Mr. Acker Bilk, Paul Anka, Santo & Johnny, The Lettermen, Jim Reeves, Susan Jacks, Petula Clark, Tennessee Ernie Ford, the Statler Brothers, Trini Lopez, the Flying Pickets, Harry Connick Jr., Bing Crosby, Tony Bennett, Jo Stafford, the Everly Brothers and others. His daughter, Eliza Gilkyson, has followed in her father's footsteps. A singer-songwriter, between 1969 and 2020 she has released 24 studio folk music albums.
In 1989, Richard Dehr died at the age of 76. Frank Miller died at the age of 97 in Durham, North Carolina, in 2015.
Boudleaux Bryant died in 1987. Felice Bryant remained active writing songs; in 1991, the Nashville Arts Foundation honored her with its Living Legend Award. She died in 2003.
February 3, 2021
Ray McGinnis
References:
"Obituary: Terry Gilkyson," Independent, October 22, 2011.
"The Easy Riders," discogs.com.
Michael Jack Kirby, "Terry Gilkyson and The Easy Riders," waybackattack.com.
Bruce Eder, "Easy Riders Biography," AllMusic.com.
Tony Russell, "Felice Bryant: Gifted Songwriter with Many 1960s Chart Hits," Guardian, May 20, 2003.
"Felice and Boudleaux Bryant bio," Rockabilly Hall of Fame.
"Tuna Fishing: Albacore Tuna, Yellowfin Tuna, & Bluefin Tuna," newportlanding.com.
Benjamin Ramm, "The Subversive Power of Calypso Music," BBC, October 11, 2017.
"Top 50 Songs of the Week," CKWX 1130 AM, Vancouver, BC, June 30, 1957.
For more song reviews visit the Countdown.