#218: Torture by Kris Jensen
Peak Month: October 1962
11 weeks on Vancouver's CFUN Chart
Peak Position #3
Peak Position on Billboard Hot 100 ~ #20
YouTube: "Torture"
Lyrics: "Torture"
In 1942, Peter Jensen was born in New Haven, Connecticut. From a young age, Pete was a big fan of the singing cowboys, Gene Autry and Roy Rogers. When Pete was sixteen years old, he met Denise Norwood. She was a songwriter who penned "The Garden Of Eden." This was a hit for Joe Valino. Between the ages of sixteen and nineteen, Jensen collaborated with Denise Norwood. He recorded numbers of her songs at her home studio. In 1959, Colpix Records released Jensen's recording of "Bonnie Baby". The tune made the local charts on WHIL Boston. Jensen variously recorded for Leader, Kapp, Hickory and finally White Whale. Jensen could not only sing, but also play the guitar and bass guitar. Though he would release at least sixteen singles between 1959 and 1966, he is remembered in America as a one-hit wonder. But not in Vancouver where he charted three songs on the local pop charts.
From information at Discogs.com, Kris Jensen's first single release on Leader Records was "Perfect Lover" (Leader 808). The B-side was "School Bus".
Besides Vancouver, Kris Jensen's "School Bus" seemed to get little airplay in the USA. It did chart in Philadelphia and Weldon, North Carolina. But beyond those radio markets there is little indication the song got much traction. I wonder what kind of promotion Jensen got from Leader Records? Jensen also recorded "Your Daddy Don't Like Me" on Leader, as a followup to "School Bus".
Afterwards, Jensen switched labels again to Kapp Records. He released a song dedicated to the the hairstyle of the current First Lady of the White House, "The Jackie Look". It made it into the Top 20 in Tampa, Florida, in June '61. Concurrently, Jensen released a great summer-themed tune, "3 Vanilla, 2 Chocolate, 1 Pistachio Ice". It became a Top 20 hit in Ohio, Pennsylvania and upstate New York in July '61. The tune was co-written by Lee Pockriss and Fred Tobias. Pockriss had written "Itsy Bitsy Teenie Weenie Yellow Polka Dot Bikini", a #1 hit for Brian Hyland. And Fred Tobias had penned "Good Timin'" for Jimmy Jones. Both were big hits in 1960.
But with the help of these songwriters, Jensen didn't get the big break he was hoping for. He was having a string of singles that were making it onto the pop charts, but only on a few local radio markets at a time. Jensen also recorded a version of "Come Back To Me My Love." This happened to be a hit in Vancouver for Mark Dinning, also in the fall of 1960.
Wesley Rose, a Nashville music publisher heard a demo album that Denise Norwood was hoping would get picked up by a record label. It was Wesley Rose who made connections for Kris Jensen to get introduced to the staff at Hickory Records. Kris' first release on Hickory was "Torture".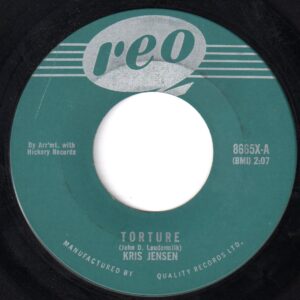 "Torture" was written by John D. Loudermilk, who was born in Durham, North Carolina, in 1934. Although he had a middle initial, D, the "D" wasn't short for any middle name. His father was an illiterate carpenter, John D Loudermilk Sr. When John D. Jr. was, seven his dad gave him a ukulele made from a cigar box. Young John D Jr. learned to play guitar in his youth and began to write poems and songs. His poetry was inspired after he began to read the works of Kahlil Gibran. In his late teens, in the early 50's, John D Jr. wrote a poem titled "A Rose And A Baby Ruth." It concerned a teenage couple who have a quarrel and the boy gives his girlfriend a rose and a Baby Ruth candy bar to make up. Loudermilk put notes to the poem and played the sung version on a local TV station. This caught the attention of country singer, George Hamilton IV. The song was published in 1956 and became a Top Ten hit on both the Country and Pop charts on Billboard Magazine. The following year, Loudermilk penned "Sittin' In The Balcony" for Eddie Cochran. Once that became a hit, Loudermilk's songwriting career was launched. He co-wrote "Waterloo," a #1 country hit and #4 pop hit in 1959 for country singer, Stonewall Jackson.
In the early 60's Loudermilk continued to have success as a songwriter. Sue Thompson had two Top Ten hits on the pop and country charts in 1961 written by Loudermilk: "Sad Movies (Make Me Cry)" and "Norman." The Everly Brothers also scored a Top Ten hit in 1961 by John D. Loudermilk, titled "Ebony Eyes". And Bob Luman had a Top Ten hit in Vancouver in 1961 by Loudermilk called "The Great Snowman." The singer of "Teen Angel", Mark Dinning, had a #6 hit in Vancouver in '61 with "Top 40, News, Weather And Sports," another Loudermilk composition. Loudermilk also had a Top 40 hit on the Billboard Hot 100 titled "Language Of Love".
In 1962, Loudermilk had several more hits recorded by other singers, including "If The Boy Only Knew" by Sue Thompson. Kris Jensen had a hit with "Torture". Loudermilk also recorded several more songs he penned: "Angela Jones", "Calling Dr. Casey" and "Road Hog".
John Loudermilk had other songs on the US charts in 1962. "Thou Shalt Not Steal" was a minor hit in the USA and did not chart in Vancouver. However, in 1964 it was a Top 20 hit for Dick and Dee Dee. That same year Loudermilk's 1960 composition, "Tobacco Road", became a Top Ten hit in the UK for the Nashville Teens. Johnny Tillotson had a Top Ten hit in early 1964 with "Talk Back Trembling Lips" written by Loudermilk. And in 1965, another one of his songs, "This Little Bird", became a Top Ten hit in Vancouver and the UK for Marianne Faithfull. In 1967, Loudermilk won a Grammy Award for Best Liner Notes for his album Suburban Attitudes in Country Verse. And a song he wrote in 1962, "Then You Can Tell Me Goodbye", became a Top Ten hit for The Casinos. In March of 1968, Glen Campbell had a Top 40 hit and a #1 hit in Vancouver with Loudermilk's tune, "I Wanna Live". And in 1968, another of Loudermilk's songs got critical acclaim when Don Fardon released "Indian Reservation". The song was a #1 hit for Paul Revere And The Raiders in 1971.
"Torture" was a hypnotic tune. Jensen had a vocal that many listeners mistook for a new Elvis Presley record. The song is about a guy who will go through the pain and torture of trying to win his sweetheart's love, if only she would let him embrace her.
"Torture" was Jensen's biggest hit, peaking at #1 in Worcester (MA), Edmonton (AB), Springfield (MA), Denver, and Boston, #3 in Vancouver (BC), and St. Louis, #4 in Akron (OH), Houston, Minneapolis/St. Paul, and Fort Worth (TX), #5 in Cleveland, Hartford (CT), San Bernardino (CA), San Francisco, Charleston (WV), Tucson (AZ), and Baltimore (MD), #6 in Philadelphia, Buffalo, Muskegon (MI), and San Antonio (TX), #7 in Olympia (WA), Tulsa (OK), Canton (OH), Syracuse (NY), Erie (PA), and Seattle, #8 in Vancouver (WA), Regina (SK), Newport News (ND), and Fargo (ND), #9 in El Dorado (AR), and Lincoln (NE), #10 in Cincinnati, #11 in San Diego, and Los Angeles, #13 in Montreal, Toronto, and Miami. "Torture" peaked at #20 on the Billboard Hot 100, failing to chart with much success in nearly half the states across the USA.
Jensen's follow-up release hoped to build on his name recognition from "Torture". But though "Don't Take Her From Me" was a Top 50 hit on Vancouver's 1410 CFUN in January 1963, it only grazed the Top 40 in a few markets in Massachusetts, and Little Rock, Arkansas. The song is mostly of interest as it was written by Bob Montgomery who latter penned "Misty Blue" for Dorothy Moore in 1976. Montgomery also wrote "Back In Baby's Arms" for Patsy Cline, and "Heartbeat" for Buddy Holly. Montgomery also produced "Honey" for Bobby Goldsboro.
In early 1963, Jensen had a regional Top 20 hit in several Massachusetts radio markets with "Cut Me Down (From Your Whipping Post)". The song written by John D. Loudermilk may be one of the more unconscious efforts at describing a toxic relationship.
According to Wayne Jancik in his book, One Hit Wonders, on November 22, 1963, Kris Jensen was on route to appear on the Buddy Dean TV Show in Baltimore. Jensen sensed he had "the hottest record of his career in his hands, "Big As I Can Dream". The song was also penned by Bob Montgomery, who had written Jensen's follow up release after "Torture". Montgomery was also one-time singing and recording partner of Buddy Holly prior to Holly joining The Crickets in 1957. "En route to the TV studio, we heard a bulletin on the radio that President Kennedy was shot in Dallas," Jenson recalls. "By the time we got to the station, the Buddy Dean show was cancelled for the day in order to cover the assassination. That was the last anyone heard of the record." "Big As I Can Dream" climbed to #8 in Manchester, New Hampshire, but that was all. Jensen had a regional hit in the Peace River Country in northern Alberta in January '64 where "Donna Donna" went to #12 at CFGP in Grande Prairie.
His final appearance on the pop charts was a regional Top 20 hit in Washington D.C. in the fall of 1966 called "Who Likes Good Pop Music". He covered Kris Kristofferson's "Me and Bobby McGee" in 1969, before Janis Joplin or Gordon Lightfoot. The single release followed the same pattern of most of his recordings, it failed to get much attention. It would be Jensen's last recording.
Kris Jensen, at least online, has become a true disappearing act. Since he faded from the recording industry in the late 1960s, he has seemingly left no trace for nearly fifty years. However, on June 25 and again on June 26, 2018, I received two emails from John F. Kulas. He wrote me after reading this article to let me know Kris Jensen is "alive and well and also my neighbor in Santa Monica, California." He adds that on Kris Jensen's recording of "No One Really Cares", Roy Orbison was singing the high notes at the end of the track. This was one of the tracks on Kris Jensen's only album, Torture. Jensen toured with Roy Orbison as well. Kulas writes, "Chet Atkins played on several of his records, and Kris was backed by the Anita Kerr Singers as well. Kris was friends with Johnny Horton and Bobby Goldsboro, among others. After moving to Los Angeles, he did A&R work for Snuff Garrett and says he suggested Cher record "Gypsies, Tramps, and Thieves".
January 3, 2022
Ray McGinnis
References:
Kris Jensen, Discogs.com
Wayne Jancik, Kris Jensen, One Hit Wonders.com
ARSA – The Airheads Radio Survey Archive ~ Kris Jensen: Record Surveys
Kris Jensen, Rockabilly.nl
Kris Jensen, Mental Itch.com.
Julie Thanki, "Songwriter John D. Loudermilk Dead at 82," The Tennesseean, Nashville, TN, September 22, 2016.
"John D Loudermilk Obituary: Singer and Songwriter Best Known for Tobacco Road, a Big Hit for the Nashville Teens in 1964," Guardian, September 27, 2016.
Email from John F. Kulas, neighbor of Kris Jensen, Santa Monica, California, June 25, 2018.
Email from John F. Kulas, neighbor of Kris Jensen, Santa Monica, California, June 26, 2018.
"C-FUNTASTIC FIFTY," CFUN 1410 AM, Vancouver, BC, October 6, 1962.
For more song reviews visit the Countdown.