#258: Turn To Stone by the Electric Light Orchestra
Peak Month: January 1978
11 weeks on Vancouver's CKLG chart
Peak Position #2
Peak Position on Billboard Hot 100 ~ #13
Billboard 1978 Year-End #94
YouTube.com: "Turn To Stone"
Lyrics: "Turn To Stone"
Jeffrey Lynne was born in suburban Birmingham, England in 1947. His dad bought him a guitar when he turned twelve. In 1966 he formed a band that by 1968 called themselves the Idle Race. He left for another band by the end of the 60s named The Move. The latter development was a catalyst for working on a musical project combining rock with orchestration. Beverley "Bev" Bevan was born in Birmingham, UK, in 1944. He learned to play drums and in 1956 he joined a rock band named Denny Laine & the Diplomats. In 1965 he moved on to join Carl Wayne & the Vikings, and in 1966 The Move. Bevan went through the transition from the Move to Electric Light Orchestra with Jeff Lynne. By the end of 1970 the Electric Light Orchestra was born.
Hugh Alexander McDowell was born in 1953 in Hampstead, London. He learned to play the cello at age four. He was a member of several prestigious classical symphony orchestras in his teens, including the London Schools Symphony Orchestra. He joined ELO in 1972 at the age of 19. Mike de Albuquerque was born in Wimbledon in 1947. He learned to play bass guitar and joined ELO in 1972, but left in 1974.
Richard Tandy was born in Birmingham, UK, in 1948. In 1968, at the age of 20 he played harpsichord on "Blackberry Way", The Move's only number one hit in the UK. He joined ELO in 1972. Mike Edwards was born in West London in 1948. He learned to play the cello and viol and joined ELO in 1972, but left in 1975. Michael "Mik" Kaminski was born in 1951 in Harrogate, North Yorkshire. He played with the Leeds Orchestra from the age of 14, having learned to play the violin. He joined ELO in 1973.
The Electric Light Orchestra had several Top Ten hits in the UK in 1972-73. The first was "10538 Overture" which peaked at #9 on the UK singles chart in 1972. Their second single release was a cover of the 1956 rock 'n roll classic by Chuck Berry called "Roll Over Beethoven". In 1973 ELO performed in concert in Vancouver at the PNE Garden Auditorium on both July 13th and again on November 12th.
Then in 1974 the Electric Light Orchestra had a #9 hit on the Billboard Hot 100 titled "Can't Get You Out Of My Head", which stalled at #24 in Vancouver. On November 17, 1974, ELO gave a concert at the Pacific Coliseum in Vancouver, opening for Deep Purple.
A new member of ELO at this time was Michael William "Kelly" Groucutt. He was born in 1945 in a village in Staffordshire. From the age of 15 he was in a variety of bands and was spotted by Bevan and Lynne in 1974 when they needed a new guitarist and vocalist. Groucutt appeared for the first time in the recording studio with ELO on their 1975 Face The Music album which featured "Evil Woman". The single peaked at #2 in Vancouver and #13 on the Billboard Hot 100.
On February 4, 1976, ELO appeared in concert in Vancouver at the Queen Elizabeth Theatre. In the fall of 1976 ELO released A New World Record. In 1977, both singles, "Livin' Thing" and "Telephone Line", climbed to #2 in Vancouver. While a third single from the album titled "Do Ya", stalled at #19. In the fall of '77, ELO released their seventh studio album titled Out of the Blue. The debut single from the album was "Turn To Stone".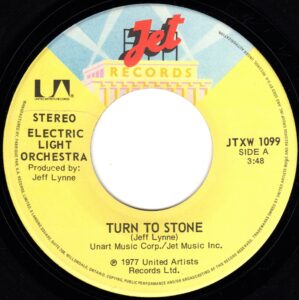 "Turn To Stone" was written by Jeff Lynne. The song offers up a metaphor of someone who 'turns to stone' when their romantic partner is away from them. Though, it seems the absence is prolonged when the band sings "you will return again some day." Is this just hopefulness? The narrator of the song sings about "my blue world." There may be other factors that have led to the other person choosing to be away. But the vagueness leaves us with many possibilities.
"Turn To Stone" peaked at #1 in Toronto, #2 in Vancouver (BC), Dayton (OH), and Denver, #3 in Peterborough (ON), San Bernardino (CA) and Los Angeles, #4 in Easton (PA), Rapid City (SD), and Syracuse (NY), #5 in Redlands (CA) and Mason City (IA), #6 in Saskatoon (SK) and Cleveland, #7 in New Haven (CT), Milwaukee, San Diego, and Burbank (ON), #8 in Windsor (ON), Springfield (MA), Buffalo, and Boston, #9 in Ottawa (ON), Sarasota (FL), Oklahoma City, and Kansas City (MO), #10 in Salt Lake City, Atlanta, and San Francisco.
The second single release from Out of the Blue, "Sweet Talking Woman", peaked in Vancouver at #2.
In 1979 ELO released the Discovery album The first single titled "Shine A Little Love" climbed to #2 in Vancouver and #8 on the Billboard Hot 100. This was their fourth Top Ten hit on the Hot 100, and seventh Top Ten hit in Vancouver. Their next North American single release from the album, "Don't Bring Me Down" climbed to #4 on the Billboard Hot 100, and #1 in Vancouver in the fall of 1979. The next single release from the album was "Confusion".
In 1980 ELO was featured on the soundtrack for the film Xanadu. They were also in the film, along with Olivia Newton-John, Cliff Richard and The Tubes. The film featured the theme song "Xanadu" by ELO with Olivia Newton-John. It climbed to #5 in Vancouver and #8 on the Billboard Hot 100. Two other singles from the film, "All Over The World" and "I'm Alive", made the Top Ten in Vancouver in 1980.
In 1981 ELO released the album Time – ELO. It featured the single release "Hold On Tight", which peaked at #2 in Vancouver and #10 on the Billboard Hot 100. And a 1983 album titled Secret Messages – E.L.O. netted them another Top Ten hit in Vancouver titled "Rock 'N' Roll is King".
Prior to the formation of the Traveling Wilburys, ELO released their eleventh studio album, Balance Of Power, in February 1986. A single from the album, "Calling America" climbed to #10 in Vancouver, and stalled at #18 on the Billboard Hot 100. It was their last charting single in Vancouver.
From 1973 to 1986, ELO charted 15 singles into the Top Ten in Vancouver, and 15 singles into the Top Ten in the UK, but just 7 singles into the Top Ten on the Billboard Hot 100.
Jeff Lynne became a member of the Traveling Wilburys along with George Harrison, Roy Orbison, Tom Petty and Bob Dylan.
Jeff Lynne has continued to write, perform and produce. His work as a producer has included recordings for Tom Jones, Bonnie Tyler, George Harrison, Joe Walsh and Aerosmith.
Hugh McDowell left ELO in 1979 after appearing in the Discovery music video. In 1980 he played on the album Gift Wrapped by former ELO cellist Melvyn Gale, who had founded the group Wilson Gale & Co. That autumn he began teaching part-time at the musical instrument technology department of a London higher educational college, the London College of Furniture, now part of the Guildhall University. He conducted a children's orchestra and other orchestras at several London schools. Over the decades he played with various chamber and ensemble groups. He died of cancer in 2018 at the age of 65.
Mik Kaminski left ELO in 1979, after appearing on the Discovery music video and formed Violinski. It became a one-hit-wonder in the UK and the Netherlands with a Top 20 single titled "Clog Dance".
In 1985 Richard Tandy formed the Tandy Morgan band. He has been a musician on twelve of fourteen ELO studio albums released between 1971 and 2019.
Bev Bevan formed ELO II in 1989 and toured until 1999 with Mik Kaminski and Kelly Groucutt (ELO bandmate from 1974 to 1983). Groucutt had left ELO in 1982 and released a solo album. He died of a heart attack in February 2009. He was 63.
On June 26, 2019, ELO with Jeff Lynne performed in concert at Rogers Arena in Vancouver. Electric Light Orchestra's 14th studio album, From Out Of Nowhere, was released in November 2019.
September 15, 2021
Ray McGinnis
References:
Simon Price, "It's A Livin' Thing: Jeff Lynne Interviewed By Simon Price," Quietus, November 2, 2015.
Bruce Pilato, "Rock Star Jeff Lynne Steps Into the Spotlight," Variety, April 23, 2015.
Scott, "Jukeboxes: The Complete History," Home Leisure Direct.com, October 7, 2015.
"ELO Cellist Mike Edwards Hay Bale Death: Farmers Cleared," BBC, November 12, 2012.
"Top drummer Bev Bevan on Birmingham Walk of Stars," BBC, January 18, 2011.
"Interview with Richard Tandy," King of the Universe Fanzine, April 1999.
"ELO and Wizzard cellist Hugh McDowell dies at 65," BBC, November 8, 2018.
Danny Cox, "Mik Kaminski Interview: ELO's Violin Player Talks About the Band's Past and Present," BBC, February 2, 2006.
"Kelly Groucutt, Former ELO Bassist, Dies," Globe Gazette, Mason City, Iowa, February 21, 2009.
"ELO concerts in Canada," setlist.fm.
"CKLG Top Thirty," CKLG 730 AM, Vancouver, BC, January 25, 1978.
For more song reviews visit the Countdown.