#211: Two For The Show by Trooper
Peak Month: August 1976
13 weeks on Vancouver's CKLG chart
Peak Position #3
Peak Position on Billboard Hot 100 ~ did not chart
YouTube: "Two For The Show"
Lyrics: "Two For The Show"
In 1967 Ra McGuire and Brian Smith played in a Vancouver band named Winter's Green. The band recorded two songs, "Are You a Monkey" and "Jump in the River Blues" on the Rumble Records Label. "Are You A Monkey" later appeared on a rock collection: 1983's "The History of Vancouver Rock and Roll, Vol. 3." In the early seventies Winter's Green changed their name to Applejack and added drummer Tommy Stewart and bassist Harry Kalensky to their lineup. Applejack became a very popular band in the Vancouver area, and began touring extensively in British Columbia. The band played a few original tunes such as "Raise A Little Hell", and "Oh, Pretty Lady", as well as Top 40 songs by artists such as Neil Young, and Chicago.
After hearing Applejack perform, Randy Bachman of Bachman–Turner Overdrive and The Guess Who signed the band to his Legend label. The band changed their name from Applejack to Trooper. Bachman produced the band's self-titled debut album, Trooper, which contained the Canadian hits "Baby Won't You Please Come Home" and "General Hand Grenade". On September 21, 1975, Trooper opened a concert for Three Dog Night at the Pacific Coliseum.
Managed by Sam Feldman, Trooper began touring extensively in both Canada and the United States. After moving from Legend Records to MCA Records, Trooper added Frank Ludwig on keyboards. A second album, Two For The Show, featured the title track "Two For The Show".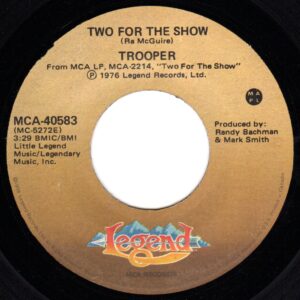 "Two For The Show" was written by Ra McGuire. The song begins with a lead vocalist in a band who has makeup on their face, and thinks he knows the lines to the songs he's singing on stage for the concert. Though he's not certain. Meanwhile, his mother wants to go to the show, and her rock n' roll singer son thinks "she's too old." At the concert, an opening act is a woman who is singing out of key and who doesn't know how to dance. The singer in the rock band hopes one day that she'll learn to "earn her living gracefully."
"Two For The Show" peaked at #3 in Vancouver (BC), and #13 in Hamilton (ON). In 1976, Trooper first appeared in concert on March 21 at the PNE Garden Auditorium, and later on September 4 at the Pacific Coliseum – opening for Bachman-Turner Overdrive.
The Two For The Show album included subsequent releases "Santa Maria" and "Ready". On January 17, 1977, Trooper gave a concert at Killarney Secondary School in Vancouver.
In 1977 Trooper released their third album, Knock 'Em Dead Kid. By this time Harry Kalensky had been replaced by bass guitarist Doni Underhill. Doni spent his early days in Toronto. He playing with Robbie Lane, and was in the bands Fludd and Brutus. The first single from the album, "We're Here For A Good Time (Not A Long Time)", was the bands highest charting single at the time, peaking on the RPM charts at #12. On December 2, 1977, Trooper gave a concert at the PNE Garden Auditorium along with Prism. The 70's ended well for Trooper with "Raise A Little Hell", "Round Round We Go" and "3 Dressed Up As A Nine" among their Canadian hits.
In 1978 Trooper appeared in concert in Vancouver on October 5 at the PNE Garden Auditorium, and on November 25, 1978, at The Cave. Earlier that year, the band gave a four-night-stand at The Cave from May 3rd to 6th.
Trooper's album, Thick As Thieves, was nominated for Best Selling Album Juno Award. And in 1979 the band won the Juno Award for Group of the Year. Early in 1979, Trooper had another single climb into the Top 20 in Vancouver titled "The Moment It Takes". in 1980, followup single from the album, "Janine", made the Top Ten in Regina (SK), and nationally on the RPM Canadian Top 100 singles chart. However, it didn't chart in Vancouver.
In the early 1980s, Trooper gave numbers of concerts at the Commodore Ballroom in Vancouver. They appeared on November 13-14-15, 1980, and again on July 16-17, 1982. As well, the band gave several concerts at the Pacific Coliseum in Vancouver on November 3, 1979, and the following year on October 25, 1980. On February 15, 1985, Trooper came to the Vancouver suburb of Burnaby to perform at the North Burnaby Inn.
Trooper won a SOCAN Classic Award in 2005 for "Oh, Pretty Lady". SOCAN is an acronym for the Society of Composers, Authors and Music Publishers of Canada. Trooper has 401 photographs housed in the Library and Archives Canada's Gatineau Preservation Centre. Between 1975 and 1991 Trooper charted a dozen singles into the Canadian RPM Top 40, and released nine studio albums.
On December 4, 1999, and again on July 2, 2001, Trooper appeared in concert at the Commodore Ballroom in Vancouver. On May 23, 2007, Trooper gave another concert in Vancouver, this time at PNE Rollerland.
On September 6, 2010, and again on August 31, 2012, Trooper gave concerts at the PNE Exhibition Bowl. Two years later, on August 22, 2014, Trooper appeared at the PNE Amphitheatre in Vancouver. On November 29, 2014, Trooper was the stage act at the post-Grey Cup celebrations at the Vancouver Convention Centre. On December 31, 2015, Trooper was in concert at the Hard Rock Casino in the Vancouver suburb of Coquitlam. On July 30, 2016, Trooper gave a concert at Shorefest in Vancouver. On August 18, 2018, Trooper performed in concert at Ambleside Park in West Vancouver.
January 19, 2022
Ray McGinnis
References:
Trooper bio, Canadian Bands.com.
Trooper concert schedule, Trooper.com
Tim Lewis, "Buffy Sainte-Marie: 'My Music is Much More Diverse than Almost any Singer You Can Think of'," Guardian, August 2, 2015.
"Trooper concerts – Canada," setlist.fm.
"Vancouver's Official Music Survey," CKLG 730 AM, Vancouver, BC, August 31, 1976.
For more song reviews visit the Countdown.