#899: Wondering by Patti Page
Peak Month: July 1957
14 weeks on Vancouver's CKWX chart
Peak Position #17
Peak Position on Billboard Hot 100 ~ did not chart
YouTube.com link: "Wondering"
Lyrics: "Wondering"
Patti Page was born on November 8, 1927. The New York Times writes "She was born Clara Ann Fowler in Claremore, Oklahoma, the second youngest of 11 children of a railroad laborer. Her mother and older sisters picked cotton. She often went without shoes. Because the family saved money on electricity, the only radio shows Miss Page heard as a child were Grand Old Opry, The Eddie Cantor Show and Chicago Barn Dance."
When she was 13-years-old, Fowler won a scholarship to study art, and got work in a radio station art department in Tulsa. But someone at the station had heard her sing at a school assembly. Clara Ann Fowler was asked her to audition to replace a singer on a show called "The Meet Patti Page Show" sponsored by the Page Milk Company. She got the job, becoming the fictional Patti Page of the airwaves.
She sang traditional pop music in a style common in the pre-rock 'n roll era. In the 1950s the 5'4″ Patti Page was the top-charting female vocalist and best-selling female artist. In a six decade span she sold in excess of 100 million records as a recording artist. At her live performances she was introduced as "the Singin' Rage, Miss Patti Page." In 1947 she signed with Mercury Records, and became Mercury's first successful female artist charting several Top 20 hits in the late 1940s. Her first hit single was "Confess" in 1947, which climbed to #12. In 1948 she recorded the Cole Porter song "So In Love" from the Broadway musical Kiss Me, Kate. The single peaked at #13 on the Billboard pop chart. In early 1950, Page had a #11 hit with "With My Eyes Wide Open, I'm Dreaming". The song was a cover of a 1934 pop standard recorded by Ruth Etting.
As well, in 1950, Page had her first Top Ten hit, "I Don't Care If the Sun Don't Shine" and two number one hits, "All My Love (Bolero)", and her signature song, "Tennessee Waltz". The latter became the fourth official song of Tennessee in 1965. She had two more number one singles, "I Went To Your Wedding" (1952) and "(How Much Is That) Doggie In The Window" (1953). She charted 14 additional million-selling singles between 1950 and 1965.
The string of Top Ten hits between 1950 and 1958 released by Patti Page included "Mockin' Bird Hill", "Detour", "Changing Partners", and "Cross Over The Bridge". Unlike most pop music singers, Page drew from country music styles and infused them into many of her songs. This led to her crossover appeal.
However by the mid-50s on the pop charts it was a different story. With the coming of Elvis Presley and rock 'n roll music saturating the airwaves, Patti Page struggled to succeed from 1955 onward. In 1956 "Allegheny Moon" peaked at #2 on the Billboard pop chart, but "Go On With The Wedding" and "Mama From The Train" were kept out of the Top Ten (the latter at #11 on Billboard and #14 on the Cashbox Best Selling Singles chart). In 1957 she had a #3 song on the Billboard Hot 100 with "Old Cape Cod". In addition, the B-side to "Old Cape Cod" titled "Wondering" climbed to #17 on CKWX's Fabulous Fifty.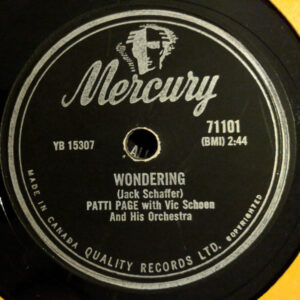 "Wondering" is a song about a romantic couple who "laughed and loved" while they were together. However, they "drifted apart." Now, at least one of the ex-partners is spending a lot of time thinking and wondering about what their former partner is doing. Finding themselves "sad and lonely," they are nightly "haunted…by memories of you." With hindsight, they admit "I'm wondering should we have said goodbye. I hope you're wondering too." Hopefully, these thoughts are not just filling the narrators head. Perhaps the song is imagined as a letter the one former sweetheart is writing to check if her longing is shared. Either way, for radio listeners, the song likely resonated with people who thought about a former sweetheart, and wondered if they should revisit the potential for something more lasting.
"Wondering" climbed to #7 in Pittsburgh and Toronto, #12 in Detroit and #17 in Vancouver (BC). In Stevens Point, Wisconsin, the song peaked at #20, while the A-side "Old Cape Cod" was at #6 in the same weekly pop chart on WSPT. However, "Wondering" did not crack the Billboard pop singles chart.
Also in 1957 Page's recording of "A Poor Man's Roses (or a Rich Man's Gold)" stalled at #27 on the Billboard pop chart. In 1958 Patti Page had one more Top Ten "Left Right Out Of Your Heart", followed by a 7-year drought.
Patti Page hosted her own TV show in the 1950's and starred in the 1960 film Elmer Gantry, and in 1961 in the film Dondi, adapted from a comic strip. In 1962 Patti Page got picked to record the title song for the film Boys' Night Out. Page was also an actor in the film. In 1965 she had her final Top Ten hit on the pop charts with "Hush Hush Sweet Charlotte". She released over 130 singles between 1947 and 1982. Of these 110 appeared on either the Billboard pop, country or adult contemporary charts. Between 1970 and 1982 Page had 13 singles on the Billboard Hot Country Songs chart. In a 2003 article in the New York Times, it was reported that at age 75 Patti Page was appearing in 50 concerts a year. In 2012 Patti Page stopped touring. She died in 2013 of heart and lung disease.
October 2, 2021
Ray McGinnis
References:
"Patti Page Obituary: Multimillion-selling Vocalist Dubbed the 'Singing Rage'," Guardian, London, January 3, 2013.
Bernard Weinraub, "Patti Page, Proving That Simple Songs Endure," New York Times, August 12, 2003.
"CKWX Fabulous Fifty," CKWX 1130 AM, Vancouver, BC, July 21, 1957.
For more song reviews visit the Countdown.