#117: Wonderland By Night by Anita Bryant
Peak Month: December 1960
7 weeks on Vancouver's CKWX Chart
Peak Position #1
Peak Position on Billboard Hot 100 ~ #18
YouTube.com: "Wonderland By Night"
Lyrics: "Wonderland By Night"
Anita Bryant was born in 1940 in a small town in northeastern Oklahoma. Her parents divorced by the time Bryant was 18 months old. Her father left to join the U.S. Army and fight in the war effort. While her mother got a job at Tinker Air Force Base near Oklahoma City. When Bryant was two years old, her grandfather taught her to sing "Jesus Loves Me". She was singing onstage at the age of six, at local fairgrounds in Oklahoma. She sang occasionally on radio and television, and was invited to audition when Arthur Godfrey's talent show came to town.
Bryant became Miss Oklahoma in 1958, and was second runner-up in the 1959 Miss America Pageant while she was still 18. In 1959, at age 19, Bryant got a contract with Carlton Records. She recorded "Til There Was You" from the Broadway musical The Music Man. The single climbed to #20 in Vancouver in the summer of '59. She released several more singles that year, including "Do-Re-Mi" from the musical The Sound of Music.
But it was her release of "Paper Roses" in the spring of 1960 that took her to #5 in the USA and #2 in Vancouver. The single was the debut release from her album Hear Anita Bryant in Your Home Tonight. She built on this success with another Top Ten hit, "My Little Corner of the World", which peaked at #9 on CFUN in Vancouver. The song was from her album In My Little Corner of the World.
Next Bryant released "One of the Lucky Ones". This was followed by her cover of the instrumental "Wonderland By Night", with a vocal arrangement.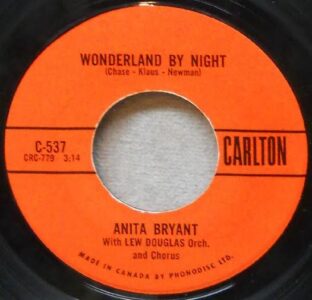 "Wonderland by Night" (German title "Wunderland bei Nacht") is a song was composed by Bert Kaempfert that was a Billboard number one hit for three weeks, starting January 9, 1961. It was recorded in July 1959. The song was written by Klaus Günter Neumann with English lyrics by Lincoln Chase. It was Bert Kaempfert's first hit with his orchestra.
In 1923, Berthold Heinrich Kaempfert was born in a village suburb of Hamburg, Germany, called Barmbeck. He learned piano, clarinet, accordion and saxophone during his childhood and youth. He had years of private music lessons at Wilhelm Witt's private music school in Wilhelmsburg. He later studied at Die Musikschule HAMBURG (Hamburg School of Music). Kaempfert's career began when his mother used a $285 insurance payment to buy a piano. Prior to the outbreak of World War II, while still 15 years of age, Kaempfert was hired to play with Hans Busch and his Orchestra. He was the youngest member of the band. But once Germany invaded Poland on September 1, 1939, Kaempfert, along with all able-bodied young men, were drafted into the German military. Kaempfert became a bandsman in the German Navy, initially playing on the Island of Salt on the Wadden Sea. In 1945, Kaempfert formed a band comprised of prisoners-of-war in Denmark.
After the war ended, Kaempfert moved back to Hamburg. He was employed at the Esplanade Hotel and his performances were broadcast at the nearby British Forces Network. In 1959 Bert Kaempfert arranged and produced Die Gitarre und das Meer (The guitar and the sea) for Austrian Freddy Quinn. Quinn had recorded a German-language version of Dean Martin's big hit in 1955, "Memories Are Made of This." In 1959 Bert Kaempfert arranged and produced Die Gitarre und das Meer was a big seller in Germany in 1959.
In 1959, Kaempfert collaborated with Croatian Ivo Robic on a single titled "Morgen" ("Tomorrow" in English). The German-language song became an international hit and climbed to #13 on the Billboard Hot 100 and #5 in Vancouver. In 1960, Bert Kaempfert composed "Wonderland By Night." He was unable to find a German record company to record his single and accompanying album. He pitched his demo in New York City. It was picked up by Decca Records. Kaempfert latter cowrote "Wooden Heart", a number-one hit for Joe Dowell in 1961, and also recorded by Elvis Presley. In early 1962, Bert Kaempfert had a hit single in selected radio markets in North America with "Afrikaan Beat".
In 1959, Kaempfert composed a tune which he recorded in 1962 under the title "Candlelight Cafe". The tune was given German lyrics written by Kurt Schwabach. In 1963, the tune was recorded in English as "Danke Schoen" by Wayne Newton. This became Newton's signature song. It also garnered substantial royalties for Bert Kaempfert. The song gained a resurgence when it was featured in the 1986 film Ferris Bueller's Day Off. In the early 60's, Kaempfert produced "L-O-V-E" for Nat 'King' Cole.
Kaempfert wrote an instrumental titled "Moon Over Naples" in 1964 and recorded it the following year. The tune was given lyrics and recorded by Al Martino in 1966 as "Spanish Eyes". In 1966, Kaempfert composed an instrumental titled "Beddy Bye" for the film A Man Could Get Killed. The tune was given lyrics by Charles Singleton from Kansas City, and recorded as "Strangers In The Night". It became a #1 international hit that year for Frank Sinatra.
Lincoln Chase was born in and raised in New York City. His father, Lorenzo, was born in Cuba, and his mother, Edith, was from the British West Indies. He studied at the American Academy of Music in Manhattan, and signed as a recording artist for Decca Records in 1951. However, his releases as a recording artist were unsuccessful. It was as a songwriter he gained recognition. In 1952 both "Rain Down Rain" by Big Maybelle, and "Salty Tears" by Chuck Willis were recorded, and Ruth Brown recorded Chase's "Mend Your Ways" in 1953. His first big success came when his song "Such A Night" was recorded by Clyde McPhatter and the Drifters in November 1953. The song reached #2 on the Billboard R&B chart in early 1954. The song was covered by Johnnie Ray, whose version reached #1 on the UK singles chart. A version recorded by Elvis Presley in 1960 also became a hit in 1964, and the song has subsequently been recorded by many other musicians.
Chase's next major success came with "Jim Dandy", recorded in 1956 by LaVern Baker and the Gliders. The song rose to #1 on the US R&B chart and #17 on the Billboard Hot 100 in early 1957. Between 1963 and 1965, Lincoln Chase penned three Top Ten hits for Shirley Ellis titled "The Nitty Gritty", "The Name Game" and "The Clapping Song". He died in 1980 at the age of 54.
"Wonderland By Night" concerns the discovery two people make when their physical attraction and fascination with one another meld into one. It has to begin with something. Some risk of expression is taken to let the other person know the interest is more than "just friends." And so, in "Wonderland By Night" a couple meet under a yellow moon. Stars hang suspended, in anticipation of the suspense of finding out what will happen when the pair finally kiss. They kiss. "Not knowing if our hearts could pay the price." And the kiss tells them something about their passion for each other. It's more than just curiosity, and there is chemistry.
The lyrics tell us the couple spent the whole night together: "Then came the sunrise, fading the moon and stars from sight. Recalling always our wonderland by night." The time spent together that night was like a fairyland, a land of enchantment. Bliss. The night together is the catalyst for all the stars to align to bring the two together. They now look back on that occasion as "The night that love decided to unite you and I."
"Wonderland By Night" peaked at #1 in Vancouver, Denver, and Saint Charles (MO), #2 in Milwaukee (WI), and #4 in San Bernardino (CA).
Bert Kaempfert's Original Version of "Wonderland By Night" topped the pop charts in both New Zealand and the United States. In Canada, Kaempfert's version also topped the charts in Montreal, Hull (PQ), Toronto, Ottawa, Calgary (AB), Winnipeg (MB), Regina (SK), Vancouver and Halifax (NS).
Between April 1960 and March 1961, Anita Bryant had a song on the pop charts in Vancouver for 45 of 52 weeks.
From 1961 until 1968, Bryant frequently joined Bob Hope on holiday tours for the United Service Organizations. She again traveled with Hope for televised shows during the Vietnam War. Bryant was given the Silver Medallion Award from the National Guard for "outstanding service by an entertainer", and the Veteran of Foreign Wars Leadership Gold Medallion. Between 1964 and 1969, Bryant performed at multiple White House functions. As well, she performed at both the 1968 Democratic Party Convention in Chicago, and the Republican Convention earlier that August in Miami.
After "Wonderland By Night", Anita Bryant released 24 more singles between 1961 and 1967. Only three of these cracked the Hot 100. Her most successful release was "The World of Lonely People" in 1964, which climbed to #59 on the Billboard Hot 100.
On March 23, 1969, Bryant participated in a Rally for Decency at the Orange Bowl to protest an incident involving Jim Morrison and The Doors performance in Miami, Florida in 1969.
In 1969, Bryant became a spokeswoman for the Florida Citrus Commission, and nationally televised commercials featured her singing "Come to the Florida Sunshine Tree" and stating the commercials' tagline: "Breakfast without orange juice is like a day without sunshine." (Later, the slogan became, "It isn't just for breakfast anymore!") In addition during that time, she appeared in advertisements for Coca-Cola, Kraft Foods, Holiday Inn, and Tupperware. In the 1970s, Bryant was teamed up with the Disney character "Orange Bird", with whom she appeared in several orange juice commercials. She also sang the Orange Bird Song and narrated the Orange Bird record album. As well, Bryant published her cookbook, Bless This Food: The Anita Bryant Family Cookbook, described as "Much more than a cookbook, this is the story of a family devoted to Christ."
Bryant sang "The Battle Hymn of the Republic" during the half-time show of Super Bowl V in Miami in 1971, and at the graveside services for President of the United States Lyndon Johnson in 1973.
In 1977, Dade County, Florida, passed an ordinance that prohibited discrimination on the basis of sexual orientation. Bryant led a highly publicized campaign to repeal the ordinance, as the leader of a coalition named Save Our Children. The campaign was based on conservative Christian beliefs regarding the sinfulness of homosexuality and the alleged threat of homosexual recruitment of children and child molestation. Bryant stated:
What these people really want, hidden behind obscure legal phrases, is the legal right to propose to our children that theirs is an acceptable alternate way of life. … I will lead such a crusade to stop it as this country has not seen before.
She told a reporter "The recruitment of our children is absolutely necessary for the survival and growth of homosexuality… for since homosexuals cannot reproduce, they must recruit, must freshen their ranks."
Bryant led several more campaigns around the country to repeal local anti-discrimination ordinances, including campaigns in St. Paul (MN), Wichita (KS), and Eugene (OR). In 1978, her repeated success led to the Briggs Initiative in California, which would have made pro-gay statements regarding homosexual people or homosexuality by any public school employee cause for dismissal. The initiative was defeated 58% to 41%.
The fallout from Bryant's political activism hurt her business and entertainment career. In February 1977, the Singer Corporation rescinded an offer to sponsor a possible weekly variety show because of the "extensive national publicity arising from [Bryant's] controversial political activities." In 1980 Florida Citrus Commission terminated her contract after being the brand ambassador since 1969.
Bryant's marriage to Bob Green also failed at that time, and in 1980 she divorced him.
Between 1959 and 1975, Anita Bryant recorded 26 albums. Her biggest charting album was Christmas with Anita Bryant: Do You Hear What I Hear? in 1967. The album climbed to #25 on the Billboard pop album chart. Half of her albums were religious songs. Bryant is the subject of the musical The Loneliest Girl in the World, which had its world premiere run at Diversionary Theatre in San Diego during in 2018.
September 9, 2022
Ray McGinnis
References:
"Bert Kaempfert bio," Bert Kaempfert website.
"Moon Over Naples," Secondhandsongs.com
"Strangers In The Night," Bert Kaempfert.
"Lincoln Chase, singer, "Jim Dandy", songwriter. (Cuban descendant)," thecubanhistory.com, October 24, 2014.
"Fabulous Forty," CKWX 1130 AM, Vancouver, BC, December 24, 1960.
For more song reviews visit the Countdown.