#249: Yellow River by Christie
Peak Month: September 1970
9 weeks on CKLG's Vancouver Charts
Peak Position ~ #2
Peak Position on Billboard Hot 100 ~ #23
YouTube: "Yellow River"
Lyrics: "Yellow River"
Jeffrey "Jeff" Christie was born in Leeds, England, in 1946. Mike Blakley was born in Greater London in 1947. Victor "Vic" Elmes was born in 1947 in Essex, England. Blakley was the brother of Alan Blakley who was with the Tremeloes. From the age of 18, both Elmes and Mike Blakley were part of a band called the pop band the Epics starting in 1965. They recorded a cover of the Chris Andrews hit single in the UK titled "Yesterday Man". And in 1966 the Epics did a cover of the Rolling Stones' "Blue Turns To Grey". However, they got little success on the UK pop chart. In 1967 they changed their name to Acid Gallery. By 1969 the band managed to chart one single in the UK titled "Dance Around The Maypole". Throughout, Elmes played lead guitar and Mike Blakley played drums.
Meanwhile, by the age of 21 Jeff Christie was fronting a band in 1967 named The Outer Limits. The band released three singles in 1967-68, but with little commercial success.
In 1970 Jeff Christie wrote "Yellow River" and offered it to The Tremeloes. Once they heard the song, The Tremeloes recorded "Yellow River" and were intending to release it as a single. However, the Tremeloes reconsidered the decision due to their emerging sound as a progressive rock band. They wanted to shed the pop sound that had brought them success with "Here Comes My Baby", "Silence Is Golden" and other hits in the Sixties. Tremeloes bandmate, Alan Blakley, talked to his brother Michael and suggested he record the song. The upshot was that Mike Blakley and Vic Elmes from Acid Gallery agreed to work on the recording. It was decided to get the song's composer, Jeff Christie, to travel from Leeds to London. Christie, Mike Blakley and Vic Elmes were given the Tremeloes' backing track to get things rolling in the recording studio. In search of a name for the brand new group recording "Yellow River", Jeff Christie, Mike Blakley and Vic Elmes, with Jeff Christie as the lead vocalist and author of the song, became Christie.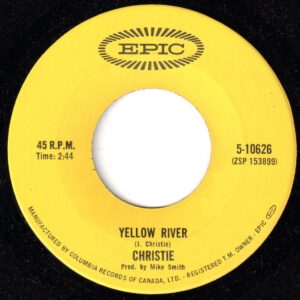 "Yellow River" was written by Jeff Christie. The actual location of Yellow River in this song is not specified, although the author, Jeff Christie, is on record as saying that it was inspired by the idea of a soldier going home at the end of the American Civil War: "Cannon fire lingers in my mind. I'm so glad I'm still alive. And I've been gone for such a long time from Yellow River."
But did a British singer-songwriter who was just 24-years-old in 1970, aware of the news of the Vietnam War, only have the American Civil War on his mind? It's true there is reference to cannons firing, keeping the song at a distance from current realities of war on the battlefield in the 1960s. But, "put my gun down the war is won," would resonate with many hearing a song on the radio in 1970, longing for an end to the Vietnam War. As the song was released during the Vietnam War, it has been interpreted as being about a soldier leaving the United States Military at the end of his period of conscription: "So long boy, you can take my place." And while war involves the spilling of the blood of young soldiers of both combatants; in "Yellow River" we learn that for the soldier "Yellow River is in my blood."
On the UK album liner notes for Yellow River, interested fans learned more about the band Christie:
When Christie hit the top of the charts earlier this year with "Yellow River" there was, of course, the usual section of the community who immediately dismissed the group because of that success. It was almost as if having a hit single was considered to be slightly obscene. The album was out, first and foremost, to show that there is nothing pretentious about Christie's music. They play basic, exciting, simple rock and that is what this album is all about.
There is so much snobbery today regarding the so called 'underground scene' that it is refreshing to find a group whose sole purpose is not 'to blow people's minds' but to aim at recapturing some of the feeling and excitement of the early days of rock.
The album features totally original material written by lead singer and guitarist Jeff Christie, with the exception of "New York City" which was penned by lead guitarist Vic Elmes and drummer Mike Blakley….
"Yellow River" peaked at #1 in Salt Lake City and Portland (ME), #2 in Vancouver (BC), Oshkosh (WI), Antogonish (NS), and Edmonton (AB), #3 in La Crosse (WI), Norfolk (VA), and Fresno (CA), #4 in Chicago, #5 in Toronto and New Haven (CT), #6 in London (ON), Phoenix, Toledo (OH), San Francisco, Rochester (NY), Indianapolis (IN), and Regina (SK), #7 in Seattle, Los Angeles, Columbus (OH), Augusta (GA), and St. Louis, #8 in San Bernardino (CA), Albany (NY) and Tulsa (OK), #9 in Calgary (AB), Orlando (FL), Memphis, Grand Rapids (MI), and Philadelphia, and #10 in San Diego. The song stalled at #23 on the Billboard Hot 100, while it was overlooked in 15 states.
Internationally, "Yellow River" peaked at #1 in Finland, Ireland, Mexico, Norway and the UK, #2 in New Zealand and West Germany, and #4 in the Netherlands and Switzerland, #14 in Japan and #16 in Australia. Decades later "Yellow River" was featured in the UK in a Yellow Pages commercial.
"San Bernadino" (without the "r") was a follow up single release for Christie. The single climbed to #1 in Switzerland, #5 in Norway and West Germany, #7 in the UK, #8 in Austria, #10 in Italy, #15 in Spain and #20 in Finland. But in the USA the song stalled at #100 on the Billboard Hot 100. In Canada it peaked at #16 in Lethbridge (AB) and charted in Chilliwack (BC).
After these hit singles, because Mike Blakley had not been playing since Acid Gallery folded in 1969, his drumming had become rusty to the point where it was considered a liability. He was asked to leave the group, and was replaced by Paul Fenton. At the time the British press reported that "Mike [Blakley] will be working for his brother's music publishing firm in future."
There were other tracks from Christie's debut album that were catchy, but none were released as singles. In 1971 Christie charted a single titled "Man of Many Faces/Country Sam" to #2 in West Germany. The single was not on the Yellow River album.They released ten more singles with little success. The exception was in 1975 when Christie had a #1 hit in Mexico with "Navajo/Guantanamera".
In 1971 Christie released a progressive rock album titled For All Mankind. It was a marked departure from the sound their new fans had expected. And the album didn't make the UK Top 75 album chart. In 1972 the Iron Horse album and title track were released. Christie now included Lem Lubin from Unit 4+2. "Iron Horse" made the Top 50 in the UK, with its more pop-oriented sound. But this was the last single Christie charted in the UK.
Vic Elmes left Christie in 1973 and formed JoJos Band. He wrote music for the science fiction series Space:1999, which aired in the UK from 1975-77. As well, Elmes wrote music in 1976 for the sex comedy film The Ups and Downs of a Handyman. Later on, Vic Elmes formed a band called Christie Again. Paul Fenton also left Christie in 1973 to join T. Rex. And Lem Lubin left as well.
Meanwhile, Christie dissolved in 1976. In 1980 Jeff Christie released several singles. He returned to the recording studio to cover John Lennon's "Happy Xmas (War Is Over)" in 1997. As well, Jeff Christie reformed Christie in 1990 with Simon Kay on guitar and Adrian Foster on drums. The trio has remained active up until the 2020 pandemic.
Vic Elmes died in 2017, at the age of 69.
October 11, 2021
Ray McGinnis
References:
"Christie," NostalgiaCentral.com.
Ray Chan, "Christie," jeffchristie.com.
"Mike Blakley's Departure Made the News in all the Music Papers," jeffchristie.com.
"Billboard Hot 100," Billboard, November 27, 1970.
"Boss 30," CKLG 730 AM, Vancouver, BC, September 18, 1970.
For more song reviews visit the Countdown.