#963: The Young Ones by Cliff Richard
Peak Month: March 1962
9 weeks on Vancouver's CFUN chart
Peak Position #10
Peak Position on Billboard Hot 100 ~ did not chart
YouTube.com: "The Young Ones"
Lyrics: "The Young Ones"
Cliff Richard was born Harry Roger Webb on October 14, 1940, in the city of Lucknow in Uttar Pradesh, India. In 1940 Lucknow was part of the British Raj, as India was not yet an independent country. Webb's father worked on as a catering manager for the Indian Railways. His mother raised Harry and his three sisters. In 1948, when India had become independent, the Webb family took a boat to Essex, England, and began a new chapter. At the age of 16 Harry Webb was given a guitar by his father. Harry then formed a vocal group called the Quintones. Webb was interested in skiffle music, a type of jug band music, popularized by "The King of Skiffle," Scottish singer Lonnie Donegan who had an international hit in 1955 called "Rock Island Line."
In 1958 Webb became the lead singer of a British rock group named the Drifters. It was during this time that Harry Greatorex, who was promoting the band, gave Harry Webb the stage name, Cliff Richard. As rock and roll made some people think of rocks, Greatorex reasoned that "Cliff" would be a rock solid name for the young 18 year old Harry Webb. Cliff Richard would go on to record nearly 150 singles that made it onto the UK charts. While his popularity in the USA was erratic, he was a big seller in Vancouver. On this survey he appears on 22 occasions.
Cliff Richard had his first single on the Vancouver charts peak at number one in the fall of 1959. "Living Doll" became an auspicious beginning for a recording artist that fans in Vancouver were wild about for Richards early string of hits between 1959 and 1966, and again in the late 70s onward.
In the UK Cliff Richard had 26 of his first 28 singles, from 1958 reach the Top Ten, which included a record of 23 Top Ten singles in a row, ending in the middle of 1965. Of these 15 singles were non-album singles. One of these was "The Young Ones". The song was co-written by Sid Tepper and Roy C. Bennett.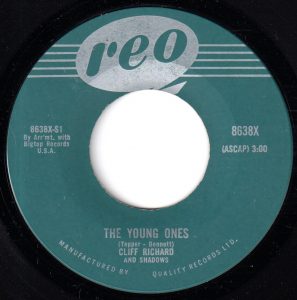 It was the title song for the movie, The Young Ones, released in the UK on December 19, 1961. The single had advance orders of over 500,000 and was released after New Year's Day in 1962. The song debuted at the #1 position on the UK Singles Chart. It was the first time a single had debuted in the #1 position on the UK Singles Chart. It remained in the top spot for six weeks. In Vancouver the song climbed to #10, while in the USA it missed the Billboard Hot 100. Elsewhere in Canada "The Young Ones" climbed to #5 in Toronto, #6 in Calgary and #13 in Montreal.
The Young Ones movie is a story is about a youth club member and aspiring singer Nicky and his friends. They are attempting to save their club in West London from the unscrupulous millionaire property developer Hamilton Black, who plans to tear it down to make room for a large office block. The youth club members create to a show to raise the necessary funds to purchase a lease renewal. The twist in the plot is that Nicky in reality is Hamilton Black's son. Nicky has kept this a secret from others in the youth club until some of them try to kidnap Black senior to prevent him from stopping the show. Although Nicky is fighting his father over the future of the youth club, he won't let his friends injure his father. So Nicky, unexpectedly, attacks his youth club friends and frees his father.
In the meantime, Black Sr has realised that his son is the mystery singer that all of London is talking about, after the youth club members have done some pirate broadcasts to promote their show. So, although he has just bought the theatre where the show is to take place, in order to be able to stop it, the proud father decides that the show must go on. At the end, he joins the youth club members on stage, dancing and singing, after having promised to build them a new youth club. Early into the film Nicky becomes romantically involved with Toni and sings "The Young Ones", underscoring his eagerness to romantically seize the day and go steady. The Young Ones ended up as the second biggest film of the year.
Co-writers of "The Young Ones", Sid Tepper and Roy C. Bennett, were a Jewish-American songwriting team. Bennett was born in Brooklyn, New York, in 1918 with the birth name Israel Brodsky. Izzy's family were recently arrived Eastern European immigrants. While he was a child he met Sid Tepper, who was also born in 1918, but in New York City. They began writing songs from the age of eleven. They both were drafted into the U.S. Army in World War II. In 1945 they began to publish songs in the Brill Building on Broadway.
They got their first big break with "Red Roses For A Blue Lady", a #4 hit for Vaughan Monroe in 1949. They co-wrote "Suzy Snowflake" for Rosemary Clooney who had a Christmas hit with the tune in 1951. The Ames Brothers had a hit by this songwriting team in 1954 that climbed to #3 titled "The Naughty Lady Of Shady Lane". In 1955 they wrote "Nuttin' for Christmas", a #6 hit for Art Mooney and His Orchestra, featuring six-year-old Barry Gordon. Then in 1958 Tepper and Bennett scored a #6 hit for Perry Como titled "Kewpie Doll". In 1960 they wrote "(There's A Little Song A-Singing) In My Heart" for Carl Dobkins Jr. Tepper and Bennett wrote five songs for the Elvis Presley film and soundtrack of Blue Hawaii. They wrote 37 other songs that Elvis recorded including "G.I. Blues" and "Puppet On A String". They also penned the only Presley song nominated for an Oscar, "It's a Wonderful World" (which was in Roustabout). Other recording artists who recorded Tepper and Bennett tunes include Jo Stafford, Dean Martin, Wayne Newton, Eartha Kitt, Dave Brubeck, Gogi Grant, Carl Perkins, Jim Reeves, Connie Francis, Joanie Sommers, Conway Twitty, Helen Shapiro, Jerry Keller, and The Searchers.
Between 1945 and 1970 the songwriting team published over 300 songs. Both Bennett and Tepper died in 2015, months apart.
"The Young Ones" is a song about seizing the opportunity to be in a relationship when there is a mutual spark between two people. The culture we live in includes messages urging young people to get an education, a career, a home and to travel. For some, the pressure from adults to set aside romantic opportunities for personal advancement can be a recipe for staying single long into mid-life. When we're young the cares of the world and adult responsibility may not be so great. There can be time and space to dream. The singer warns against being afraid. Fear, after all, impairs the ability to love, leaving individuals anxious, cautious and single. Instead, the song offers the horizon of one day having children to raise and enjoy.
It would seem with the coming of the British Invasion that Cliff Richard would be discovered by the American record-buying public. However, it was not to be. Richard remained almost completely off the radar in the USA until his Top Ten hit in 1976 on the Billboard Hot 100 called "Devil Woman".
Cliff Richard built on his resurgence in the mid-70's and into the 1980's he had several more hits in Vancouver, in particular with "We Don't Talk Anymore", "Dreamin'", "A Little In Love" and "Wired For Sound".
Richard was among the performers at the Diamond Jubilee concert held outside Buckingham Palace in June 2012. Then, on June 30, 2012, he helped to carry the Olympic torch from Derby to Birmingham as part of the torch relay for the 2012 Summer Olympics in London. Cliff Richard has also been active as a philanthropist. In October 2015 he went on tour at the age of 75.
November 3, 2017
Ray McGinnis
References:
Cliff's Career, Cliff Richard.org.
Trailer, The Young Ones, Paramount Pictures, 1961.
Nick Deriso, "Elvis Presley Songwriter Sid Tepper Dies at 96," Ultimate Classic Rock.com, April 26, 2015.
Carmel Dagan, "Roy C. Bennett Dies at 97; Wrote Songs for Sinatra, Elvis, the Beatles," Variety, July 9, 2015.
"C-FUNTASTIC FIFTY," CFUn 1410 AM, Vancouver, BC, March 24, 1962.
For more song reviews visit the Countdown.