#94: A Little In Love by Cliff Richard
Peak Month: March 1981
12 weeks on Vancouver's CKLG chart
Peak Position #3
3 weeks Preview
Peak Position on Billboard Hot 100 ~ #17
YouTube.com: "A Little In Love"
Lyrics: "A Little In Love"
Cliff Richard was born Harry Roger Webb on October 14, 1940, in the city of Lucknow in Uttar Pradesh, India. In 1940 Lucknow was part of the British Raj, as India was not yet an independent country. Webb's father worked on as a catering manager for the Indian Railways. His mother raised Harry and his three sisters. In 1948, when India had become independent, the Webb family took a boat to Essex, England, and began a new chapter. At the age of 16 Harry Webb was given a guitar by his father. Harry then formed a vocal group called the Quintones. Webb was interested in skiffle music, a type of jug band music, popularized by "The King of Skiffle," Scottish singer Lonnie Donegan who had an international hit in 1955 called "Rock Island Line".
In 1958 Webb became the lead singer of a British rock group named the Drifters. It was during this time that Harry Greatorex, who was promoting the band, gave Harry Webb the stage name, "Cliff Richard."As rock and roll made some people think of rocks, Greatorex reasoned that "Cliff" would be a rock solid name for the young 18 year old Harry Webb. Cliff Richard would go on to record nearly 150 singles that made it onto the UK charts. While his popularity in the USA was erratic, he was a big seller in Vancouver. On this survey of 1,410 songs he appears on 22 occasions.
Bruce Welch was born in 1941 in Bognor Regis, a seaside resort 55 miles southwest of London. He formed The Railroaders while he was still fourteen (before he turned 15 on November 2, 1956). His friend, Hank Marvin was one of the other three bandmates in The Drifters. Another member of The Drifters was Terrance "Jet" Harris, who was born in North West London in 1939. It was Harris who suggested to Cliff Richard that the band change their name to The Shadows in order to avoid confusion with the American R&B group, The Drifters, who were had a string of hit records beginning with "Money Honey" in 1953 and most recently with "There Goes My Baby" in 1959.
Cliff Richard had his first single on the Vancouver charts peak at number one in the fall of 1959. "Living Doll" became an auspicious beginning for a recording artist. Fans in Vancouver were wild about Richards. He had a string of hits between 1959 and 1966, and again in the late 70s onward. Of 26 singles that charted on the Vancouver pop charts, only two didn't climb into the Top 20.
In March 1961, Cliff Richard had his second number one hit record in Vancouver with "'D' In Love". And in the spring of '61 Richard was back in the Top Ten with "Theme For A Dream". Eleven months later he was back in the Top Ten in Vancouver with "The Young Ones".
And a year later Cliff Richard was roaring up the C-FUNTASTIC FIFTY in early spring 1963 with "Bachelor Boy". From March 1963 to May 1966 Cliff Richard had 15 hit singles in the Top 20 on CFUN. Of these 12 made the Top Ten and three peaked at #1. After "Bachelor Boy", Richard's sixth Top Ten charting song in Vancouver was "Summer Holiday", in May '63. The songs overlapped with "Summer Holiday" entering the Top Ten on the C-FUNTASTIC FIFTY on April 27th at #10, while "Bachelor Boy" peaked at #5 that week. And with "Bachelor Boy", Cliff Richard began charting for 81 of 85 consecutive weeks on the CFUNTASTIC FIFTY between March 9, 1963, and October 17, 1964.
In 1963 Richard won the Best UK Male Singer in the NME (New Musical Express) Reader Poll. In Vancouver, Cliff Richard's follow up hit to "Summer Holiday" was "Lucky Lips" and simultaneously "It'll Be Me". This was a #2 hit in the UK in 1962 and #7 in Vancouver in the summer of '63. While "Lucky Lips" climbed to #1 in Vancouver and #4 in the UK in the summer of '63. Of the next eight singles after "It'll Be Me", seven made the Top Ten in Vancouver. One of these was "Don't Talk To Him", which began to chart on CFUN in Vancouver on January 11, 1964.
Other hits in Vancouver for Cliff Richard in 1964 were "Constantly [L'Edera]"/"True True Lovin'" and "I'm The Lonely One". The last of Cliff Richard's eight consecutive Top ten hits in Vancouver was in the fall of 1964 with "On The Beach".
Cliff Richard also had a Top Ten hit in Vancouver in 1965 with "Just Another Guy", while the B-side "The Minute You're Gone" stalled at #11. Then in 1966 Richard was back in the Top Ten with a cover of the Rolling Stones "Blue Turns To Grey". While "I Don't Wanna Love You" stalled at #14 in 1965.
In the UK Cliff Richard had 26 of his first 28 singles, from 1958 reach the Top Ten, which included a record of 23 Top Ten singles in a row, ending in the middle of 1965. Of these 15 singles were non-album singles. It would seem with the coming of the British Invasion that Cliff Richard would be discovered by the American record-buying public. However, it was not to be. He remained almost completely off the radar in the USA until his Top Ten hit in 1976 on the Billboard Hot 100 called "Devil Woman."
He scored again with two international Top Ten hits: "We Don't Talk Anymore" in 1979 and "Dreamin'" in 1980. Between these two releases, he had a #4 hit in 1979 in the UK, Ireland, New Zealand and South Africa with "Carrie". And in 1980, Cliff Richard and Olivia Newton-John recorded "Suddenly", a Top Ten hit in Ireland. Richard's next single was "A Little In Love".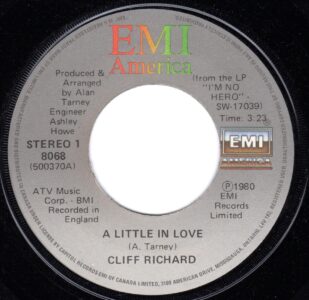 "A Little In Love" was written by Alan Tarney. He was born in 1945 in Cumberland, England. Tarney moved to Australia in the mid-60's and was in a psychedelic rock band called James Taylor Move. After that, Tarney was with the Kevin Peak Trio in 1968-69. He moved back to the UK in 1970. He joined a band called Quartet and into the 70's was a session musician. From 1973-77 he was a member of the Shadows. In 1979 Tarney wrote and arranged Cliff Richard's hit "We Don't Talk Anymore", which climbed to #1 in over ten nations, and the Top Ten in eight more. Tarney later produced "Dreaming", "Wired For Sound", "Some People" and "My Pretty One", all Top Ten hits in the 1980's for Cliff Richard. He also produced Leo Sayer's hit single "More Than I Can Say". For A-ha, Alan Tarney produced "Take On Me", "The Sun Always Shines On TV", "Train Of Thought", "Hunting High And Low", "I've Been Losing You", "Stay on These Roads" and "Cry Wolf" – all Top Ten hits.
Alan Tarney has been a session musician for Cilla Black, The Hollies, The Drifters, Bow Wow Wow, Olivia Newton-John, The New Seekers, Squeeze and others.
"A Little In Love" is a song about two people who its been awhile since they've dated. But now they are a little in love with each other. The narrator of the song takes a risk and declares "I need you so." His object of affection feels "strange and a little unreal." This feeling "a little in love," feels lyrically tentative. As listeners we wonder will they take the plunge? There is an indication they are "willing to learn" and risk intimacy. But, the language they use is about needing a friend. So, what will it take to shift from being a little in love to being head-over-heels in love?
"A Little In Love" peaked at #2 in Minneapolis/St. Paul, Bangor (ME), and Toronto, #3 in Vancouver, St. Cloud (MN), Peoria (IL), Rockford (IL), Presque Isle (ME), and Fort Dodge (IA), #4 in Regina (SK), San Bernardino (CA), and Providence (RI), #5 in Denver, San Jose (CA), Seattle, and Lewiston (ME), #6 in Framingham (MA), and Winnipeg (MB), #7 in Akron (OH), Halifax (NS), and Hamilton (ON), #8 in Burbank (CA), Milwaukee (WI), and Ottawa (ON), #9 in Springfield (IL), and La Crosse (WI), and #10 in Hartford (CT).
In the fall of 1981 Cliff Richard had a Top Ten hit in Vancouver titled "Wired For Sound". In 1982, he covered the 1961 doo-wop classic "Daddy's Home" by Shep and the Limelights. The single was a Top Ten hit in Australia, Belgium, Ireland, New Zealand, and the UK.
In 1982 Richard released a contemporary/Christian album Now You See Me, Now You Don't. The debut single, "The Only Way Out", was a Top Ten hit in the Belgium, Ireland and the UK. In 1983 Cliff Richard and Phil Everly recorded a duet, "She Means Nothing To Me", which was a Top Ten hit in Ireland and the UK. Richard also enjoyed a second Top Ten hit in both nations that year with his cover of the Buddy Holly tune "True Love Ways". And an album marking his 25 years as a recording artist, Silver, featured a third Top Ten hit in Ireland and the UK in 1983 titled Please Don't Fall in Love".
In 1986, Cliff Richard released a new recording of his 1959 hit "Living Doll". It became a number-one hit this time in Australia, Belgium, Ireland, the Netherlands, New Zealand, and the UK. As well, it made the Top Ten in Switzerland and Norway. And in 1986, Richard recorded a duet with Sarah Brightman titled "All I Ask of You". It was a chart-topper in Ireland and South Africa, and a #3 hit in the UK.
During the 1980s, Cliff Richard had three number-one hits and 17 Top Ten hits in Ireland, and two number-one hits and 14 Top Ten hits in the UK. He had six Top Ten hits in Belgium and five Top Ten hits in Australia, with a #1 hit in each nation across the '80s. And in the 1990s, Cliff Richard had 7 more Top Ten hits in the UK with "Savior's Day" and "The Millennium Prayer" both topping the UK charts. And in the 2000s, the singer had five more Top Ten hits in the UK.
Cliff Richard was among the performers at the Diamond Jubilee concert held outside Buckingham Palace in June 2012. Then, on June 30, 2012, he helped to carry the Olympic torch from Derby to Birmingham as part of the torch relay for the 2012 Summer Olympics in London. Cliff Richard has also been active as a philanthropist. In October 2015 he went on tour at the age of 75. Over the course of his recording career, Cliff Richard has had 68 singles reach the Top Ten on the UK singles chart between 1958 and 2008.
In late June and early July, 2019, Cliff Richard celebrated his 60th year as a recording artist with his Diamond Encore Tour. He performed in the village of Cartmel in Cumbria, just south of Scotland. He gave a concert in Scarborough by the North Sea, and in Greenwich, London.
November 14, 2022
Ray McGinnis
References:
"Cliff's Career," Cliff Richard.org.
"Cliff Richard UK Singles chart discography," official charts.com.
"Bruce Welch," Wikipedia.org.
Bob Stanley, "Cult heroes: Alan Tarney, the greatest British pop producer you've never heard of," Guardian, September 30, 2015.
"CKLG Top Thirty," CKLG 730 AM, Vancouver, BC, March 18, 2022.
For more song reviews visit the Countdown.