#289: Be My Baby by Andy Kim
Peak Month: December 1970
9 weeks on Vancouver's CKLG chart
Peak Position #2
1 week Hit Bound
Peak Position on Billboard Hot 100 ~ #17
YouTube: "Be My Baby"
Lyrics: "Be My Baby"
Andy Kim's father came from Lebanon to Pennsylvania and finally settled in Montreal, where Kim was born in December 1946. Around the age of 15 Andrew Youakimm became fascinated with the music business in New York City. He'd travel from Montreal to the Big Apple by bus or train and try to figure out how to break into the music industry. He bought copies of Billboard Magazine, Cashbox Magazine and other trade papers to see which record companies had hits on the pop charts.
Kim recalls in an interview with Entertainment Week, September 21, 1974, "I figured those were the companies I would go to. I went to the A and R department of Paramount Records. I told the receptionist I had a meeting that afternoon but I just came by that morning to see the A and R man. She asked if I had a demo and I said yes. She sent me down a corridor to this man and I said 'I'm sorry, but I don't know what a demo is.' He asked if I wrote songs or played an instrument. (I said) no. He said what the business involved, and I should not trick my way into places."
Andy Kim began to experiment with songs taking an uptempo tune and making it a ballad. "I'd rearrange songs figuring it would change the personality of the song. I would look up publishers and ask for songs from their top writers. I didn't get them (the songs from the top writers, so) I decided to write songs too. I discovered a talent I didn't know I had." It was while he was working at the Brill Building in the early 60s that Andrew Youakimm changed his name to Andy Kim for record releases.
Andy Kim got his first record released in 1963 with "I Loved You Once" on United Artists Records. He had two more singles on two other record labels in the mid-60's. One of these, "Give Me Your Love", peaked at #4 in Saint John, New Brunswick, in June 1964. But when Andy Kim signed with Jeff Barry's Steed Records in 1968 his first single release, "How'd We Ever Get This Way", was a Top 30 hit. It would be the first of eleven releases with the record label between 1968 and 1971.
The fourth single release on the Steed label was Kim's most political, "Tricia Tell Your Daddy". The song made the Top 20 in Vancouver (BC) in the spring of 1969. The same month "Tricia Tell Your Daddy" was climbing up the record charts in radio markets across Canada, a song Andy Kim co-wrote with Jeff Barry was released that would become the number one song of 1969. That song was by a cartoon group named The Archies and the song was "Sugar Sugar". It was the polar opposite of a social commentary song like "Tricia Tell Your Daddy".
Kim's his next release, a cover of the 1964 Top 30 hit by the Ronettes, titled "Baby I Love You", added to his appeal. It became his first Top Ten hit on the Billboard Hot 100. "Baby, I Love You" was written by Jeff Barry and Ellie Greenwich. Kim's next single which he wrote, "So Good Together, went to number-one in Winnipeg, but stalled at #36 on the Billboard Hot 100.
Kim struggled with his next two single releases in 1970, but at the end of the year he was back in the Top 20 with "Be My Baby".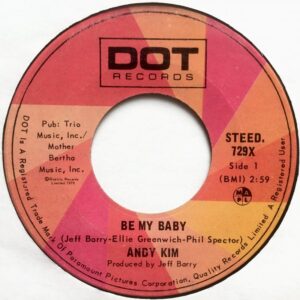 "Be My Baby" was written by Jeff Barry, Ellie Greenwich and Phil Spector. Jeff Barry was born Joel Adelberg in 1938, in Brooklyn. Raised in a Jewish family, Adelberg went into the United States Army, and then attended City College in New York City. When he signed a contract to write and record with RCA, Adelberg changed his name to Jeff Barry. "Jeff" was inspired by actor Jeff Chandler (also born to a Jewish family and whose birth name was Ira Grossel). Barry recorded "Hip Couple", a minor hit in Allentown (PA) in 1959. Jeff Barry's writing credits include the 1960 Top Ten hit for Ray Peterson titled "Tell Laura I Love Her", Helen Shapiro's "Tell Me What He Said", "Montego Bay", "Lay A Little Loving On Me" and Olivia Newton-John's 1974 number-one hit "I Honestly Love You."
Jeff Barry and Ellie Greenwich co-wrote "Do Wah Diddy Diddy", "Maybe I Know", "Hanky Panky", "Leader of the Pack" and "I Can Hear Music". Eleanor Louise Greenwich was born in 1940 in Brooklyn, New York. Though her father was Roman Catholic and her mother was Jewish, Greenwich was not raised in either religion. Her family moved to Levitttown, New York, and at the age of nine she began to listen to music by the Four Lads, Teresa Brewer and Johnnie Ray. "When I was 14, I met [song arranger and bandleader] Archie Bleyer who liked my songs but told me continue my education before trying to invade the songwriting jungle." She recorded a song at age 17 titled "Cha-Cha-Charming" and "Silly Isn't It". This led to her decision to make songwriting her profession. She met Jeff Barry, and the pair began to write songs together. In 1962 they were married.
Barry and Greenwich teamed up with Phil Spector to co-write "Da Doo Ron Ron" and "Then He Kissed Me" for the Crystals, and "Chapel of Love" for the Dixie Cups.
Phillip Harvey Spector was born in 1939 in the Bronx, into a first generation immigrant Jewish family, who changed their surname Spekter to Spector after they got permanent residency. Phil Spector's father died by suicide in 1953 and on his gravestone was the phrase "to know him is to love him." Phil wrote a song in 1958 titled "To Know Him Is To Love Him", as a tribute to his dad. The song became a number one hit for the Teddy Bears, which included young Phil. While the Teddy Bears split up in '59 after failing to have any followup hit, Phil Spector went on to co-write "Spanish Harlem" with Jerry Lieber, a hit for Ben E. King. And he played guitar on the Drifter's "On Broadway". But it was as a record producer that Phil Spector became most successful.
In 1960 he produced "Corrina, Corrina" for Ray Peterson, "Pretty Little Angel Eyes" for Curtis Lee and "I Love How You Love Me" for the Paris Sisters. Spector went on to produce many hit records in the 1960s and 1970s. These include "He's A Rebel" for the Crystals; "Baby I Love You", "(The Best Part Of) Breakin' Up" and "Walking In The Rain" for the Ronettes; "You've Lost That Lovin' Feeling", "Ebb Tide" and "Unchained Melody" for the Righteous Brothers; ""Black Pearl" for Sonny Charles; "River Deep – Mountain High" for Ike and Tina Turner. Spector produced "Instant Karma", "Power To The People" and "Imagine" for John Lennon; And produced "My Sweet Lord", "Bangla-Desh" and "What Is Life" for George Harrison, among others.
"Be My Baby" is a song about instant attraction: "The night we met I knew I needed you so. And if I had the chance I'd never let you go." The narrator immediately decides this person is meant for him: "So won't you say you love me." However, it seems he's been taking his time to build up the courage to let the one he adores know about his feelings for them: "Since the day I saw you, I have been waiting for you." In addition, he has a big pitch for what life with him will be like: "For every kiss you give me, I'll give you three."
An article on lovepanky.com titled "20 Signs of Attraction in the First Conversation," discusses signs that a guy is attracted to a woman when they first have a conversation. Among the 20 signs listed, the article alerts readers to notice these:
He's eager to please. Sometimes, a guy who likes you in the very first conversation may try too hard to please you. If he's overly concerned about you and constantly asks you if you're feeling fine or whether there's something he can get for you or do for you, it's a sure sign of a guy who's smitten by you.
He compliments you. Let's face it, compliments are rather personal, especially if they're personal in nature. Does this guy you're speaking with for the first time compliment your dress or your smile? This guy wants to make it very clear that he's falling for you.
He makes it obvious that he's single. If a guy makes it clear to you that he's single in the very first conversation you have with him, it's one of the biggest signs of attraction for a guy. Why would a guy tell you he doesn't have a girlfriend unless he wants you to fill that slot?
In the case of the last sign of attraction mentioned on lovepanky.com, in the song "Be My Baby", it is clear the guy is single. He wants to be in a relationship. His urgency: "be my baby, now, right now, right now," suggests he isn't dating other women at the time.
"Be My Baby" peaked at #1 in Louisville (KY), Battle Creek (MI), Youngstown (OH), and Winnipeg (MB), #2 in Vancouver (BC) and Sarasota (FL), #3 in Seattle, #4 in Chilliwack (BC), Birmingham (AL), and Montreal, #5 in Green Bay (WI) and Hamilton (ON), #6 in Bowling Green (KY), Sioux Falls (SD), and Columbus (OH), #7 in Milwaukee, Cedar Rapids (IA), Fort Lauderdale, Wilkes-Barre (PA), New Haven (CT), Chicago, Springfield (MA), and Lethbridge (AB), #8 in La Crosse (WI), St. Louis, Greenville (NC), Fargo (ND), Tulsa (OK), and Vancouver (WA), #9 in Toronto, Kansas City (MO), Boston, and Grand Rapids (MI), and #10 in Eau Claire (WI), Atlanta, Edmonton (AB), Flint (MI), Regina (SK), and Phoenix. Internationally, Andy Kim's "Be My Baby" climbed to #24 in West Germany and #36 in Australia.
Between 1968 and 1975 Andy Kim charted 13 singles into the Top 30 in Vancouver. His biggest hit was "Rock Me Gently", a #1 hit in the USA. It was seen as a come-back record. However, Andy Kim felt since his hit-making status had not been significant in terms of sales, especially in the USA, there was not much to come back from.
In the 80's Kim recorded several albums under the pseudonym Baron Longfellow. Since the 90's Andy Kim had regularly performed in concert under his familiar hit-making name. Since 2003 he has added three more studio albums to his resume, for a total of eight.
June 30, 2021
Ray McGinnis
References:
Andy Kim, Canadian Bands.com
About Andy Kim, Andy Kim Music.com
Martin Melhuish, Andy Kim: 2016 Inductee to Canadian Music Industry Hall of Fame, FYI Music News, October 27, 2015.
Brad Wheeler, "Andy Kim and Kevin Drew: Musical Romantics," Globe and Mail, December 13, 2011.
"Sodajerker presents… Jeff Barry," songwritingmagazine, January 8, 2015.
Paul Zollo,"Around the Bramble Patch: Jeff Barry," Americansongwriter, August 2020.
Mick Brown, Tearing Down the Wall of Sound: The Rise and Fall of Phil Spector, (Vintage, 2008).
Bruce Weber, "Ellie Greenwich, Pop Song Writer, Dies at 68," New York Times, August 26, 2009.
Vin Serai, "20 Signs of Attraction in the First Conversation," Lovepanky.com.
"Boss 30," CKLG 730 AM, Vancouver, BC, December 18, 1970.
For more song reviews visit the Countdown.