#901: Candy Man by Roy Orbison
Peak Month: September 1961
8 weeks on Vancouver's CFUN chart
Peak Position #5
Peak Position on Billboard Hot 100 ~ #25
YouTube.com: "Candy Man"
"Candy Man" lyrics
Roy Kelton Orbison was born in Vernon, Texas in 1936. When he turned six his dad gave him a guitar. Both his dad, Orbie Lee, and uncle Charlie Orbison, taught him how to play. Though his family moved to Forth Worth for work at a munitions factory, Roy was sent to live with his grandmother due to a polio outbreak in 1944. That year he wrote his first song "A Vow of Love". The next year he won a contest on Vernon radio station KVWC and was offered his own radio show on Saturdays. After the war his family reunited and moved to Wink, Texas, where Roy formed his first band, in 1949, called The Wink Westerners.

From 1951 into the mid-50s The Wink Westerners appeared with Roy Orbison on KERB in Kermit, Texas. The band performed at school assemblies and country jamborees sponsored by KERB. In 1953 they played at an International Lions Club Convention in Chicago. After high school, Roy Orbison met two friends in college named Wade Lee Moore and Dick Penner. They'd written a song called "The Ooby Dooby". The Wink Westerners began to include the song in their performances, including on a TV show on KMID in Midland, which won them a half hour Friday night slot on KMID.
With the advent of Rock and Roll, the Wink Westerners renamed themselves The Teen Kings. In addition to the TV show on KMID, TV station KOSA in Odessa, Texas, gave them a half hour slot on Saturday afternoons. The CBS affiliate also had Johnny Cash and Elvis Presley guest star on Roy Orbison's KOSA TV show. Johnny Cash got Orbison in touch with Sam Phillips of Sun Records in Memphis. Orbison called Phillips who hung up the phone saying, "Johnny Cash doesn't run my record company."
Orbison had been approached by owners of Je-Wel Records who wanted The Teen Kings to make a record. The session took place in early March, 1956. This time, Roy and The Teen Kings, recorded The Clover's "Trying to Get to You" and "Ooby Dooby". The single was released March 19, 1956. That same day, Orbison took a copy to Cecil "Poppa" Hollifield in Odessa. He was a well-know record dealer in West Texas. "Poppa" Hollifield liked the record and played it on the phone to one of his connections in Memphis. The guy on the other side of the line asked him to send him a copy. His name was Sam Phillips, owner of Sun Records. A few days later "Poppa" telephoned Roy to say that Phillips wanted the Teen Kings in Memphis in three days to record for Sun Records. Roy Orbison and the Teen Kings arrived in Memphis on Monday, March 26, 1956. The next day they re-recorded "Ooby Dooby". Bob Neal, owner of Starts Inc., signed the group to a booking and management contract. They kicked off with an experimental tour of Southern drive-in movies theaters, performing on the projection house roofs between film showings. Most of the time touring with Carl Perkins, Johnny Cash, Warren Smith, Sonny Burgess, Faron Young, Johnny Horton and then Jerry Lee Lewis and other Country and Rockabilly stars. "Ooby Dooby" peaked at #59 on the Billboard Hot 100 and #2 in Vancouver. However, follow-up singles failed to chart. The Teen Kings split up in December 1956 and Orbison stayed at Sun until 1958.
In March 1958, Roy Orbison was offered a spot on an Everly Brothers show in Hammond, Indiana. The Everlys needed a song for their new single and they asked Roy if he had anything. He sang his new composition "Claudette" and they asked him to write the words down. So he did, on the top of a shoebox. Soon Orbison was signed to Acuff-Rose Music Publishing in Nashville, and he also got a contract with RCA Victor where he briefly worked with Chet Atkins. The Everly's "Claudette" was the B-side of "All I Have To Do Is Dream". The A side went to #1 while "Claudette" climbed to #30 on the Billboard Hot 100 and to #1 in Vancouver. Orbison had more of his songs recorded by Buddy Holly, Jerry Lee Lewis, Johnny Cash, Ricky Nelson and Cliff Richard.
By the fall of 1959 Orbison got a new record contract with Monument Records. They released "Uptown" which had strings as opposed to fiddles, which were not very common in Nashville. It was Orbison's biggest hit since "Ooby Dooby." But his next release was a smash hit. "Only The Lonely" Climbed to #2 on the Billboard Hot 100, #2 in Vancouver and #1 in the UK. His follow-up single, "Blue Angel", gave Orbison his first #1 hit in Vancouver, while peaking at #9 in the USA and #11 in the UK.
Orbison had another #1 hit in April 1961 here in Vancouver and in the USA with "Running Scared". The song debuted at #11 on CKWX and #9 on CFUN. It climbed to #1 on April 15, 1961, on CKWX topping the charts for three weeks. The songs' production and the performance were unusual for the time, as Monument Records was willing to spend more money on production than many other record labels.
The hits kept on coming for Roy Orbison with "Crying", "Dream Baby", "In Dreams" and many other Top 40 singles. The B-side to "Crying" was "Candy Man".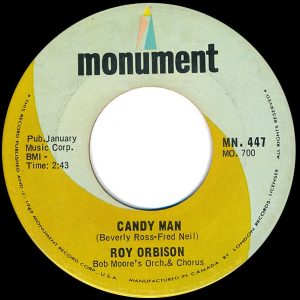 For the first three weeks of its run on the CFUN charts in Vancouver, "Candy Man" charted separately from the A-side, "Crying." But during the remaining five weeks on the chart "Candy Man" and "Crying" shared the same position on the CFUN chart. The song was co-written by Beverly Ross and Fred Neil. Born in Brooklyn, New York, Beverly Ross was one of a few female songwriters in the Brill Building in the late 50's into the early 60's. At the time she was the highest paid female songwriter working in the building. She wrote "Dim, Dim The Lights" for Bill Haley and His Comets in 1954, which peaked at #11 on the Billboard pop charts. Her other notable successes include "Lollipop" for The Chordettes in 1958, "The Girl of My Best Friend", a Top 20 hit in 1960 for Ral Donner and a #5 hit for Leslie Gore in 1963 titled "Judy's Turn To Cry". Ross also had some heartaches in the music business when fellow songwriter, Phil Spector, stole a musical theme she had shared with him that she was excited about that soon became a song Spector penned for Ben E. King titled "Spanish Harlem". That story and others are told in her 2013 autobiography, I Was the First Woman Phil Spector Killed.
The other co-writer of "Candy Man", Fred Neil, met Beverly Ross at Cafe Wha? in Greenwich Village in 1960. Neil had been writing rockabilly tunes that ended up as B-sides for artist like Buddy Holly. After their success with Roy Orbison, Fred Neil released his own folk album in 1965. He is most well known for penning "Everybody's Talkin'", a Top Ten hit for Harry Nilsson in 1969 from the film Midnight Cowboy. Jefferson Airplane released a single in 1967 dedicated to Fred Neil titled "Ballad Of You Me And Pooneil".
Building on a candy theme from her hit song with the Chordettes, "Lollipop", Beverly Ross used another simile in co-writing "Candy Man". While the term later became slang for a drug dealer by the late Sixties, in 1961 the song could be an innocent play on words. A Candy Man was more properly a male person working at a candy making factory. Boys and men and boys were hired as cooks and machine operators. Females were hired to wrap candies and put them in tins or boxes, and sometimes given jobs to hand-dip candies in chocolate. If a woman was lucky she got to be a chocolate dipper and was paid the best wage a woman could obtain in the factory. But all the male positions in a candy making factory got better pay. Women made a lot of candy at home as fudge making parties and taffy pulls were a form of entertainment in the late 19th C.
In America, in the 17th and 18th centuries sugar was very expensive and sugar plantations were a source of immense wealth. Sugar was a symbol or economic and political power. Many people in the 17th century in North America never had any candy. The Dutch bakers of New Amsterdam made macaroons, marzipan, sugar plums, ice cream and other confections for weddings and holidays. But getting candy at a grocery store was not the custom. While chocolate was available it was very bitter and mostly used in baking. Molasses was one item that was affordable and used to boil and make confections in the American kitchen. But with the introduction of mechanization and candy making factories the price of sugar declined. During the 19th century sugar became readily available and was much more affordable. Sugar became associated with femininity. Women and children were presumed to have a "sweet tooth," while real men eschewed candy. If a man was very fond of candy his masculinity was called into question.
Candy is a 13th C English word derived from the Arabic qandi that means "made of sugar." In the 1890's pushcart vendors sold candy in New York City and across cities in America. Often candy was sold in unsanitary conditions to children. In her book, How the Other Half Ate: A History of Working-Class Meals at the Turn of the Century, Katherine Leonard Turner writes about a candy man named Hessel Broidy. In 1902 the 72-year-old candy man was "brought before the New York Board of Health and charged with selling dirty candy to children." He sold sweets that were peppered with the dust and dirt from the streets and sidewalks. For a promise to stop selling candy, Broidy's sentence was suspended.
In the song by Roy Orbison the candy man is much more appealing than that of unscrupulous vendors selling dirty candy to children at the dawn of the 20th century. Using a candy man vendor as a simile for making romance and love-making, he offers his "baby," his "sugar," his "candy kisses." He loves her "honey lovin' ways." Sweet!
"Candy Man" was a #1 hit in Australia and in Winnipeg, Manitoba. In the USA the song peaked at #1 in Atlanta, Houston, Boston, Knoxville (TN), Dallas, Newport News (VA), and San Antonio. However, it was not play listed in half the states in America, contributing to its lower national peak on the Billboard Hot 100 at #25.
Orbison continued to rack up more hits in 1962-63. These include "Dream Baby"/"The Actress", "Leah", "Lana", "In Dreams", "Falling", "Blue Bayou" and "Pretty Paper".
On October 27, 1963, Roy Orbison appeared for his first time in concert in Vancouver at the Queen Elizabeth Theatre.
Roy Orbison was one of the few hit-makers to hold his ground, increasing his popularity despite the British Invasion. "It's Over" went #1 in the UK and Ireland in the spring of 1964. His next single that year, "Oh Pretty Woman", was his biggest all-time hit. Orbison toured Australia with the Beach Boys in 1964 and internationally with the Rolling Stones '65. While he toured with the Rolling Stones, Roy Orbison had several single releases and continued to chart into the Top Ten in Vancouver. On November 28, 1965, Roy Orbison returned to the Queen Elizabeth Theatre.
In 1966, Orbison's wife, Claudette, was killed in a motorcycle accident. In 1968, tragedy struck again when two of his three children died in a fire that burned down his house in Hendersonville, Tennessee.
On June 13, 1976, Roy Orbison returned to the Queen Elizabeth Theatre in concert.
In the 1980's Roy Orbison enjoyed a resurgence of interest. He regularly performed in concert in Vancouver throughout the decade. On June 25, 1981, Orbison gave a concert at the Orpheum. The following January 17th, 1982, he was in concert at The Cave. Three years later he appeared at the Queen Elizabeth Theatre on June 22, 1984. During Vancouver's centennial anniversary in 1986, Orbison was at the Expo Theatre on August 10th. And on September 3, 1987, he returned to the Orpheum. His ninth and final concert was at the Expo Theatre on May 28, 1988.
A duet of "Crying" with k.d. Lang climbed to #2 nationally on the RPM Canadian singles chart, though only to #35 on CKLG in February 1988. Orbison won a Grammy Award for the duet. Next Orbison sang with George Harrison, Jeff Lynne, Tom Petty and Bob Dylan, in a group called the Traveling Wilburys. Their single, "Handle With Care", climbed to #9 in Vancouver and #45 on the Billboard Hot 100. Roy Orbison died dead at 52 from a heart attack on December 6, 1988. In April, 1989, his posthumous single, "You Got It", climbed to #6 on CKLG in Vancouver.
January 29, 2018
Ray McGinnis
References:
Candy History, Candy History.net
Kawash, Samira. Candy: A Century of Panic and Pleasure. Farrar, Straus and Giroux, New York, NY, 2013.
Fred Neil bio, Fred Neil.com
Roy Orbison Official Biography, Roy Orbison.com
Beverly Ross bio, Beverly Ross.info
Ross, Beverly. I Was the First Woman Phil Spector Killed. Beverly Ross LLC, New York, NY, 2013.
Turner, Kathleen Leonard. How the Other Half Ate: A History of Working-Class Meals at the Turn of the Century. University of California Press, Oakland, CA, 2014.
Woloson, Wendy A. Refined Tastes: Sugar, Confectionery, and Consumers in Nineteenth-Century America. Johns Hopkins University Press, Baltimore, Maryland, 2002.
"Roy Orbison Concerts – Canada," Setlist.fm.
"C-FUNTASTIC FIFTY," CFUN 1410 AM, Vancouver, BC, September 23, 1961.
For more song reviews visit the Countdown.