#429: Ooby Dooby by Roy Orbison
Peak Month: January 1957
5 weeks on Vancouver's CKWX
Peak Position #2
Peak Position on Billboard Hot 100 ~ #55
YouTube.com: "Ooby Dooby"
Lyrics: "Ooby Dooby"
Roy Kelton Orbison was born in Vernon, Texas in 1936. When he turned six his dad gave him a guitar. Both his dad, Orbie Lee, and uncle Charlie Orbison, taught him how to play. Though his family moved to Forth Worth for work at a munitions factory, Roy was sent to live with his grandmother due to a polio outbreak in 1944. That year he wrote his first song "A Vow of Love". The next year he won a contest on Vernon radio station KVWC and was offered his own radio show on Saturdays. After the war his family reunited and moved to Wink, Texas, where Roy formed his first band, in 1949, called The Wink Westerners.
From 1951 into the mid-50s The Wink Westerners appeared with Roy Orbison on KERB in Kermit, Texas. The band performed at school assemblies and country jamborees sponsored by KERB. In 1953 they played at an International Lions Club Convention in Chicago. After high school, Roy Orbison met two friends in college named Wade Lee Moore and Dick Penner. They'd written a song called "The Ooby Dooby". The Wink Westerners began to include the song in their performances, including on a TV show on KMID in Midland, which won them a half hour Friday night slot on KMID.
With the advent of Rock and Roll, the Wink Westerners renamed themselves The Teen Kings. In addition to the TV show on KMID, TV station KOSA in Odessa, Texas, gave them a half hour slot on Saturday afternoons. The CBS affiliate also had Johnny Cash and Elvis Presley guest star on Roy Orbison's KOSA TV show. Johnny Cash got Orbison in touch with Sam Phillips of Sun Records in Memphis. Orbison called Phillips who hung up the phone saying, "Johnny Cash doesn't run my record company." Orbison and the Teen Kings began to perform "Ooby Dooby" at gigs around Texas.
Orbison sent the demo of "Ooby Dooby" in late 1955 to Columbia Records, but they weren't interested. So Orbison offered but the song to a Denton band called Sid King and the Five Strings. They recorded "Ooby Dooby" on March 5, 1956, at a studio in Dallas. Then Orbison got a break and recorded the song at Sun Records later that month.
Orbison had been approached by owners of Je-Wel Records who wanted The Teen Kings to make a record. The session took place in early March, 1956. This time, Roy and The Teen Kings, recorded The Clover's "Trying to Get to You" along with "Ooby Dooby". The single was released March 19, 1956. That same day, Orbison took a copy to Cecil "Poppa" Hollifield in Odessa. He was a well-know record dealer in West Texas. "Poppa" Hollifield liked the record and played it on the phone to one of his connections in Memphis. The guy on the other side of the line asked him to send him a copy. His name was Sam Phillips, owner of Sun Records. A few days later "Poppa" telephoned Roy to say that Phillips wanted the Teen Kings in Memphis in three days to record for Sun Records.
Roy Orbison and the Teen Kings arrived in Memphis on Monday, March 26, 1956. The next day they re-recorded "Ooby Dooby". Bob Neal, owner of Starts Inc., signed the group to a booking and management contract.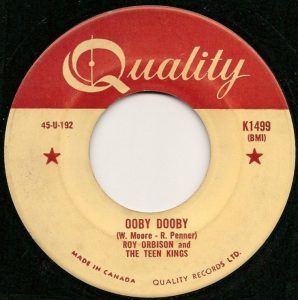 "Ooby Dooby" was written by Dick Penner and Wade Moore. Richard Penner was born in Chicago in 1936, just before his family moved to Texas. By 1953 he was in a musical duo with Dave Young and performing on the Big D Jamboree radio show at KRLD in Dallas. In 1954, Penner enrolled at the University of North Texas in Denton. It was here where he met Wade Moore. They composed Ooby Dooby in February 1955. Penner and Wade had taken a six-pack of beer onto the flat roof of their Lambda Chi fraternity house. They wrote Ooby Dooby in a few minutes. Wade Moore later recorded a version of Ooby Dooby with Rod Barkley. After the recording of Ooby Dooby Rod Barkley quit the music business and moved back to his hometown of Gruver, Texas. Penner and Moore cut a single in 1957 on Sun Records, but nothing came of it. n 1958, Dick Penner, then with a record on his own, appeared on the Louisiana Hayride, at The Big D Jamboree and even on American Bandstand. But, he was drafted into the U.S. Army. After six months stay in the army, Penner made the choice to get back at the University. Penner went on to become a professor of English Literature at the University of Tennessee.
The "Ooby Dooby" is an irresistible dance that makes a man feel like he's "gotta be near" his romantic partner. The dance involves wiggling to the left, and wiggling to the right. The lyrics further instruct, "Well you wriggle and you shake, like a bit rattle snake…" The dance involved a lot of gyrating and shaking of hips and, well, your whole body.
"Ooby Dooby" is an example of nonsense syllables featured in a song lyric. Though this was a rarity in rockabilly, nonsense syllables were finding there way into hit songs, especially by doo-wop recording artists.
In 1954 the Chords sang "Sh-Boom", which was covered by the Crew Cuts. The Chords sang these nonsense syllables in the song's bridge: Day dong da ding-dong/Sha-lang-da-lang-da-lang. Ah, whoa whoa bip/Ah bo da do da dip, whoa. And the Crew Cuts rendered the bridge this way: Bom ba, Hey nonny ding dong, alang alang alanga/Oh oh oh oh dip, a dibby dobby dip.
In 1956 Frankie Lymon and the Teenagers sang "Why Do Fools Fall In Love". The song featured this syllabic novelty: Ooooo wah, oooooo wah, ooooo wah, oooooo wah, Ooooo wah, oooooo wah, Why do fools fall in love. That year the Cleftones opened "Little Girl Of Mine" with Dede liddle liddle liddle le.. Also in 1956 the Five Satins recorded "In The Still Of The Night", which began with this nonsense phrase:
Sho-dot-n-sho-be-doe/sho-dot-n-sho-be-doe…
In 1957 the Del-Vikings recorded a Top Ten hit titled "Come Go With Me". The song opened with this syllabic creation:
Dom, dom, dom, dom, dom, de, doobe, dom
Dom, dom, dom, dom, dom, de, doobe, dom
Dom, dom, dom, dom, dom, de, doobe, dom
Wah, woh, wah, wah wah.
The Elegants had a #1 song in 1958 called "Little Star" that featured these lyrics tenderly expressed:
Whoa oh, oh, oh-uh-oh, ratta ta ta tara too-ooh-ooh.
Whoa oh, oh, oh-uh-oh, ratta ta ta tara too-ooh-ooh.
In 1958, The silhouettes had a #1 hit with "Get A Job" about the need to find summer work that featured these demanding lyrics:
Yip yip yip yip yip yip yip yip,
sha na na na, sha na na na na,
sha na na na, sha na na na na,
sha na na na, sha na na na na,
sha na na na, sha na na na na,
yip yip yip yip yip yip yip yip,
mum mum mum mum mum mum,
Get a job, sha na na na, sha na na na na.
In 1958 David Seville was experimenting with speeding up the recordings of his voice to create the animated characters Alvin, Theodore and Simon, who were featured on a cartoon show and in this chart topping hit called "Witch Doctor". The nonsense lyrics to the song added to the zany, fanciful story he was telling about how to find love in your life:
Ooh, eeh, ooh, ah, ah, ting, tang, walla, walla, bing, bang,
Ooh, eeh, ooh, ah, ah, ting, tang, walla, walla, bing, bang.
In 1959 the Flamingoes recorded an old Rogers and Hart song, "I Only Have Eyes For You", with a doo wop treatment. They punctuated the song with:
Sha bop sha bop
Sha bop sha bop
Sha bop sha bop
Sha bop sha bop
With Roy Orbison adding "Ooby Dooby" to the mix, in the mid-to-late '50s, he was in good company.
Meanwhile, with the release of "Ooby Dooby", Roy Orbison and the Teen Kings kicked off with an experimental tour of Southern drive-in movies theaters. They performed on the projection house roofs between film showings. Most of the time they toured with Carl Perkins, Johnny Cash, Warren Smith, Sonny Burgess, Faron Young, Johnny Horton and then Jerry Lee Lewis.
"Ooby Dooby" peaked at #59 on the Billboard Hot 100. In local radio markets the single peaked at #2 in Vancouver (BC) and Worcester (MA), #10 in Tulsa (OK), and #11 in Boston and Detroit.
However, follow-up singles failed to chart. The Teen Kings split up in December 1956 and Orbison stayed at Sun until 1958, with all six followup singles commercial flops.
In March 1958, Roy Orbison was offered a spot on an Everly Brothers show in Hammond, Indiana. The Everlys needed a song for their new single and they asked Roy if he had anything. He sang his new composition "Claudette" and they asked him to write the words down. So he did, on the top of a shoebox. Soon Orbison was signed to Acuff-Rose Music Publishing in Nashville, and he also got a contract with RCA Victor where he briefly worked with Chet Atkins. The Everly's "Claudette" was the B-side of "All I Have To Do Is Dream". The A side went to #1 while "Claudette" climbed to #30 on the Billboard Hot 100 and to #1 in Vancouver. Orbison had more of his songs recorded by Buddy Holly, Jerry Lee Lewis, Johnny Cash, Ricky Nelson and Cliff Richard.
By the fall of 1959 Orbison got a new record contract with Monument Records. They released "Uptown" which had strings as opposed to fiddles, which were not very common in Nashville. It was Orbison's biggest hit since "Ooby Dooby". But his next release was a smash hit. "Only The Lonely" Climbed to #2 on the Billboard Hot 100, #2 in Vancouver and #1 in the UK. His follow-up single, "Blue Angel", gave Orbison his first #1 hit in Vancouver, while peaking at #9 in the USA and #11 in the UK.
Orbison had another #1 hit in April 1961 here in Vancouver and in the USA with "Running Scared". The song debuted at #11 on CKWX and #9 on CFUN. It climbed to #1 on April 15, 1961, on CKWX topping the charts for three weeks. The songs' production and the performance were unusual for the time, as Monument Records was willing to spend more money on production than many other record labels.
The hits kept on coming for Roy Orbison with "Love Hurts", "Crying", "Dream Baby", "In Dreams", "Candy Man" and many other Top 40 singles. Among these was "The Actress".
On October 27, 1963, Roy Orbison appeared for his first time in concert in Vancouver at the Queen Elizabeth Theatre. In 1964, Roy Orbison topped the charts in the USA and Vancouver with "Oh, Pretty Woman". He also had a Top Ten hit with "It's Over" in the spring of '64. On November 28, 1965, Roy Orbison returned to the Queen Elizabeth Theatre.
In June 1966, Orbison's wife, Claudette, was killed in a motorcycle accident in Tennessee. Orbison had released ten singles since "Oh Pretty Woman" topped the pop charts. But only two of these had cracked the Top 30 of the Billboard Hot 100, with "Goodnight" charting best to peak at #21. His final single release in 1966 was "Communication Breakdown". In 1968, tragedy struck again when two of his three children died in a fire that burned down his house in Hendersonville, Tennessee.
On June 13, 1976, Roy Orbison returned to the Queen Elizabeth Theatre in concert.
In the 1980's Roy Orbison enjoyed a resurgence of interest. He regularly performed in concert in Vancouver throughout the decade. On June 25, 1981, Orbison gave a concert at the Orpheum. The following January 17th, 1982, he was in concert at The Cave. Three years later he appeared at the Queen Elizabeth Theatre on June 22, 1984. During Vancouver's centennial anniversary in 1986, Orbison was at the Expo Theatre on August 10th. And on September 3, 1987, he returned to the Orpheum. His ninth and final concert was at the Expo Theatre on May 28, 1988.
A duet of "Crying" with k.d. Lang climbed to #2 nationally on the RPM Canadian singles chart, though only to #35 on CKLG in February 1988. Orbison won a Grammy Award for the duet. Next, Orbison sang with George Harrison, Jeff Lynne, Tom Petty and Bob Dylan, in a group called the Traveling Wilburys. Their single, "Handle With Care", climbed to #9 in Vancouver and #45 on the Billboard Hot 100. Roy Orbison died dead at 52 from a heart attack on December 6, 1988. Two days prior, he gave his last interview and discussed the buzz at the time that Martin Sheen might play Orbison in a biopic about his life. In April, 1989, Roy Orbison's posthumous single, "You Got It", climbed to #6 on CKLG in Vancouver.
In January 2018 it was announced that Roy Orbison will be going on tour again, in hologram form. On November 23, 2018, a vinyl double album titled Unchained Melodies: Roy Orbison & The Royal Philharmonic Orchestra will be released. It includes "Falling" as one of its tracks. The Royal Philharmonic Orchestra has previously released three albums featuring songs by Elvis Presley. And in 2017 there was a release of the album titled A Love So Beautiful: Roy Orbison & The Royal Philharmonic Orchestra. It featured "Love Hurts", "Oh, Pretty Woman", and others.
June 22, 2020
Ray McGinnis
References:
Cherie Hu, "30 Years After His Death, Roy Orbison Is Going On Tour Again – In Hologram Form," Billboard, Los Angeles, January 11, 2018
Steve Pond, "Roy Orbison's Triumphs and Tragedies," Rolling Stone, January 26, 1989.
Unchained Melodies: Roy Orbison & The Royal Philharmonic Orchestra, Sony Music, November 23, 2018.
A Love So Beautiful: Roy Orbison & The Royal Philharmonic Orchestra, Sony Music, November 3, 2017.
Tony Weber, "Roy Orbison Interview," Rock and Roll Hall of Fame, December 4, 1988.
Camille Daddy, "Ooby Dooby": A Dick Penner Song!," Rockabilly Hall of Fame.com, May 30, 2008.
Tim de Lisle, "Pop's Love Affair With Nonsense Lyrics," Guardian, July 29, 2005.
Gribin, Dr. Anthony J. and Shiff, Dr. Matthew M. The Complete Book of Doo Wop. Collectables, 2006.
Lawrence Pitilli, Doo-Wop Accappela: A Story of Street Corners, Echoes and Three Part Harmonies, (Rowan & Littlefield, 2016).
"Roy Orbison Concerts – Canada," Setlist.fm.
For more song reviews visit the Countdown.