#407: Fine State Of Affairs by Burton Cummings
Peak Month: July 1980
10 weeks on CFUN's Vancouver Chart
Peak Position ~ #4
1 week Hit bound
Peak Position on Billboard Hot 100 ~ did not chart
YouTube: "Fine State Of Affairs"
Lyrics: "Fine State Of Affairs"
Burton Cummings is the former lead singer and keyboardist for the Winnipeg, Manitoba, based rock 'n roll band The Guess Who. He was with the band from 1965 to 1975. Cummings sang, wrote or co-wrote many hit songs. These include "American Woman", "Clap For The Wolfman", "Hand Me Down World", "Laughing", "No Time", "Share The Land", "Star Baby" and "These Eyes". His solo career includes many hit singles, including "My Own Way To Rock" and "Fine State Of Affairs". His first solo hit single was "Stand Tall", in 1976, which was his biggest hit as a solo recording artist.
Cummings was born in Winnipeg, Manitoba, in 1947. When he was sixteen he dropped out of high school. In 1962, while only fifteen, Cummings founded a band named the Deverons. All members of the band learned to play by ear. Cummings played piano, saxophone and lead vocals. Their high school dance concerts comprised of covers of songs from the late 50's and early 60's including "This Time" by Troy Shondell, "Wild Weekend" by The Rebels, "Sheila" by Tommy Roe and "Only Love Can Break A Heart" by Gene Pitney. The Deverons released a couple of singles and Cummings got some positive word-of-mouth and reviews in the local Winnipeg papers. This was pretty exciting for bandmates who still all lived in their parents homes.
In January 1966 Cummings was asked to join another Winnipeg band, The Guess Who, when keyboardist Bob Ashley left the group. By May 1966 Burton Cummings became the lead vocal for the group when Chad Allen left to pursue solo work and host the CBC TV show Let's Go. The Guess Who had previously been Chad Allen and the Expressions. Their first national hit was "Shakin' All Over", which peaked at #2 in Vancouver (BC) in February 1965. After Burton Cummings joined the band a year later, they had twenty-one Top 20 hits in Canada, including these other number one singles on the Canadian RPM record charts: "Laughing", "No Time" and "American Woman"/"No Sugar Tonight". Some of the hits by the Guess Who did especially well in Vancouver, including "Life In The Bloodstream", "Hang On To Your Life"/"Do You Miss Me Darling", "Heartbroken Bopper", "Running Back To Saskatoon", "Lightfoot" and "Of A Dropping Pin".
In 1975 Cummings began a solo career after The Guess Who disbanded. That year he added backing vocals for Eric Carmen's track, "Marathon Man", from his Boats Against The Current album. Burton's first two albums went double-platinum. His first was self-titled. His first release was "Stand Tall", his only Top Ten hit in the USA. The second single from the album was "I'm Scared".
Cummings' third album, Dream Of A Child, went triple-platinum. It included two Top Ten singles in Canada: "I Will Play A Rhapsody", and the debut single, "Break It To Them Gently". The album, Dream Of A Child, earned Burton Cummings a Juno Award in 1979 for Top Selling Album.
Burton Cummings released his fourth studio album in 1980 titled Woman Love. His debut single from the album was "Fine State Of Affairs".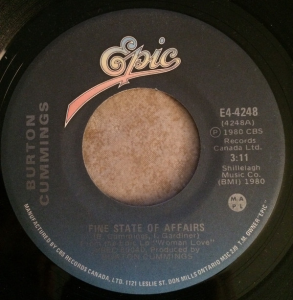 "Fine State Of Affairs" is a song cowritten by Cummings with Ian Gardiner. In 1952, Ian Gardiner was born in Winnipeg. After he saw The Beatles on The Ed Sullivan Show in February 1964, Gardiner joined a band called Ragnar and the Pagans. In 1969, Gardiner started playing with a number of notable musicians who were part of the Winnipeg jazz scene. From 1972 to 1974, Gardiner played bass in the band for Manitoba Theatre Centre Productions of 'Jaques Brel is Alive and Well and Living in Paris' and 'Jubalay.' In the mid to late 1970s, Gardiner joined Winnipeg band Mood Jga Jga. By 1976, he began playing bass with Burton Cummings, after Cummings went solo. In 1978, Gardiner played with Cummings on "Dream of Child," which went on to earn a Juno Award for record of the year, and was the first ever triple platinum album for a Canadian artist. In 1978 Gardiner played bass guitar on the demo "Don't Cry Out Loud" with Bette Midler. The song was a hit for Melissa Manchester. Gardiner has also worked in the recording studio with Bo Diddley, the Knack, Supertramp and Randy Bachman. In 1980, Gardiner co-wrote the song "Fine State of Affairs" with Cummings, which later won a SOCAN Award.
"Fine State Of Affairs" has the song's narrator recalling a time when people could meet in the singles scene: "I miss the real exciters, anything with anyone… lining up for fast one-nighters…" Now, he laments the social norm is "not supposed to want nobody, not supposed to touch nobody."
This 1980 flashback – "Fine State Of Affairs" – offers an odd cultural twist when played for listeners in 2020 in the middle of a pandemic. In Canada we're encouraged to stay in small "bubbles" of a half a dozen or so friends/family members. So, the prospect of meeting total strangers to date becomes daunting. Of course, people can meet online. But, with each person one gets to know online, health authorities ask us to consider if this is someone we want to include in our bubble. What do we know and feel about the bubble a potential romantic partner has created? And what does a date look like during a pandemic? Do you wear a mask? Do you kiss? Do you get under the sheets, have sex? The intended or unintended message to single people in 2020 may feel like the message Burton Cummings heard from a different societal era: "Not supposed to touch nobody."
In British Columbia the health authority advised persons as follows: "Be creative with sexual positions and physical barriers, like walls, that allow sexual contact while preventing close face-to-face contact." Meanwhile the BC Center for Disease Control advises "Masturbating by yourself will not spread COVID-19."
"Fine State Of Affairs" peaked at #1 in Regina (SK), #4 in Vancouver (BC), #5 in Toronto and Ottawa (ON), #7 in Saskatoon (SK), Fredericton (NB) and Hamilton (ON), and #11 in London (ON). In the USA "Fine State Of Affairs" was shut out of most radio markets and failed to crack the Billboard Hot 100.
Cummings has lived in both California and Winnipeg. Among the many highlights of Burton Cummings career, in the 1980's and 1990's he toured with Ringo Starr's All Starr Band. Cummings also starred in the 1982 feature film, Melanie, and won a Genie Award for Best Original Song in 1983. The Guess Who have toured from time to time on reunion tours since 2000. Burton Cummings has performed in concert with the Bachman-Cummings Band and also gone on tour as a solo act.
In 2009, Cummings received the Order of Canada. More recently, he published a book of poetry titled The Writings off B.L. Cummings. As of January 27, 2020, Burton Cummings had nine concert dates scheduled between February 21 and March 20, 2020, in Alberta, Arizona, California and Washington. With fifty albums recorded, he shows no sign to slowing down in his seventh decade.
September 28, 2020
Ray McGinnis
References:
Cummings, Burton. The Writings of B.L. Cummings. Rock Paper Merchandise.com, 2017.
Burton Cummings – Bio, Burton Cummings.com
The Deverons, Manitoba Music Museum.com.
Robert Girard Carroon, "The Christmas Carol Soldier," Military Order of the Loyal Legion of the United States, West Hartford, CT, October 1998.
"Saint Thomas Church Fifth Avenue – Choir of Men and Boys," Saint Thomas Church.org.
Jason Daley, "It's the Bicentennial of 'Silent Night': The Classic Christmas Tune was First Composed as a Poem, and it was set to Music for the First Time in the Winter of 1818," Smithsonian Magazine, December 17, 2018.
Dave Ferguson, "5 Stages of Spiritual Awakening," Christianity Today, March 2015.
"Ian Gardiner (Musician)," Wikipedia.org.
Josh K. Elliott, "Try 'Glory Holes' for Safer Sex During Coronavirus, B.C. CDC says," Global News, July 22, 2020.
"CFUN Top 30," CFUN 1410 AM, Vancouver, BC, July 5, 1980.
For more song reviews visit the Countdown.