#278: Flying Blue Angels by George, Johnny and the Pilots
Peak Month: November 1961
8 weeks on Vancouver's CFUN chart
Peak Position #1
Peak Position on Billboard Hot 100 ~ #108
YouTube: "Flying Blue Angels"
George, Johnny and the Pilots recorded one side of a single 45 RPM record in 1961. Otherwise, there was no other record credited to them. It is plausible that "George" was George Paxton, the owner of Coed Records and one of the songwriters (going by the pseudonym George Eddy). I surmise that the "Johnny" providing backing vocals on the song could be Johnny Maestro. It was Maestro who recorded, as either a solo artist or a lead singer with the Crests, five of the 18 singles Coed Records released in 1961. Maestro was also a lead singer on the first two singles Coed Records released in January 1962.
In the fall of 1961 "Flying Blue Angels" appeared on the pop charts in Vancouver and just a few other radio markets across Canada and the United States. "Flying Blue Angels" debuted at #27 on the C-FUN-Tastic 50 on October 28, 1961. And the first two weeks of November 1961, "Flying Blue Angels" was on the top of the CFUN chart. While on the CKWX Fabulous Forty, the song made the playlist on October 14th. The week of November 18, "Flying Blue Angels" slid from #1 to #2 on CFUN, while it jumped to number-one on CKWX.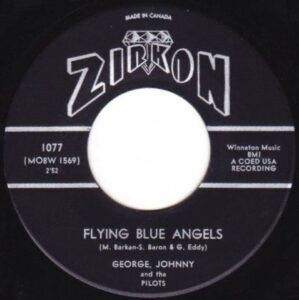 One YouTube post of this single states that George, Johnny and the Pilots were led by George Paxton on vocals. Nothing else can be found about this one-hit wonder. But more is known about the songwriters. George Eddy, Marcus Barkan and Sandy Baron wrote "Flying Blue Angels". The trio also co-wrote a #5 hit in 1961 for Adam Wade titled "The Writing On The Wall".
Marcus Barkan was born in Brooklyn in 1934. In 1957, while he was only twenty-two years-old, Marcus Barkan began working as a songwriter in the Brill Building. Among his other songwriting successes are "I'm Gonna Be Warm This Winter" for Connie Francis – a Top 20 hit in 1962; "She's Fool" – a #5 hit for Lesley Gore in 1963. In 1966 Barkan penned "Pretty Flamingo" – a number-one hit for Manfred Mann in Ireland, the UK and Rhodesia. He wrote other songs for Sonny & Cher, the Archies, the Monkees, Vic Dana, Chuck Jackson, Dusty Springfield, Shelley Fabares, Paul Anka, Elvis Presley, Jay & The Techniques, BT Express and others. In 1968, Marcus Barkan was the musical director for NBC cartoon series The Banana Splits Adventure Hour. This included composing the theme "Tra-La-La Song". Marcus Barkan died at age 85 in 2020.
Sandy Baron was born in Brooklyn in 1936. His birth name was Sanford Irving Beresofsky. His parents were both Yiddish-speaking Russian Jewish emigrants. He changed his name to Sandy Baron after he won a scholarship to Brooklyn College after high school graduation in 1954. Baron went to to become a comedian with the Compass Players in the mid-50s whose roster of comedians included Ed Asner and Shelley Berman. In 1960 he recorded a novelty record titled "Adam And Eve" with Joan Rivers. In the winter of 1960 Sandy Baron released a novelty rockabilly tune titled "Swingin' Santa". George Eddy, Marcus Barkan and Sandy Baron wrote songs that were recorded by Johnny Maestro, Nat King Cole, Barkan and Baron co-wrote a B-side for the Playmates "Little Miss Stuck-Up", and an album track for Lesley Gore. In addition to his collaboration with Eddy and Barkan, Sandy Baron also cowrote "A Natural Man" for Lou Rawls with Bobby Hebb.
Sandy Baron appeared on Broadway in 1962 in Tchin-Tchin alongside Anthony Quinn and Margaret Leighton. Between 1963 and 1965 Sandy Baron appeared in the American version of the satirical That Was the Week That Was. Simultaneously, he was also was a stand-up opener for Steve Lawrence and Eydie Gorme at the Copacabana in New York City. In 1965 Sandy Baron hosted the pilot for Hollywood Squares. In 1966-67 Baron co-stared in a TV sitcom on NBC titled Hey, Landlord. On four episodes in 1969 Sandy Baron co-hosted on The Della Reese Show. Between 1965 and 1975 Baron was a regular guest on The Mike Douglas Show. He also made numerous guest appearances on The Tonight Show Starring Johnny Carson and The Merv Griffin Show. In the mid-70s Baron also performed in the role of Lenny Bruce in a stage production of Lenny on Broadway, replacing Cliff Gorman. Baron also appeared in nearly twenty feature films including If It's Tuesday, This Must Be Belgium, Birdy, The Grifters and as himself in Woody Allen's Broadway Danny Rose. And as a comedian, in more intimate venues, Sandy Baron opened for Neil Diamond, the Fifth Dimension, Diana Ross, Bobby Vinton and others. In the 1990s Sandy Baron played the role of Jack Klompus (from 1991 to 1997) in the TV sitcom Seinfeld. Sandy Baron died in 2001 at the age of 64 of emphysema.
George Eddy was a pseudonym for George Paxton, who was born in Jacksonville, Florida, in 1924. He studied saxophone and later arranged music for bandleader Charlie Spivak, big band singer Bea Wain, jazz trumpeter Bunny Berigan, singer-bandleader-trumpeter Vaughan Monroe, and bandleader-songwriter Sammy Kaye. In 1944 he formed George Paxton and His Orchestra which included tenor saxophonist "Boomie" Richman and jazz bass player Doc Goldberg. Paxton latter worked as an arranger with Patti Page, Perry Como and Nat King Cole. In 1958 Paxton founded Coed Records whose roster included the Crests ("Sixteen Candles") and the Duprees ("You Belong To Me"). It was the Coed Record label that "Flying Blue Angels" was released in the USA. (In Canada the single was released on the Zirkon Record label). And it is very possible that the "George" of George, Johnny and the Pilots was George Paxton (aka George Eddy), the owner of Coed Records, who was 37 at the time of the recording. During his career Paxton also worked with Lawrence Welk and Red Skelton. In 1989 at the age of 75, George Paxton was reported to have taken his life in an "apparent suicide" in Palm Springs.
If George Paxton was the "George" in George, Johnny and the Pilots, who was "Johnny" on the recording? Coed Records released 18 singles in 1961. Of these, four were records by Johnny Maestro – including "Model Girl" and "What A Surprise" – and one other was by the Crests, with Johnny Maestro as the lead singer. So, it is conceivable that "Johnny" of "George, Johnny and the Pilots" was Coed Record recording star Johnny Maestro. Who the other backing singers named the Pilots were for this one-non-hit-wonder is anyone's guess (unless it was the Crests).
John Mastrangelo was born in New York City in 1939. He began his career in 1957 as the original lead singer of the Crests, one of the first interracial groups in the music industry. Initially, The Crests had three African American members (one female), one Puerto Rican, and one Italian American (Johnny Maestro). Patricia Van Dross, older sister to famed R&B singer Luther Vandross, sang with Johnny Maestro while The Crests were signed to the Joyce Record label. Before The Crests signed with Coed Records, Patricia left the group because her mother didn't want her 15-year old daughter touring with the older guys. After a regional hit with "My Juanita"/"Sweetest One" on the Joyce label, The Crests charted a song titled "Pretty Little Angel" that was a Top 20 hit in Buffalo, New York, in May 1958. Their follow-up hit, called "16 Candles" climbed to #2 in early 1959 on the Billboard Hot 100 and #9 on CKWX in Vancouver.
The Crests had several more hits in the late 50s and early 60s including "Isn't It Amazing". Johnny Maestro had a solo career from 1961 until he started a group called The Brooklyn Bridge. They had a Top Ten hit in 1969 called "The Worst That Could Happen". Maestro died in 2010.
"Flying Blue Angels" is a song that tells about jet fighters with the United States Navy, not the US Air Force as one might expect. Formed in 1946, the Blue Angels are a flight demonstration squadron. The Blue Angels typically perform aerial displays annually in at least 60 shows at 30 locations throughout the United States and two shows at one location in Canada. The "Blues" still employ many of the same practices and techniques used in the inaugural 1946 season. Since 1946, the Blue Angels have flown for more than 505 million spectators.
"Flying Blue Angels" opens with spoken word as different fighter pilots confirm they are all ready for take-off. Then George, Johnny and the Pilots sing: "We're flying blue angels, way up high. Jet smoke streaming, as we zoom across the sky…. We're navy pilots through and through, living just to fly." The Blue Angels fly at Mach 1 – the speed of sound. This is why they refer to themselves as the "daredevils of the sky." We learn from the song that for these types of pilots "danger is just fun" and is their "middle name." They sing "wave to us you cheering crowd, we'll dip our wings to you." As well, though these Navy pilots do aerial demonstrations, they still consider themselves as part of the military. As the Pilots in this song sing "we're proud we're serving you."
The Blue Angels was a dramatic television series, starring Dennis Cross and Don Gordon, inspired by the Blue Angels aerial stunts and filmed with the cooperation of the Navy. It aired in syndication from September 26, 1960, to July 3, 1961.
In a Blue Angels show the pilots perform a variety of aerial maneuvers for the audience. Some of these include:
Fat Albert—Parade Pass – where the plane banks around the front of the crowd
Cuban eight – a figure eight aerobatic maneuver
Opposing Knife Edge Pass – where two Blue Angels fly towards each other and pass by flying tip-to-tip with the belly of each plane exposed to the other.
Aileron roll – a full 360 degree revolution
Inverted rolls – two solo jets fly toward a center point from opposite directions, upside down. Once they reach center point, each does a 360-degree roll.
Delta Break Out – while heading toward the front of the crowd in the Delta formation each pilot dramatically separates from the formation.
In 2011, it was reported that the Blue Angels receive an annual budget from the United States Department of Defense of $37,000,000.
"Flying Blue Angels" peaked at #1 in Vancouver (BC), #2 in Cleveland, #3 in Boston, #5 in Minneapolis/St. Paul, and #6 in Fargo (ND). However, the single got virtually no airplay in over forty states across the USA, and failed to crack the Billboard Hot 100.
The B-side of the record "Fiddle And A Bow" was credited to George, Johnny and the Girlfriends.
Ten months after "Flying Blue Angels" was a number-one hit in Vancouver, the Abbotsford Airshow began in August 1962. This was when the Abbotsford Flying Club held an airshow – about 45 miles east of Vancouver – to promote flying from the Abbotsford Airport. The Flying Club partnered with the Abbotsford Rotary Club who provided $700 to fund the event. The first show was a success, attracting 15,000 people. By 1965 the Abbotsford Airshow had become the largest airshow in Canada.
In 1967, the Abbotsford Airshow was included as an official Canadian Centennial project and featured the RCAF Golden Centennaires and the US Navy Blue Angels, along with a broad range of aircraft from Canada, the United States and Britain's Royal Air Force.
July 26, 2021
Ray McGinnis
References:
Lawrence Van Gelder, "Sandy Baron, 64, Veteran Comic Who Antagonized Morty Seinfeld," New York Times, January 29, 2001.
Elaine Woo, "Sandy Baron; Comic Known for Quirky Roles on Stage, Screen," Los Angeles Times, January 26, 2001.
"George Paxton," Wikipedia.org.
"George Paxton, Big Band Leader," Palm Beach Post, April 22, 1989.
"Veteran Pop and Rock Songwriter Mark Barkan Dies at Age 85," ABC News, May 11, 2020.
"45 Discography for Coed Records," globaldogproductions.info.
Dennis Hevesi, "Johnny Maestro, Brooklyn Bridge Singer, Dies at 70," New York Times, March 26, 2010.
Jennafer Segal, "Guide to Fast and Furious Aerobatics of the Blue Angels," Florida Times-Union, Jacksonville, FL, November 3, 2011.
"History – Abbotsford International Airshow," Abbotsfordairshow.com.
"C-FUN-Tastic 50," CFUN 1410 AM, Vancouver, BC, November 11, 1961.
For more song reviews visit the Countdown.