#263: Here Comes My Baby by the Tremeloes
Peak Month: May 1967
8 weeks on Vancouver's CFUN chart
Peak Position #1
Peak Position on Billboard Hot 100 ~ #13
YouTube: "Here Comes My Baby"
Lyrics: "Here Comes My Baby"
In 1956 at Park Modern Secondary School in Barking, Essex, two school mates, Brian Poole and Alan Blakley, started a band. On family holidays together, they'd tell their parents about their dreams of being on TV. They learned a couple of tunes by Buddy Holly and Everly Brothers, got two acoustic Hofner guitars, and asked their saxophone and bass playing school mate, Alan Howard to join them. Once they started performing at local parties, they met drummer Dave Munden, who soon joined them. Soon Alan Blakley, Dave Munden and Brian Poole found that they could harmonise any song they wanted to and developed a style of their own, with all of them singing and playing and Alan Howard on bass guitar. At this time they did not have a name but soon opted for Tremilos after the sound on the new amplifiers which they could not yet afford. In time, the lead guitarist from Joe & The Teems, Ricky West (born Richard Westwood), was added to the band in 1960.
They began touring and got a BBC spot on Saturday Club. Dave Munden, Brian Poole and Alan Blakley were also being hired on as a backing vocalists for session work by Decca Records on numerous hit records for Tommy Steele, Delbert McClinton, US Bonds, Clyde McPhatter, Jet Harris & Tony Meehan and the Vernon Girls and others.
Soon Decca signed a contract with the band in 1962 after auditioning The Tremeloes and The Beatles. Decca chose to sign The Tremeloes since they were geographically closer to Decca's studios. By this time their name had changed from Tremilos to Tremeloes. This was after an East London newspaper had misspelled the bands name. Now billed as Brian Poole and the Tremeloes, their first UK hit was in the summer of 1963 with "Twist And Shout", a cover of the Isley Brothers US hit the previous year. It peaked at #4 in Britain. The song was later covered by the Beatles.
In October '63, they had a #1 hit in the UK with a cover of the Contours' US million-seller "Do You Love Me". In 1964 they climbed back into the Top Ten in the UK with a cover of Roy Orbison's "Candy Man", and a B-side by The Crickets called "Someone, Someone".
Then the Tremeloes began to slide off the radar as other recording artists were increasingly singer-songwriters like Lennon-McCartney of The Beatles. In 1965 and 1966 the Tremeloes failed to excite as other British Invasion recording acts, as well as those from the USA, elsewhere in Europe, Australia – and a few in Canada, gained in popularity.
However, the Tremeloes were the first to appear on the British pop music variety show Ready Steady Go. They were also the first British band to tour both Australia and Ireland.
During this time Chip Hawkes joined The Tremeloes in 1965 and replaced Alan Howard. Hawkes started his professional music career in 1962 with a band called The Horizons. The band featured Chip on bass & Rod Evans on vocals. Evans later became the original lead singer for Deep Purple.
Chip & Alan Blakely found the song "Here Comes My Baby" written by Cat Stevens, which proved to be their first international Top Ten hit.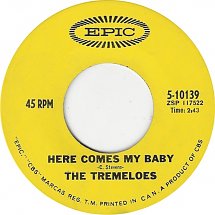 "Here Comes My Baby" was written by Cat Stevens. Steven Demetre Georgiou was born in 1948 in the West End of London, UK. His father was a Greek Cypriot and his mother was Swedish and they ran a restaurant. Young Steven learned the piano as a child and added mastery of guitar by the age of fifteen. After public school, in 1965 he studied for a year at Hammersmith School of Art, hoping to become a cartoonist. Concurrently, he began to perform in public billed as Steve Adams. That year he got a publishing contract and wrote "The First Cut Is The Deepest". Georgiou hunched his name might not catch on with record buyers, so he decided on the stage name of Cat Stevens. A girlfriend had told him he had eyes like a cat, plus he thought the general public could relate to cats. In 1966, at the age of 18, Cat Stevens had a #2 single on the UK Singles chart titled "Matthew And Son". This was followed by a song concerning workplace violence called "I'm Gonna Get Me A Gun" which also made the Top Ten in the UK.
Cat Stevens went on tour with the Jimi Hendrix and later with Englebert Humperdinck. In 1968 the combination of constant touring, media interviews and pop-star lifestyle resulted in a near fatal bout of tuberculosis which hospitalized Stevens for several months. Given time to reflect as he recovered from his illness, he began a process of inner reflection and meditation. This was a catalyst for a transformation in musical direction. He wrote some 40 songs and made fundamental changes to his lifestyle.
The period of 1970 to 1974 would see Cat Stevens ascend into the upper echelons of musical superstardom. His 1970 album Tea for the Tillerman, contained the classics "Wild World", "Hard Headed Woman" and "Father & Son". However, it was his 1971 album, Teaser and the Firecat,that made him an international star. The albums' tracks included "Morning Has Broken", "Peace Train" and "Moonshadow". His songs of peace and unity reflected the yearnings of a new generation tired of war and racial prejudice.
In the mid-70s Stevens began to read the Koran. He grew intrigued with the story of Jesus' earthly father, Joseph. In 1978 Stevens took the Arabic rendering of that name as part of his new identity. He shed Cat Stevens in favor of Yusuf Islam.
After the attacks on the World Trade Center and the Pentagon in America on September 11, 2001, Yusuf Islam released a statement abhorring the violence and his sympathy for the victims. However, three years later Yusuf Islam was on a flight from London to Dulles Airport on September 21, 2004. As the plane was about to arrive at Dulles, there was an announcement that the flight was being diverted to Bangor, Maine. Once the plane arrived in Bangor, Yusuf Islam was taken to the FBI for questioning. He was sent back to London, UK, after learning he had been put on a no-fly list. At the airport he spoke to the press, making a statement against violence, fanaticism and war. He issued a plea for peace and unity. In the fall and winter of 2004 he started to perform "Peace Train" and other songs that had made him famous.
"Here Comes My Baby" is a song about a guy who is walking alone along a familiar route. Stevens' original lyrics began "In the midnight moonlight I'll, be walking a long and lonely mile." The Tremeloes' cover lyrics began: "In the midnight, moonlight hour,
he's walking along that lonely, lonely mile." Then the song switches to the first person: "And every time I do, I keep seeing this picture of you. Here comes my baby. Here she comes now. And it comes as no surprise to me, with another guy….Walking with her love, with her love, that's oh, so fine. Never to be mine. No matter how I try."
The basic problem is that "my baby" in the song is just a fantasy. It seems the woman the guy has a crush on is completely preoccupied with dating a number of other guys. And the narrator of "Here Comes My Baby" hasn't properly identified that his 'baby' is in fact not his 'baby' at all. He's just mischaracterizing the situation. The closest he gets to acknowledging this is when he concedes that she's "never to be mine." The upbeat tempo, clapping and boisterousness in the song is a stark contrast to the lyrics. And the lyrics lament the hopelessness of a lonely person trying to date someone who is popular with all the other guys. In addition, the narrator just is totally off the radar of the woman he adores. In the song this guy "tried to call you names." And what was that about? If someone who doesn't mean anything to you tries to tease you, or toss cat-calls in your direction, it's easy to just blow him off and move – arm-and-arm down the street with another guy.
Songfacts.com says of the Tremeloes cover of "Here Comes My Baby" that "The Tremeloes infectiously upbeat, good-time jamboree feel that they bought to their version….all the general jollity disguised the fact it was actually quite a sad breakup song." In Cat Stevens original version there is a third verse in which he sang: "I'm still waiting for your heart, cuz I'm sure that some day it's gonna start. You'll be mine to hold each day, but 'til then this is all that I can say."
"Here Comes My Baby" peaked at #1 in Vancouver (BC), Milwaukee, Edmonton (AB), Lloydminster (AB), Selma (AL), Wilmington (DL), and Houston, #2 in Springfield (MA), Cincinnati, Green Bay (WI), Lancaster (PA), Orlando, Kelowna (BC), Kitchener (ON), and Toronto, #3 in Boston, Oshkosh (WI), Winston-Salem (NC), Battle Creek (MI), Modesto (CA), Grand Rapids (MI), Newport News (VA), Minneapolis/St. Paul, and Chicago, #4 in Hartford (CT), Madison (WI), Raleigh (NC), Winnipeg (MB), Flint (MI), Erie (PA), Reading (PA), Geneva (NY), and Miami, #5 in Quincy (IL), Billings (MT), Burlington (VT), Pensacola (FL), Memphis, and San Bernardino (CA), #6 in Cleveland, Las Vegas, Omaha (NE), Salt Lake City, and Amarillo (TX), #7 in Rockford (IL), Bangor (ME), Buffalo, Gary (IN), Bloomington (IN), Pittsburgh, Kalamazoo (MI), Merced (CA), and Los Angeles, #8 in New Haven (CT), Denver, Fargo (ND), Wilkes-Barre (PA), Louisville (KY), Akron (OH), Charleston (WV), Manchester (NH), Atlanta, Sarasota (FL), Philadelphia, Eau Claire (WI), and Tampa, #9 in Saginaw (MI) and Fort Wayne (IN), and #10 in York (PA), Providence (RI), and Toldeo (OH).
Their next single was a cover of the Four Seasons' hit, "Silence Is Golden". The Tremeloes version climbed to #1 in the UK in May 1967, and #1 in Vancouver in September '67. It peaked at #11 on the Billboard Hot 100. in The Tremeloes also recorded an Italian version, "E in silenzio". Next, the Tremeloes recorded another Italian hit record – their English translated song titled "Suddenly You Love Me", from Riccardo Del Turco's "Uno Tranquillo" ("One quiet man"). During this time Brian Poole was attempting a solo career and he officially left the band in 1968. The Tremeloes had two more Top Ten hits in the UK in 1969 and 1970, "(Call Me) Number One" and "Me And My Life", before they became identified with the previous decade and passed over for newer recording acts. Between 1963 and 1975 the Tremeloes released 14 studio albums.
For a time Brian Poole worked at his brothers' butcher shop. Over the years Brian Poole has been the lead singer in a band called Electrix. Between 2002 and 2007, Poole toured and performed in the global 'Reelinandarockin' 1960s tour, where he performed to sell-out audiences in the UK, and as far afield as Hong Kong, Australia, New Zealand and China. In 2008 and 2009, Poole toured with P.J. Proby in the production Oh Boy, which was a mix of non-stop 1960s hits. In the 2010s Poole was on stage as part of various revival shows alongside Gerry and the Pacemakers, Chris Montez, Peter Noone (of Herman's Hermits), The Searchers, Brian Hyland, Chris Farlowe, Wayne Fontana, Vanity Fare, and The Fortunes.
In 2016 former Tremeloes bandmates, Rick Westwood and Chip Hawkes were accused by a fan of indecent assault. The alleged indecent happened to a fan, then 15 years old, in 1968, at a hotel after a concert. However, in July 2016, the BBC reported the crown prosecutor, Edward Owens, told a judge the crown had no evidence to offer in support of the allegation. The case took two years and seven months before it went before a judge. Regarding news of the allegations, Chip Hawkes told the BBC the case had badly damaged his career. Hawkes revealed a member of the general public had attacked him prior to a previous court appearance.
In 2018, it seems there is a dispute with the management of the Tremeloes with Brian Poole. On Pooles website he wrote: "As at today date, 13 February, Brian is still advertised as appearing at Dorking Halls, Dorking on the 17 March 2018. This is to confirm that Brian Poole will not be appearing with the Tremeloes at this theatre. This is through no fault of his own but due to a decision by their ex-Management."
August 30, 2021
Ray McGinnis
References:
Tony Padman, "Where Are They Now: Brian Poole of the Tremeloes," Express, UK, October 1, 2016.
Brian Poole bio, Brian Poole.com.
Brian Poole blog, Brian Poole.com, February 13, 2018.
"Ex-Tremeloes Leonard Hawkes and Richard Westwood Acquitted of Assault," BBC, July 22, 2016.
Ricardo Del Turco bio, Wikipedia.org.
Cat Stevens Life, Cat Stevens.com
Larry King Live, "Interview With Yusuf Islam, Formerly Cat Stevens," CNN.com, October 7, 2004.
Shane Ryan, "Cat Stevens, Yusuf Islam and the Rock and Roll Hall of Fame," Paste Magazine, Decatur, Georgia, October 16, 2013.
"Here Comes My Baby," songfests.com.
"C-FUNTASTIC FIFTY," CFUN 1410 AM, Vancouver, BC, May 27, 1967.
For more song reviews visit the Countdown.