#1258: I Wouldn't Want to Lose Your Love by April Wine
Peak Month: January 1975
7 weeks on Vancouver's CKLG chart
Peak Position #12
Peak Position on Billboard Hot 100 ~ did not chart
YouTube.com: "I Wouldn't Want To Lose Your Love"
Lyrics: "I Wouldn't Want To Lose Your Love"
In 1969 in the Halifax suburb of Waverly, Nova Scotia, guitarist Myles Goodwyn teamed up with the Henman brothers: Ritchie (drums), David (guitar) and Jimmy (bass). The name for the band was arrived at since they liked the sound of the two words together. The next year the band moved to Montreal and got a record contract with Aquarius Records. A self-titled album was released in 1971 and Aquarius asked the band to record a second album. At this time Jim Henman was replaced by Jim Clench.
Their second album On Record gave the group a #1 hit in Vancouver called "You Could Have Been A Lady". While the album and single sold well it was not picked up for distribution in the USA. During the recording of the bands third album in 1973 both Rithie and Dave Henman left the group and were replaced by guitarist Gary Moffet and drummer Jerry Mercer, the latter who had been with Montreal group Mashmakhan.
On their fourth album in 1974, Live, the band had another Top Ten hit in Vancouver called "I'm On fire For You Baby". Their fifth album, Stand Back, went double platinum with 2 million sales. The first single released from the album was "I Wouldn't Want to Lose Your Love".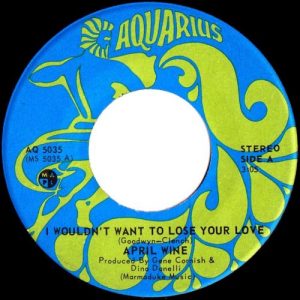 The song concerns two people in a relationship trying to get on the same page. One person (the singer) is worried they'll lose the love they have. Their hesitant, sensitive, partner may perceive they are (or could be) on the receiving end of hurtful, harmful behavior. In addition, they think their suitor is foolish and doesn't know their own mind. The boyfriend is trying to offer his girlfriend some compromises: "and if tomorrow would be easier." For him, breaking up would be a hard blow, a real loss.
The song peaked in Vancouver on CKLG at #12. Though the second single from the album, "Tonight is a Wonderful Night to Fall in Love" peaked at #5 on the Canadian RPM singles chart, it didn't chart in Vancouver.
In 1976 April Wine charted "Gimmie Love" to #13 in Vancouver. In 1977 the band had a #3 hit in Vancouver with "You Won't Dance With Me". And in '78 April Wine was back in the Top 20 in Vancouver with "Come Right Down On Top Of Me".
April Wine has recorded 16 albums, their latest in 2006. Between 1971 and 1993 they charted 34 singles on the RPM Top 100 singles chart in Canada. The band continues to perform and between May and November of 2016 April Wine had 28 tour dates. These included bookings in Iowa, Texas, New York, South Dakota, Nevada, Wisconsin, Newfoundland, Nova Scotia, New Brunswick, Ontario, Saskatchewan and Alberta. Of these 28 concerts 13 were sold out. That year lead singer, Myles Goodwyn, published his memoir, Just Between You And Me.
December 8, 2016
Ray McGinnis
References:
April Wine – History, April Wine.ca
Lauren La Rose, "April Wine Frontman Myles Goodwyn Shares Highs and Heartaches in New Memoir," Toronto Sun, December 15, 2016.
Dave Buerster, Brian Greenway, David Henman, Robert Henman, Richard Perrault and Brian White, "April Wine," Canadian Bands.ca.
"CKLG 'Thirty'," CKLG 730 AM, Vancouver, BC, January 24, 1975.
For more song reviews visit the Countdown.