#1151: If I Didn't Have A Dime (To Play The Jukebox) by Gene Pitney
Peak Month: September 1962
Peak Position ~ #11
7 weeks on Vancouver's CFUN Chart
Peak Position on Billboard Hot 100 ~ #58
YouTube: "If I Didn't Have A Dime (To Play The Jukebox)"
Lyrics: "If I Didn't Have A Dime (To Play The Jukebox)"
Gene Pitney was born in 1940 in Hartford, Connecticut. He was a songwriter who became a pop singer, something rare at the time. Some of the songs he wrote for other recording artists include "Rubber Ball" for Bobby Vee, "He's A Rebel" for The Crystals and "Hello Mary Lou" for Ricky Nelson. Pitney was more popular in Vancouver than in his native America. Over his career he charted 14 songs into the Top Ten in Vancouver, while he only charted four songs into the Top Ten on the Billboard Hot 100. Curiously, only two of these songs overlap: "(The Man Who Shot) Liberty Vallance" and "I'm Gonna Be Strong". Surprisingly "Only Love Can Break A Heart", which peaked at #2 in the USA, stalled at #14 in Vancouver, and "It Hurts To Be In Love" stalled at #11 in Vancouver while it peaked at #7 south of the border.
Pitney fronted a doo-wop group in his teens at high school called Gene & The Genials and for his next group called The Embers. He was influenced by the doo-wop group, The Crows, and by R&B singer Clyde McPhatter who was the lead singer for The Drifters. He also recorded in 1959 under the alias of Billy Bryan to record "Cradle Of My Arms". In 1959, Pitney was also one half of the duo Jamie & Jane who recorded "Snuggle Up Baby" and "Faithful Our Love".
He was signed up with to songwriter Aaron Schroeder's new label, Musicor, in 1960, Pitney scored his first chart single. The disc climbed to #39 on the Billboard Hot 100. The self-penned "(I Wanna) Love My Life Away", on which he played several instruments and multi-tracked the vocals, climbed to #5 in Vancouver.
Next, Gene Pitney scored a #5 hit on CFUN with "Town Without Pity" in the winter of 1961. The song was featured in the film of the same name. Pitney followed up in the spring of 1962 with "(The Man Who Shot) Liberty Valance," which peaked at #4. The song shares a title with a 1962 John Ford western with the same title, The Man Who Shot Liberty Valance, starring John Wayne. However, Gene Pitney's "Liberty Vallance" wasn't used in the film due to a publishing dispute between Famous Music and Paramount Pictures.
In August 1962, Pitney released "Only Love Can Break A Heart". But in Vancouver, it was the B-side – "If I Didn't Have A Dime (To Play The Jukebox)" – that began to chart on CFUN the week of August 25th.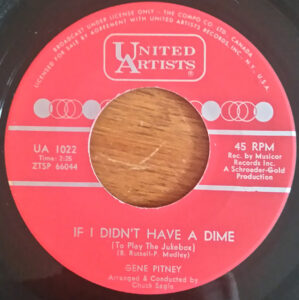 "If I Didn't Have A Dime (To Play The Jukebox)" was cowritten by Bert Russell (aka Bern Berns) and Phil Medley. Bertrand "Bert" Russell Berns was born in the Bronx to Russian Jewish immigrants in 1929. When he was fourteen he contracted rheumatic fever which damaged his heart. After he recovered, he took piano and learned to read and write music. In 1949 he co-founded Magic Records and found a new talented female recently graduated from high school named Edith Gormezano who soon went by the pseudonym of Eydie Gormé. They got an office at 1650 Broadway and started publishing sheet music. But by the end of 1950 the little record company had folded, with none of the songs they wrote even being recorded. He visited Cuba in the winter of 1957, over a year before the Cuban Revolution. In 1958 he wrote "Way Down By the Cherry Tree" for Capitol Records vocalist Micki Marlo. In 1959 Berns began to work at 1650 Broadway and formed a group called the Beatniks who recorded an obscure tune titled "Beat Generation".
On February 12, 1960, Bert Berns got a job with Robert Mellin Music as a song plugger for fifty dollars a week. Meanwhile, he kept on writing. He penned "A Little Bit Of Soap" for the Jarmels in 1961, along with having "Twist And Shout" recorded originally by the Top Notes – and then the Isley Brothers. Other notable songs Berns penned were "Tell Him" by the Exciters (1962), "Cry Baby" by Garnet Mimms (1963) and later Janis Joplin (1971), "Here Comes The Night" by Them (1965), "I Want Candy" by the Strangeloves (1965) and later Bow Wow Wow (1982), "Are You Lonely For Me Baby" by Freddie Scott (1967), "Piece Of My Heart" by Big Brother and the Holding Company featuring Janis Joplin (1968) and "Twenty Five Miles" by Edwin Starr (1969). For Bert Berns, writing "take another little piece of my heart" had a double meaning, given his compromised heart from his bout of rheumatic fever in his youth.
Bert Berns also was a producer of several notable hits including "Under The Boardwalk" by the Drifters (1964), "Baby I'm Yours" and "Make Me Your Baby" by Barbara Lewis (both 1965) and "Brown Eyed Girl" for Van Morrison (1967). Berns died at the age of 38 of a heart attack in December 1967.
Co-writer of "Twist And Shout", Phil Medley, is sometimes confused with the Righteous Brothers' Bill Medley. Phil Medley was born in 1916 was a string and horn arranger and conductor. From 1953 his songs were recorded by Dinah Washington, Billy Eckstine, Dion, Gene Pitney, Patti Page, He wrote "A Million To One" for 15-year-old Jimmy Charles in 1960, and the song became a million seller.
"If I Didn't Have A Dime (To Play The Jukebox)" is a song about an encounter between a guy and a gal with "ruby lips and golden hair" beside a jukebox on a Saturday night. At this juke joint, the pair dance tightly, go for a walk under the moon and kiss. A relationship begins. And now, looking back, Pitney sings "Now with every sweet caress oh, my darling how I bless that little jukebox." It was, after all, the jukebox that was the catalyst for a romance that blossomed and grew into a love story.
In 1889 the first coin-operated music machine was introduced in San Francisco at the Royale Palais Saloon. Since there was no amplifier, those paying to hear a song had to use a listening tube, placing it against their ear. In 1906 at the Pan-Pacific Exposition, there was an Automatic Entertainer featuring a forty inch horn on top of the cabinet. The only problem was the amplifier had little volume. This prevented patrons in saloons from being able to hear the records once there were many people in the room. In 1918, Hobart C. Niblack invented a mechanism that allowed records to be changed in a music box. In 1925, the 78 RPM was introduced into the market and jukeboxes emerged that could play 78 RPM discs. In 1927, this became marketed as a jukebox by the Automated Musical Instrument Company. In 1928, Justus P. Seeburg marketed a music system that featured an electrostatic loudspeaker with a record player that was coin- operated. Patrons could select from a choice of eight discs. Often radio recorded live performances from upscale lounges and hotel ballrooms. Listening to a record on a jukebox was the only other way to hear the song before deciding to purchase a copy. During the Great Depression, record companies depended on sales of records to play on jukeboxes to salvage a shrinking market when individual record buyers opted to not shell out for personal record collecting.
In addition to Seeburg, there were jukeboxes marketed by the Rock-Ola Manufacturing Company, Wurlitzer and Automatic Musical Instruments Co. The golden era of jukebox music was in the 1940s to 1960s. The 45 RPM was introduced in 1950 and helped increase the number of discs that could be played in a jukebox. However, the invention of the portable radio in the 1950's, and the cassette player in the 1960's, contributed to the decline of usage of jukeboxes in cafes, soda shops and other gathering places.
Pitney sings "If I didn't have a dime," concerning the coin he needed to pay to hear a song on the jukebox. Factoring inflation, a 1962 dime is equal in value to $0.98 cents in 2022.
"If I Didn't Have A Dime (To Play The Jukebox)" peaked at #1 in Minneapolis/St. Paul and Milwaukee (WI), #2 in Albany (NY), #7 in Hamilton (ON) and Calgary (AB), #8 in Edmonton (AB), #11 in Vancouver and Toronto, #12 in Hartford (CT), #14 in Fargo (ND), and #15 in San Antonio (TX).
In 1962, Pitney's highest-charting hit in the USA, "Only Love Can Break a Heart", was kept out of the #1 position by The Crystals recording of Pitney's composition, "He's A Rebel". While in Vancouver, "Only Love Can Break A Heart" began to chart the week of October 13th, after "If I Didn't Have A Dime" had dropped off the C-FUN-TASTIC FIFTY. "Only Love Can Break A Heart" charted for eight weeks in Vancouver, but stalled at #14. Elsewhere in Canada "Only Love Can Break A Heart" peaked at #1 in Montreal, Winnipeg (MB) and London (ON), #3 in Ottawa, and #10 in Regina (SK).
In the spring of 1963, Gene Pitney had his highest charting song in Vancouver titled "Mecca". Pitney's next single release was the double-sided "True Love Never Runs Smooth"/"Donna Means Heartbreak".
While he enjoyed a string of Top 40 hits in both Canada and the USA between 1961 and 1965, his star began to fade. Pitney was very much identified with the Brill Building sound and increasingly seen as a pre-British Invasion pop singer out of step with the times. One of the Top 20 hits Pitney enjoyed in Vancouver in 1964 was "Who Needs It". Another was "Hawaii". Pitney tended to get better chart runs in Vancouver than in his native home in America. This included "I'm Gonna Be Strong".
Another song that did very well for him here on the Canadian West Coast was a psychedelic tune in 1968 titled "Animal Crackers (In Cellophane Boxes)". Also in 1968, "She's A Heartbreaker", reached #16 on the Billboard charts and #5 in Vancouver. After that Gene Pitney faded from view, at least in North America.
In 1974, he had a #2 hit with a song called "Blue Angel" in Australia. This was not a remake of Roy Orbison's "Blue Angel" from 1960. Pitney's last hit on the UK charts came in 1989, after an absence of 15 years, when he and Soft Cell singer Marc Almond recorded a duet version of "Something's Gotten Hold of My Heart" by British writers Roger Cook and Roger Greenaway. The song had been a #5 hit for Pitney in 1967. Pitney's duet with Almond brought him his first #1 hit in the United Kingdom, in January 1989. The single remained at the top for four weeks, and also went to #1 elsewhere in Europe.
Pitney died of a heart attack in 2006, at the age of 66.
June 18, 2022
Ray McGinnis
References:
Gene Pitney bio, Gene Pitney.com
Adam Sweeting, "Gene Pitney: Chart-topping Singer and Songwriter Whose Quavering Tenor Won him a Loyal Fan Base," Guardian, UK, April 6, 2006.
"Hello Mary Lou," Song Facts.com
Gene Pitney, Rock and Roll Hall of Fame.com
Alex Petridis, "Life After Tulsa," Guardian, UK, 2003.
Gene Pitney, Only Love Can Break A Heart, track listing, Discogs.com
Tarling, Brian. Vancouver's Charted Songs. vancouverschartedsongs.ca, 2014, pp. 216-217.
Suzy Evans, "First Look at 'Piece of My Heart: The Bert Berns Story' (Exclusive)," Hollywood Reporter, June 13, 2014.
"BANG! The Bert Berns Story," SXSW.com. Austin, Texas, March 11, 2016.
Joel Selvin, Here Comes the Night: The Dark Soul of Bert Berns and the Dirty Business of Rhythm and Blues, (Counterpoint, 2014).
"A Million To One", Wikipedia.org.
Mary Bellis, History of the Jukebox, Thoughtco.com.
Gert J. Almind, History of the Jukebox, Radio Museum.org.
"C-FUN-TASTIC FIFTY," CFUN 1410 AM, Vancouver, BC, September 15, 1962.
For more song reviews visit the Countdown.