#272: If I Had $1000000 by the Barenaked Ladies
Peak Month: February 1993
15 weeks on Vancouver's CKLG chart
Peak Position #2
Peak Position on Billboard Hot 100 ~ did not chart
YouTube: "If I Had $1000000"
Lyrics: "If I Had $10000000"
Lloyd Edward Elwyn "Ed" Robertson was born in Scarborough, Ontario, in 1970. He began to play guitar when he was in grade five. Steven Jay Page was also born in Scarborough in 1970. He took piano lessons for ten years and was a member of the Toronto Mendelssohn Youth Choir. Page and Robertson crossed paths in elementary school. But they didn't become friends until 1988 when they found themselves co-counsellors at a summer Scarborough Schools Music Camp. Later that year there was a charity and Robertson asked Page to join him in a performance. The duo named themselves the Barenaked Ladies.
In 1990 Andrew Burnett "Andy" Creeggan and brother James Raymond Creeggan joined the Barenaked Ladies. Both brothers were born in Scarborough, Jim in 1970 and Andy in 1972. Jim learned piano from his mother and played double bass from grade school. Tyler Joseph Stewart was born in 1967 in Toronto. In 1990 he met Steven Page, Ed Robertson and Jim Creeggan at the Waterloo Busker Carnival. They asked Stewart to join the band while Andy Creeggan was on a trip in South America. Andy had been playing congas in the band and wound up moving to keyboard when he returned.
On New Year's Eve in 1991 the band was banned from performing at Nathan Philips Square at Toronto's city hall. Mayor June Rowlands declared that the band's name, was politically incorrect. In 1992 the band got a record contract and released their debut album, Gordon. The album fostered the release of six singles that all appeared on the Canadian RPM singles chart over 1992-93. These included "Be My Yoko Ono", "Enid", "Grade 9" and "If I Had A $1000000".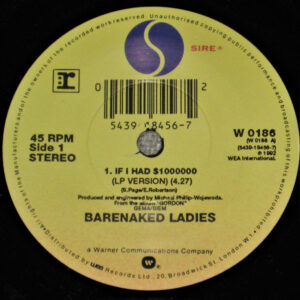 "If I Had $1000000" was cowritten by Page and Robertson. When the song was written in 1992, one million 1992 dollars is equal to about $1.9 million dollars in 2021. So, in terms of relative value, the band could do a remake in 2021 and sing "If I Had $2000000". The first item the band plans to buy with one million dollars is a house. Back in 1992-93 the average price of a detached home in Toronto was $175,000. And in February 1993, the average price of a detached home in Vancouver was $337,100. So, one million dollars at the time could get you a detached home in Vancouver or Toronto, cash down, with at least $650,000 more to sock away. While in 2018, the average price of a detached home in Vancouver was $1,732,992. So, a million dollars would get you just over 58% of your downpayment on a home.
In the song the Barenaked Ladies imagine ways to spend a million dollars. In addition to buying a house, they'd buy furniture for the house, like a chesterfield or an ottoman. The narrator of the song also imagines buying a K-car. This was a line of cars made by Chrysler which included Plymouth Reliant, Dodge Aires, Chrysler LeBaron and and Dodge 400. The last K-car rolled off the Chrysler assembly line on December 9, 1988. So, getting a Plymouth Reliant – as the lyrics suggest – would have been making a decision to buy a car that in 1993 was at least five years old. A new 1988 Plymouth Reliant would cost in the $7K to $8K USD range. So, "a nice Reliant automobile" would cost somewhat less as a five-year-old car. This would not put much of a dent in the remaining amount of cash for someone with a million dollars.
Other ways of spending a million dollars are pondered:
1) a tree fort in the back yard, perhaps with an electric fridge, where they could store pre-wrapped sausages. In a 2021 article on tree fort costs it was stated "The national average range to build a treehouse is from $6,000 to $15,000, with most homeowners paying around $7,000 for a 10×10-foot treehouse, professionally constructed out of basic lumber with a simple design that includes a roof and walls. At the lowest cost, it is possible to build an open-platform treehouse with no walls or roof, with a safety railing and ladder for $4,000. At the highest end, you can construct a two-story, 10×10-foot treehouse with walls, roof, and deck that is completely finished inside for $50,000.
2) an imitation fur coat "but not a real fur coat, that's cruel" – an faux fur coat in 2021 retails for around $40-$45.
3) a llama or an emu. In 2018, an article about the cost of buying an emu bird stated "Yearling emus can cost $11,000 to $19,000 for a sexed pair, while a pair older than two can cost even more, often as much as $25,000. If the pair has been proven to be a good pair and breeds well, then this can be near the top, costing as much as $30,000 to $40,000."
4) John Merrick's remains. Joseph Carey Merrick was born in Leicester, England, in 1862 and died in 1890. Often erroneously called John Merrick, was a man known for having severe deformities. He was first exhibited at a freak show as the "Elephant Man." His skeleton remains on display at the Royal London Hospital. So, if someone were to offer to buy John Merrick's remains, it is not likely the hospital would be open to any offers.
5) Take a limousine to the grocery store
6) Kraft Dinner – "more" of it, because they have a million dollars
7) Really expensive ketchups. The Barenaked Ladies suggest "Dijon ketchup." In an article in 2020 there was an auction fundraiser with the pop singer Ed Sheeran. London Loves Business reported "A bottle of Heinz Tomato Ketchup, which features Ed Sheeran's famous Heinz Tomato Ketchup tattoo, last night sold for £1,500 in a bidding war at Christie's Auction House London, setting what is believed to be a world record."
8) Some "art" – like a painting by Pablo Picasso – in this case the Barenaked Ladies might need to come up with some extra cash. Of course, Picasso painted many paintings and not all go for top dollar. But in 2021 it was reported "Picasso oil painting sells for over US$100mil at New York auction." The painting in question was titled (in English) Woman sitting near a window.
9) Or some "art" meaning a recording by Art Garfunkel – a CD costing about $20.
10) A green dress "but not a real green dress, that's cruel."
11) A monkey – online sellers state "In general, an animal monkey will cost somewhere between $4000 and $8000."
"If I Had $100000" is a song that raises questions about what having a lot of money is for. They conclude "If I had a million dollars, I'd be rich." But, it seems that taking limousines to grocery stores, getting a pet emu or a monkey, some original art, expensive ketchup only gets them so much satisfaction. The people who are newly rich, wanting to buy a K-car and other items are a little lost about how to spend the money. And maybe don't have any idea what things cost. After all, as the song title suggests, this is all speculation. The person singing the song is telling us IF they had a million dollars, here are some things they might do with the money. But at the moment, they don't have a million dollars. And so for the time being, they'll have to spend less on Kraft Dinner.
"If I Had $1000000" peaked at #2 in Vancouver (BC).
Later that year the Barenaked Ladies won the Juno Award for Group of the Year and were nominated for Entertainer of the Year. Their album, Gordon, was nominated for Album of the Year, while their single "Enid", was nominated for Single of the Year. As well, both "What A Good Boy" and "Brian Wilson" were Top 20 hits nationally for the band.
The band followed up with the albums Maybe You Should Drive (1994) and Born On A Pirate Ship (1996). The former album included the singles "Jane" – a #3 hit in Canada – and "Alternative Girlfriend". The latter featured "Shoe Box" – a #10 hit in Canada – and "The Old Apartment", which marked their first appearance on the Billboard Hot 100. In 1996 Andy Creeggan left the band and was replaced by Kevin Hearn.
The band went on to their greatest success with the release in 1998 of their album Stunt. The album included "One Week", a song that peaked at #1 on the Billboard Hot 100 on October 17, 1998. Followup singles from the album, "It's All Been Done" was a #1 hit in Canada, and "Call And Answer" made the Top Ten on the Canadian RPM singles chart. The Barenaked Ladies "Brian Wilson" enjoyed a resurgence in some radio markets in the USA in 1998. In both Chicago and Bethesda, Maryland, it was listed in the Top 100 year-end songs on alternate music radio stations, including #26 for the year on WKQX in Chicago.
Their last significant success came in 2000 with the release of their album Maroon and the single "Pinch Me". In September 2000 the Barenaked Ladies were given a key to the city of Toronto and welcomed back to play at city hall. By 2004 the band returned to recording their albums independently. Among the albums that followed, their 2008 release, Snacktime, was a children's album.
In 2008 Steven page was arrested for possession of cocaine and in 2009 he left the band. In 2010 Page released a debut album titled Page One. On August 27, 2011, Steven Page performed the Leonard cohen song "Hallelujah" at the state funeral service for Jack Layton.
Since the departure of Steven Page, the Barenaked Ladies have released four more studio albums, for a total of sixteen to date. One of these is a collaborative album in 2015 with the Brooklyn based a cappella group the Persuasions.
In May 2017 Steven Page arranged to meet Enid Egers in Moncton when he was in town for a Heart and Truth Gala at Moncton' Casino New Brunswick. This was the first time since he and his former bandmates were served a meal by Enid back in 1992.
In 2017 the Barenaked Ladies performed in 81 concerts. In 2018 they headlined 52 concerts. Between May 30 and September 13, 2019, the Barenaked Ladies will be appearing at 48 concert dates. They will perform across twenty-eight states: Alabama, South Carolina, North Carolina, Tennessee, Pennsylvania, Connecticut, Illinois, Iowa, Wisconsin, Minnesota, Indiana, Michigan, New York, Maryland, Massachusetts, New Hampshire, New Jersey, Virginia, Ohio, Arkansas, Missouri, Colorado, California, Nevada, Arizona, Texas, Florida and Georgia. They will also perform in concert in Toronto, Ontario. Additional dates in 2019 are to be announced. Their current lineup remains a quartet with Ed Robertson, Jim Creeggan, Kevin Hearn and Tyler Stewart.
August 9, 2021
Ray McGinnis
References:
"How Much Does an Emu Bird Cost?," HowMuchisit.org, August 8, 2018.
"Barenaked Ladies Biography," Barenaked Ladies.com.
James Rusk, "Still Bare, but There: Band Arrives," Globe and Mail, September 22, 2000.
Yasmine Shemesh, "Barenaked Ladies tell us about the time they met Trump," On the A Side.com, November 7, 2017.
"John Merrick," Wikipedia.org.
"World's Most Expensive Bottle of Ketchup Sold at Ed Sheeran Charity Auction," London Loves Business, August 19, 2020.
"Band Interview: Barenaked Ladies," Columbus Underground, Columbus (OH), July 10, 2018.
Mark Medley, "Steven Page Interview: 'Wow, I'm not a Barenaked Lady Anymore'," Vancouver Sun, February 26, 2009.
Curtis Sindrey, "Interview: Barenaked Ladies' Ed Robertson Talks "Fake Nudes", 30th Anniversary, and What He's Listening To," Aesthetic Magazine, Toronto, November 26, 2017.
"Picasso Oil Painting Sells for over US$100mil at New York Auction," The Star, Indonesia, May 15, 2021.
"Just how much Does A Family Pet Monkey Cost?," the pricer.org.
Lindsey Dunn, "Toronto proclaims Oct. 1 'Barenaked Ladies Day'," City News, Toronto (ON), October 1, 2018.
"How Much Does It Cost to Build a Treehouse?," fixr.com.
Elizabeth Fraser, "From Spanky's Pub to Barenaked Ladies Songbook: Enid Egers Enjoys Claim to Fame," CBC, May 6, 2017.
Justin McElroy, "When it Comes to Vancouver Real Estate, Millennials don't Appreciate Comparisons to the 90s," CBC, February 26, 2018.
For more song reviews visit the Countdown.