#708: So Long Baby by Del Shannon
Peak Month: October 1961
9 weeks on Vancouver's CFUN chart
Peak Position #5
Peak Position on Billboard Hot 100 ~ #28
YouTube.com link: "So Long Baby"
Lyrics: "So Long Baby"
Charles Weedon Westover was born on December 30, 1934. He was known professionally as Del Shannon. Westover was born in Grand Rapids, Michigan. He learned ukulele and guitar and listened to country music. He was drafted into the Army in 1954, and while in Germany played guitar in a band called The Cool Flames. When his service ended, he returned to Battle Creek, Michigan. There he worked as a carpet salesman and as a truck driver in a furniture factory. He found part-time work as a rhythm guitarist in singer Doug DeMott's group called Moonlight Ramblers, working at the Hi-Lo Club. Ann Arbor deejay Ollie McLaughlin heard the band. In July 1960, Westover signed to become a recording artist and composer on the Bigtop label. Westover changed his name to Del Shannon. It was a combination of Shannon Kavanagh (a wannabe wrestler who patronized the Hi-Lo Club) with Del, derived from the Cadillac Coupe de Ville, which Westover's carpet store boss drove.

Apparently, Charles Westover asked a girl named Karen to go with him to the Senior Prom. She said yes, but two weeks later dumped him for another guy who was Westover's rival. Westover, who was 140 pounds and 5'6" was devastated and never got over it. Almost all fourteen of Del Shannon's singles released from "Runaway" (1961) to "Two Kinds of Teardrops" (1963) were about sadness, break-ups, and loneliness.
During his career Del Shannon had just three songs in the Top Ten of the Billboard Hot 100 and four more singles that reached the Top 30. However, in Vancouver Del Shannon charted three songs to #1, six more songs into the Top Ten and seven more songs into the Top 30. In Vancouver, any Del Shannon 45 RPM had a good chance at being a big seller. When "Runaway" appeared on the C-FUNTASTIC FIFTY in March, 1961, it topped the charts for five weeks in a row in April. Del's follow up, "Hats Off To Larry", was #1 for three weeks in late June/early July. His third single release was "So Long Baby".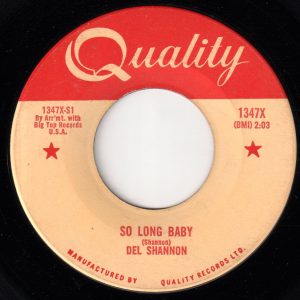 "So Long Baby" was one of many songs Del Shannon sang about a breakup or rejection. And he wrote the song. Other hits he had in Vancouver include "Swiss Maid" and "Cry Myself To Sleep". In the case of "So Long Baby," it picks up with a theme of a callous disregard for the fate of an former love interest. With "Hats Off To Larry," the guy is giving Larry two thumbs up for breaking an ex-girlfriend's heart. In the case of "So Long Baby," Del Shannon's character reveals to a former love interest that not only was she cheating on him, he was also cheating on her. The unspoken contract they seem to have made with each other was to date one another in order to break each others hearts. The broken hearted boyfriend also wants to stop his ex-girlfriend from laughing by blindsiding her with his own deviousness while in the dating relationship.
In 2017, the Telegraph in London, UK, reported on a cruel dating phenomenon called pigging. This involves a bunch of guys who make a bet with each other to see who can lure the "fattest, ugliest" woman online into a dating relationship with them. The guy who wins the pigging game is the one who lures in the woman judged by the group of guys to be the ugliest and fattest of the dates the guys manage to snare. A cruel aspect of pigging is to set up the woman in a situation where she is stranded.
Sophie Stevenson is a 24-year-old from Stoke-on-Trent in the UK. She was on a holiday in Barcelona when she met 21-year-old Jesse Mateman from Amsterdam. Stevenson describes their courtship as a "proper romance" and they slept together. Jesse and Sophie talked on the phone frequently after she returned home. With a lot of urging, Jesse Mateman persuaded Stevenson to get a flight to Amsterdam to visit him for a weekend. She recalls, "we were talking up until I got on the plane. But when I arrived, he wasn't there to pick me up. I called him a bunch of times, and he didn't answer. I waited at the airport for two hours and I hadn't heard anything, I was really starting to panic about being abandoned." After six hours had elapsed, Sophie Stevenson got a text message from Jesse Mateman that read: 'you were pigged, it was all a joke.' Telegraph writer, Radhika Sanghani, explains that "'Pulling a pig' is a vile game that sees a man try to woo a woman they deem 'fat and ugly', solely because he and his deplorable friends think it is 'funny'."
When I first looked at the lyrics to "So Long Baby", I thought 21st Century readers would think the lyrics juvenile and descriptive of a past age of dating woes. Unfortunately, as the current fad of 'pigging' in Europe shows, the habit of dating for the sole purpose of trying to break someone's heart continues in new switched up versions over the decades. While most people don't try to date someone to hurt them, there is a callous slice of society that thinks it's funny to try to romantically woo others for sport.
In early 1962, Del Shannon was back at #1 in Vancouver with "Ginny In The Mirror". On June 30, 1962, Del Shannon appeared in concert at the PNE Auditorium in Vancouver (BC).
In 1963 Del Shannon flew to England where he toured heavily on the success of "Little Town Flirt" and to promote "Two Kinds of Teardrops." He also visited Sweden, where he was popular. By the spring of 1963 Del Shannon had seven Top Ten hits in the UK. On 18 April 1963, the Beatles were one of 15 acts to play at Swinging Sound '63, an all-star concert at the Royal Albert Hall in London. They played "From Me to You", a song just released earlier that week, and "Twist and Shout". Del Shannon was also on the line-up that night. When the concert was over Shannon told John Lennon that he was going to record "From Me to You" to give the group some exposure in America. At first, Lennon was flattered, but he quickly changed his mind. Lennon was aware that a cover version by Del Shannon might hurt the Beatles' chances of having a hit with "From Me to You" in America. In early June, Bigtop Records released Del Shannon's version of "From Me To You", which became a Top 20 hit in Vancouver.
Though Del Shannon was the first American recording artist to cover a song by the Beatles, when Beatlemania swept North America, it also swept Del Shannon out of the Top 40. His cover of Jimmy Jones "Handy Man" was a flop, as were other efforts that year, including his cover of Bobby Freeman's 1958 hit "Do You Wanna Dance". The latter was more successfully covered by the Beach Boys.
At the end of 1964 Del Shannon had one last significant hit titled "Keep Searchin'". Shannon had a few more minor hits but misjudged where to place some of his talent. He decided not to record the melancholy "I Go To Pieces" that then became a hit for Peter and Gordon.
In the winter of 1964-65 Del Shannon had his last notable hit titled "Keep Searching (We'll Follow The Sun)". It spent six weeks in the Top Ten on the CKLG Boss 40, including three weeks at #6. On May 26, 1965, Del Shannon returned to perform at the PNE Forum in Vancouver (BC). His appearance was as part of the Dick Clark Caravan of Stars. Others on stage included The Zombies, Shangri-Las, Dee Dee Sharp, Jewel Aikens, Tommy Roe and others.
Shannon tried to chart a cover of Miss Toni Fisher's 1960 hit "The Big Hurt", with no success. And his cover of the Rolling Stones, "Under My Thumb", was a commercial failure.
Del Shannon struggled with alcoholism and still managed to pursue a career despite having no hits after 1965. In 1968 Shannon became a member of Alcoholics Anonymous vowing to quit his addiction to alcohol. Shannon and Bryan Hyland were roommates for several years in the late 60's when Shannon tried to help Hyland who was in his own career slump. Shannon produced Hyland's comeback hit in 1970, "Gypsy Woman", a remake of a 1961 R&B hit by The Impressions written by Curtis Mayfield.
After a rare concert at The Roxy Theatre in West Hollywood in 1976, The Los Angeles Times wrote, "Shannon's haunting vignettes of heartbreak and restlessness contain something of a cosmic undercurrent which has the protagonist tragically doomed to a bleak, shadowy struggle." Years later he was sought out by Tom Petty who had discussed with Shannon joining the Travelling Wilbury's after the death of Roy Orbison in December 1988. Shannon declined. Del Shannon next cancelled a revival tour to England. In mid-January 1990 he was prescribed Prozac by his therapist and began taking the medication. He grew steadily more agitated, paced around and had trembling hands. Without leaving a note, Shannon died by suicide three weeks later in early February 1990.
In 1999 Del Shannon was inducted into the Rock and Roll Hall of Fame, mostly on the strength of his biggest hit, "Runaway". That song alone has continued to generate over $100,000 a year, split between his heirs and co-writer, Max Crook.
October 5, 2018
Ray McGinnis
References:
Del Shannon Biography, Del Shannon.com.
The Hi-Lo Club, Del Shannon.com.
Richard Cromelin, "At The Roxy—Undiluted Aura of Del Shannon," Los Angeles Times, January 21, 1976.
Richard Bak, "Del Shannon's 'Runaway' Success Led to His Downfall," Hour Detroit, June 30, 2011
Radhika Sanghani, "Pigging – the Cruel New Dating Trend You Need to Know About," Telegraph, October 10, 2017.
"C-FUN-Tastic 50," CFUN 1410 AM, Vancouver, BC, October 7, 1961.
For more song reviews visit the Countdown.