#810: Louisiana Mama by Gene Pitney
Peak Month: May 1961
6 weeks on Vancouver's CKWX chart
Peak Position #4
Peak Position on Billboard Hot 100 ~ did not chart
Peak Position on Cashbox ~ #100
YouTube.com link: "Louisiana Mama"
Lyrics: "Louisiana Mama"
Gene Pitney was born in 1940 in Hartford, Connecticut. He was a songwriter who became a pop singer, something rare at the time. Some of the songs he wrote for other recording artists include "Rubber Ball" for Bobby Vee, "He's A Rebel" for The Crystals and "Hello Mary Lou" for Ricky Nelson. Pitney was more popular in Vancouver than in his native America. Over his career he charted 14 songs into the Top Ten in Vancouver, while he only charted four songs into the Top Ten on the Billboard Hot 100. Curiously, only two of these songs overlap: "(The Man Who Shot) Liberty Vallance" and "I'm Gonna Be Strong". Surprisingly "Only Love Can Break A Heart", which peaked at #2 in the USA, stalled at #14 in Vancouver, and "It Hurts To Be In Love" stalled at #11 in Vancouver while it peaked at #7 south of the border.

Pitney fronted a doo-wop group in his teens at high school called Gene & The Genials and for his next group called The Embers. He was influenced by the doo-wop group, The Crows, and by R&B singer Clyde McPhatter who was the lead singer for The Drifters.
He was signed up with to songwriter Aaron Schroeder's new label, Musicor, in 1961, Pitney scored his first chart single, which made the Top 40, the self-penned "(I Wanna) Love My Life Away" on which he played several instruments and multi-tracked the vocals. His next single was "Louisiana Mama".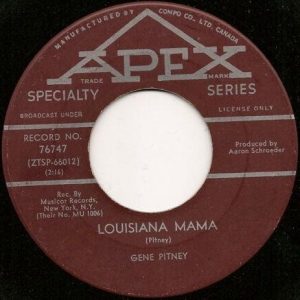 "Lousiana Mama" climbed to #4 in Vancouver, #7 in Springfield (MA) and #10 in Davenport (IA). Gene Pitney's Louisiana mama was a blonde haired and blue-eyed woman. In 1960, the ethnic demographics in New Orleans had about 35% of the population African-American and about 60% white and under 5% Hispanic. While in 2010 the African-American population made up about 60% and the white (non-Hispanic) presence was about 30%, with persons from Hispanic and Asian ethnic backgrounds making up the balance.
Pitney's gal lives in the bayou. In New Orleans there is a 24,000 acre region named the Bayou Sauvage National Wildlife Refuge. It is a swampland with alligators, snakes, wild boar, otter, squirrel, deer, raccoon, bullfrogs, turtles and a range of flora and fauna. The refuge contains a range of distinct habitats which include freshwater and brackish marshes, canals, coastal hardwood forests and lagoons. It is in this setting that Pitney's Louisiana mama has become wild. He met her at the Mardi Gras. This is a festive celebration that goes on for a month in New Orleans that ends on Fat Tuesday or Shrove Tuesday, the day prior to Ash Wednesday in the Christian calendar. While there have been some festivities recorded in New Orleans dating back to 1699, the first Mardi Gras parades in New Orleans occurred in 1856. While Carnival is a season in New Orleans that begins on the day of Epiphany (January 6), Mardi Gras is only one day (at the end of the season of Carnival). In Louisiana Mardi Gras has been a legal holiday since 1875. Aside from parades and partying late into the evening on Bourbon Street, people also go on cemetery tours, steamboat river tours and swamp tours.
Gene Pitney followed "Louisiana Mama" with his first Top 20 single. This was the title song from the film Town Without Pity starring Kirk Douglas. Written by Dimitri Tiomkin and Ned Washington, the song won a Golden Globe Award and was nominated for an Academy Award for Best Song, but lost the award to "Moon River". Pitney performed the song at the Oscars ceremony on 9 April 1962 (honoring the film year of 1961).
Pitney is also remembered for the Burt Bacharach–Hal David song "(The Man Who Shot) Liberty Valance", which peaked at No. 4 in 1962. Though it shares a title with a 1962 John Ford western with the same title, The Man Who Shot Liberty Valance, starring John Wayne, the song was not used in the film because of a publishing dispute between Famous Music and Paramount Pictures).
Pitney's highest-charting hit in the USA, "Only Love Can Break a Heart," was kept out of the #1 position by The Crystals recording of Pitney's composition, "He's A Rebel". While he enjoyed a string of Top 40 hits in both Canada and the USA between 1961 and 1965, his star began to fade. Pitney was very much identified with the Brill Building sound and increasingly seen as a pre-British Invasion pop singer out of step with the times. One of the Top 20 hits Pitney enjoyed in Vancouver in 1964 was "Who Needs It". Another was "Hawaii". Pitney tended to get better chart runs in Vancouver than in his native home in America. Another song that did very well for him here on the Canadian West Coast was a psychedelic tune in 1968 titled "Animal Crackers (In Cellophane Boxes)". Also in 1968, "She's A Heartbreaker", reached #16 on the Billboard charts and #5 in Vancouver. After that Gene Pitney faded from view, at least in North America.
In 1974 he had a #2 hit with a song called "Blue Angel" in Australia (this was not a remake of the Roy Orbison hit from 1960). Pitney's last hit on the UK charts came in 1989, after an absence of 15 years, when he and Soft Cell singer Marc Almond recorded a duet version of "Something's Gotten Hold of My Heart" by British writers Roger Cook and Roger Greenaway. The song had been a UK No. 5 for Pitney in 1967. The duet brought him his first UK No. 1, in late January 1989. The single remained at the top for four weeks, and also went to #1 elsewhere in Europe.
Pitney died of a heart attack in 2006, at the age of 66.
May 15, 2018
Ray McGinnis
References:
Gene Pitney bio, Gene Pitney.com
Adam Sweeting, "Gene Pitney:Chart-topping Singer and Songwriter Whose Quavering Tenor Won him a Loyal Fan Base," Guardian, April 6, 2006.
"Hello Mary Lou," Song Facts.com
Gene Pitney, Rock and Roll Hall of Fame.com
Alex Petridis, "Life After Tulsa," Guardian, London, UK, 2003.
New Orleans demographics, Wikipedia.org.
Bayou Savage National Refuge, New Orleans Online.com.
Edward Branley, History of Mardi Gras in the Early Years, GoNOLA.com.
Lawrence Norah, Mardi Gras in New Orleans – A Full Guide, Finding The Universe.com, March 9, 2018.
"Fabulous Forty," CKWX 1130 AM, Vancouver, BC, May 27, 1961.
For more song reviews visit the Countdown.