#304: Mendocino by Sir Douglas Quintet
Peak Month: February 1969
9 weeks on Vancouver's CKLG chart
1 week Hit Bound
Peak Position #2
Peak Position on Billboard Hot 100 ~ #27
YouTube: "Mendocino"
Lyrics: "Mendocino"
Douglas Wayne Sahm was born in 1941 in San Antonio, Texas. Sahm began singing at age five and learned to play the steel guitar at age six. He was considered a child prodigy on the instrument. By the age of eight, he had appeared on the Louisiana Hayride. And on December 19, 1952, at the age of eleven, Doug Sahm appeared onstage in Austin, Texas, at what would be the final concert performance by Hank Williams at the Skyline Club. [Williams would die on January 1, 1953]. Doug Sahm also performed in the early 50s with country stars Faron Young, Webb Pierce and Hank Thompson. He won a children's talent contest on KMAC in San Antonio, where he performed regularly for two years. At age thirteen, he was offered a spot on the Grand Ole Opry. However, his mother declined the offer, wanting Doug Sahm to finish school. Meanwhile, he grew proficient in accordion, guitar and piano. In 1955 he recorded at the age of 14 as Little Doug and the Bandits.
In the summer of 1960 Doug Sahm & The Markays had a #12 hit in San Antonio with "Why Why Why", written by Sahm. He followed up with a single credited to Doug Sahm titled "Baby Tell Me", which climbed to #17 in San Antonio in December '60. In 1961 Doug Sahm & the Dell-Kings had a Top 40 hit in San Antonio titled "More and More". Sahm had several other Top 40 hits in the San Antonio record market in the early 60s. Said future bandmate Harvey Kagan of Doug Sahm's stage presence, "His look in those days was a pompadour haircut, suit and tie, and a diamond pinkie ring."
August "Augie" Meyers was born in San Antonio in 1940. He met Doug Sahm in 1953 when Doug visited Meyer's mothers' grocery store to purchase some baseball cards. Augie and Doug two dreamed about forming a band, a dream that would wait for eleven more years to materialize. In 1964 Doug Sahm was fronting a band called the Markays, and Augie Meyers was fronting a band called the Denny Ezba and the Goldens. Both bands were opening acts for the Dave Clark Five on December 8, 1964, at the Municipal Auditorium in San Antonio. After the concert, Sahm and Meyers got serious about forming a band.
In late December, 1964, they co-founded Sir Douglas. In the succeeding months was renamed the Sir Douglas Quintet, as the bands' original lineup grew to five musicians. As the British Invasion was changing record-buying tastes in 1964, the Sir Douglas Quintet decided to dress in outlandish clothes and try to pass themselves off as a "British" band. And "Sir" in the band's title added to the impression that they actually might be from England. Photos of the band were shot in silhouette to conceal the Latino origin of some of the bandmates.
The other members of the original lineup were bass guitarist Jack Barber [and actual part-time barber], saxophonist, trumpeter, and keyboard player Frank Morin, and drummer Johnny Perez. Before he joined the Sir Douglas Quintet, froth early 60s Perez was a Golden Gloves amateur boxer.
In 1965 the Sir Douglas Quintet made a big splash with their debut single "She'd About A Mover". The song was written by Doug Sahm, and originally titled "She's A Body Mover", but deemed to suggestive. "She'd About A Mover" climbed to #1 in Akron (OH), #2 in Miami, Norfolk (VA) and Honolulu, #3 in San Antonio (TX), Denver, Louisville (KY), Newport News (VA), Birmingham (AL) and Milwaukee (WI), #4 in Vancouver (BC), Philadelphia, Nashville, Trenton (NJ) and Cincinnati, #5 in Calgary (AB), Tampa, Salem (OR) and San Bernardino (CA), #6 in Edmonton (AB), Salt Lake City, Long Beach (CA), Buffalo and Albany (NY) and Green Bay (WI), #7 in Los Angeles, Orlando and Minneapolis/St. Paul, #8 in Kansas City (MO) and Detroit, #9 in Winnipeg (MB) and Montreal, and #13 on the Billboard Hot 100.
However, the followup releases "The Tracker" and "In Time" were commercial flops. Meanwhile, the Sir Douglas Quintet flew to Britain and performed 13 concerts during the height of the British Invasion back in North America.
Before New Year's Eve in 1965, members of the band were arrested in Corpus Christi and charged for possession of small amounts of marijuana. Subsequently, Sahms and his bandmates moved to the San Francisco Bay area. In April 1966 "The Rains Came" peaked at #7 in Vancouver (BC), while it stalled at #31 on the Billboard Hot 100. Though it failed to meet the bands' expectations, at least the Sir Douglas Quintet was back on the airwaves in about half the radio markets across North America.
In the spring of '66 the Sir Douglas Quintet released a cover of the Gary U.S. Bonds number-one hit from 1961 "Quarter To Three". After seven single releases on the Tribe record label, and one release with Pacemaker records, the Sir Douglas Quintet signed with Smash. The label had recently had successes with "Walk Away Renée" and "Pretty Ballerina" for the Left Banke, "Double Shot (Of My Baby's Love)"for The Swingin' Medallions, "Peter Rabbit" for Dee Jay And The Runaways, and "Apples, Peaches, Pumpkin Pie" for Jay & The Techniques.
By 1968 Jack Barber left the band and was replaced by Harvey Kagan on bass guitar. Kagan began playing music at the age 13 with Sammy Vaughn and the Star Marks, playing record hops throughout South Texas. Vaughn's move to Dallas freed Harvey Kagan up to be available to join the Sir Douglas Quintet just when they were looking for a replacement. Meyers knew Kagan when they were both with Denny Ezba and the Goldens.
The Sir Douglas Quintet released "Mendocino" as their first single with the Smash label in the fall of 1968.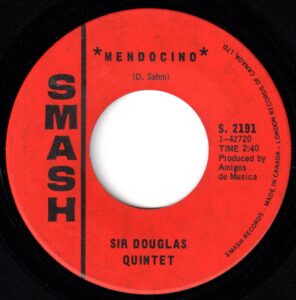 "Mendocino", written by Doug Sahm, began to chart in Louisville (KY) in October 1968. Like Eric Burdon And The Animals "San Franciscan Nights", the Sir Douglas Quintet began "Mendocino" with a spoken word introduction to the song: "Sir Douglas Quintet is back. We'd like to thank all of our beautiful friends all over the country. For all the beautiful vibrations. We love you."
Mendocino is a small scenic town on the coast of California. Established in the 1850's, many of Mendocino's first residents came from the New England region, and its architecture resembles that of an old coastal village in Maine. At the time Doug Sahm wrote the song he was living about 250 miles south from Mendocino in Prunedale, California, – a hundred miles south of San Francisco. According to Sahm's son, Shandon, this song was inspired by a vacation Doug Sahm took to Mendocino with a lady from his record company. In 1969 the unincorporated town of Mendocino had a population of under 800.
Since the 1950s, Mendocino has been known for its artist colony, comprised of artists drawn to the area's natural beauty and [at the time] low cost of living. Town landmarks include the Chinese Taoist Temple of Kwan Tai (1854) and the Mendocino Presbyterian Church (1868). Mendocino has been featured in sets for the films East of Eden, The Russians Are Coming, Overboard, The Dunwich Horror, and others. The town has also been the location of numbers of episodes of the TV series Murder She Wrote, starring Angela Lansbury.
In the song's lyrics the narrator wants his "teeny bopper, my teenage lover," to "please stay in my love house by the river." For numbers of radio station DJs, the lyrics in "Mendocino" – inviting an underage girl to leave her home and move into a guy's home [presumably an adult with the financial means to own a home] – was judged to be taboo. As well, the singer relates that the couple have gone on many walks through the park in Mendocino where they "make love along the way."
The suggestion that the couple in the song are stopping to make love in a park in Mendocino was a bit scandalous for some DJs in 1968-69. But, it is still frowned upon when it shows up – even in 2021. A news story from March 2021 reported an incident of making love in a park near Tampa Bay, Florida, concerned an amorous couple getting fined. The Miami Herald reported the following:
A Florida couple got romantic where they weren't supposed to Monday afternoon, and ended up arrested. According to a police report from the Pinellas County Sheriff's Office, Lauren Baugh and her boyfriend Grant Mulder were seen having sexual relations by a veteran's memorial at Largo Central Park, in Largo, in the Tampa Bay area. Among the many witnesses was an officer from the Largo Police Department. In the complaint, the cop writes that Baugh, 41, was behaving in a "vulgar" and "indecent" way with Mulder, 48. "It should be noted that the defendant was not only visible to patrons of the park but to passersby from a highly trafficked roadway."

While "we make love along the way in Mendocino" could be taken innocently, other DJs deciding if they should playlist "Mendocino" back in the late 60s, likely conjured images resembling what folks recently observed in Largo Central Park in Florida. That may explain why the single got little airplay in nearly twenty states across the USA.
Additionally, the song invited a hippie-esque sensibility free of cares: "Mendocino
Where life's such a groove, you'll blow your mind in the mornin'." And as the singer adds "Like I told you. Can you dig it?" To dig it was slang in the Sixties which meant "To understand, approve of, enjoy something; to study something closely." To dig in its slang definition, was an innovation in American English emerging by the 1820s. It was shorthand for "understand, to study hard." In the 1930s it became fashionable in the jazz and also R&B music scene to ask if someone dug a certain song, performer or recording artist. If the response was "ya, I dig it," this meant the speaker was familiar with and approved of the song/performer…
In 1967 J.J. Jackson had a minor hit with "I Dig Girls". That year Peter, Paul and Mary sang "I Dig Rock and Roll Music". In 1968 the Friends of Distinction had a song titled "Grazing In The Grass" where they sang this refrain: "Grazing in the grass is a gas, baby can you dig it?" And in 1970 the Beatles recorded a song titled "Dig It" which referenced the Rolling Stones, the FBI, the CIA, the BBC, Doris Day, BB King and others. By repeating dig it in the song, the Beatles were asking listeners if they understood something about the times they were living in, or familiar with those who were impacting the popular and political culture of the times.
"Mendocino" peaked at #1 in Los Angeles, Toronto, Hamilton (ON), #2 in Vancouver (BC), Allentown (PA), Fresno (CA), Tucson (AZ), Cleveland, Boston, and San Diego, #3 in Louisville (KY), Springfield (MA), and Stevens Point (WI), #4 in San Bernardino (CA), Endicott (NY), and Easton (PA), #5 in Cincinnati, and El Paso (TX), #6 in San Luis Obispo (CA), Wilkes-Barre (PA), Madison (WI), Indianapolis, and San Francisco, #7 in Hartford (CT), Calgary (AB), Edmonton (AB), and Toledo (OH), #8 in Columbus (OH), Buffalo, Scranton (PA), Minneapolis/St. Paul, Pittsburgh, and Detroit, #9 in Salt Lake City, Raleigh (NC), Philadelphia, Oshawa (ON), Davenport (IA), and Lansing (MI), and #10 in Battle Creek (MI), and Reading (PA). Internationally, "Mendocino" climbed to #2 in West Germany, and #15 in Australia.
In 1972 the Sir Douglas Quintet officially disbanded when Doug Sahm signed a record deal and went solo. Sahm and Meyers continued to work together throughout the late 1970s, and rejoined with Perez in 1980 for a reunion tour and album. In the early and mid-80s the Sir Douglas Quintet toured in Europe. They performed in Belgium, Finland, France, the Netherlands, Norway, Switzerland, and West Germany.
In 1986 a visit to Vancouver led Mr. Sahm to assemble a group called the Formerly Brothers; their album of Cajun and country songs won a Juno Award. In 1989 Sahm and Meyers co-founded the Tejano music band the Texas Tornados, along with Freddy Fender and "Flaco" Jiménez.
In 1997 Augie Meyers was a session musician for Bob Dylan on his Grammy Award winning album Time Out of Mind [Album of the Year, Best Contemporary Folk Album, and Best Male Rock Vocal Performance]. Meyers subsequently contributed accordion and organ on Dylan's 2001 album Love and Theft.
Founder Doug Sahm died of a heart attack in his sleep in a motel room in Taos, New Mexico, on November 18, 1999, at the age of 58. While Frank Morin has remained active in music, with teaching, production, and film soundtracks work.
Johnny Perez owned Topanga Skyline Studios, with "the Vibe and the Magic of the '70's." Skyline's grand woodwork, welcoming business culture, and "western fort" dirt courtyard set the stage for drummer Perez to mentor and inspire generations of young artists – until his death on September 11, 2012 at the age of 69, in a California hospital, from complications of cirrhosis of the liver.
Harvey Kagan played with a wedding/event band called The Oh So Good! Band, in the San Antonio area for decades. In the 1980s he became a pharmacist. He died at the age of 73 in 2019.
May 26, 2021
Ray McGinnis
References:
Chet Flippo, "Sir Douglas of the Quintet Is Back (in Texas)," Rolling Stone, July 8, 1971.
Jon Pareles, "Doug Sahm, Musical Voice of Texas, Dies at 58," New York Times, November 22, 1999.
Hector Saldana, "Sir Douglas Quintet Drummer Perez Dies," San Antonio Express-News, September 12, 2012.
Gary James, "Interview with Augie Meyers of The Sir Douglas Quintet," ClassicBands.com.
Jan Reid and Shawn Sahm, "He's About A Mover," Texas Monthly, Austin, TX, February 2010.
"Things To Do in Mendocino," TripAdvisor.com.
Madeleine Marr, "Florida Couple Got Amorous by a Veteran's Memorial. The Many Witnesses Included a Cop," Miami Herald, March 24, 2021.
"Boss 30," CKLG 730 AM, Vancouver, BC, February 14, 1969.
For more song reviews visit the Countdown.