#183: Montego Bay by Amazulu
Peak Month: June 1987
11 weeks on Vancouver's CKLG chart
Peak Position #2
Peak Position on Billboard Hot 100 ~ #90
YouTube: "Montego Bay"
Lyrics: "Montego Bay"
Amazulu was a reggae band from Britain. They formed in 1982. Amazulu literally means Mother of the Zulus. The band originally wanted to be named Amazon, but an American rock band already had the name. The name Amazulu came about when Sharon Bailey and Lesley Beach went to see a South African play by the same name. Bailey and Beach met the playwright, who gave his permission to use the name. The band was started by Sharon, the band's original manager and Lesley, the saxophone player, together with Rose Miner, the original lead singer. With Debbie Dread joining on drums, initially all the members were female. Rose was later replaced by Anne Marie Ruddock, and Debbie was replaced by John "Nardo" Bailey, who they called their token male.
In 1983 the band released a self-titled debut album, and a single titled "Cairo" got modest airplay in the UK. Amazulu appeared on Top of the Pops. and the British sitcom The Young Ones. Amazulu had a single in 1985 called "Excitable" which reached #12 in the UK. Later that year they had a #15 hit with a cover of the 1958 Huey "Piano" Smith and the Clowns "Don't You Just Know It". The single climbed to #23 in Vancouver in the September 1987. Next, Amazulu did a cover of a 1974 single by the Chi-lites titled "Too Good To Be Forgotten". The song peaked on the UK singles chart at #5.
In 1986, Amazulu continued to cover more pop songs from past decades. They knew about Bobby Bloom's "Montego Bay", a Top Ten international hit in 1970. And so they decided to record their own version.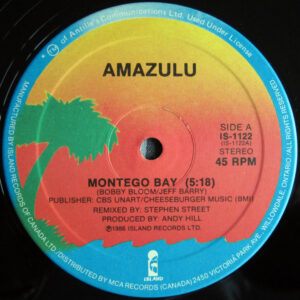 "Montego Bay" is a song written by Bobby Bloom about the fourth-largest city in Jamaica. Montego Bay is a popular tourist destination featuring duty-free shopping, a cruise line terminal and several beaches and resorts. The song opens with a guy named Vernon who is waiting for the narrator of the song to arrive on his BOAC (British Overseas Airways Corporation) flight. Vernon will have the keys to his MG sports car in his hands.
The song was cowritten by Jeff Barry. Barry was born Joel Adelberg in 1938, in Brooklyn. Raised in a Jewish family, Adelberg attended Erasmus Hall High School in New York City where he met Neil Diamond and Barbara Streisand. During high school, Adelberg was part of a vocal group with other three schoolmates, Scott Gilman, Freddy Barnet and Johnny Devereau. It was named The Tarrytones. However, they never recorded a record and disbanded after their graduation. After high school Adelberg served in the U.S. Army for a year stationed at Fort Knox, Kentucky, while singing with military bands. When he signed a contract to write and record with RCA, Adelberg changed his name to Jeff Barry. "Jeff" was inspired by actor Jeff Chandler (also born to a Jewish family and whose birth name was Ira Grossel). Barry recorded "Hip Couple", a minor hit in Allentown (PA) in 1959. Jeff Barry's writing credits include the 1960 Top Ten hit for Ray Peterson titled "Tell Laura I Love Her".
In 1961 a group called The Flairs recorded a few records, while another named The Redwoods also released some singles. Both released a song titled "Shake Shake Sherry". In both cases, Jeff Barry sang and layered the vocal tracks so that he sounded like a group.
Meanwhile, Barry had success writing a hit for Helen Shapiro in the UK, called "Tell Me What He Said". He began to team up with Ellie Greenwich and their professional relationship led to romance and they were married on October 28, 1962. They teamed up with Phil Spector and wrote songs for The Crystals ("Da Doo Ron Ron", "Then He Kissed Me"), The Ronettes ("Be My Baby", "Baby I Love You") and The Chiffons ("I Have A Boyfriend"). They went off as a duo to write songs for The Dixie Cups ("Chapel of Love"), The Jellybeans ("I Want to Love Him so Bad"), The Shangri-Las ("Leader of the Pack"), Leslie Gore ("Maybe I Know"), Manfred Mann ("Doo-Wah-Diddy"), Tommy James & The Shondells ("Hanky Panky"), Neil Diamond ("Girl You'll Be a Woman Soon"; "Cherry, Cherry"; "Red Red Wine"; and "Thank the Lord for the Night Time"), The Beach Boys ("I Can Hear Music") Ike and Tina Turner ("River Deep- Mountain High") and The Monkees ("I'm a Believer", "A Little Bit Me, A Little Bit You"). Later Barry, having divorced Greenwich, co-writes with Andy Kim a song for The Archies called "Sugar, Sugar", that becomes a smash hit.
In 1970, Barry cowrote with Robin McNamara a song called "Lay a Little Lovin' On Me", which climbed into the Top Ten. Into the mid-seventies Barry cowrote "I Honestly Love You" for Olivia Newton-John. It became a number-one hit.
"Montego Bay" peaked at #1 in Hamilton (ON), #2 in Vancouver (BC), and #3 in Toronto. Internationally, Amazulu's "Montego Bay" peaked at #6 in Canada, #14 in Ireland, and #16 in both South Africa and the UK.
In 1987, Beach, Ruddock and Bailey appeared in the comedy film Straight to Hell. Beach left the band and Ruddock and Bailey continued as a duo for another year, covering the 1968 Tommy James and the Shondell's hit "Mony Mony". Their cover made the Top Ten in New Zealand. Afterwards, Amazulu recorded their second album Spellbound which was released in designated Asian countries including Hong Kong in audio cassette format under EMI Records. The album contained the singles "Mony Mony", "Wonderful World, Beautiful People" and "My Heart Belongs to You" (which was released under Ruddock's name only in 1988). In early 1988 they split.
Sharon Bailey lives in Buckinghamshire, drums and remains involved in the music industry. Lesley Beach moved to Tucson, Arizona, got a B.A. at Prescott College with a focus on the Environment and Social Justice. She has since worked as a social worker in Tucson. Rose Miner and Lesley Beach reunited and played drums and percussion in the Samba band Quilombo do Samba. The band won the Best Band contest at the 2002 Notting Hill Carnival. Former Amazulu bandmate Clare Kenney has been a session musician on albums with Sinead O'Connor, Shakespears Sister, Brian Eno, Damien Dempsey and others.
March 25, 2022
Ray McGinnis
References:
"Redwoods/Flairs/Spartans…(The Jeff Barry Vocal Groups," White Doowop Collector, October 2008.
"Sodajerker presents… Jeff Barry," songwritingmagazine, January 8, 2015.
Paul Zollo,"Around the Bramble Patch: Jeff Barry," Americansongwriter, August 2020.
For more song reviews visit the Countdown.