#465: The Actress by Roy Orbison
Peak Month: April 1962
13 weeks on Vancouver's CFUN chart
Peak Position #8
Peak Position on Billboard Hot 100 ~ did not chart
YouTube.com: "The Actress"
Lyrics: "The Actress"
Roy Kelton Orbison was born in Vernon, Texas in 1936. When he turned six his dad gave him a guitar. Both his dad, Orbie Lee, and uncle Charlie Orbison, taught him how to play. Though his family moved to Forth Worth for work at a munitions factory, Roy was sent to live with his grandmother due to a polio outbreak in 1944. That year he wrote his first song "A Vow of Love". The next year he won a contest on Vernon radio station KVWC and was offered his own radio show on Saturdays. After the war his family reunited and moved to Wink, Texas, where Roy formed his first band, in 1949, called The Wink Westerners.
From 1951 into the mid-50s The Wink Westerners appeared with Roy Orbison on KERB in Kermit, Texas. The band performed at school assemblies and country jamborees sponsored by KERB. In 1953 they played at an International Lions Club Convention in Chicago. After high school, Roy Orbison met two friends in college named Wade Lee Moore and Dick Penner. They'd written a song called "The Ooby Dooby". The Wink Westerners began to include the song in their performances, including on a TV show on KMID in Midland, which won them a half hour Friday night slot on KMID.
With the advent of Rock and Roll, the Wink Westerners renamed themselves The Teen Kings. In addition to the TV show on KMID, TV station KOSA in Odessa, Texas, gave them a half hour slot on Saturday afternoons. The CBS affiliate also had Johnny Cash and Elvis Presley guest star on Roy Orbison's KOSA TV show. Johnny Cash got Orbison in touch with Sam Phillips of Sun Records in Memphis. Orbison called Phillips who hung up the phone saying, "Johnny Cash doesn't run my record company."
Orbison had been approached by owners of Je-Wel Records who wanted The Teen Kings to make a record. The session took place in early March, 1956. This time, Roy and The Teen Kings, recorded The Clover's "Trying to Get to You" and "Ooby Dooby". The single was released March 19, 1956. That same day, Orbison took a copy to Cecil "Poppa" Hollifield in Odessa. He was a well-know record dealer in West Texas. "Poppa" Hollifield liked the record and played it on the phone to one of his connections in Memphis. The guy on the other side of the line asked him to send him a copy. His name was Sam Phillips, owner of Sun Records. A few days later "Poppa" telephoned Roy to say that Phillips wanted the Teen Kings in Memphis in three days to record for Sun Records.
Roy Orbison and the Teen Kings arrived in Memphis on Monday, March 26, 1956. The next day they re-recorded "Ooby Dooby". Bob Neal, owner of Starts Inc., signed the group to a booking and management contract. They kicked off with an experimental tour of Southern drive-in movies theaters, performing on the projection house roofs between film showings. Most of the time touring with Carl Perkins, Johnny Cash, Warren Smith, Sonny Burgess, Faron Young, Johnny Horton and then Jerry Lee Lewis and other Country and Rockabilly stars. "Ooby Dooby" peaked at #59 on the Billboard Hot 100 and #2 in Vancouver. However, follow-up singles failed to chart. The Teen Kings split up in December 1956 and Orbison stayed at Sun until 1958.
In March 1958, Roy Orbison was offered a spot on an Everly Brothers show in Hammond, Indiana. The Everlys needed a song for their new single and they asked Roy if he had anything. He sang his new composition "Claudette" and they asked him to write the words down. So he did, on the top of a shoebox. Soon Orbison was signed to Acuff-Rose Music Publishing in Nashville, and he also got a contract with RCA Victor where he briefly worked with Chet Atkins. The Everly's "Claudette" was the B-side of "All I Have To Do Is Dream". The A side went to #1 while "Claudette" climbed to #30 on the Billboard Hot 100 and to #1 in Vancouver. Orbison had more of his songs recorded by Buddy Holly, Jerry Lee Lewis, Johnny Cash, Ricky Nelson and Cliff Richard.
By the fall of 1959 Orbison got a new record contract with Monument Records. They released "Uptown" which had strings as opposed to fiddles, which were not very common in Nashville. It was Orbison's biggest hit since "Ooby Dooby". But his next release was a smash hit. "Only The Lonely" Climbed to #2 on the Billboard Hot 100, #2 in Vancouver and #1 in the UK. His follow-up single, "Blue Angel", gave Orbison his first #1 hit in Vancouver, while peaking at #9 in the USA and #11 in the UK.
Orbison had another #1 hit in April 1961 here in Vancouver and in the USA with "Running Scared". The song debuted at #11 on CKWX and #9 on CFUN. It climbed to #1 on April 15, 1961, on CKWX topping the charts for three weeks. The songs' production and the performance were unusual for the time, as Monument Records was willing to spend more money on production than many other record labels.
The hits kept on coming for Roy Orbison with "Love Hurts", "Crying", "Dream Baby", "In Dreams", "Candy Man" and many other Top 40 singles. Among these was "The Actress".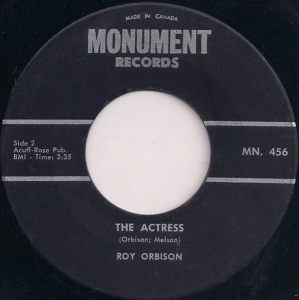 "The Actress" was the B-side to the A-side, "Dream Baby", which had peaked at #4 on the Billboard Hot 100, but stalled at #13 on the C-FUNTASTIC FIFTY in Vancouver in February 1962. On the final week of the chart run for "Dream Baby" on the CFUN on March 9, 1962, the B-side, "The Actress" debuted at #45.
"The Actress" was co-written by Joe Melson. Melson was born in Texas in 1935. He was raised on a farm in northeast Texas. In his late teens Joe was lead guitarist and lead vocalist for a rockabilly band called The Cavaliers. Melson and Orbison met in Midland, Texas, in 1959. Roy Orbison and Joe Melson co-wrote Orbison's hits "Only The Lonely", "Blue Angel", "I'm Hurting'", "Running Scared", "Crying", "The Crowd", "The Actress", "Leah", "Lana" and "Blue Bayou". They duo co-wrote "Memories Of Maria" which was recorded by Hawaiian guitar player Jerry Byrd. They also wrote "Come Back To Me My Love" for Roy Orbison, which became a minor hit for Mark Dinning.
Joe Melson also recorded seven singles with Hickory Records between 1960 and 1963. He switched labels to EMP there he released two more singles in 1965. Though some of these discs got a spin by a few DJ's across the USA, none of them were commercially successful. Over the past five decades Joe Melson has appeared in concert at rockabilly and nostalgia festivals. In 2002 Melson was inducted into the International Rock-A-Billy Hall of Fame. Melson's most recent single release was in 2014 with Australian recording artist Damien Leith.
"The Actress" is a song about someone who is in a romantic relationship, but not in love with their sweetheart. And so they pretend to be in love, saying the lines and keeping the one who loves them hanging on until the real thing comes along. It seems the person who is acting is too cowardly to be candid with the person who loves them. Meanwhile, the person in love with the actress knows she is just "pretending" to love him. Yet, they are content to stick around in the "saddest show in the life of a fool on parade."
Songs about people prolonging a relationship include the Supremes "You Keep Me Hanging On". It may be that even when we are not in love with someone, that we need intimacy. It may be for the "actress" in Orbison's song, that she is averse to being on her own. Staying in a relationship until someone who turns your crank shows up, and leave your current steady in the lurch, seems a poor reason to stay. Conversely, staying in a relationship with someone you know doesn't love you, means you're settling for a life of dashed hopes and expectations. Sticking around with someone who just doesn't love you, or love you 'enough,' prevents you from being open to someone else who can offer you a full, open-hearted commitment. Best to cut the act short before the curtain falls on you.
"The Actress" climbed to #6 in Syracuse (NY), Boston and Minneapolis/St. Paul, #8 in Vancouver (BC), and #10 in Hartford (CT).
On October 27, 1963, Roy Orbison appeared for his first time in concert in Vancouver at the Queen Elizabeth Theatre.
In 1964, Roy Orbison topped the charts in the USA and Vancouver with "Oh, Pretty Woman". He also had a Top Ten hit with "It's Over" in the spring of '64. On November 28, 1965, Roy Orbison returned to the Queen Elizabeth Theatre.
In June 1966, Orbison's wife, Claudette, was killed in a motorcycle accident in Tennessee. Orbison had released ten singles since "Oh Pretty Woman" topped the pop charts. But only two of these had cracked the Top 30 of the Billboard Hot 100, with "Goodnight" charting best to peak at #21. His final single release in 1966 was "Communication Breakdown". In 1968, tragedy struck again when two of his three children died in a fire that burned down his house in Hendersonville, Tennessee.
On June 13, 1976, Roy Orbison came to Vancouver for a concert at the Queen Elizabeth Theatre.
In the 1980's Roy Orbison enjoyed a resurgence of interest. He regularly performed in concert in Vancouver throughout the decade. On June 25, 1981, Orbison gave a concert at the Orpheum. The following January 17th, 1982, he was in concert at The Cave. Three years later he appeared at the Queen Elizabeth Theatre on June 22, 1984. During Vancouver's centennial anniversary in 1986, Orbison was at the Expo Theatre on August 10th. And on September 3, 1987, he returned to the Orpheum. His ninth and final concert was at the Expo Theatre on May 28, 1988.
A duet of "Crying" with k.d. Lang climbed to #2 nationally on the RPM Canadian singles chart, though only to #35 on CKLG in February 1988. Orbison won a Grammy Award for the duet. Next, Orbison sang with George Harrison, Jeff Lynne, Tom Petty and Bob Dylan, in a group called the Traveling Wilburys. Their single, "Handle With Care", climbed to #9 in Vancouver and #45 on the Billboard Hot 100. Roy Orbison died dead at 52 from a heart attack on December 6, 1988. In April, 1989, his posthumous single, "You Got It", climbed to #6 on CKLG in Vancouver.
In January 2018 it was announced that Roy Orbison will be going on tour again, in hologram form. On November 23, 2018, a vinyl double album titled Unchained Melodies: Roy Orbison & The Royal Philharmonic Orchestra will be released. It includes "Falling" as one of its tracks. The Royal Philharmonic Orchestra has previously released three albums featuring songs by Elvis Presley. And in 2017 there was a release of the album titled A Love So Beautiful: Roy Orbison & The Royal Philharmonic Orchestra. It featured "Love Hurts", "Oh, Pretty Woman", and others.
March 30, 2020
Ray McGinnis
References:
Cherie Hu, "30 Years After His Death, Roy Orbison Is Going On Tour Again – In Hologram Form," Billboard, Los Angeles, January 11, 2018
Steve Pond, "Roy Orbison's Triumphs and Tragedies," Rolling Stone, January 26, 1989.
Unchained Melodies: Roy Orbison & The Royal Philharmonic Orchestra, Sony Music, November 23, 2018.
A Love So Beautiful: Roy Orbison & The Royal Philharmonic Orchestra, Sony Music, November 3, 2017.
"Who Has Performed Joe's Songs?," Joemelson.com.
"Roy Orbison Concerts – Canada," Setlist.fm.
"C-FUNTASTIC FIFTY," CFUN 1410 AM, Vancouver, BC, April 28, 1962.

For more song reviews visit the Countdown.