#1318: Peace Of Mind by Count Five
Peak Month: December 1966
5 weeks on Vancouver's CKLG chart
Peak Position ~ #7
1 week Hit Bound
Peak Position on Billboard Hot 100 ~ #125
YouTube: "Peace Of Mind"
Lyrics: "Peace Of Mind"
The Count Five were a band formed in San Jose, California, in 1964. The band consisted of five members. John "Sean" Byrne was born in Dublin, Ireland, in 1947. He was a lead vocalist who played rhythm guitar. Byrne also wrote most of the original songs by the band. Craig "Butch" Atkinson was born in Springfield, Missouri, in 1947, and was the bands' drummer. In 1948, Brooklyn, New York, native Kenn Ellner was born. He became the other lead vocalist for the Count Five and also played tambourine and harmonica. Born in 1948 in Indianapolis, Indiana, Roy Cheney played bass guitar. In sixth grade, Roy asked his parents to buy him a guitar. His mom picked up an acoustic special at Sears Roebuck in downtown San Jose. The fifth bandmate was John "Mouse" Michalski, who was born in Cleveland in 1949 and played lead guitar. In 1964 Cheney and Michalski were classmates at Pioneer High School in San Jose. They formed a band called The Citations. But as the British Invasion dominated pop music in 1964, the band changed their name to The Squires.
The band had gone through several drummers and Kenn Ellner talked to Craig "Butch" Atkinson who also attended Pioneer High School. Ellner asked Atkinson if he would come to a rehearsal at his house and see if he wanted to play with the band. As well, Sean Byrne was invited to join the band on guitar. In short order the band had its classic lineup. Influenced by the Yardbirds, the sound of the band shifted to garage rock. They also changed their name to the Count Five. The band wore Count Dracula capes and 1750s England men's styled shirts fashioned after the 1964 film Tom Jones.
The black-and-white 1966 press photo for San Jose's newest "rock 'n' roll sensations" was taken on the front lawn of the 1886 Winchester Mystery House with all five of the Count Five decked out in Count Dracula capes and puffy white shirts. You could almost see the ghost of Sarah Winchester in the background, roaming her 160-room mansion; Which she built continuously – on the advice of a medium – for herself and the spirits of people who had fallen victim to Winchester rifles.
"We literally worked out in the garage, until we got good enough for the clubs," said Byrne. Their big breakthrough came by way of Lt. Robert Podesta, an officer with the San Carlos Police Department. He ran a youth club weekends at a place called the Cinnamon Tree. Michalski and Chaney had been ready to leave the band as the time between gigs seemed too long for their teenage patience to cope with. "Once we got connected with the Cinnamon Tree things got smooth. We were so big there that they did a full length painting of us on the wall; capes and all. Primarily, we had girl fans. After the shows, the girls would come by to talk and request songs. And "Psychotic Reaction" stood out as everyone's fave," said Sean Byrne.
Consequently, the debut single by the Count Five was "Psychotic Reaction". The song was written by Sean Byrne, and he also sang lead vocals. "Psychotic Reaction" originated as an instrumental that the band played for six months before their manager Sol Ellner, Kenn Ellner's father, suggested that rhythm guitarist Sean Byrne write lyrics for it.
Inspiration came in early 1966 when Byrne was seated in a health education class during his freshmen year at San Jose City College. As his professor lectured about psychosis and neurosis, Byrne's friend Ron Lamb, seated next to him, leaned over and whispered, "You know what would be a great name for a song? Psychotic Reaction!" Byrne later stated, "That was the missing punch-line for the song". He finished the lyrics and presented them to the rest of the group at band practice that night.
When the band played the song live a few weeks later at a dance at the old West Valley College in the San Jose suburb of Campbell, local KLIV deejay Brian Lord, emceeing the event, was very impressed. After a few pointed suggestions on rearranging the tune for a punchier sound, Lord landed the group auditions with several record labels. Getting no serious interest, Lord put the band in touch with a couple of friends in Los Angeles, Hal Winn and Joe Hooven, who were about to start their own label, Double Shot Records. In summer 1966, the band drove down to meet Winn and Hooven at the old Decca Studios on Melrose Avenue. They were accompanied by Lord, who had the group begin the audition with some of their other originals before dramatically unveiling "Psychotic Reaction".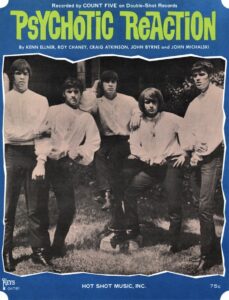 "Psychotic Reaction" became a garage rock smash hit, climbing to #1 in Vancouver on October 8, 1966, #1 in Toronto and Hamilton (ON), #2 in Montreal and Edmonton (AB), and #5 on the Billboard Hot 100. "Psychotic Reaction" featured the use of feedback and distortion replacing early rock music's more melodic electric guitars. The song was later covered by Tom Petty and the Heartbreakers.
The followup release by the Count Five was "Peace Of Mind". The band sang both "Psychotic Reaction" and their new release on American Bandstand on November 12, 1966.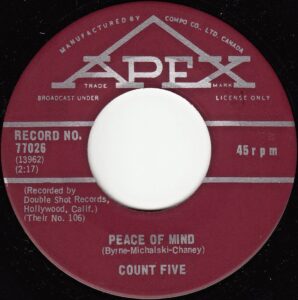 Once on the charts, the record label wanted the Count Five to record enough material for an album, and wanted it fast. Sean Byrne recalls, "We had some originals, but they wanted a lot. They had us holed up in a hotel in LA, solely to create new material. This one time we were sittin' around and Mr. Ellner yells out, 'Their coming down over to listen to what you got. What've you got?' We had nothin.' So we faked something on the spot, where I hit these chords and sang 'Some nights I'm alone … Some nights I'm alone" Hal [Winn, the producer] comes in and says, 'I like it." 'That made-up on the spot (song) became "The Morning After" – the B-side to "Peace Of Mind".
"Peace Of Mind" was written by Sean Byrne, with help from Chaney and Milchalski. The song was one of the tracks on the bands' only album, Psychotic Reaction. The song concerns the upheaval a guy feels after he's split up with his girlfriend. He needs to take a walk and find someone to talk with. Perhaps a stranger, perhaps a friend to meet up with. In any case, talking with someone about how you are doing can give you peace of mind. In the time ahead, you can find someone new and do your best to make the next relationship work out.
Musically, the song featured feedback and fuzz guitar, and off-beat vocals during part of each verse. The song was in sync with other garage rock-psychedelic rock songs on the CKLG chart in Vancouver at the time. This included "I Had Too Much To Dream" by the Electric Prunes, "Frustration" by the Painted Ship, "Pushing Too Hard" by the Seeds, "I Need Somebody" by ? and the Mysterians, "Happenings Ten Years Time Ago" by the Yardbirds; And over on CFUN "Why Pick On Me" by the Standells, and "Smashed Blocked" by John's Children.
"Peace Of Mind" peaked in Vancouver at #7, #14 in Opelika, Alabama, and #21 in Orlando.
A third release, "You Must Believe Me", climbed to #4 in Orlando, #7 in Victoria (TX) and #11 in Hoquiam (WA). Three more single releases followed. But these were all commercial failures. Another setback to a potential career in the music business for the Count Five was the decision of four of the five members – who at that time were between the ages of 17 and 22 – to pursue college degrees. "We also had to stay in school to stay out of the draft," recalls Michalski.
During their brief time in the spotlight, the Count Five shared the stage with the Beach Boys, the Doors, the Temptations, Iron Butterfly, Martha & the Vandellas, the Animals, Dave Clark Five, Sonny & Cher, the Hollies, the Byrds, Buffalo Springfield, Them, Frank Zappa and the Mothers of Invention, Kenny Dino and others.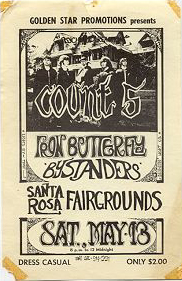 The Count Five also appeared on The Lloyd Thaxton Show and Where the Action Is. In 1974, a German film titled Alice in Cities featured "Psychotic Reaction" in the soundtrack. The song was later included in the crime films Less Than Zero (1985) and Drugstore Cowboy (1989), and the 2017 film The Sense of an Ending.
Sean Byrne, looking back, said "Things just didn't turn out right for us." The San Jose News reported the band was offered a million dollars to tour, but turned it down to go to college. "We could've done the Ed Sullivan Show, but they turned us down as too weird. We could've done the Milton Berle Show, but nobody wanted to take off a week from school to go there to do this skit he wanted to do with us. "We were young. What did we know," said Byrne. "We didn't get any support, or direction. The success caught us off guard. The album was rushed. We figured that the engineer, arranger and producer didn't know their asses from a hole in the ground. They wouldn't let us get controlled feedback or to develop our sound. When we weren't looking they changed everything. They actually changed the tapes."
By early 1968, both John Michalski and Roy Chaney bolted from the band. They were replaced by Syndicate of Sound bandmate After the Count Five split up, Byrne ended up working as an accountant for Montgomery Ward. But when that company went under in early 2001, he lost his job and his optimism. It was his music that kept him going.
After the Count Five, Chris Atkinson graduated from San Jose State University and then entered the United States Navy, where he became a Naval Aviator. Atkinson flew P-3C Orion aircraft with Patrol Squadron 9 out of Naval Air Station Moffett Field in Mountain View, California. In 1977, Atkinson left the United States Navy and became a pilot for Delta Air Lines.

The Count Five reunited to perform in concert on April 11, 1987, at the One Step Beyond club in Santa Clara California. The live performance was later released as Psychotic Reunion LIVE!. Since that time the band has performed periodically into the early 2010s. However, the group now consists of the original members, Roy Chaney on bass, Kenn Ellner Vocals and Harmonica, and John "Mouse" Michalski, lead guitar, Phil Indovine, Rhythm Guitar, and Rocky Astrella on drums. John "Sean" Byrne occasionally appeared with the group at some performances, notably at the induction into the San Jose Rock's Hall of Fame, before he died in 2008.
On June 12 and 13, 2015, Kenn Ellner joined fellow San Jose area sixties garage band – Syndicate of Sound of "Little Girl" fame – which included performing a few of the Count Five's hits during the Theatre of San Pedro Square concerts. Subsequently, the Syndicate of Sound, along with Kenn Ellner, performed on September 19, 2015, at the Santa Cruz County Fair concert in Watsonville.
Craig Atkinson died in 1998 due to complications during surgery at a Houston hospital. Sean Byrne died at the age of 61 in 2008 after suffering from cirrhosis of the liver. Over the years, Byrne had developed a drinking problem.
Kenn Ellner graduated from Santa Clara University with a Bachelor of Arts degree and went on to law school, eventually practising law and working as a real estate broker. He also taught an Entertainment Law course at SCU. Michalski became a business owner.
After the Count Five disbanded, Chaney didn't jump out. He and his wife, Trish, performed in a classic rock band called J.J. Trag that played the local San Jose club circuit. Next came The Count, a spinoff of Count Five. Chaney also became a construction company foreman. The tragic death of his son in 2006 sent Roy Chaney in another direction as he sought comfort and guidance at his church. He found support in a singing congregation that introduced him to the Contemporary Worship genre. In April 2021, Roy Chaney was interviewed on San Jose Rocks where he announced he was releasing a new single. Titled "The Child of God", the song is about the homelessness epidemic in America. Roy currently plays music in a duo, Waters & Chaney, at the San Jose Open Bible Church.
June 4, 2022
Ray McGinnis
References:
"San Jose rock pioneer John Byrne of the Count Five dies at 61," San Jose Mercury News, December 17, 2008.
Hud Cost, "Count V," San Jose Rocks, 2006.
"Catching Up with San Jose's Roy Chaney, founding member of Count V," San Jose Rocks, April 3, 2021.
"Count Five," onehitwondersthebook.com.
"About Waters & Chaney," Waterschaney.com.
Kenn Ellner, "KNND Rock Oldies Request and Dedication Party Promo," KNND 1400 AM, Cottage Grove, Oregon.
"Boss 40," CKLG 730 AM, Vancouver, BC, December 17, 1966.
For more song reviews visit the Countdown.