#2: Poor Man's Son by the Reflections
City: Chatham, Ontario
Radio Station: CFCO
Peak Month: March 1965
Peak Position in Chatham ~ #6
Peak position in Vancouver ~ #17
Peak Position on Billboard Hot 100 ~ #55
YouTube: "Poor Man's Son"
Lyrics: "Poor Man's Son"
The Reflections were a group from Detroit. Tony Micale, born in the Bronx, New York, in 1942, was the lead vocalist. Detroit native, Phil Castrodale, was born in 1942 and was the first tenor. Dan Bennie was born in 1940 and born in Scotland, he was a second tenor with the Reflections. Baritone Ray Steinberg, born in Washington, Pennsylvania, in 1942. In 1941, bass singer John Dean was born in Detroit. Prior to the Reflections forming, Tony Micale was in a group called the Parisians. They They released their first single in 1963 titled "Helpless" on Kay-Ko Records. In January 1964, the Reflections released "(Just Like) Romeo & Juliet". Soon after, they appeared on American Bandstand. In Canada, the single peaked at #1 in Windsor (ON), #2 in Winnipeg (MB), #3 in Peace River (AB), #4 in Hamilton (ON), #8 in St. John (NB), #10 in Revelstoke (BC) and #17 in Vancouver (BC). In the USA "Romeo & Juliet" climbed to #6 on the Billboard Hot 100.

In the wake of "(Just Like) Romeo & Juliet", the Reflections appeared on The Mike Douglas Show, The Lloyd Thaxton Show, Shivaree, and Shboom. They were asked to appear on The Ed Sullivan Show, but a scheduling conflict got in the way.
The Reflections' followup was "Like Columbus Did" on Golden World Records. The melody closely resembled that of "Romeo & Juliet". In an interview with Gary James of classicbands.com, Tony Micale told James In July/64 the single reached #13 in Cleveland. A third release for the group was "Talkin' About My Girl", followed by "(I'm Just) A Henpecked Guy", which charted on KLIF-AM in Dallas in August 1964. Detroit songwriter, Bob Hamilton, was a common denominator in penning "Like Columbus Did", "Just Like Romeo & Juliet", "Talkin' About My Girl" and "A Henpecked Guy".
In the summer and fall of 1964, the Reflections were on tour with the Dick Clark Caravan of Stars. Other recording acts on tour with them included Gene Pitney, the Dixie Cups, the Rip Chords, Brenda Holloway, Brian Hyland, Major Lance, the Supremes, the Coasters, Major Lance, the Crystals and the Shirelles.
At the end of 1964, Ray Steinberg left the group. This left the Reflections as a foursome: Tony Micale, Phil Castrodale, Dan Bennie and John Dean.
In 1965, the Reflections released "Poor Man's Son".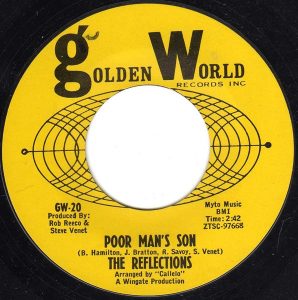 "Poor Man's Son" was written by Bob Hamilton, Ronnie Savoy, JoAnne Barton and Steven Venet (born Steven Venetoulis).
Bob Hamilton was the brother of Ronald Hamilton, the latter who recorded under the name Ronnie Savoy. Savoy, whose "And The Heavens Cried" peaked at #2 in Vancouver in 1960, was a second composer of "Poor Man's Son". Savoy told the website, Soul Source, in 2016: "Our parents came to Detroit in the 1920s to get away from the South. My mother came from quite a comfortable background but my father had it more difficult – he had hustled on the streets since an early age, after his mother died, when he was only thirteen. He played guitar and wrote songs – his dream was to make it as a songwriter and a singer. He would play his guitar to us coming up, usually the blues. My older brother Bobby started to pick up on the blues chords, 'cause, being the eldest, he was the first to get a guitar, but we found that music too miserable and sad.' Although the seed was sown, no pressure was applied. 'My parents didn't push us into music, even though we all began to show promise at quite an early age. My father worked at Ford and advised us not to work in a factory. It was a very happy home environment. There were nine of us all together – three boys and six girls. Bobby was the spearhead. He encouraged and led us. He was the first to start writing his own songs and singing them and that inspired Kent and me. I guess the turning point for us was when we heard Billy Ward and the Dominoes. They were our greatest inspiration. Seeing them in concert in Detroit made me want to become an entertainer. I spoke to Marv Johnson years later about this and he confirmed that he'd had the same experience!"
Eugene Hamilton and his brothers got motivated to form a R&B group. He remembers, "In 1953, when Bobby was 16, I was 12 and Kent was only 10. I had a high voice and could sing like Clyde McPhatter. We called ourselves The Comets."
A third writer of "Poor Man's Son" was JoAnne Bratton. She was the co-owner of Golden World Records Inc. She co-wrote songs for Ronnie Savoy, Carl Carlton, J.J. Barnes, Darrell Banks, the Amen Corner, and others. Steven Venet, the fourth writer of "Poor Man's Son", produced the Top Ten hit single for the Jelly Beans titled "I Wanna Love Him So Bad". He also wrote "Action" for Freddy Cannon.
"Poor Man's Son" is a song about a guy who gets up early to go to work each day. He works his hands "nearly to the bones." He doesn't have a desk job, he has to "push, push." The day of hard physical labor is eased while he thinks of the woman in his life, and he plans to buy her something that pleases her.
Tony Micale told Gary James at classic bands.com that the Vogue's "Five O'Clock World" was recorded based on the melody of 'Poor Man's Son". But Micale lamented that "Poor Man's Son" wasn't properly promoted by the record company. The distribution was poor, and the 45 RPM was hard for people to find in record stores. Customers had to order a copy, instead of buying it right there in the record store. So this had a negative impact on record sales.
"Poor Man's Son" peaked at #4 in Erie (PA) and Detroit, #6 in Chatham (ON), and Battle Creek (MI), #7 in Calgary (AB), #9 in Lebanon (OR), and #11 in Sacramento (CA). In the UK in 1965, the Rockin' Berries took "Poor Man's Son" to #5 on the British Singles chart.
In 1965, the Reflections appeared in a teen flick titled Winter A-Go-Go. They sang "I'm Sweet On You". The title track for the movie boasted "you can get a girl for every night, so let's go, go, winter a-go-go." The plot concerned a teenage ski bum and his friend who try to turn the lodge he's inherited into a music club.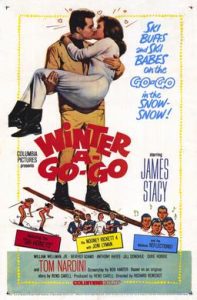 The Reflections released five more singles in 1965 and 1966. One of these, "Like Adam and Eve", tried again to build on a popular story in western culture to provide a simile for a modern relationship. But Dayton, Ohio, was about the only radio market where the song got any chart action. The latter single featured lead vocals by the newest member of the group, Frank Amodeo. He replaced Tony Micale in 1966. The band split up in early 1967.
In their hey-day, in addition to the Dick Clark Caravan of Stars tour in 1964, the Reflections shared the stage in concert with Maxine Brown, James Brown, Ray Charles, Jerry Lee Lewis, and Roy Orbison.
For ten years Tony Micale worked at Chrysler in an engineering capacity related to quality control. Then in 1977, the Reflections reformed. Tony Micale and John Dean were the original members who took up the call to join oldies tours in the following decades. Other singers came and went, augmenting these original core members. The Reflections have a final year with some scheduled concert dates, along with the Malt Shop Memories Tour in the Caribbean, from October 27-November 3, 2023. Other recording acts on the cruise include the Beach Boys, Chubby Checker, the Four Tops, the Rascals, the Dupree's, the Coasters, the Flamingos, and Johnny Farina (of Santo & Johnny). A final farewell Reflections concert is scheduled to take place in Detroit on New Year's Eve, 2023.
Dan Bennie died in 2008 at the age of 68. John Dean died in 2022 at the age of 80.
October 16, 2023
Ray McGinnis
References:
Reflections, "Romeo & Juliet", American Bandstand, 1964.
"I'm Sweet On You", Winter A-Go-Go, Columbia Pictures, 1965 (minute 53 of the film)
Schrader-Howell Funeral Home, "John Dean Obituary," legacy.com, March 11, 2022.
Rockin' Berries, "Poor Man's Son", Piccadilly Records, 1965.
Gary James, "Interview of Tony Micale of the Reflections," classic bands.com.
"Malt Shop Memories Cruise," Maltshopcruise.com.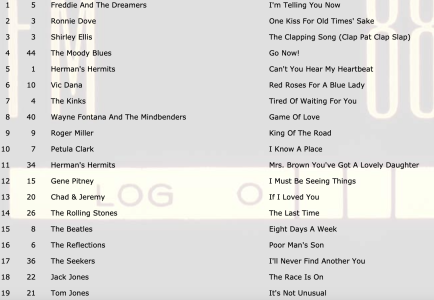 CFCO 630-AM, Chatham, ON, April 7, 1965