#325: Rock Your Little Baby To Sleep by Buddy Knox
Peak Month: June 1957
5 weeks on Vancouver's CKWX chart
Peak Position #1
Peak Position on Billboard Hot 100 ~ #17
YouTube: "Rock Your Little Baby To Sleep"
Lyrics: "Rock Your Little Baby To Sleep"
Buddy Wayne Knox was born in 1933, in Happy, Texas, a small farm town in the Texas Panhandle a half hour south of Amarillo. During his youth he learned to play the guitar. He was the first artist of the rock era to write and perform his own number one hit song, "Party Doll". The song earned Knox a gold record in 1957 and was certified a million seller. Knox was one of the innovators of the southwestern style of rockabilly that became known as "Tex-Mex" music.
Buddy attended Happy High School, graduating in 1950. The population of Happy, Texas, in 1956 was only 690 people. After high school, Knox attended West Texas State College in Canyon, Texas. While there, Knox met Jimmy Bowen and Don Lanier, who were also students at the college. Together, they formed a group called the Rhythm Orchids, named after their orchid colored shirts. Though they were underaged, the trio played in local clubs for beer and food. But their performances in Canyon, Texas, came to a halt when it was discovered they were minors. Luckily, Buddy Knox and the Rhythm Orchids had developed a fan base. They became the hottest local band around.
Backstage after a show at West Texas State College, with Roy Orbison and the Teen Kings, Knox had a conversation with his Bowen and Lanier. Orbison had told Knox about a recording studio in Clovis, New Mexico. It was there Roy Orbison had recorded some of his earlier songs like "Ooby Dooby". Shortly after Knox, Bowen and Lanier got themselves to Clovis, New Mexico. They had just $60 in their pockets. For the next three days they recorded three songs that would change rock 'n roll and their lives forever. Knox recalls, "I don't think Norman really spotted the potential at the time. I don't think he was really alert to what was happening in the music business as far as our type of music was concerned."
Buddy would later look back at that recording at Norman Petty's studio. "Looking back it's just something that happened 40 years ago. You try to remember a moment that was so great but in time you forget some of the small details because you didn't know that would be the one moment in time that would change your life. You have to remember a recording session was a lot different in 1956 than it is today, you had to do everything in one take."
From that one session Buddy Knox would receive two gold records in 1957, one for "Party Doll" and the other for a song that Jimmy Bowen sang and co-wrote with Knox called "I'm Sticking With You." "We didn't know what we had just done," Knox recalls, " All we wanted to do was record our music and sell it around the college. This was just a fun trip for us." "Party Doll" climbed to #1 in Vancouver (BC) and spent 12 weeks in the Top Ten. He had another #1 hit in Vancouver in June '57 with "Rock Your Little Baby To Sleep".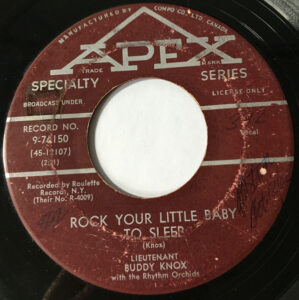 Buddy Knox wrote "Rock Your Little Baby To Sleep". The song offers the same solution to two different situations: 1) what to do when your "baby" (girlfriend) is tired, and 2) what to do when your "baby" (girlfriend) is tired from listening to your "idle talk." The solution is to "take her in your arms, tell her you love her, tell her you care, tell her about all her charms." In the case of the girlfriend becoming tired due to the boyfriend's idle talk, in Knox's song he's better that a hug and more talk – in this case about all her charms – will make things right.
In a 2011 article in the Huffington Post, Dr. Michael Breus reported on a study out of Geneva, Switzerland. He summarized "Long after we've left childhood, we all can be deeply affected by this relaxing rocking motion. Think of the peaceful glide of a porch swing, sleeping on a boat or the calming sway of a hammock nap." Breus pointed to a study at the University of Geneva that "suggests that rocking does indeed have an effect on our ability to fall asleep — as well as on the quality of the sleep itself." In the subjects of the study were "a dozen adult men between the ages of 22 and 38. All the men involved were good sleepers — none were suffering from any sleep or anxiety disorders and they were well-rested at the time of the experiment." The study observed:
Every one of the participants fell asleep more quickly during their rocking nap.
A majority (eight out of 12) said they found the rocking nap "more pleasant" than the nap on the stationary bed.
During the rocking nap, all of the sleepers moved more quickly from Stage 1 to Stage 2 of their sleep cycle, where we typically spend half of our sleep time over the course of a night.
Whatever else can be said about Buddy Knox's advice, his "baby" was likely going to get a better sleep throughout the duration of a relationship with someone who regularly rocked her to sleep.
"Rock Your Little Baby To Sleep" climbed to #1 in Vancouver (BC), #3 in Portland (OR), #5 in Minneapolis/St. Paul, #6 in Buffalo, #8 in Toronto, Kansas City (MO) and St. Johnsbury (VT), #9 in North Platte (NE) and Orlando (FL), #10 in Des Moines (IA), and #13 in Albany (NY).
In July '57 Knox had another Top Ten hit on Red Robinson's Teen Canteen chart with a track from his self-titled debut album, Buddy Knox, "Rock House".
On October 23, 1957, Buddy Knox appeared in concert at the Georgia Auditorium in Vancouver, along with Buddy Holly and The Crickets, Eddie Cochran and Frankie Lymon and the Teenagers.
Knox had a few more Top 40 hits in Vancouver (BC) in the late '50s: "I Think I'm Gonna Kill Myself", "I Ain't Sharin' Sharon" and "Storm Clouds". The latter was a #1 hit in Vancouver, while it didn't crack the Billboard Hot 100.
In the early 1960s Knox left Roulette Records and signed with the Liberty label. With this change Knox released several more mainstream pop records, featuring string arrangements and backing vocalists at the suggestion of producer Tommy "Snuff" Garrett. "Lovey Dovey" was his first release with Liberty.
Knox followed up "Lovey Dovey" with "Ling-Ting-Tong", another cover of a doo-wop group from the mid-50s – this time the Five Keys. Buddy Knox's new sound captured on these recordings was a distinct departure from his earlier rockabilly work for Roulette. Knox's recordings now sounded more similar to other mainstream pop artists of the time, like Johnny Burnette ("You're Sixteen") and Bobby Vee ("Rubber Ball"), especially with the introduction of strings.
Buddy Knox cracked the Top Ten Vancouver (BC) in October 1961 with "Three-Eyed Man". But elsewhere the song was not commercially successful. Knox cracked the Top 30 in July 1962 with "She's Gone" on CFUN.
"Dear Abby" was the B-side to the non-charting "Three Way Love Affair", Knox's fourth single in a row to miss the Billboard Hot 100. The A-side flopped everywhere. "Dear Abby" only made the Top 30 in Fresno, California, and the bottom of the WIBG Top 99 in Philadelphia. But with his popular concerts in Vancouver, in November 1962, "Dear Abby" gave Buddy Knox his best success with the disc peaking at #16. Buddy Knox had two more singles make the Top 50 in in Vancouver (BC): "Hitchhike Back To Georgia" in 1964 and "Good Time Girl" in 1965.
Buddy Knox was never as successful as Buddy Holly or Roy Orbison. He released thirty-one singles of which only ten made the Billboard Hot 100. However, his career spanned over four decades. Knox became a member of the Rockabilly Hall of Fame. And "Party Doll" was voted as among The Rock and Roll Hall of Fame's 500 Songs that Shaped Rock and Roll.
Living on the road almost all his life, Buddy Knox toured nearly eleven months out of the year. If you saw a Winnebago going down the road it was probably Buddy Knox. Always admired for his kindness and desire to help someone out, Knox was known as one of the "nice guys of rock 'n roll," a happy man from Happy, Texas.
In May 1969, Buddy Knox appeared at Langley Speedway in the Fraser Valley. Knox was called upon to pass out trophies to winners of each race. Between 1968 and the mid-70's Knox was involved in several business ventures in Canada. Canadian folksinger Gordon Lightfoot, and Knox, teamed up and became owners of a chain of Canadian nightclubs. During this time Buddy Knox moved to Winnipeg, Manitoba, Canada. On September 22, 1980, Buddy Knox appeared in concert at The Cave in Vancouver.
During the nineties he moved to British Columbia, Canada and worked and lived with Vancouver promotor Les Vogt. They put a huge show on for Buddy's 60th at the Ranch owned by Vogt at the time. Guests included Tommy Sands and Red Robinson.
In 1997 Buddy moved to Washington State. In February 1999, Buddy Knox died of lung cancer in his home of Bremerton, Washington, at the age of 65.
April 7, 2021
Ray McGinnis
References:
Buddy Knox bio, Buddy Knox.com.
April Stevens," 'Party Doll' Performer: Knox Trades in Life on the Road for SK," Kitsap Sun, Bremerton, WA, October 14, 1998.
"Obituary: Buddy Knox," The Independent, UK, February 19, 1999.
John Einarson, "Rockabilly Star Put Down Manitoba Roots," Winnipeg Free Press, August 20, 2016.
Dr. Michael J. Breus, "Rocked To Sleep — Not Just For Babies Anymore: The Study Suggests that Rocking Does Indeed Have an Effect on our Ability to Fall Asleep — as Well as on the Quality of the Sleep Itself," Huffington Post, July 6, 2011.
Robert Greenfield, The Last Sultan: The Life and Times of Ahmet Ertegun, (Simon & Schuster, 2016).
"Les Vogt – The Story," Les Vogt.info.
"Top Fifty Songs for the Week," CKWX 1130 AM, Vancouver, BC, June 2, 1957.
For more song reviews visit the Countdown.