#186: Shake Shake Sherry by the Flairs/the Redwoods
Peak Month: July-August 1961
10 weeks on Vancouver's CKWX chart
Peak Position #1
Peak Position on Billboard Hot 100 ~ did not chart
YouTube: "Shake Shake Sherry"
Lyrics: "Shake Shake Sherry"
Jeff Barry was born Joel Adelberg in 1938, in Brooklyn. Raised in a Jewish family, Adelberg attended Erasmus Hall High School in New York City where he met Neil Diamond and Barbara Streisand. During high school, Adelberg was part of a vocal group with other three schoolmates, Scott Gilman, Freddy Barnet and Johnny Devereau. It was named The Tarrytones. However, they never recorded a record and disbanded after their graduation. After high school Adelberg served in the U.S. Army for a year stationed at Fort Knox, Kentucky, while singing with military bands. When he signed a contract to write and record with RCA, Adelberg changed his name to Jeff Barry. "Jeff" was inspired by actor Jeff Chandler (also born to a Jewish family and whose birth name was Ira Grossel). Barry recorded "Hip Couple", a minor hit in Allentown (PA) in 1959. Jeff Barry's writing credits include the 1960 Top Ten hit for Ray Peterson titled "Tell Laura I Love Her".
In 1961 a group called The Flairs recorded a few records, while another named The Redwoods also released some singles. Both released a song titled "Shake Shake Sherry".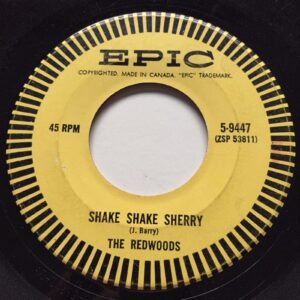 Jeff Barry wrote "Shake Shake Sherry". Both the Flairs and the Redwoods were actually Jeff Barry who sang all the vocals on "Shake Shake Sherry", and layered the vocal tracks so that he sounded like a group. And both singles were released on the Epic label. And both recordings were identical: Jeff Barry = The Flairs = The Redwoods.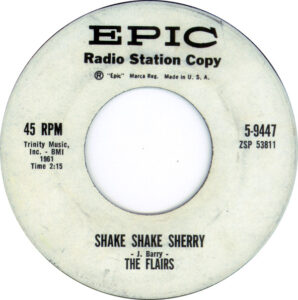 Jeff Barry's recording of "Shake Shake Sherry" was done early enough in his career when he was still flirting with the possibility of being a recording artist and not on track to be a songwriter for other record acts.
"Shake Shake Sherry" was about a guy with a girl named Sherry. They are all alone and there is nobody home. He wants to dance the night away with her and have her hold him tight and shake. Some listeners figured that all that holding tight and shaking might lead to other things while they were all alone: "When this night is done-a, you know we had some fun-a." At the end of the song the singer sings "woo hoo whoo, whoo hooo whoo…" til the end of the record. Perhaps it was too suggestive, and all that whoo hooo whooing got the record banned in most record markets.
"Shake Shake Sherry" by the Flairs climbed to #1 in Vancouver on the CKWX Fabulous Forty, and the Top 40 in San Francisco. The credited version of "Shake Shake Sherry" by the Redwoods (also Jeff Barry) charted to #3 in Seattle.
While, 1410 CFUN in Vancouver charted the Flairs to #2, and for the final 3 weeks of the life of "Shake Shake Sherry", CFUN listed the song as credited to the Redwoods – from September 2, 1961, onward – when the single was at #17. Nonetheless, when listeners were asked to distinguish the Flairs version of "Shake Shake Sherry" and the Redwoods version, it was a trick question. The song was the very same in either case.
Later in 1961 Jeff Barry, once again singing all the vocals credited to the Redwoods, released a single titled "Never Take It Away". It charted to #22 on CFUN in Vancouver in November 1961, spending six weeks on The C-FUN-Tastic 50. In early 1962 the Redwoods (aka Jeff Barry) released "Please Mr. Scientist". The single was a riff off of "Mr. Custer" ("Please Mr. Custer, I don't wanna go") by Larry Verne from 1960. Now, in 1962, with President John F. Kennedy having committed America to a race in space with the Soviets, the Redwoods sang "Please Mr. Scientist, I don't wanna go." The dilemma of the singer is they feel ill-equipped to fly a space ship into outer space. The singer asks "Can you send me some chick along to hold my hand? Is it the green button or the red button that makes this thing land?"
Jeff Barry also did multiple vocals for another group he credited to the Spartans, recording "Can You Waddle?" in 1962. And in 1963 Jeff Barry was the bass vocal along with his spouse, Ellie Greenwich, to form the Raindrops. As a duo, they were the only ones on the recordings of "What A Guy" and "The Kind Of Boy You Can't Forget" in 1963, and some minor hits in 1964. Ellie's younger sister Laura joined them on stage for live performances. In 1964, Barry and Greenwich co-founded Red Bird Records. In 1965 the Raindrops recorded "Hanky Panky", which was successfully covered by Tommy James & The Shondells in 1966. In 1965, Barry recorded "I'll Still Love You", a minor regional hit in Detroit.
Meanwhile, Barry had success writing a hit for Helen Shapiro in the UK, called "Tell Me What He Said". He began to team up with Ellie Greenwich and their professional relationship led to romance and they were married on October 28, 1962. They teamed up with Phil Spector and wrote songs for The Crystals ("Da Doo Ron Ron", "Then He Kissed Me"), The Ronettes ("Be My Baby", "Baby I Love You") and The Chiffons ("I Have A Boyfriend"). They went off as a duo to write songs for The Dixie Cups ("Chapel of Love"), The Jellybeans ("I Want to Love Him so Bad"), The Shangri-Las ("Leader of the Pack"), Leslie Gore ("Maybe I Know"), Manfred Mann ("Doo-Wah-Diddy"), Hanky Panky ("Tommy James & The Shondells"), Neil Diamond ("Girl You'll Be a Woman Soon"; "Cherry, Cherry"; "Red Red Wine"; and "Thank the Lord for the Night Time"), The Beach Boys ("I Can Hear Music") Ike and Tina Turner ("River Deep- Mountain High") and The Monkees ("I'm a Believer", "A Little Bit Me, A Little Bit You").
Later Barry, having divorced Greenwich, co-wrote with Andy Kim a song for The Archies called "Sugar, Sugar", that became a smash hit in 1969.
In 1970, Barry cowrote with Robin McNamara a song called "Lay a Little Lovin' On Me", which climbed into the Top Ten. Into the mid-seventies Barry cowrote "I Honestly Love You" for Olivia Newton-John. It became a number-one hit. Barry also co-wrote "Montego Bay", a hit for Bobby Blum and later Amazulu in the 1980's.
Barry was also sought after to create theme songs for TV shows and into the next few decades he wrote the theme songs for over a dozen TV shows. These included Murphy Brown, Will and Grace, Ally McBeal, Miami Vice, St. Elsewhere, Benny Hill, Happy Days, Laverne and Shirley, Cheers and Roseanne.
As this article is posted this March 2022, Jeff Barry is 83.
March 21, 2022
Ray McGinnis
References:
"Redwoods/Flairs/Spartans…(The Jeff Barry Vocal Groups," White Doowop Collector, October 2008.
"Sodajerker presents… Jeff Barry," songwritingmagazine, January 8, 2015.
Paul Zollo,"Around the Bramble Patch: Jeff Barry," Americansongwriter, August 2020.
"Jeff Barry's Career Chronology"
"Fabulous Forty," CKWX 1130 AM, Vancouver, BC, August 5, 1961.
"C-FUN-Tastic-50," CFUN 1410 AM, Vancouver, BC, September 2, 1961.
For more song reviews visit the Countdown.