#426: Shy Away by Jerry Fuller
Peak Month: April-May 1961
9 weeks on Vancouver's CFUN
Peak Position #3
Peak Position on Billboard Hot 100 ~ #71
YouTube: "Shy Away"
Lyrics: "Shy Away"
In 1938 Jerry Fuller was born in Fort Worth, Texas. His father was a carpenter who had a voice like Bing Crosby, while his mom sang like Patti Page. As a musical family, at the age of eleven, Jerry and his brother Bill became were billed as The Fuller Brothers. His mother arranged for them to appear at school, churches, talent contests, minstrel shows and jamborees. Out of high school, Fuller wrote a rockabilly tune called "I Found A New Love" and got it recorded Lin records in 1958.
Jerry Fuller moved to Los Angeles in 1959 getting work as a demo singer. With this exposure he got signed with Four Star Music and Challenge Records to write and record songs. His first recording with Challenge in 1959 was a doo-wop tune called "Betty My Angel," which became a Top 20 hit in San Bernardino, California. That same year he recorded an uptempo cover of the Patti Page pop classic, "Tennessee Waltz." It went Top 20 in Toronto, Hartford, Connecticut, and Jacksonville, Florida. It became Fuller's biggest hit on the Billboard Hot 100, peaking at #63.
In 1960 Jerry Fuller wrote "A Wonder Like You" which peaked at #11 on the Billboard Hot 100 for Ricky Nelson. Also in 1960, Jerry Fuller was on tour with the Champs of "Tequila" fame. While in New Mexico, Fuller discovered Glen Campbell on stage at an Albuquerque nightclub. Fuller was amazed with Campbell's vocal and guitar talent. He persuaded Campbell to relocate to Los Angeles. Campbell's skills quickly led him to become part of LA's legendary Wrecking Crew. Campbell assisted Fuller with a demo of a song Jerry wrote called "Travelin' Man", written for Sam Cooke. But the demo found its way to Ricky Nelson who made it a #1 hit record in the spring of 1961. Nelson would record 19 of Fuller's songs, including two Top Ten hits in 1962, "Young World" (#5) and "It's Up To You" (#4). Fuller, Campbell, and Dave Burgess of the Champs sang back-up on these recordings.
While Fuller was at Four Star Music as a writer from 1959 to 1967, he wrote over 400 songs that were recorded by many recording acts of the era. Fuller has recorded a couple of songs in late 1960 into 1961 that got little attention. But in Vancouver he got a hit record with "Shy Away".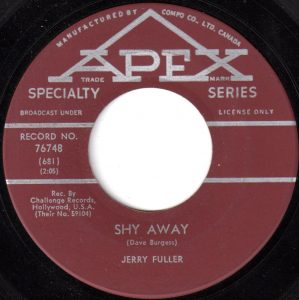 The composer of "Shy Away" was Dave Burgess of The Champs, who had a #1 hit in 1958 called "Tequila". Burgess was born in Beverly Hills in 1934. In 1953, he recorded some records on the Okeh label, but without much success. In 1957 he wrote "I'm Available", a Top Ten hit for Margie Rayburn. In 1959 he wrote "Boom, Boom Baby" a hit in Australia for Crash Craddock. He wrote songs recorded by Johnny Horton, Robin Luke, Don Gibson, Louis Prima, Ricky Nelson, Gene Vincent, Johnny Crawford, Jerry Wallace, Jim Reeves, the Lettermen, Dean Martin, Wanda Jackson, Anne Murray, Hank Snow and others. Burgess managed his band, The Champs, from 1957 to 1965.
"Shy Away" is a song about a very shy person. When the guy in the song sees a girl he is attracted to he strolls past her locker in the high school and winks his eye. But then, he loses his nerve, his face gets red and he fizzles out. Happily, one day he gets up his nerve and talks to the girl and she returns his interest. But, this time she gets shy. It is an awkward romance between to shy people who tend to take flight when faced with the prospect of following through on their desires.
"I never wish to offend, but I am so foolishly shy, that I often seem negligent, when I am only kept back by my natural awkwardness. […] Shyness is only the effect of a sense of inferiority in some way or other. If I could persuade myself that my manners were perfectly easy and graceful, I should not be shy." ― Jane Austen, Sense and Sensibility
In an article titled "Things Shy People Do When Dating (But Shouldn't)," Dr. Seth Meyers offers some advice to those who are shy. He points out that shy people typically do one, or more, of the following.
1) Shy people give rejection too much power. Meyers warns shy people not to let their moods and emotions overwhelm a first or second date. It is a tendency for a shy person to expect their date on a first meeting to be smitten with the shy person. And if the shy person doesn't feel anything short of being love-bombed, they may read "rejection" into the lack of cupid vibe from the person their just getting introduced to.
2) They take a passive approach to planning dates. Meyers offers a wake-up call to shy people, being totally passive about what the where and when of the first date can be a way of sabotaging the experience. As a shy person, step up and give expression to some of the things you'd be interested in doing. For example, suggest a place you are comfortable with already, such as a restaurant or coffee shop you like. You don't want to get lost going to a place you've never been before. So think about what you can do to make this first date as relaxing for yourself as possible.
3) They wait for the other person to initiate conversation topics. Meyers notes that shy people usually have a lot to say. But as typical introverts, they wait for someone to ask them. So, on a first date, come prepared to start a conversation about a few topics that are interesting ice-breakers (not hot-button issues). And remember, if you feel challenged to start conversations, remember that it might also be challenging for your date to come up with topics to discuss for 45 to 60 minutes too.
4) They don't flirt. Dr. Meyers encourages shy people to pay attention to how they are feeling emotionally and physically with the person they are dating. While you don't want to be "in your face" with your date, if you feel a chemistry, it is okay to flirt a bit. Done right, it can be a compliment to your date and they'll know you're interested in them.
5) They wait for the other person to make the first move. Dr. Meyers comments "…shy men and women… feel uncomfortable going out on a limb and kissing their date or making a [first] move… They often get stuck thinking too much about how the other person will receive the advance instead of simply taking the plunge and going for it."
6) They sometimes don't seek out their guy or girl for a second date – even when they're still interested. Finally, Dr. Meyers observes that shy people often feel anxious or uncomfortable taking the "risk" of letting someone know they are interested enough to have a second date. He advises, "If you're shy and meet someone you really like, you need to do whatever it takes to summon the courage and contact that good date again. Don't wait for him or her to make it happen for you. You want it? Then go get it."
"Shy Away" peaked at #2 in Farmington (NM), #3 in Vancouver (BC), #8 in Hartford (CT) and Boise (ID) and #9 in San Bernardino (CA). It received little or no chart action on Top 40 radio in over 40 states across the USA, stalling at #71 on the Billboard Hot 100.
In the summer of 1961 Jerry Fuller recorded "Guilty of Loving You/First Love Never Dies". "Guilty Of Loving You" peaked at #94 on the Billboard Hot 100, making #5 in Billings, Montana, and Top 20 in Dallas. But it was the flip side, "First Love Never Dies" that got on the charts in San Francisco, Los Angeles, Seattle and Vancouver. And here on CKWX the tune had its best chart performance in North America, peaking at #13. The song did not chart on the Billboard Hot 100.
Fuller continued to release another half a dozen songs on Challenge Records between 1962 and 1966. But he was drafted into U.S. Army in 1962. Without an ability to tour to promote his songs, he only had local hits like "Footprints In The Snow," a Top 20 hit on CFUN in 1964.
That same year when he finished his service in the U.S. Army, Jerry Fuller got work with Four Star publishing in their New York office. so he took up residence in Manhattan. During this time Fuller got a gig at the University Twist Palace in Albany, New York. Blown away by the local house band, The Knickerbockers, Fuller made a demo tape of the group. He sent it to Challenge Records. The LA label was excited to meet them and Fuller brought The Knickerbockers to Los Angeles where they got a record deal. In 1965, Fuller ended up producing the band who had a #20 hit in the USA (#6 in Vancouver) called "Lies".
After 8 years with Challenge Record Jerry Fuller move over to Columbia Records as a staff producer and talent agent. At a bowling alley lounge in San Diego, Fuller discovered Gary Puckett and The Union Gap. Fuller's first production with Columbia was the group's million-seller, "Woman, Woman". In 1968 Jerry Fuller wrote and produced Puckett and The Union Gap's next three multi-million sellers, "Young Girl", "Lady Willpower" and "Over You". That same year Fuller produced O.C. Smith's "Little Green Apples" and "Son Of Hickory Holler's Tramp". Fuller would receive two Grammy nominations by the end of the year. In 1969, Jerry Fuller produced Andy Williams' hit, "Happy Heart". Then in 1970, Fuller was the producer of Mark Lindsay's first solo hit, "Arizona".
Through the 70's, 80's and 90's, Jerry Fuller mostly produced records for country stars like Ray Price, Reba McEntire, Freddie Hart, Dobie Gray, John Conlee and Collin Raye. His most significant single to write and record was "Show And Tell", a number one hit for Al Wilson in 1973.
Jerry Fuller has lived in the home he bought 49 years ago in Sherman Oaks, California, with his wife, Annette. It seems for Jerry Fuller it was true, first love never dies.
June 15, 2020
Ray McGinnis
References:
Jerry Fuller bio, Jerry Fuller.net
Bob Ruggiero, "Gary Puckett and the Union Gap Know Love Is a Battlefield," Houston Press, February 12, 2016
Jerry Fuller and the Amazing True Story of Rick Nelson's "Travelin' Man," Steve Hoffman Music Forums, May 8, 2017
The Cascades"First Love Never Dies", 1962
Jerry Fuller Discography/Writing and Arrangements, Discogs.com.
Dr. Seth Meyers, "Things Shy People Do When Dating (But Shouldn't)," eHarmony.com.
"C-FUN-Tastic 50," CFUN 1410 AM, Vancouver, BC, May 6, 1961.
For more song reviews visit the Countdown.