#251: Sittin' In The Balcony by Eddie Cochran
Peak Month: May 1957
8 weeks on Vancouver's CKWX chart
Peak Position #2
Peak Position on Billboard Hot 100 ~ #18
YouTube.com: "Sittin' In The Balcony"
Lyrics: "Sittin' In The Balcony"
Eddie Cochran was born in Albert Lea, Minnesota, in 1938. His family moved to the Los Angeles area in 1951 where Eddie attended Bell Gardens Junior High. While there he became friends with Connie 'Guybo' Smith. Smith was already a promising musical talent who played bass, steel guitar and mandolin. Eddie and Connie began to jam together and gave a concert at their junior high school. Connie "Guybo" Smith went on to become Cochran's bass player and was one of the musicians heard on most records during Eddie's brief professional career. In 1953, while still in junior high school, Eddie met another musician named Chuck Foreman. The two experimented with Foreman's two-track tape recorder. The pair made recordings of a number of songs including "Stardust", "The Poor People Of Paris", "Hearts of Stone" and the "Cannonball Rag". Cochran graduated from Bell Gardens Junior High in 1954.
In the following months Eddie met country singer Hank Cochran, of no relation. In January 1955 Hank offered Eddie a job as his guitar accompanist. Eddie left school and for the next year and a half Hank and Eddie played and recorded as The Cochran Brothers. At Sunset Recorders in Hollywood The Cochran Brothers recorded several tracks, including "Mr. Fiddle." Next, Eddie and Hank met songwriter, Jerry Capehart, who was searching for artists to demo his songs. By the end of 1955 Capehart had begun promoting The Cochran Brothers. In January 1956, "Walkin' Stick Boogie" was released with the recording artists billed as Jerry Capehart featuring the Cochran Brothers on the Cash Record label. That spring The Cochran Brothers cut four rock and roll songs, including "Tired & Sleepy". After this recording Eddie Cochran pursued a solo career.
In July 1956, "Skinny Jim" was Cochran's first solo single release. His recording on the Crest label didn't chart. Soon after Eddie was asked by producer Boris Petroff to sing a part in an upcoming rock 'n roll filmed titled Do-Re-Mi. The film was later re-titled The Girl Can't Help It. Cochran recorded a couple of tunes for the film, including "Twenty-Flight Rock". A buzz was building around Eddie Cochran and in September he signed a contract with Liberty Records. Then, in December 1956, Eddie Cochran appeared in the rock'n roll film Untamed Youth, starring Mamie van Doren. Cochran played and sang a small part in the movie as a character named Bong. The song Bong (Cochran) sings in the movie is "Cotton Picker".
In 1957 Eddie Cochran played guitar on a number of recordings by junior high school buddy, Don Deal. Deal had a minor hit in the fall of 1957 called "Unfaithful Diane". Meanwhile, Cochran recorded a song in January 1957 written by John D. Loudermilk under the pseudonym Johnny Dee. It was titled "Sittin' In The Balcony".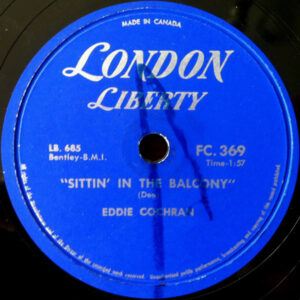 "Sittin' In The Balcony" is credited to Johnny Dee as the songwriter. Johnny Dee was a pseudonym for John D. Loudermilk. He was born in Durham, North Carolina, in 1934. Although he had a middle initial, D, the "D" wasn't short for any middle name. His father was an illiterate carpenter, John D Loudermilk Sr. When John D. Jr. was, seven his dad gave him a ukulele made from a cigar box. Young John D Jr. learned to play guitar in his youth and began to write poems and songs. His poetry was inspired after he began to read the works of Kahlil Gibran. In his late teens, in the early 50's, John D Jr. wrote a poem titled "A Rose And A Baby Ruth." It concerned a teenage couple who have a quarrel and the boy gives his girlfriend a rose and a Baby Ruth candy bar to make up. Loudermilk put notes to the poem and played the sung version on a local TV station. This caught the attention of country singer, George Hamilton IV. The song was published in 1956 and became a Top Ten hit on both the Country and Pop charts on Billboard Magazine. Loudermilk co-wrote "Waterloo," a #1 country hit and #4 pop hit in 1959 for country singer, Stonewall Jackson.
In the early 60's Loudermilk continued to have success as a songwriter. Sue Thompson had two Top Ten hits on the pop and country charts in 1961 written by Loudermilk: "Sad Movies (Make Me Cry)" and "Norman." The Everly Brothers also scored a Top Ten hit in 1961 by John D. Loudermilk, titled "Ebony Eyes". And Bob Luman had a Top Ten hit in Vancouver in 1961 by Loudermilk called "The Great Snowman." The singer of "Teen Angel", Mark Dinning, had a #6 hit in Vancouver in '61 with "Top 40, News, Weather And Sports," another Loudermilk composition. Loudermilk also had a Top 40 hit on the Billboard Hot 100 titled "Language Of Love".
In 1962, Loudermilk had several more hits recorded by other singers, including "If The Boy Only Knew" by Sue Thompson. Kris Jensen had a hit with "Torture". Loudermilk also recorded several more songs he penned: "Angela Jones", "Calling Dr. Casey" and "Road Hog".
John Loudermilk had other songs on the US charts in 1962. "Thou Shalt Not Steal" was a minor hit in the USA and did not chart in Vancouver. However, in 1964 it was a Top 20 hit for Dick and Dee Dee. That same year Loudermilk's 1960 composition, "Tobacco Road", became a Top Ten hit in the UK for the Nashville Teens. Johnny Tillotson had a Top Ten hit in early 1964 with "Talk Back Trembling Lips" written by Loudermilk. And in 1965, another one of his songs, "This Little Bird", became a Top Ten hit in Vancouver and the UK for Marianne Faithfull. In 1967, Loudermilk won a Grammy Award for Best Liner Notes for his album Suburban Attitudes in Country Verse. And a song he wrote in 1962, "Then You Can Tell Me Goodbye", became a Top Ten hit for The Casinos. In March of 1968, Glen Campbell had a Top 40 hit and a #1 hit in Vancouver with Loudermilk's tune, "I Wanna Live". And in 1968, another of Loudermilk's songs got critical acclaim when Don Fardon released "Indian Reservation". The song was a #1 hit for Paul Revere And The Raiders in 1971.
"Sittin' In The Balcony" is a song about a couple on a date who are sitting in the balcony of a movie theater in "the very last row." Or, for that matter, they could find themselves in the very last row of a symphony hall with the background of musicians in the orchestra playing the "cymbals and the timpanis." While the couple are "a-smoochin'" and a-huggin' and a-kissin'" they may stop to watch Bugs Bunny. But the guy on the date declares "Bugs Bunny…can't take the place of my honey." When "the features over" the couple making out in the last row of the balcony aren't finished kissing and smooching…
A balcony is one or more raised seating platforms towards the rear of the concert auditorium or movie theatre. In larger theatres, multiple levels are stacked vertically above or behind the stalls. The first level is usually called the dress circle or grand circle. The highest platform, or upper circle is sometimes known as "the gods," especially in large opera houses, where the seats can be very high and a long distance from the stage. The very last row of the balcony (or upper balcony) was perfect for a couple to cuddle and discretely kiss. Of course, in a full screening of a movie, or sold out symphony performance, other patrons would be in adjacent seats. So the couple holding hands and sitting in the balcony would have to be careful not to disturb their neighbors.
Canadian author of Moments in Time, Tom Locke, has a story about sending a copy of "Sittin' In The Balcony" by Johnny Dee (aka John D. Loudermilk) to author and pop music historian Joel Whitburn. A list of 45 RPM singles was published by Whitburn and when Locke read the list, he decided to part with his copy of "Sittin' In The Balcony" by Johnny Dee. Whitburn sent him a copy of his new book Top Pop Singles 1955-1990, and a photo holding the disc.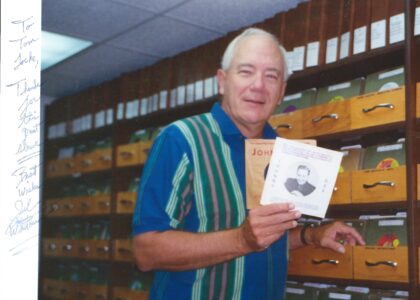 Whitburn wrote to Tom Locke "Thanks for this great sleeve." On the sleeve of John D. Loudermilk's original recording of "Sittin' In The Balcony", under the pseudonym of Johnny Dee, Colonial Records wrote this on the 45 RPM record sleeve: "This is the young fellow who wrote the record hit "A Rose and a Baby Ruth". His name is Johnny Dee. His home is Durham, North Carolina, and at present he is a student at Campbell College. On this, hhis first release on the Colonial Label, Johnny sings two more of hhis original songs: "A=plus In Love" and "Sittin' In The Balcony". Here is a great new song writer and recording artist. Give a spin and you'll know what we mean."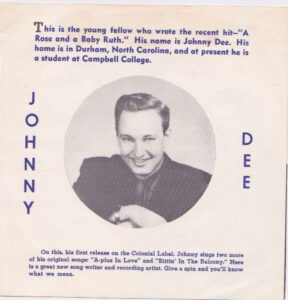 "Sittin' In The Balcony" by Eddie Cochran peaked at #2 in Vancouver (BC), #4 in Toronto, Pendleton (OR), and Minneapolis/St. Paul, #5 in Chicago and Pittsburgh, and #9 in Worcester (MA) and Milwaukee.
Between May and August 1957 Eddie Cochran recorded the tracks of the only album he would end up recording titled Singin' To My Baby. Songs recorded included "Drive In Show" which was released as Eddie's third Liberty single. It climbed to #82 on the Billboard charts and #5 in Vancouver.
In the fall of 1957 Eddie Cochran appeared in concert with Buddy Holly at the Georgia Auditorium in Vancouver (BC). They toured Australia with Gene Vincent, Little Richard and Elis Lesley (billed as the female Elvis Presley) in what was boasted as The Biggest Show Of Stars for 1957. This was the first American rock and roll show ever to come to Australia. Every single date was sold out. This was also the tour where at the end Little Richard threw his jewelry into the water, left show business and gave himself to religion. At the end of the year Eddie Cochran released a single called "Cradle Baby" that may have only appeared on a record chart in Vancouver, where it climbed to #7.
In March 1958, Cochran and his touring band Dick D'Agostin And The Swingers recorded and were filmed in the music score for the movie Hot Rod Gang. At a studio session they backed up John Ashley on "Annie Laurie" and "Hit And Run Lover", though Cochran was not credited for his performances. Around that time Eddie Cochran also played guitar on a demo called "Guitar Picker" recorded by Bob Luman. In June 1958, Cochran had his biggest chart success with "Summertime Blues" which peaked at #8 on the Billboard charts and #6 in Vancouver. The novelty cat fish vocals in the song were Eddie's. His follow-up release was "C'Mon Everybody", which stalled at #35 on the Billboard Hot 100. However, in the UK it climbed to #6. The year ended with Cochran playing at The Loews State Theatre in New York. He was part of an all-star show hosted by legendary rock 'n roll DJ Alan Freed. Among the other artists at that concert were Chuck Berry, Jackie Wilson and Bo Diddley.
In January 1959, Cochran appeared in the movie Go, Johnny, Go! performing "Teenage Heaven". During a saxophone solo in "Teenage Heaven" Cochran danced with his guitar. Chuck Berry, Jackie Wilson and the Ritchie Valens also starred in the movie. Then on February 3, 1959, Buddy Holly, Ritchie Valens and The Big Bopper were killed in a plane crash in rural Iowa. On February 5th Cochran recorded "Three Stars", a song penned by DJ Tommy Dee. Eddie Cochran made multiple takes of the song and found himself tearing up each time. Liberty Records chose not to release the song as they weren't satisfied with any of the recordings that day by Cochran. Eddie Cochran played guitar on "Opportunity" and "Doin' The Hully Gully" for Jewel Aitkens in the fall of 1959. Cochran also played guitar on a number of unreleased demos for Johnny Burnette in late 1958 into 1959, as well as other records for Margie Rayburn and others.
On July 24, 1959, Eddie Cochran returned to perform in concert in Greater Vancouver at the Edmonds Rollerway in Burnaby (BC).
On January 8, 1960, Eddie Cochran recorded his last session for Liberty Records. "Three Steps To Heaven" was among several songs he recorded with the remaining Crickets, formerly with Buddy Holly, as a back-up band.
After recording "Three Steps To Heaven", Eddie Cochran left for the UK to join Gene Vincent in a tour of the Scotland, England and Wales. While in England Eddie appeared on the first of four TV-shows, Boy Meets Girls, on January 16th. Eddie and Gene had a big impact on the British teenagers and budding rock 'n roll bands. Cochran has had his songs covered by The Beatles, The Rolling Stones, David Bowie, Cliff Richard, Led Zeppelin, Rod Stewart, Keith Richard, U2 and others in the UK pop music scene.
On April 17, 1960, at the end of the tour, Cochran and Vincent drove to the airport in a taxi, along with Eddie' fiancee Sharon Sheeley. The taxi got in a motor vehicle accident near Chippenham. Sheeley and Vincent were only slightly hurt, but Eddie Cochran died of severe head injuries later that night. The following month, "Three Steps To Heaven" was posthumously released. Oddly, this born-in-the-USA rock 'n roll star's posthumous release didn't crack the Billboard Hot 100. Between 1960 and 1988, eight more singles by Eddie Cochran posthumously appeared on the UK singles chart.
October 6, 2021
Ray McGinnis
References:
"Teenage Heaven" clip from Go, Johnny, Go!
Eddie Cochran, "Three Stars" 1959.
Bobby Cochrane and Susan Van Hecke, Three Steps to Heaven: The Eddie Cochran Story (Hal Leonard, Milwaukee, Wisconsin, 2003).
Julie Mundy and Darrel Higham, Don't Forget Me: The Eddie Cochran Story, (Billboard Books, 2001).
Julie Thanki, "Songwriter John D. Loudermilk Dead at 82," The Tennesseean, Nashville, TN, September 22, 2016.
"John D Loudermilk Obituary: Singer and Songwriter Best Known for Tobacco Road, a Big Hit for the Nashville Teens in 1964," Guardian, September 27, 2016.
"Top 50 Songs for the Week," CKWX 1130 AM, Vancouver, BC, May 5, 1957.
For more song reviews visit the Countdown.