#94: Stairway To Heaven by Neil Sedaka
Peak Month: March 1960
11 weeks on Vancouver's CFUN chart
Peak Position #1
Peak Position on Billboard Hot 100 ~ #9
YouTube.com: "Stairway To Heaven"
Lyrics: "Stairway To Heaven"
In 1939 Neil Sedaka was born in Brooklyn and grew up in Brighton Beach beside Coney Island. His paternal grandparents immigrated to America from Constantinople, Ottoman Empire, in 1910. His fathers side of the family there were Sephardi Jews and his mother's side Ashkenazi Jews from Russian and Polish background. When Neil was eight years old he listened to a show on the radio called The Make-Believe Ballroom that opened his world to appreciation for music. Within a year Neil had began learning classical piano at the Julliard School of Music. His progress was impressive and Arthur Rubinstein voted Neil as one of the best New York High School pianists after he turned 16 years old.
At Abraham Lincoln High School, Sedaka began playing rock n' roll in addition to his classical studies. He created a doo-wop group called The Tokens. They had a number one hit in 1961 called "The Lion Sleeps Tonight". When he was 13, a neighbor heard Sedaka playing and suggested that he meet another teen with a musical ear down the street named Howard Greenfield. The two formed a songwriting partnership that would earn sales of over forty million records between 1959-1963. Soon Sedaka and Greenfield were signed with Don Kirshner and Al Nevins of Aldon Music. With this signing the two became one of the original creators of the "Brill Building" sound in the late fifties and early sixties. Aldon Music signed other successful singer-songwriters including Neil Diamond, Carole King, and Paul Simon. In the Brill Building a musician could find a publisher and printer, cut a demo, promote the record and cut a deal with radio promoters, all within this one building. The creative culture of the independent music companies in the Brill Building and the nearby 1650 Broadway came to define the influential "Brill Building Sound" and the style of popular songwriting and recording created by its writers and producers.
In 1957, Neil Sedaka released his debut single titled "Laura Lee", on Decca Records. The single didn't chart. He switched to Guyden Records to release "Ring-A-Rockin'". Though he performed the song in his debut appearance on Dick Clark's American Bandstand, the song also failed to crack the Billboard Hot 100. Sedaka next signed a record contract with RCA. With his new label he had a Top 20 hit with "The Diary".
At the age of 19, Sedaka had a Top 20 hit recorded by Connie Francis in 1958 called "Stupid Cupid". She later recored the theme song for the theme song for the movie Where the Boys Are. Sedaka began releasing singles as a solo recording artist after he signed with RCA Victor. He was successful in the USA, but often even more successful on the charts in Vancouver. In December 1959, "Oh Carol" peaked at #9 on the Billboard Hot 100 and #6 in Vancouver. His next three singles were commercial flops. But he regained his stride with "Stairway To Heaven".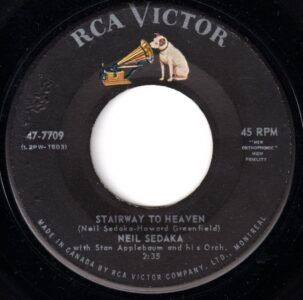 "Stairway To Heaven" is a song about a "heavenly angel" who is "out of this world." Since she's actually in heaven, he decides to climb up over the rainbow, and "beyond where the bluebirds fly." Since he's going to "climb up, way up high," he plans to "leave this world behind." Once he's built his stairway to heaven, the guy and his heavenly angel will be at last together. The song featured the saxophone of King Curtis, who was earlier featured on the Coasters' hit "Yakety-Yak".
"Stairway To Heaven" was cowritten by Neil Sedaka and Howard Greenfield. Born in Brooklyn, New York, in 1936, Greenfield met Neil Sedaka while the boys were teenagers. They both lived in in an apartment building in the Brighton Beach neighborhood of Brooklyn. They began having songs they cowrote recorded in 1956. The Sedaka and Greenfield songwriting team wrote "Where The Boys Are" for Connie Francis, and numbers of hit records for Neil Sedaka including Happy Birthday Sweet Sixteen", "Calendar Girl", "Stairway To Heaven", "Run Samson Run", "Star Crossed Lovers" and "Sunny".
In addition, Howard Greenfield also wrote "Venus In Blue Jeans" for Jimmy Clanton, "Your Used To Be" for Brenda Lee, "Breakin' in a Brand New Broken Heart" and "My Heart Has a Mind of Its Own" for Connie Francis, "Crying in the Rain" for the Everly Brothers, "Love Will Keep Us Together" for the Captain & Tennille, "Foolish Little Girl" for the Shirelles, "Poor Little Puppet" for Cathy Carroll, and "It Hurts To Be In Love" for Gene Pitney. Howard Greenfield was openly gay and in a same-sex relationship from the early 60s until his death in 1986.
"Stairway To Heaven" peaked at #1 in Vancouver (BC), and Hull (PQ), #2 in Oxnard (CA), and Spokane (WA), #3 Chattanooga (TN),#4 in San Bernardino (CA), Albany (NY), Albany (GA), Montreal, Milwaukee (WI), Rochester (NY), and Philadelphia, #5 in Allentown (PA), Boston, and Cincinnati (OH), and Portland (OR), #6 in Redding (CA), Colorado, Fort Myers (FL), and Springfield (IL), #7 in San Francisco, Troy (NY), Nashville, Orlando, La Crosse (WI), and Baltimore, #8 in New York City, Utica (NY), Sarasota (FL), and Ottawa, #9 in Seattle, and #10 Providence (RI), and Tucson (AZ). The single had little chart action across half the states in the USA. It peaked at #8 in the UK and #9 on the Billboard Hot 100.
Sedaka had a #3 hit in September 1960 with "Run Sampson Run". In 1961, Sedaka had a string of number one hits in Vancouver with "Calendar Girl" (#4 on the Billboard Hot 100) and "Little Devil" (#11 on the Hot 100). Sedaka's recordings were set apart due to the unique multi-tracking of his own voice. "Happy Birthday Sweet Sixteen" peaked at #1 in Vancouver and #6 on the Billboard charts in the fall of 1961.
In 1962 Sedaka was back in the Top Ten in Vancouver with "Breaking Up Is Hard To Do" and "Next Door To An Angel". Though he didn't have a Top Ten hit on the Hot 100 in 1963, Sedaka was back in the Top Ten in Vancouver in 1963 with "Alice In Wonderland" and "The Dreamer".
In 1964, with the arrival of the Beatles, The Rolling Stones, The Dave Clark Five, Herman's Hermits, Petula Clark and other acts that were part of the British Invasion, Sedaka got crowded out of most AM radio playlists. Although, he did crack the Top 20 in Vancouver with "Sunny".
Sedaka turned to songwriting over much of the next decade, including "Workin' On A Groovy Thing", a Top 20 hit for the Fifth Dimension in 1969. Earlier that year Neil Sedaka had a #1 hit in Australia that didn't crack the Billboard Hot 100 back in his native USA. It became the #5 song of the year in Australia for 1969. The song, "Star Crossed Lovers", also climbed into the Top Ten in Vancouver and made it to #8.
After a decade of relative obscurity on the pop charts, Elton John approached Neil Sedaka to record a duet with him called "Bad Blood", and encouraged him to record a new album titled Sedaka's Back. It featured his #1 hit in early 1975, "Laughter In The Rain". Building on his mid-70's revival, Sedaka re-released hit #1 hit from 1962, "Breaking Up Is Hard To Do", this time as a ballad. It became the first song in music history to reach #1 on the charts in Canada having been recorded in two different versions by the same artist to reach the top spot. (The original peaked at #1 in the USA and the slow version in '75 climbed to #8 on the Billboard Hot 100). During this time, Sedaka also helped to launch the career of the Captain and Tennille with their version of his "Love Will Keep Us Together", which won a Grammy Award for Record of the Year for this worldwide top charting hit.
On August 26, 1976, Neil Sedaka gave a performance in Vancouver at the Pacific Coliseum.
On January 18, 1978, Neil Sedaka received a star on the Hollywood Walk of Fame. Though Elton John helped resurrect his career, Sedaka went with a different record label and it soured their friendship. In 1980 he released a duet with his daughter Dara which made the Top 30 in the USA. After 1980 Neil Sedaka released just nine singles into the 1990s. In 1982 Neil Sedaka published his autobiography titled Laughter in the Rain: My Own Story.
In an interview in 2017 Sedaka reported he'd had a fall in early June. It left him with a broken shoulder and rib. The Daily Mail reported "With his arm in a sling, he's not so much laughing in the rain as grinning through the pain. 'This is probably my last UK tour,' he says. 'I still love the songs, but the traveling is difficult.'"
November 16, 2022
Ray McGinnis
References:
"Neil Sedaka Biography," Neil Sedaka.com
Adi Gold, "Neil Sedaka: Israel is the Homeland: Pop music icon promises to be 'bigger than Paul Anka' in Tel Aviv concert. 'After all, I'm One of Yours'," Ynetnews.com, Rishon Lezion, Israel, October 3, 2010.
Neil Sedaka, Laughter in the Rain: My Own Story, (Putnam, 1982).
"Monday in Broadcast History .. January the 18th…," Puget Sound Radio.com, January 17, 2021.
Graeme Thomson, "Elton John loved his songs so much that he rescued him from the recording wilderness. So why did Neil Sedaka, creator of Oh! Carol and Breaking Up Is Hard To Do, turn his back on his friend?," Daily Mail, UK, June 10, 2017.
"Howard Greenfield," New York Times, March 14, 1986.
"Hi-Fi Forty," CFUN 1410 AM, Vancouver, BC, April 2, 1960
For more song reviews visit the Countdown.