#252: Stairway To Heaven by Led Zeppelin
Peak Month: August 1972
9 weeks on Vancouver's CKVN chart
1 week Preview
Peak Position #1
Peak Position on Billboard Hot 100 ~ did not chart
YouTube: "Stairway To Heaven"
Lyrics: "Stairway To Heaven"
Robert Anthony Plant was born in 1948 in West Bromwich, six miles northwest of Birmingham, England. He became the lead singer of Led Zeppelin, along with bandmates Jimmy Page, John Paul Jones and John Bonham. At an early age Robert Plant was interested in being a pop singer. He said in an interview in 1994 on the Denton Show in Australia, "When I was a kid I used to hide behind the curtains at home at Christmas and I used to try and be Elvis. There was a certain ambience between the curtains and the French windows, there was a certain sound there for a ten-year-old. That was all the ambience I got at ten years old … And I always wanted to be … a bit similar to that."
In 2008 Plant told Ian Fortnam of Classic Rock Magazine "I left home at 16", he said, "and I started my real education musically, moving from group to group, furthering my knowledge of the blues and of other music which had weight and was worth listening to." In 1965 Robert Plant joined The Crawling King Snakes, and latter that year met drummer John Bonham who became a new member. By 1966 Plant and Bonham became members of the psychedelic rock group Band Of Joy.
John Henry Bonham was born in 1948 in Redditch, 15 miles south of Birmingham. When he was five-years-old John Bonham started to play the drums. He learned the snare drum at age ten and by age fifteen had a full drum kit with a bass drum, floor tom, snare drum, tom-tom drum, a high-hat and four other types of cymbals. Bonham played with several school bands prior to joining The Crawling King Snakes.
In 1968 Bonham and Plant met Jimmy Page. James Patrick Page was born in Greater London in 1944. When he was twelve he started to play the guitar. Page recalled years later in a 2012 interview with NPR "When I grew up there weren't many other guitarists … There was one other guitarist in my school who actually showed me the first chords that I learned and I went on from there. I was bored so I taught myself the guitar from listening to records. So obviously it was a very personal thing." When he was thirteen-years-old, Jimmy Page was a guest on the BBC1 TV show All Your Own talent show with host Huw Wheldon. Page was part of a skiffle quartet which played "Mama Don't Want to Skiffle Anymore" and "Cotton Fields". When he was 14, Page joined a group group called Malcolm Austin and Whirlwinds. He moved on to form the Paramounts, who opened a concert for another band who went on to become Johnny Kidd & The Pirates – a band that took "Shakin' All Over" to number-one on the UK singles chart in 1960. Page later joined the Crusaders for several years, but also fell ill with mononucleosis.
In 1963 Jimmy Page became a session musician and played guitar on the Jet Harris instrumental "Diamonds", which became a number-one hit in the UK. Another Top Ten hit on the UK charts in 1963 was "Shout" by Lulu and the Luvers, which Page provided guitar in the studio. Other notable songs Page contributed guitar in the studio were for "Tobacco Road" by the Nashville Teens, "I Can't Explain" by the Who, "Heart Of Stone" by the Rolling Stones, "The Crying Game" by Dave Berry, "Is It True" by Brenda Lee, "As Tears Go By" and "Come And Stay With Me" by Marianne Faithfull, "Downtown" by Petula Clark, "Here Comes The Night" and "Baby Don't Go" by Them (the latter the B-side to "Gloria" in Canada), "The Pied Piper" by Crispian St. Peters, "Sunshine Superman", "Hurdy Gurdy Man" and "Epistle To Dippy" by Donovan, "Out Of Time" by Chris Farlowe, "You Really Got Me" by the Kinks, and "With A Little Help From My Friends" by Joe Cocker.
In 1966 Jimmy Page joined the Yardbirds. The band had a solid track-record as hitmakers with "For Your Love", "Heart Full Of Soul", "I'm A Man", "Shapes Of Things", "Happenings Ten Years Time Ago" among their popular singles. Page joined the Yardbirds in the studio for their fourth album, Little Games. He remained with the band for their final single releases including "Ten Little Indians". But by early 1968 the band was splitting up and so Page reconfigured the band which morphed into Led Zeppelin when he asked John Paul Jones to join.
John Richard Baldwin was born in 1946 in Greater London. At the age of six he started to study the piano. Baldwin joined his first band when he was age fifteen called the Deltas. Around 1963 he was invited to collaborate with The Shadows. This led to Baldwin becoming a session musician in 1964. In time he changed his name for the credits to John Paul Jones. Among the songs he played for as a session musician are "Sunshine Superman", "Hurdy Gurdy Man" and "Mellow Yellow" for Donovan, "She's A Rainbow" for the Rolling Stones, "Bus Stop" for the Hollies, "Heart Full Of Soul", "I'm A Man", "Shapes Of Things", "Evil Hearted You" and "Stroll On" for the Yardbirds, "Matthew And Son" for Cat Stevens, John Paul Jones also provided strings and brass for Herman's Hermits including arrangements on "No Milk Today", "There's A Kind Of Hush" and "I Can Take Or Leave Your Lovin'".
John Paul Jones also arranged "To Sir With Love" and "Morning Dew" for Lulu, the soundtrack for the Herman's Hermits film Mrs. Brown You've Got A Lovely Daughter, "Shame Shame" for the Magic Lanterns, and Dusty Springfield's 1968 album Dusty…Definitely. It was during the studio recording of "Hurdy Gurdy Man" by Donovan that session musicians Jimmy Page and John Paul Jones began to talk about a new type of band. This became the New Yardbirds and was later named Led Zeppelin.
Led Zeppelin went on tour in October 1968. On December 28, 1968, The Trials of Jayson Hoover opened a concert at the Pacific Coliseum for Vanilla Fudge. Led Zeppelin, who were largely unknown, and did not appear on the concert poster followed. Vanilla Fudge closed the show. In his printed article on December 29, 1968, Vancouver Sun reporter Jim Allan gave Led Zeppelin a poor review. He wrote "by the time that I was seated The Trials Of Jayson Hoover had finished and Led Zeppelin was just starting the first song of their set." CKLG promoted the concert with clips of "You Keep Me Hanging On" featured in the ads.
PNWB points out that in December 1968 "no one knew…who Led Zeppelin was. The band had only arrived in North America to go on tour just before Christmas Day. FM stations had not yet received "any advance promotional copies of their debut album until 20 days later on January 17, 1969," following the release of Led Zeppelin on January 12, 1969. Consequently, Led Zeppelin received only limited mention on air with no airplay by the local DJs in the week just before the concert. It would be later in January that local FM radio listeners in Vancouver began to hear tracks from the album including "Dazed And Confused", "Good Times, Bad Times", and "Communication Breakdown". "Good Times, Bad Times" made the Hit Bound list in early April 1969 on CKLG, but didn't crack the Top 30. But in Rochester (NY) and Boston "Good Times, Bad Times" made the Top Ten. While in Corvallis (OR) "Communication Breakdown" climbed to #2.
In 1969 Led Zeppelin appeared in concert twice at the Agrodome in Vancouver (BC): May 10th and July 26th.
In 1969 Led Zeppelin released Led Zeppelin II. The single "Living Loving Maid (She's Just A Woman)" climbed into the Top Ten in various radio markets in Florida, Michigan, Kentucky and Washington State in early 1970. But the flip-side, "Whole Lotta Love'" peaked at #4 on the Billboard Hot 100 in January 1970. With their breakthrough single in America, Led Zeppelin established a broad fan base for the bands' progressive rock. Their next single, "Immigrant Song", was the debut single off the Led Zeppelin III album released in October 1970. The single climbed to #16 on the Billboard Hot 100, but peaked at #3 on the pop charts in Vancouver (BC).
Next, Led Zeppelin released Led Zeppelin IV in November 1971, with the lead single "Black Dog." Next, in August 1972 another track from the album, "Stairway To Heaven" climbed to #1 on CKVN, even though it was not released as a single.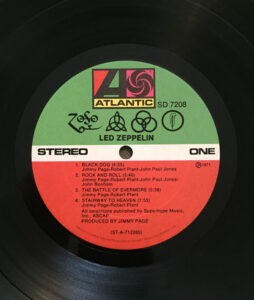 "Stairway To Heaven" is a song written by Jimmy Page and Robert Plant. While not released as a single to the general public, radio stations received promotional singles which quickly became collector's items.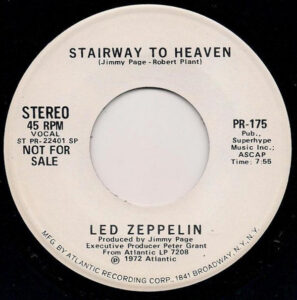 Robert Plant recalled writing the lyrics in a flash of inspiration. Said Plant: "I was holding a pencil and paper, and for some reason I was in a very bad mood. Then all of a sudden my hand was writing out the words, 'There's a lady who's sure all that glitters is gold/And she's buying a stairway to heaven.' I just sat there and looked at the words and then I almost leapt out of my seat." When Plant was asked why the song was so popular, he said it could be its "abstraction," adding, "Depending on what day it is, I still interpret the song a different way – and I wrote the lyrics."
The song starts introducing listeners to a "lady" who accumulates money: "who's sure all that glitters is gold." The phrase comes from William Shakespeare's The Merchant of Venice. It is mentioned in a secondary plot of the play, in the scroll inside the golden casket the puzzle of Portia's boxes (Act II – Scene VII – Prince of Morocco). The scroll inside the golden casket reads:
All that glisters is not gold—
Often have you heard that told.
Many a man his life hath sold
But my outside to behold.
Gilded tombs do worms enfold.
Had you been as wise as bold,
Young in limbs, in judgment old,
Your answer had not been inscrolled
Fare you well. Your suit is cold—
Over time the archaic word "glisters" was replaced by "glitters." The phrase implies that sometimes gold is hidden or mistaken for something else, including plated jewelry that is mostly brass or nickel, or fool's gold (iron pyrite). As the phrase "all that glitters is not gold" begins the whole poem in the scroll, a reader can recall the whole of the poem by Shakespeare. And the poem on the scroll warns that even gilded tombs contain worms. So, when you die, no matter how ornamented your coffin, the worms will get you in the end. However, unlike Shakespeare, the lady in "Stairway To Heaven" trusts that all that glitters is gold.
In heaven "if the stores are all closed," the lady believes "she can get what she came for." The lyrics describe how on the Stairway to Heaven (or possibly at the gates of heaven) "there's a sign on the wall." As the stores in heaven are said to be closed, perhaps the sign on the wall confirms this, or her entrance to heaven is barred. "But she wants to be sure, 'cause you know sometimes words have two meanings." If the sign on the wall was a welcome sign, giving her hope to proceed, she wouldn't need to try to figure out a second more hopeful meaning for the sign. But, the sign on the wall is likely not good news to her. Plant has said the song was about "a woman getting everything she wanted without giving anything back."
The song's lyrics describe how there's a songbird who sings "sometimes all of our thoughts are misgiven." Synonyms for "misgiven" include "distrust," "suspicion," "foreboding," "hesitation," "doubt" and "anxiety." Usually, a songbird sings a sprightly song, but in "Stairway To Heaven" the songbird's song is one of foreboding.
When Robert Plant was writing the lyrics to "Stairway To Heaven" he was reading The Lord Of The Rings by J.R.R. Tolkien. The Tolkien inspiration in the lyrics to the song can be heard in the phrase, "In my thoughts I have seen rings of smoke through the trees." This could be a reference to the smoke rings blown by the wizard Gandalf. There is also a correlation between the lady in the song and the character from the book, Lady Galadriel, the Queen of Elves who lives in the golden forest of Lothlorien. In the book, all that glittered around her was in fact gold, as the leaves of the trees in the forest of Lothlorien were golden.
The narrator of the song sings "if there's a bustle in your hedgerow, don't be alarmed now. It's just a spring clean for the May Queen." A hedgerow is a shrubbery, fencing or windbreak. In the specific hedgerow in "Stairway To Heaven" there is a 'bustle.' A bustle is a "commotion," a "tumult," "fuss", "uproar", a "hubbub." But, not to worry about the clamor in the hedgerow, "it's just a spring clean for the May Queen." The May Queen is a girl who rides or walks at the front of a parade for May Day celebrations. She wears a white gown to symbolize purity and usually a tiara or crown. Her duty is to begin the May Day celebrations. She is generally crowned by flowers and makes a speech before the dancing begins. Certain age-groups dance around a Maypole celebrating youth and springtime.
The narrator further advises there are "two paths you can go by, but in the long run, there's still time to change the road you're on." Is his advice to the "lady" who is buying a Stairway to Heaven? Or to anyone on a path in life? Or something else? It seems it is the Lady the narrator is advising. And in the next lines she is put on notice that "the piper's calling you to join him." The fleeting, elusive nature of what the lady is seeking to buy is expressed in the next line: "Dear lady, can you hear the wind blow, and did you know
Your stairway lies on the whispering wind?"
A further expression of the lady's unlikely acquisition of the Stairway to Heaven is found in "our shadows taller than our soul." The rock 'n roll band Led Zeppelin casts another perplexing conundrum "to be a rock and not to roll." While actual rocks and stones are meant to stay put, unless they are dislodged by a rockslide or an avalanche; What you want in rock 'n roll is to rock and roll. So, this is plausibly ironic. In any event, Robert Plant leaves the ambiguities for listeners to read into the song what they want. So, dear reader, make of "Stairway To Heaven" what you will.
"Stairway To Heaven" appeared on a few singles charts, peaking at #1 in Vancouver (BC), Philadelphia, Reading (PA), Wilmington (DL), Boston, Fort Lauderdale, #2 in Hartford (CT), #3 in Pueblo (CO) and Phoenix, #4 in San Diego, #6 in Pittsburgh, #7 in Spokane (WA), #9 in New Orleans, and #11 in Washington D.C.
In March 1973 the band released their fifth studio album, Houses of the Holy. Led Zeppelin returned for their third concert at the Pacific Coliseum on July 18, 1973. They returned again to perform at the Pacific Coliseum on March 19th and 20th, 1975. Their tour coincided with the release of the album Physical Graffiti. Through the 1970s Led Zeppelin were the world's most popular live music attraction. They were able to sell out concert at places like the Pontiac Silverdome in Pontiac, Michigan, to a crowd of 76, 229 fans. Led Zeppelin's ability to sell out in front of huge audiences at sports stadiums, gave the band credit for creating "stadium rock."
In August 1975 Robert Plant and his wife Maureen were in a serious car accident. After admittance to hospital, they recovered in the Channel Islands in Jersey. Jimmy Page is said to have begun using heroin. Meanwhile, the band continued to release more chart-topping albums: Presence, The Song Remains The Same, and In Through The Out Door.
In advance of an October 1980 tour to North America, Led Zeppelin began rehearsals for the tour. On route to the rehearsal studio Bonham asked his assistant to stop for breakfast. At the diner, he downed four quadruple vodkas (from 16 to 24 US fl oz), with a ham roll. He continued to drink heavily after arriving at the studio. After going to bed he was found dead around 1:45 p.m., September 25, by bandmate John Paul Jones and a new manager. The loss of John Bonham led the remaining bandmates to decide by December 1980 to disband.
After Led Zeppelin split up, Robert Plant pursued a solo career. Between 1982 and 1993 Robert Plant charted about a dozen singles onto the pop charts. His most notable success was in October 1983 with "Big Log" from his album The Principle of Moments. The single peaked at #6 in Vancouver (BC). Internationally, it climbed to #20 on the Billboard Hot 100, #4 in the Netherlands, #7 in New Zealand and #11 on the UK Singles chart.
In the winter of 1984-85 Robert Plant's band the Honeydrippers scored a #1 hit in Vancouver (BC) with a cover of the 1959 Phil Philips hit "Sea Of Love". The Honeydrippers also included Jimmy Page, former Yardbirds musician Jeff Beck, and co-founder of the disco band Chic, Nile Rodgers. As a solo act, Robert Plant has appeared in concerts at the Pacific Coliseum in Vancouver October 1, 1983, on June 9th and 10th, 1985, September 21, 1990. In 1993 Plant performed at Vancouver's Orpheum Theatre on October 7th, and later on September 22, 2005. More recently, Robert Plant performed at the Queen Elizabeth Theatre on April 17, 2011, and again on June 29, 2018.
In 1994 Robert Plant and Jimmy Page collaborated to record an album titled No Quarter: Jimmy Page and Robert Plant Unledded. In 2009 Robert Plant received a Grammy for Album of the Year in his collaboration with Allison Krause. In 2014 Plant released his tenth solo album Lullaby and the Ceaseless Roar.
In his post-Zeppelin years Jimmy Page collaborated with Jeff Beck performing in concert. He co-founded the supergroup XYZ, made up of former Led Zeppelin (Page) and Yes bandmates Chris Squire and Alan White. In 1983 Jimmy Page announced he had quit his use of heroin after seven years of addiction. In the 80's Page collaborated with the Rolling Stones, Graham Nash and Stephen Stills. A Led Zeppelin reunion took place on the occasion of the Live Aid concert at Wembley Stadium in July 13, 1985, for famine relief in Ethiopia. After 1988 Jimmy Page stopped touring as a solo act, though he has performed on occasion with Robert Plant and with the Black Crowes in several concerts in 2000, and at the Rock and Roll Hall of Fame induction of Led Zeppelin in 2009.
In 2005 Jimmy Page was appointed an Officer of the Order of the British Empire for his Brazilian charity work. In 2008 he performed at the closing of the ceremonies of the Summer Olympics in Beijing. That year Page also co-produced a documentary on the history of the electric guitar titled It Might Get Loud.
After the breakup, John Paul Jones contributed music to a number of films including Give My Regards To Broad Street (1984), Scream For Help (1984), The Secret Adventures Of Tom Thumb (1993), Risk (1994) and Celebration Day (2012). The latter was a 2007 concert tribute film to songwriter and co-founder of Atlantic Records, Ahmet Ertegun, at which Led Zeppelin was one of the performers.
Jones has collaborated with Brian Eno, Foo Fighters, Peter Gabriel, Ben Harper, Heart, Ben E, King, Lenny Kravitz, Paul McCartney, R.E.M. and others. In 2019 Jones formed a new band named Sons of Chipolte. They were scheduled to make their first concert in the USA in March 2020 at the Big Ears Festival in Knoxville, Tennessee. But the festival was cancelled due to the coronavirus pandemic.
October 4, 2021
Ray McGinnis
References:
Jim Allan, "But Only 3708 Tasters: Fudge Show Candy Sweet," Vancouver Sun, December 29, 1968.
Mikal Gilmore, "The Long Shadow of Led Zeppelin," Rolling Stone, August 10, 2006.
"Robert Plant #15: 100 Greatest Singers of All Time," Rolling Stone, June 30, 2015.
"Rockers still climbing 'Stairway to heaven'," Australian Broadcasting Corporation, December 25, 2004.
Jane Cornwell, "Jimmy Page reflects on Led Zeppelin," Sydney Morning Herald, Sydney, Australia, September 27, 2014.
Jimmy Page, Jimmy Page by Jimmy Page, (Genesis Publications, 2014).
Corbin Reiff, "20 Things You Didn't Know John Paul Jones Did," Rolling Stone, March 18, 2016.
Chris Welch and Geoff Nicholls, John Bonham: A Thunder of Drums, (Backbeat Books, 2003)
Chris Welch, Led Zeppelin, (Orion Books, 1994), p. 55.
Chris Welch, Led Zeppelin: Dazed and Confused: The Stories Behind Every Song (Thunder's Mouth Press, 1999).
"The Top 40 Hits," CKVN 1410 AM, Vancouver, BC, August 14, 1972.
For more song reviews visit the Countdown.