#659: Still In The Game by Steve Winwood
Peak Month: September-October 1982
Peak Position #8
7 weeks on Vancouver's CFUN Chart
Peak Position on Billboard Hot 100 ~ #47
YouTube: "Still In The Game"
Lyrics: "Still In The Game"
Stephen Lawrence Winwood was born in 1948 in suburban Birmingham, UK. Winwood began playing piano from the age of four, being raised in a musical family. He joined a boys choir and added drums and guitar to his repertoire. At age 14 he joined The Spencer Davis Group in 1963, with his older brother Muff. In 1965 the band had a number-one hit in the UK with "Keep On Running". The single climbed into the Top Ten in Vancouver (BC) in 1966. A follow up single, "Somebody Help Me", also topped the UK Singles chart in 1966, and was covered by Vancouver band the Shockers in 1967. Spencer Davis Group had two more notable hits in both the UK, Ireland, New Zealand and Australia, finally making the Billboard Hot 100 Top Ten with "Gimme Some Lovin'" (#7) and "I'm A Man" (#10) in 1967. "Gimme Some Lovin'" climbed to #1 in Vancouver, while "I'm A Man" peaked at #12. In each case, Stevie Winwood was the lead vocalist.
In 1967, after the Spencer Davis Group had their fourth Top Ten hit single in the UK, Winwood left the band. He hooked up with his friend Jim Capaldi, and they got in contact with Chris Wood and Dave Mason and began to talk about a new musical project.
In April 1967 they formed Traffic and released their debut single "Paper Sun". The single shot to #5 on the UK Singles chart in early June. Their next single release was "Hole In My Shoe". Steve Winwood thinks of the freedom musicians had when he was with the Spencer Davis Group and Traffic in the sixties and early 70s. "…the Sixties was a time when everyone wanted to experiment, and then everything became very formulated and corporate, so artists tended to get pushed into a kind of pattern." Without the freedom Traffic was given "Hole In My Shoe" might never have been conceived, or become a hit.
In 1967 and '68 Winwood, Wood and Mason were each featured as session musicians on the Jimi Hendrix Experience album Electric Ladyland. In February 1969, Stevie Winwood announced he was forming a new band with Eric Clapton and Ginger Baker called Blind Faith. On August 9, 1969, Blind Faith gave a concert at the Pacific Coliseum in Vancouver (BC). Meanwhile, Traffic disbanded. However, their record label put together a mix of songs for a third studio album release, Last Exit. Blind Faith lasted less than a year and Winwood reformed Traffic in 1970.
Traffic did well commercially in the early 70s. John Barleycorn Must Die, released in 1970, climbed to #11 in the UK, and #5 in both the Netherlands and USA, and #6 in Canada. Steve Winwood told a reporter in 2011 "Most of the Traffic stuff stands the test of time pretty well. All of those albums are like my children, so I really can't pick a favourite, but in many ways, John Barleycorn is the core of what Traffic is, and it could be the most definitive album we did."
In 1971 Traffic released The Low Spark of High Heeled Boys which went platinum in the USA. And in 1973 Shoot Out at the Fantasy Factory cracked the Top Ten album charts in both Canada and the USA. A seventh studio album in 1974, When the Eagle Flies, also made the Top Ten on the Billboard 200 album chart. Traffic disbanded in the mid-70s.
In 1977 Stevie Winwood released his first solo album. In 1980 he released Arc of a Diver, which included his hit single "When You See A Chance", co-written with Will Jennings. And in 1982 he released Talking Back to the Night, which included his minor hit "Still In The Game".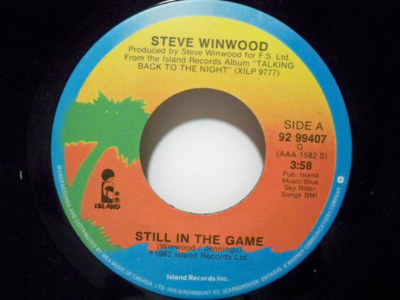 "Still In The Game" was cowritten by Steve Winwood and Will Jennings. Wilbur H. "Will" Jennings was born in Kilgore, Texas, in 1944. He graduated with a degree in English from university. Jennings went on to write many hit songs including "Looks Like We Made It" – a number-one hit for Barry Manilow in the July 1977; the Top Ten Grammy Award winning hit for Dionne Warwick in 1979 titled "I'll Never Love This Way Again" (Best Female Pop Vocal Performance); "Somewhere in the Night" – a Top Ten hit for Barry Manilow in 1979; "Up Where We Belong" – an Academy Award winning number-one hit Jennings cowrote with Buffy Sainte-Marie for Joe Cocker and Jennifer Warnes in 1982; "Didn't We Almost Have It All" – a number-one hit for Whitney Houston in September 1987; the Top Ten Country chart hit for Rodney Crowell in 1989 titled "Many a Long and Lonesome Highway"; Eric Clapton's Grammy Award winning "Tears In Heaven" – which spent four weeks at #2 and was ranked the number-six song of the Year in 1992 by Billboard; the number-one Country hit in 1995 for Tim McGraw titled "Please Remember Me"; and Academy Award and Grammy Award winning "My Heart Will Go On" – a number-one hit for Céline Dion in 1998.
Will Jennings also wrote or cowrote many songs for Steve Winwood, including "Valerie" – a track from Talking Back to the Night in 1982. The single stalled at #70 on the Billboard Hot 100 in '82, but was re-issued in 1987 and climbed to #9.
"Still In The Game" is a song about those who gamble and reach for love when it comes, even when it can be lonely between relationships. Lovers who play the game of love have a song they listen to that guides them along, even haunts them: "'cause their's music in their mind." The lyrics tell us that those who hold fast and try to reach out and find a reason to care, will have the strength to never let go of the world they're trying to find. Winwood sings "Here's to lovers who reach for it all." The lyrics inspire listeners to believe that if they keep waiting, when the time and circumstances are right, they'll be able to "fly."
"Still In The Game" peaked at #4 in Toronto, #6 in Dallas, #8 in Vancouver (BC), #10 in St. Cloud (MN), #11 in Ottawa (ON), and #13 in Halifax (NS).
In 1986 Winwood sang a duet with Chaka Khan titled "Higher Love", which topped the Billboard Hot 100, the Canadian RPM chart and made the Top Ten in Australia. The song was co-written with Will Jennings, and received a Grammy Award nomination. A follow up single from his Back In The High Life album, "The Finer Things", also made the Top Ten in the USA. The title track from the album, which was written by Winwood and Jennings peaked at #13 on the Billboard Hot 100.
In 1988 Steve Winwood returned to the number-one spot on the Billboard Hot 100 with "Roll With It". He co-wrote the song with Will Jennings. His followup singles from Roll With It, "Don't You Know What The Night Can Do?" and "Holding On", were Top Ten hits in the USA. Winwood and Jennings both cowrote those hits. Between 1977 and 2008 Steve Winwood released nine studio albums.
In 1994 Steve Winwood and James Capaldi reunited to release an eighth and final studio album credited to Traffic titled Far From Home.
Steve Winwood appeared in concert in Vancouver on October 20, 1986, at the Pacific Colliseum. He returned on November 13, 2012, at the Orpheum Theatre. More recently, on August 14, 2014, Steve Winwood appeared on stage with Tom Petty and the Heartbreakers at the Rodgers Arena in Vancouver.
November 21, 2020
Ray McGinnis
References:
Jonathan Cott, "Traffic: The Rolling Stone Interview: British Band Talks Jams – then Breaks Up," Rolling Stone, May 3, 1969.
Jonathan Wingate, "Growing Up in Public: An Interview with Steve Winwood," Express, February 22, 2011.
Anthony Decurtis, "Steve Winwood: From Mr. Fantasy to Mr. Entertainment," Rolling Stone, December 1, 1988.
Carl Wiser, "Will Jennings Interview," Songfacts, May 7, 2006.
"CFUN Top 30," CFUN 1410 AM, Vancouver, BC, October 2, 1982.
For more song reviews visit the Countdown.