#393: Cinnamon Girl by Neil Young
Peak Month: August 1970
8 weeks on CKVN's Vancouver Chart
Peak Position ~ #2
Peak Position on Billboard Hot 100 ~ #55
YouTube.com: "Cinnamon Girl"
Lyrics: "Cinnamon Girl"
Neil Young was born in Toronto in 1945. His family moved to Omemee, Ontario, and he contracted polio in 1951, two years before the polio vaccine was introduced. He learned guitar and dropped out of high school. He played in the Winnipeg based band called The Squires, who toured parts of Manitoba and northern Ontario. They played instrumental covers of Cliff Richard's backup band, The Shadows. Young moved to California in 1966 where he was a founding member of the Buffalo Springfield. In 1968 he released his self-titled debut studio album. And in 1969 he became the fourth member of Crosby, Stills, Nash & Young.
In an article by TIDAL, it's pointed out that "Neil's dad, journalist, sportswriter and author Scott Young, is considered to be a national icon in Canada. He wrote over 30 books in his career, amongst others the 1952 schoolboy favorite, Scrubs on Skates. The book was dedicated to his sons: "To Neil and Bob, whose greatest games are still ahead of them." Neil's mother, Edna Blow Ragland "Rassy" Young, divorced Scott Young in 1960. She took Neil with her to Winnipeg. That year, Neil Young formed a band called The Jades. In order to get around to performances, Neil purchased a 1948 Buick Roadmaster hearse. He nicknamed his hearse Mortimer Hearseburg, or Mort, for short.
On the day he turned nineteen, Neil Young composed "Sugar Mountain" on November 12, 1964. He was in Fort William, Ontario, at the Victoria Hotel. After his band the Squires had packed it in Young sat down to write 126 verses for"Sugar Mountain." It would be a four year wait before he would record a few of the verses to "Sugar Mountain" on November 10, 1968. This was as part of a concert in the college town of Ann Arbor, Michigan, at Canterbury House. The song was a solo hit for Young in 1971.
In 1966, Young drove to Los Angeles in his second hearse, a 1953 Pontiac, after Mort broke down. It happened that Stephen Stills was in a car in and spotted Neil Young stuck in traffic on Sunset Boulevard. The two got together and formed Buffalo Springfield.
Buffalo Springfield consisted of Stephen Stills (guitar, keyboards, vocals), Dewey Martin (drums, vocals), Bruce Palmer (electric bass), Richie Furay (guitar, vocals), and Neil Young (guitar, harmonica, piano, vocals). Like the Byrds, Buffalo Springfield's debut album blended musical strains of folk and country music with British invasion. The name of the group was inspired after the Buffalo-Springfield steamroller made by the Buffalo-Springfield Roadroller Company in Springfield, Ohio.
Buffalo Springfield released their self-titled debut album in December 1966. Their third single, "For What It's Worth" spent 15 weeks on the Billboard Hot 100 and peaking at #7 and #1 in Vancouver. The song was about an incident during August 1966 on the Sunset Strip in Hollywood. Residents of the area had attempted to get rid of the hippies near the Pandora's Box club, who they saw as a threat to local tourism, by having the police enforce curfew laws. A riot ensued and police began to wield night-sticks on the long-haired youth.
Stephen Stills had seen the riot after returning from a trip to Nicaragua. Stills was inspired: "All the kids on one side of the street, all the cops on the other side – in Latin America that meant there'd be a new government in about a week. " The song became an anthem for a generation wary of the status quo who began wearing buttons that read "question authority." Near the peak of its chart run of "For What It's Worth" Buffalo Springfield had an appearance on The Smothers Brothers Comedy Hour was taped on February 26, 1967.
Their second album, Buffalo Springfield Again, was released in November 18, 1967. It was not an easy album to record due to tensions between band members. Neil Young, who had his first epileptic fit while performing with the band in 1966, was often absent. Bass guitarist, Bruce Palmer, was detained on drug charges and was sent back to Canada on several occasions delaying the deadlines for the albums release.
Among the notable tracks are Young's minor hit, "Mr. Soul", which was the B-side to the Buffalo Springfield's debut single from the album, "Bluebird". Stephen Stills contributed four tunes, among them "Rock and Roll Woman". Simultaneous tension in Buffalo Springfield, The Byrds, and The Hollies would eventually result in the formation of Crosby, Stills & Nash." In 2003, Buffalo Springfield Again was ranked number 188 on Rolling Stone magazine's list of the "500 greatest albums of all time." A final album, Last Time Around, was released in 1968. It included the single, "On The Way Home".
Neil Young recalls of the time of the breakup of Buffalo Springfield, "I just couldn't handle it towards the end. It wasn't me scheming on a solo career, it wasn`t anything but my nerves. Everything started to go too fucking fast. I was going crazy, joining and quitting, joining and quitting again. I began to feel like I didn't have to answer or obey anyone. I needed more space. That was the big problem in my head. So I'd quit, then I`d come back 'cos it sounded so good. It was a constant problem. I just wasn't mature enough to deal with it. I was very young. We were getting the shaft from every angle, and it seemed like we were trying to make it so bad and getting nowhere."
Young went onto be part of the supergroup, Crosby, Stills, Nash and Young. Originally Crosby, Stills & Nash – with a Top Ten hit in 1969 titled "Suite: Judy Blue Eyes" – they added Neil Young for the recording of their album Déjà Vu in early 1970. Significantly, Young provided lyrics and lead vocals for "Helpless" and "Country Girl". Déjà Vu was a huge hit, climbing to number-one in several international album charts, and spending 88 weeks on the Billboard 200 Album chart. Classic hits from the album included a cover of the Joni Mitchell song "Woodstock", "Teach Your Children" and "Our House".
But again, Neil Young found himself at odds with members of the band. Though he collaborated with the others on subsequent albums into the mid-70s, Young focused on his solo career. Young wrote "Ohio" in response to the shooting in Kent State in May 1970. The song's opening line "Tin soldiers and Nixon's coming…" became an anti-war protest anthem. In April 1970, Neil Young released "Cinnamon Girl". The single appeared on CKVN in Vancouver (BC) in late June '70.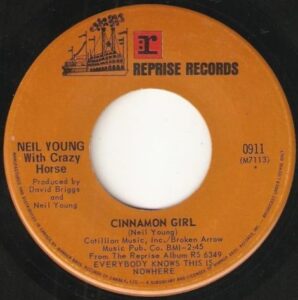 "Cinnamon Girl" was written by Neil Young. The lyrics have the singer daydreaming about someone he thinks he could be happy with for the rest of his life. The singer is with saxophone players, bass guitarists and drummers, waiting "between shows" for his cinnamon girl. Young has said that he wrote the song "for a city girl on peeling pavement coming at me through Phil Ochs' eyes playing finger cymbals. It was hard to explain to my wife." The city girl playing finger cymbals is a reference to folk singer Jean Ray from the folk duo Jim & Jean.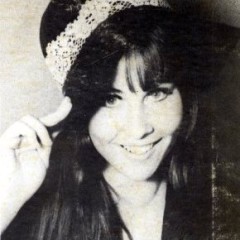 Jean Ray had brown auburn hair.
(Jim & Jean were also the inspiration for Mitch & Mickey in the documentary spoof A Mighty Wind, starring Catherine O'Hara and Eugene Levy). Jean Ray was the inspiration for Neil Young's song, "Cinnamon Girl", as verified by her brother Brian Ray on his A Bit Like You And Me 60s blog. In the song the singer dreams about chasing the moonlight with his cinnamon girl, and dancing together. Jean Ray had brown auburn hair.
Cinnamon is a spice that was believed by the Romans to be from Arabia, or maybe Ethiopia. It was imported to Egypt as early as 2000 BC. Legend had it that cinnamon was plucked by the legendary phoenix that rose from the ashes. Other stories taught that it was a spice carried to the Arabian Gulf on magic rafts. Over time it was discovered that cinnamon was grown in Indonesia, Myanmar, Ceylon and India. Portuguese explorers found cinnamon in Ceylon in the 1510s. It was not until the 16th Century that cinnamon was traded more widely across Europe. The spice was expensive and considered exotic.
"Cinnamon Girl" peaked at #1 in San Diego and Fresno (CA), #2 in Vancouver (BC), #3 in San Jose (CA) and London (ON), #4 in Erie (PA), #5 in San Bernardino (CA), Saint-Jean-sur-Richelieu (PQ) and Cleveland, #6 in Pointe Claire (PQ), #7 in Toronto, #8 in Edmonton (AB), and #9 in St. Louis and Salt Lake City. The song stalled at #55 on the Billboard Hot 100 as it got little airplay in nearly 40 states.
In 1972, Neil Young had his most successful hit, "Heart Of Gold". It climbed to #1 in both Canada and the USA in 1972. A followup single, "Old Man" made the Top Ten across Canada. He also released another anti-war song titled "War Song". Highly critical of President Richard Nixon and the Vietnam War, the single made the Top Ten in Vancouver (BC). in 1974 Young had another Top 20 hit on the West Coast with "Walk On".
Since 1975 Neil Young has received 28 Juno Award nominations and won seven of these. He has also won a Grammy Award for Best Boxed or Special Limited Edition Package for his compilation album Neil Young Archives Vol. 1 (1963–1972). Young has had a number of regional hits over the years. His cover of "Four Strong Winds" spent 17 weeks on the CFGO charts in Ottawa in 1978-79, peaking at #7.
In 1985 he appeared in the charity single "Tears Are Not Enough" by Northern Lights. Young was one of a number of solo vocalists in the song, along with Gordon Lightfoot, Burton Cummings, Anne Murray, Joni Mitchell, Dan Hill, Bryan Adams, Corey Hart, Bruce Cockburn, Rush frontman Geddy Lee, and Loverboys' Mike Reno.
In 1993 his single, "Harvest Moon" climbed to #5 on the Canadian RPM singles chart, but missed the Billboard Hot 100. In 2003, Young had a biography penned by James McDonough titled Shakey. Over the decades, Neil Young has expressed his politics in song. A critic of the Bush family in America, Young's 1989 hit "Rockin' in the Free World" criticized the policies of George H.W. Bush and the epidemic of drug use and homelessness. Young's 2006 album, Living With War had one track after the other lambasting President George W. Bush and his administration. Some of the song titles included "Looking for a Leader" and "Let's Impeach the President".
Over the course of his career, Neil Young has released 42 solo studio albums. He has been nominated for 26 Grammy Awards, winning on three occasions – most recently for Best Rock Song in 2011 for "Angry World". Young has also been nominated for a Juno Award on 28 occasions, winning seven times.
In September 2020 Neil Young released an EP titled The Times. He invited President Donald Trump to play Young's song "Lookin' For A Leader" at his rallies.
October 30, 2020
Ray McGinnis
References:
"Neil Young bio," Rolling Stone, New York.
70 Facts You Might Not Know About Neil Young, TIDAL, June 17, 2016.
McDonough, James. Shakey: Neil Young's Biography. Vintage, New York, 2003.
Brian Ray, "Neil Young with Crazy Horse – Cinnamon Girl (1969)," A Bit Like You And Me blog, June 8, 2012.
"Tears Are Not Enough, Solo Vocalists in Order," Wikipedia.org.
Khoo Joe Ee, "The Life of Spice; Cloves, Nutmeg, Pepper, Cinnamon," UNESCO Courier, June 1984.
"Your Average Rock & Roll Radio Survey," CKVN 1410 AM, Vancouver, BC, August 14, 1970.
For more song reviews visit the Countdown.