#261: Going Up The Country by Canned Heat
Peak Month: January 1969
8 weeks on Vancouver's CKLG chart
Peak Position #1
1 week Hit Bound
Peak Position on Billboard Hot 100 ~ #11
YouTube.com: "Going Up The Country"
Lyrics: "Going Up The Country"
Robert Ernest Hite was born in 1943 in Torrence, California. He took an interest in blues, rhythm & blues and rock 'n roll by the early 50s. His record collection of 78 RPMs grew to over 15,000, which he liked to sing along with. Plump into his twenties, Hite was nicknamed "The Bear." Alan Christie Wilson was also born in 1943, in Arlington, Massachusetts. He was part of a high school jazz ensemble and played trombone. But in 1959, at the age of sixteen, Wilson turned his attention to the blues after he heard The Best of Muddy Waters album. Inspired by Little Walter ("My Babe"), Wilson began to play the harmonica. In 1964, blues legend Mississippi John Hurt performed at Cafe Yana in Cambridge (MA). Alan Wilson was invited to come on stage and accompany Hurt. At the 1964 Newport Folk Festival, Alan Wilson was able to interact with bluesman Skip James. It was from James he learned high-pitched blues singing which he later employed while singing "On The Road Again" and "Going Up The Country".
Wilson wore thick glasses and got the nickname "Blind Owl." Fito de la Parra remembers "Without the glasses, Alan literally could not recognize the people he played with at two feet, that's how blind the 'Blind Owl' was."
Henry Charles Vestine was born in 1944 in a Maryland suburb of Washington D.C. He got exposed to blues music at a young age when he would accompany his father on voter registration drives into African-American neighborhoods ahead of the 1952 and 1956 federal elections. Henry moved to Los Angeles around 1959. He took acid with a close musician friend, and during the "trip" he visited a tattoo parlor in East Los Angeles. This first tattoo had these words: "Living The Blues." Years later in 1969, Living The Blues was chosen as the the title of a Canned Heat double album. When he was only seventeen, Henry "The Sunflower" Vestine was a regular as a side blued guitar player on the Los Angeles club circuit. This included many black clubs. Among his mentors was Jerry McGhee, who taught Henry how to play guitar with a flat pick and 3-finger style. In the fall of 1965 Vestine joined Frank Zappa and the Mothers of Invention. But he only stayed a few months after being introduced to Bob Hite and Alan Wilson.
Canned Heat formed in 1965, but went through seven line-up changes from 1965 to 1967. Along the way their membership included guitarist Kenny Edwards, who went on to form the Stone Poneys with Linda Rondstadt; Drummer Frank Cook, who in 1967 helped form Pacific, Gas & Electric; And bass guitarist Mark Andes who joined Spirit ("I Got A Line On You") in 1967, Firefall ("You Are The Woman") in 1974 and Heart (with Ann and Nancy Wilson) from 1982-1992.
In the spring of 1967, Larry Taylor became the eleventh member to join Canned Heat. Samuel Lawrence Taylor was born in 1942 in New York City. His mother was Jewish and his father was a Protestant with British roots. By the late 50s Taylor had moved to Los Angeles and was playing guitar in a surf-rock band called the Gamblers. They recorded a song paying tribute to rock DJ Alan Freed titled "Moon Dawg", which was covered later by the Arrows featuring Davie Allan.
In June 1967 Canned Heat appeared on stage at the Monterey Pop Festival, opening the afternoon set on Saturday, June 17th. They were followed by Big Brother and the Holding Company, Country Joe and the Fish, Steve Miller Band and others. One of the songs in their set, "Rollin' and Tumbling'" became a Top Ten hit in Salinas, California, in the fall or '67. In the fall of 1967 Canned Heat were arrested for drug possession in Denver.
Frank Cook left the band and was replaced by Adolfo "Fito" de la Parra on drums. "Fito" was born in Mexico City in 1946 and by age sixteen was playing drums professionally. His first band, Los Sparks, was in 1958 when he was twelve. In 1965 his band, Los Tequilas, was playing in Los Angeles. He moved to the USA full-time and became a member of a house band at the Tom Cat Club in Torrence. He eventually joined Bluesberry Jam, who opened for Canned Heat at a concert in the fall of '67. Canned Heat decided to invite "Fito" to join the band, as Cook was leaving. The first concert "Fito" de la Parra played with Canned Heat was as an opening act for The Doors on December 1, 1967, in Long Beach.
With the addition of "Fito", Canned Heat had their classic lineup of musicians. All had nicknames: Alan "Blind Owl" Wilson, Bob "The Bear" Hite, Larry "The Mole" Taylor, Adolfo "Fito" de la Parra and Henry "The Sunflower" Vestine.
After their debut self-titled album in 1967, Canned Heat released Boogie With Canned Heat. The album's debut single was "On The Road Again".
In 1968 Canned Heat shared the stage with Jefferson Airplane, Buffalo Springfield, the Doors, Sly & The Family Stone, Eric Burdon & The Animals, Steppenwolf, the Greatful Dead, Blue Cheer, Them, Iron Butterfly, the Turtles, Three Dog Night, the Box Tops, José Feliciano, the Youngbloods, the Grass Roots, the Chambers Brothers, the Righteous Brothers, Tiny Tim and others. Later in 1968 Canned Heat released their third album, Living The Blues. On that album was their biggest hit single "Going Up The Country", which also featured Alan Wilson's high tenor vocals.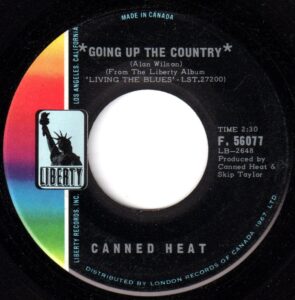 "Going Up The Country" was written by Alan Wilson, and credited to him by Liberty Records. And Canned Heat got the royalties. Some may object, as Canned Heat took the tune from African-American bluesman Henry "Ragtime" Thomas' "Bull Doze Blues", recorded in June 1928. In Thomas' "Bull Doze Blues" he sings that he's going to leave "as sure as that train leaves out of that Mobile Yard." Determined to leave Alabama, he sets his sights on Memphis, Tennessee, where he won't get "bull-dozed" anymore. Wilson used Thomas' melody on the quills and his basic rhythm, but arranged it for a rock setting and rewrote the lyrics.
What Alan Wilson wrote is an invitation to go to a new place in the country "where the water tastes like wine." Wilson sings, "We can jump in the water, stay drunk all the time." And perhaps after a year marked by the Soviet invasion of Czechoslovakia, the assassinations of Martin Luther King Jr. and Robert Kennedy, riots at the Democratic Party Convention in Chicago, the election of Richard Nixon as President of the United States, and no end to the Vietnam War – there were many who wanted to "stay drunk all the time." For many Americans, especially after the assassination of Senator Kennedy, hope was dead. The logical trajectory of the hopes and dreams of many Americans through the Sixties, culminating in the RFK candidacy for President, was shattered. Journalist Jack Newfeld wrote in RFK: A Memoir, "Kennedy's murder was a gigantic turning point in our history. The difference between Kennedy and Richard Nixon was as vast as the difference between FDR and Herbert Hover in 1932."
In "Going Up The Country" the lure to head out to the country is due to the "fussing and fighting" in the city. Wilson sings it's time to pack your things into the trunk. "We might even leave the USA." For a generation listening to Canned Heat, many young men were draft dodgers. They were burning draft cards to protest the Vietnam War. Around 40,000 left the USA and headed to Canada to avoid the draft.
The distinctive flute solos in "Going Up The Country" are provided by session musician Jim Horn. James Ronald Horn was born in Los Angeles in 1940. Starting at the age of 19, from 1959 to 1964, Horn was a member of Duane Eddy's band. He became a session musician with the Wrecking Crew in Los Angeles. His saxophone, flute, oboe and other woodwind instruments, are variously featured on hits like "River Deep-Mountain High" by Ike & Tina Turner; "Creeque Alley" and "Dedicated To The One I Love" by The Mamas and The Papas; "The Poor Side Of Town" by Johnny Rivers; "God Only Knows", Sloop John B." and "Good Vibrations" by the Beach Boys; "Up, Up And Away" and "Acquarius/Let The Sun Shine In" by the Fifth Dimension; "MacArthur Park" by Richard Harris; "Classical Gas" by Mason Williams; "Grazin' In The Grass" by Friends Of Distinction; "Light My Fire" and "Hitchcock Railway" by José Feliciano; "The Snake" by Al Wilson; "Strangers In The Night" by Frank Sinatra; "We've Only Just Begun" and "(They Long To Be) Close To You" by the Carpenters; "Big Yellow Taxi", "Woodstock" and "The Circle Game" by Joni Mitchell; "Desiderata" by Les Crane; "Summer Breeze" by Seals & Crofts; "Will It Go Round In Circles" by Billy Preston; "Hello It's Me" by Todd Rundgren; "Angie" by the Rolling Stones; "Give Me Love (Give Me Peace On Earth)" by George Harrison; "Laughter In The Rain" by Neil Sedaka; "Nightengale" and "Jazzman" by Carole King; "Rock And Roll Heaven" by the Righteous Brothers, "Rock And Roll Song" by Valdy; "Lowdown" by Boz Scaggs, and many others.
"Going Up The Country" climbed to #11 on the Billboard Hot 100 in January 1969. On local radio markets, it peaked at #1 in Vancouver (BC), Spokane (WA), St. Louis, Fort Lauderdale, Kansas City (MO), Memphis, and San Francisco, #2 in Indianapolis (IN), San Bernardino (CA), Fresno (CA), York (PA), San Jose (CA), Great Falls (MT), Saint Charles (MO), Boston, Los Angeles, Columbus (OH), San Diego, Toronto, and Santa Barbara (CA), #3 in Nashville, Tulsa (OK), Miami, Raleigh (NC), and Geneva (NY), #4 in Wilkes-Barre (PA), Lancaster (PA), Cincinnati, Minneapolis/St. Paul, and Akron (OH), #5 in Orlando, Hamilton (ON), Holland (MI), Milwaukee, Louisville (KY), and Ann Arbor (MI), #6 in Hartford (CT), Seattle, Halifax (NS), Lubbock (TX), Newport News (VA), Chicago, Birmingham (AL), Quincy (IL), Lansing (MI), and New Haven (CT), #7 in Springfield (MA), Augusta (GA), New Glasgow (NS), Salt Lake City, Oklahoma City, and Buffalo, #8 in Windsor (CA), Olympia (WA), Dallas, Fort Worth (TX), Tucson (AZ), Troy (NY), Rochester (NY), and Pittsburgh, #9 in Albany (NY) and Bellingham (WA), and #10 in Schenectady (NY), Houston and Jacksonville (FL).
But it was their appearance at the Woodstock Music and Art Fair: an Aquarian Exposition: 3 Days of Peace & Music, held in Bethel, New York, about 100 miles northwest of Manhattan. Woodstock ran from August 15 to 18, 1969. And Canned Heat was able to enjoy performances from Ritchie Havens, Joan Baez, Santana, Creedence Clearwater Revival, Janis Joplin, Ten Years After, The Band, The Who, Joe Cocker, Jimi Hendrix, Blood, Sweat & Tears, and many others. One of the songs Canned Heat performed at Woodstock was "Going Up The Country". Canned Heat played the song on the second day of the Woodstock festival, which was a big moment for the band. The song became one of the anthems for the festival. As "Going Up the Country" described "going to some place where I've never been before," this was a perfect description of what those on the pilgrimage to Woodstock at Yasgur's farm in upstate New York were doing.
Canned Heat shared the concert stage as part of the Vancouver Pop Festival 1969 at the Paradise Resort in Squamish, BC, on August 23-24. Other recording artists present were the Grateful Dead, Little Richard, the Guess Who, the Chambers Brothers, the Rascals, Alice Cooper and Merrilee Rush and the Turnabouts. Later on November 9, 1969, Canned Heat performed at the Agrodome in Vancouver (BC) with the Moody Blues.
In 1969 Henry Vestine, whose drug habits were getting worse, left Canned Heat and was replaced by Harvey "The Snake" Mandel. The band recorded three more albums in 1969-70, as well as collaborating with blues legend John Lee Hooker on the Hooker 'n Heat album in May 1970. Alan Wilson is said to have suffered from depression and had difficulty forming romantic relationships with women. Whether by accident or intention, he drove his van off a road near Bob Hite's home in Topanga Canyon. The van had been a gift to Wilson from Hite. When Alan Wilson was given the van he said the "The Bear," "Well. I don't even know how to drive. What did you get me that for?" His poor eyesight and lack of driving experience may be the cause of his vehicle accident.
On September 1, 1970, Alan Wilson went missing. On September 2, the rest of the members of Canned Heat headed to LAX to board a plane on route to Berlin for a concert. At 10:30 a.m. on September 3rd, Craig Hoppe, who was a resident at Bob Hite's home on Topanga Canyon, found Alan Wilson dead in a sleeping bag, about 50 feet west and above of the house in a hilly wooded brush area. A first death certificate from the County of Los Angeles Certification of Vital Record stated that the cause of death was "deferred." A second Certification of Vital Record was completed by the County of Los Angeles on December 4, 1970. It stated that at the age of 27, on September 3, 1970, Alan Wilson died of accidental barbiturate overdose or ingestion of overdose. While some members of the band believed that Wilson died by suicide, author Rebecca Davis' unearthing of key documents from the County of Los Angeles confirms his death was accidental. Wilson died at the age of 27, just weeks before Jimi Hendrix and then Janis Joplin died at the same age. Joel Scott Hill replaced Alan Wilson.
The band continued to tour on and off into 1973. Among their concert dates in Vancouver was one on November 21, 1970, at the Pacific Coliseum; the PNE Garden Auditorium on May 28, 1971; And at the Agrodome on May 17, 1972. Canned Heat returned to Vancouver to perform at the PNE Garden Auditorium on February 17, 1973. Included among the other recording artists they shared the stage in North America and the UK, were Ike and Tina Turner, Little Richard, Grand Funk Railroad, B.B. King, the Kinks, John Sebastian, Eric Burdon and War, Edgar Winter, Chuck Berry, the Allman Brothers Band, Fleetwood Mac and Elvin Bishop. In 1975, Canned Heat had a three-night-stand at the Commodore Ballroom: May 8th, 9th and 10th.
In subsequent lineups from 1978 to the 2000s Canned Heat released eight more studio albums, for a total of 17.
"The Bear" continued to play in Canned Heat from 1965 to 1981. In 1981 at a concert Bob "The Bear" Hite was handed a vial of heroin by a fan. He snorted it and began to get comatose. He could not be revived and died of heroin overdose. After leaving Canned Heat in 1970, Larry Taylor went on to play with King Biscuit, Tom Waits and others. In 2014 he was nominated for a Blues Music Award. Taylor was involved in reunion tours and later reunited with Canned Heat (1978–1980, 1987–1992, 1996–1997, 2010–2019). He died in 2019 at the age of 77 of cancer. Henry Vestine rejoined Canned Heat late in 1970 until 1974. And again from 1980–1981, 1985–1988, 1992–1997. He died in 1997 while in Paris, France, from heart and respiratory failure.
Canned Heat performed at The Yale in Vancouver on June 16, 1987; June 30, 1996; September 16, 1997; and November 18, 1999.
Fito de la Parra is the only musician in the classic lineup in Canned Heat who continues to perform. He is joined by Dick Spalding on guitar, bass, harmonica and vocals, John Paulus on guitar and Rick Reed on bass guitar. In 2019 Canned Heat performed one concert in Mexico and another in Chicago.
September 6, 2021
Ray McGinnis
References:
Rebecca Davis, Blind Owl Blues: The Mysterious Life and Death of Blues Legend Alan Wilson, (Blind Owl Blues, 2013).
Fito de la Parra, Living The Blues: Canned Heat's Story of Music, Drugs, Death, Sex, and Survival, (Canned Heat Music, 2000).
Ritchie Unterberger, Turn! Turn! Turn!: The '60s Folk-Rock Revolution, (Backbeat, 2002).
"Canned Heat Canada concert dates," setlist.fm.
Jack Newfeld, RFK: A Memoir, (Bold Type Books, 2003).
Giuseppe Valiante, "U.S. Vietnam War Draft Dodgers Left their Mark on Canada," MacLeans, April 16, 2015.
"Jim Horn," Wikipedia.org.
Keith Shadwick, "Henry 'Ragtime' Thomas," The Encyclopedia of Jazz & Blues. (Quantum Publishing, 2007) p. 411.
"Boss 30," CKLG 730 AM, Vancouver, BC, January 17, 1969.
For more song reviews visit the Countdown.