#238: Got A Girl by the Four Preps
Peak Month: October 1960
10 weeks on Vancouver's CFUN chart
Peak Position #1
Peak Position on Billboard Hot 100 ~ #24
YouTube: "Got A Girl"
Lyrics: "Got A Girl"
Bruce Belland was born in Chicago in 1936. In 1946 his family moved to Los Angeles. As a star-struck 15-year-old, Belland delivered newspapers to dozens of world famous celebrities over in Beverly Hills. Those on his paper route included Lucille Ball, Jimmy Stewart, Gene Kelly, Jimmy Durante, Danny Kaye, Ira Gershwin, Danny Thomas, Zsa Zsa Gabor, George Burns, and Rosalind Russell. This fueled Bruce Belland's fantasy of a show business career. Edward "Ed" Cobb was born in 1938. Marv Inabnett was born in 1938 and was professionally billed as Marv Ingram. Glen Larson was born in Los Angeles in 1937. Marv Ingram starred in some episodes of the Adventures of Ozzie And Harriet in its opening season in 1952.
In the Fall of 1954 Hollywood High School held an audition for their annual talent show. Thirty-five girls auditioned, but no boys. The next day the school bulletin pleaded for "any guys out there who can do anything." Four boys in the school choir formed a quartet overnight and stepped into the crinoline void as The Four Preps. They consisted of tenor Bruce Belland as the lead singer, baritone Glen Larson, bass Ed Cobb and high tenor Marvin Ingram. They won the talent show hands down, after singing covers of songs by The Crew Cuts and The Four Lads.
Soon The Four Preps were getting dozens of requests to perform in public. Bruce Belland recalls, "We didn't turn anything down. We once performed on the back of a flatbed truck for the opening of a parking lot. They paid us $75.00; enough to buy gas and our first matching sport coats. We were totally stoked."
Then, in 1956, Capitol Records Producer Voyle Gilmore, heard a tape of a live performance by the Four Preps. Gimore, who had recorded Judy Garland, Frank Sinatra and others, instantly signed the Four Preps to a record deal. The contract made the Four Preps the youngest recording artists to sign with a major record label. Variety magazine nicknamed the Four Preps "Capitol's jolly juveniles". The group released their first single "Dreamy Eyes" in 1956, which climbed to #75 on the Billboard pop singles chart. In 1957 the Four Preps released four more singles. Non of these were commercially successful. Though, "Moonstruck In Madrid" peaked at #41 on the CKWX chart in Vancouver (BC) in February '57.
In 1958 the group connected with the record buying public with two Top Ten hits: "26 Miles (Santa Catalina)" and "Big Man". The first song was co-written by Bruce Belland and Glen Larson. Capitol Records finally allowed them to record the song and put it on the B-side of "It's You". While the A-side, which was a tune from the Broadway musical, The Music Man, was expected to be the hit, it was the B-side, "26 Miles (Santa Catalina)" that took off. Though "26 Miles" and "Big Man" would be their only Top Ten hits nationally in the USA, they became the first of five consecutive Top Ten hits in Vancouver (BC). In 1960, "Down By The Station" peaked at #5, and "Sentimental Kid" climbed to #9 in Vancouver. The Four Preps next release was "Got A Girl".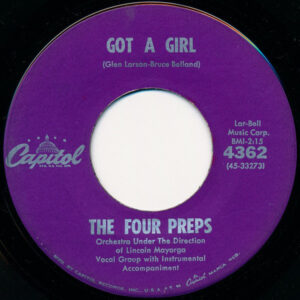 "Got A Girl" was cowritten by Bruce Belland and Glen Larson. The song concerns a guy whose girlfriend is all starry-eyed. But not over him. Her eyes are full of stars when they park at night at a spot where couples make out. However, the source of her true adoration comes from being infatuated with Fabian, Frankie Avalon, Ricky Nelson, Bobby Rydell and Elvis Presley. A girlfriend of the gal he's dating assures him that the "big hugs" he gets are a sign her love is real. And on a date the next night, though his date swears to her boyfriend her love is true, this becomes suspect when a locket around her neck breaks open. Inside he finds photos of Fabian, Frankie Avalon, Ricky Nelson, Bobby Rydell and Elvis Presley.
Fabian Forte was born in Philadelphia in 1943. When he was 14, Fabian was spotted by the owner of Chancellor Records and given a record contract, based on Fabian's good looks. He couldn't sing, but got on American Bandstand and Dick Clark's Saturday Night Beechnut Show. Between these two Dick Clark hosted variety shows, Fabian appeared on twenty occasions between 1958 and 1964. In 1959, at the age of 16, Fabian had his first Top Ten hit with "Turn Me Loose". This was followed by "Tiger", "Hound-Dog Man" and "This Friendly World". Fabian was satisfactory as an actor, and was featured in the 1959 film Hound-Dog Man. In 1960, Fabian was cast in a supporting role to John Wayne in North To Alaska, and also starred with Bing Crosby in High Time. Over the decades he starred in 26 movies, and in over 20 TV shows.
Frankie Avalon was born Francis Thomas Avallone in Philadelphia in 1940. When he was 12-years-old, he appeared in a Christmas episode on The Jackie Gleason Show, playing trumpet in a Honeymooners sketch. RCA signed Frankie Avalon to the label and in 1954 released the trumpet solo he performed in the December 1952 Honeymooners sketch. "Trumpet Sorrento" climbed to #42 on the Cashbox Best Selling Singles chart in March 1954. Avalon also appeared on The Perry Como Show where he played trumpet. Avalon had seven Top Ten hits between 1958 and 1959: "De De Dinah", "Gingerbread", "Venus", "Bobby Sox To Stockings", "A Boy Without A Girl", "Just Ask Your Heart", and "Why". With "Venus" Avalon topped the Billboard Hot 100 for five weeks in March and April of '59. While "Why" spent two weeks at number-one: the last week of 1959 and the first week of 1960. But after "Why", though Frankie Avalon released 43 singles between 1960 and 1978, he never cracked the Top 20 again nationally in the USA. However, he did have regional hits, including a #4 hit with "Ponchinello" in Vancouver (BC) in 1962. As well, Frankie Avalon starred in over 30 films, including many teen beach flicks with Annette Funicello.
Ricky Nelson was born 1940 with the birth name Eric Hilliard Nelson. On February 20, 1949, while still eight years old, he took the stage name of Ricky Nelson when appearing on the radio program, The Adventures of Ozzie and Harriet. A child actor, Ricky was also a musician and singer-songwriter. who starred alongside his family in the long-running television series, The Adventures of Ozzie and Harriet (1952–66), as well as co-starring alongside John Wayne and Dean Martin in the western Rio Bravo (1959). He placed 53 songs on the Billboard singles charts between 1957 and 1973. These include his number-one hits "Poor Little Fool" and "Travelin' Man", and "Garden Party" (the last a #1 hit in Canada in 1972).
Bobby Rydell was born Robert Louis Ridarelli in Philadelphia in 1942. In 1950, he won a talent show on the television series Paul Whiteman's TV Teen Club and gained a spot on the cast, where he remained for several years. He changed his name to Bobby Rydell and played in several bands in the Philadelphia area. In 1959 he had his first charting single with "Kissin' Time", a #11 hit on the Billboard Hot 100. Rydell's top-charing single was "Wild One" at #2 in 1960. That year the Italian-American also had a #4 hit with an English version of "Volare". Rydell had six Top Ten hits between 1959 and 1963. He performed at the Copacabana in New York City in 1961, where he was the youngest performer yet to headline at the nightclub. In 1963 he starred in the film Bye-Bye Birdie.
Elvis Presley was born on in a two-room house in Tupelo, Mississippi, on January 8, 1935. When he was eleven years old his parents bought him a guitar at the Tupelo Hardware Store. In 1954, Elvis began his singing career recording "That's All Right" and "Blue Moon Of Kentucky" at Sun Records in Memphis. In late 1955, his recording contract was sold to RCA Victor. In 1956 he had his first #1 record titled "Heartbreak Hotel." He had 19 number-one hits on the national pop charts in the USA (Billboard and Cashbox) including "I Want You, I Need You, I Love You", "Hound Dog", "Don't Be Cruel", "Love Me Tender", "Too Much", "All Shook Up", "(Let Me Be Your) Teddy Bear", "Jailhouse Rock", "It's Now Or Never", "Are You Lonesome Tonight" and "Suspicious Minds". Presley starred in 33 successful films, made history with his television appearances and specials, and knew great acclaim through his many, often record-breaking, live concert performances on tour and in Las Vegas. Globally, Elvis Presley has sold over six hundred million records, more than any other solo recording artist.
"Got A Girl" peaked at #1 in Vancouver (BC) and Hull (PQ), #5 in Kalamazoo (MI), #7 in Denver and Chattanooga (TN), #8 in Cleveland, Manchester (NH), and Springfield (MA).
The Four Preps continued to release 21 more singles until 1967. In 1962 they released a novelty record titled "The Big Draft" where they recommend several American pop groups to go drafting themselves by parodying their songs. The song included songs from The Platters' "I'll Never Smile Again", The Four Aces's "Love Is a Many Splendored Thing", The Marcels's "Heartache", The Highwaymen's "Michael" and Dion's "Runaround Sue". The Four Preps charted four more singles onto the pop charts in Vancouver (BC). Between 1961 and 1967, their most successful record in Vancouver was "A Letter To The Beatles" in March 1964.
When Ed Cobb wasn't singing with the Four Preps, he was writing songs. He wrote "Brontosaurus Stomp", "Piltdown Rides Again", "Goodnight Mrs. Flintstone" and "McDonald's Cave" for the Piltdown Men. The first single was a #10 hit in Vancouver (BC) and a #75 charting single on the Billboard Hot 100 in the fall of 1960. The Piltdown Men's second single climbed to #13 in Vancouver (BC) and #14 in the UK. Their third release written by Ed Cobb climbed to #18 in on the UK singles chart. "McDonald's Cave" also made the Top 20 on the UK singles chart. Cobb also wrote "Every Little Bit Hurts" for Brenda Holloway, a #13 hit on the Billboard Hot 100 in 1964.
Also in 1964, Ed Cobb composed "Tainted Love" which was recorded the following year by soul singer Gloria Jones, with little success. However, in 1981 synth-pop band Soft Cell covered the song and it became a number one hit in Vancouver (BC) and the #11 hit for the year 1982 on the Billboard Hot 100. Cobb also penned three songs for the Standells, "Dirty Water", "Sometimes Good Guys Don't Wear White" and "Why Pick On Me".
By 1968 the Four Preps split up. Bruce Belland continued writing songs for other singers, as well as writing television show scripts, eventually becoming a network executive. Belland was a producer on several game shows in the 1970s for Ralph Edwards Productions. At the end of the 60s, Ed Cobb left the music business to become a champion horse breeder. Glen Larson became a TV producer, writer and director. He created Battlestar Galactica, Knight Rider and variety television series including The Fall Guy. Marv Ingram became a commodities broker.
Marv Ingram died of a heart attack in 1999 at the age of 60. Ed Cobb died in 1999 at the age of 61 of leukemia. Glen Larson died of cancer at the age of 77 in 2014.
Bruce Belland, now 83, continues to perform with three newer group members of the Four Preps. He is joined by Bob Duncan, who was a former member of the Safaris, a group who had a Top Ten hit in 1960 titled "Image Of A Girl". Duncan went on to sing on the Lawrence Welk Show, and then as a member of The Diamonds for two decades. He also joined a reformed Crew Cuts for a decade before joining the Four Preps. Michael Redman joined the Four Preps after years as a backing vocalist, as well as singer on the Lawrence Welk show, Donnie and Marie Osmond Show, and as part of a reformed member of the Crew Cuts. The newest member of the Four Preps is Jim Armstrong. He has previously sung as a backing vocalist for Debbie Reynolds, Vicki Carr and others.
According to their website, The Four Preps most recent performance was in December 2018 in Claremont, California.
November 8, 2021
Ray McGinnis
References:
"The Four Preps Bio," Fourpreps.com.
"Bruce Belland Bio," Brucebelland.com.
Seth Lorinczi, "They Say It's Your Birthday: Ed Cobb," covermesongs.com, February 25, 2018.
"The Four Preps Bring 1960s Tunes to Sun City," Bluffton Today, Bluffton, SC, August 29, 2017.
"Fabian Forte," Wikipedia.org.
Frankie Avalon, "Ponchinello", Vancouversignaturesounds.com.
Ricky Nelson, "One Minute To One", Vancouversignaturesounds.com.
Elvis Presley, "There'll Be Peace In The Valley", Vancouversignaturesounds.com.
"Bobby Rydell," Wikipedia.org.
"Hi-Fi Forty," CFUN 1410 AM, Vancouver, BC, May 7, 1960.
For more song reviews visit the Countdown.