#309: One Minute To One by Ricky Nelson
Peak Month: October 1959
9 weeks on CFUN's Vancouver Charts
Peak Position ~ #2
Peak Position on Billboard Hot 100 ~ did not chart
YouTube: "One Minute To One"
Lyrics: "One Minute To One"
In 1940 Eric Hilliard Nelson was born. On February 20, 1949, while still eight years old, he took the stage name of Ricky Nelson when appearing on the radio program, The Adventures of Ozzie and Harriet. A child actor, Ricky was also a musician and singer-songwriter. who starred alongside his family in the long-running television series, The Adventures of Ozzie and Harriet (1952–66), as well as co-starring alongside John Wayne and Dean Martin in the western Rio Bravo (1959). He placed 53 songs on the Billboard singles charts between 1957 and 1973.
In the summer of 1957 Nelson had his first Top Ten hit with his debut single "A Teenager's Romance". It was a double-sided hit with the B-side a cover of the Fats Domino song "I'm Walkin'". In August '57, Nelson had a #2 hit in Vancouver with "You're My One And Only Love". Nelson was back in the Top Ten in November '57 with "Be-Bop Baby". And in January 1958 Ricky Nelson had another Top The hit with "Stood Up", which peaked at #2 in Vancouver.
With his weekly appearance on The Adventures of Ozzie and Harriet, Nelson was the first pop singer in the rock 'n roll era to use a TV show as a platform to promote his single releases.
In the spring of '58 Nelson had a #1 hit in Vancouver with "My Bucket's Got A Hole In It". In 1958 he had his first #1 song on the Billboard Hot 100, "Poor Little Fool", which peaked at #2 in Vancouver. Other Top Ten hits that year include the double-sided disc with "Lonesome Town"/"I Got A Feeling". In 1959 he continued to chart into the Top Ten with "It's Late"/"Never Be Anyone Else But You", "Sweeter Than You"/"Just a Little Too Much". The hits kept on coming that year for Ricky Nelson with "One Minute To One".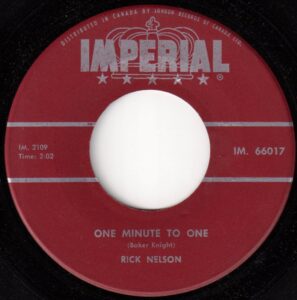 "One Minute To One" was written by Baker Knight. Born in 1933 in Birmingham, Alabama, Thomas Baker Knight Jr. His father died when young Baker was just six, and in 1939 he began to live with various relatives. In the early 50s he served in the United States Air Force. Then in 1956, Baker Knight formed a rockabilly group named Baker Knight and the Knightmares. A single titled "Bring My Cadillac Back", was a local hit and was picked up for national distribution by Decca Records. However, radio stations refused to play it as it served as unpaid advertising for Cadillac cars. Three more single releases failed to catch on and Decca dropped Baker Knight. He moved to Hollywood, and in 1958 he was promised a minor role in a film. Though the offer evaporated, Baker Knight brought his guitar along and befriended Eddie Cochran and his girlfriend Sharon Sheeley who penned "Poor Little Fool" for Ricky Nelson. One thing led to another and Ricky Nelson ended up recording several of Baker Knight's compositions. These include "Lonesome Town", "I Got A Feeling", "Never Be Anyone Else But You" and "Right By My Side". Other recording artists who Baker Knight wrote for include Jerry Lee Lewis, Dean Martin, Frank Sinatra, Gene Vincent, Nancy Sinatra and Roy Orbison. This included a Top 30 hit in 1959 for Ray Peterson titled "The Wonder Of You".
"One Minute To One" is a song about a couple that goes out to the movies. After the show, they spend some time alone. The guy wishes he could hold his date "tight," and that he could give her a kiss. However, he's been a proper gentleman, if not a bit too hesitant. Consequently, when they realize they've been talking until one minute to One O'Clock, he figures out it's too late to give her a kiss. After all, her mother will be worrying where she is. So he decides he better go on a date "tomorrow night" when he'll "kiss" his date "twice."
The predicament resembled that of the Everly Brothers in "Wake Up Little Susie" from 1957. In that song, the couple goes out to see a movie, and subsequently falls asleep until Four O'clock in the morning. In both "One Minute To One" and "Wake Up Little Susie" the guy taking the girl on a date decides he has to get his date back to her parents home.
In an article on littlethings.com titled "Courtship 'Rules' Women And Men Were Forced To Follow In The 1950s," Ariana Seigel details the norms for dating in the 1950s. The first rule was "A man should always ask a woman for the date." Since in dating it was the male who had to pursue the female, it was assumed "A man should always use heaps of flattery to woo a woman." As going steady was strongly encouraged, it was understood in polite society that "Young adults must only date one person at a time." And if you wanted to have a date on Friday or Saturday night, the norm was to "Ask your date out by Wednesday." As well, punctuality was required of both parties. But it was understood that the girl could not be running around trying to apply makeup at the last minute. After all, "A lady must always be on time for her date."
In the 1950s, it was considered absolutely rude to meet your date at a restaurant or public space. Instead, the gentleman was supposed to pick up the lady at her parents' home. This allowed the date's family to approve of her gentleman caller before the evening began. As a result it was expected that the young man would know to "Pick your date up at her house, and come to the door." As well, though a chaperoned date was ideal, and certainly the norm for a school dance, group dating was encouraged as a way to have young adults keep one another in check. But the bottom line was that "Parental approval [was] of utmost importance." On the date, whether they went to a restaurant, a soda shop, and/or a movie, the guy paid for the expenses. Ariana Seigel explains "If a young man couldn't afford to take his date out for a meal, he wasn't allowed to ask her out in the first place. Unlike today, a woman couldn't even offer to pay, as it was considered to be highly emasculating."
Seigel also relates that "it was considered rude for a woman to place her order directly with the waitstaff. Instead, she told her date what she'd like to eat, and he would order for the entire table. Since the man was essentially "hosting" the date —picking the venue, reserving a table, paying for the meal — it was thought that he should remain in charge of the entire dining experience." It was understood that is was always the male who would give his date's order to the waiter.
In "One Minute To One" the guy never gets around to giving his date a kiss, although he wishes he had. However, in the 50s there was a general expectation that there was to be no kissing on a first date. Ariana Seigel summarizes that "it was expected that the couple would end their date with a polite handshake or hug. Then, the gentleman would walk his date back to her home. However, with the rise of drive-in movies, automobiles became a popular space to get to know your date a little better. Since "parking" was a common practice, communities set up watchdog police forces to break up the "unseemly" activity."
In "One Minute To One" the couple is very late in recognizing it is well past time for the guy to get his date back to her parents house. In the 1950s there were "strict curfews, a young man was required to return his date home by a reasonable hour — walking her to the door and ensuring her safe arrival." It may be that the portrayal of the couple staying out so late was frowned upon by some radio stations who may have refused to give the record a spin.
"One Minute To One" was one of four tracks from an EP titled Songs By Ricky, Volume 2. "One Minute To One" climbed to #2 in Vancouver (BC), #19 in Portland (OR) and #22 in San Francisco.
In 1959, Nelson appeared in a movie with John Wayne titled Rio Bravo in 1959. In 1960, he starred opposite Jack Lemmon in The Wackiest Ship in the Navy.
In 1960 in Vancouver Ricky Nelson charted well with "Right By My Side". When he turned 21 years old on May 8, 1961, he changed his stage name from Ricky Nelson to Rick Nelson. This coincided with his number-one hit "Travelin' Man"/"Hello Mary Lou".
In 1962-63 Rick Nelson had a string of Top Ten hits with "Young World", "Teen Age Idol" and "It's Up To You". Another Top Ten hit for Nelson in 1963 in Vancouver (though not in the USA) was "Gypsy Woman"/"String Along".
Between 1957 and 1963 only Elvis Presley and Pat Boone had more Top 40 hits on the Billboard Hot 100 then Ricky Nelson.
Rick Nelson was one of the recording artists whose career was overshadowed with Beatles three appearances on the Ed Sullivan Show in February, 1964. Despite changing his name from Ricky to Rick, by the time the British Invasion began, Rick Nelson was becoming part of a past. Nelson, with his Ozzie and Harriet show just wasn't in synch with the new happening sounds from the UK, the surfin' sound, Motown, Folk Rock or garage-punk rock heard by The Kingsmen, Sam The Sham & The Pharaohs and others.
During the British Invasion Nelson was off almost entirely off the radar of most radio stations. Rick Nelson co-starred with his spouse, Kristin Nelson, in the 1965 film Love And Kisses. The film begins with the day Buzzy Pringle (Rick Nelson) graduates from high school and secretly marries his girlfriend Rosemary (Kristin Nelson). The pair met at school and she still has another year of school to complete since she failed French. Buzzy's family are horrified on hearing the news of their wedding, especially as Buzzy, unable to care for Rosemary, suggests that for the time being he and his wife live in his old room in the Pringles' suburban home. At first Buzzy's parents suspect that Rosemary must be pregnant, but it soon turns out that neither of them has had sex before. Buzzy's father has have a man-to-man talk with his son on the Buzzy and Rosemary's wedding night and to tell him all there is to know about the birds and the bees. The newlyweds' first marital crisis arises after only a few weeks when Rosemary, while her husband is away doing a summer job at the company his father works for, attempts to be a housewife but in fact lacks the necessary skills. The situation escalates when Buzzy finds out that it is his father rather than the company who is paying him. His confidence is temporarily shattered, but Buzzy quickly recovers and eventually is able to make some important decisions. He finds a real job and rents a small apartment and in the end is reunited with Rosemary.
Nelson released two singles from Love and Kisses, directed by Ozzie Nelson. These were "Come Out Dancing" and "Love And Kisses". Neither made the Billboard Hot 100, even though Nelson appeared on both Hollywood A Go-Go and Shindig to promoted the tunes.
By the summer of 1966, Rick Nelson began to move towards country music, becoming a pioneer in the country-rock genre. He was one of the early influences of the so-called "California Sound" (which would include Jackson Browne, Linda Ronstadt and the Eagles). Your Kind of Lovin' was released in January 1966 pre-dating this shift to country. It was featured on a 1966 episode of The Adventures of Ozzie and Harriet in that shows final season. "Your Kind Of Lovin'" had an upbeat pop sound with a generous use of horns, a musical cousin of the sound the Righteous Brothers were recording in the mid-60's. While "Your Kind Of Lovin'" failed to chart in the USA, it peaked at #8 in Vancouver.
In 1967 Vancouver's premiere supper club was The Cave. Opened in 1938 at 626 Hornby Street, patrons could enjoy a delicious dinner between 5:30 p.m. and 7:30 p.m. A menu at the time offered a choice of appetizers: crab meat cocktail or fruit cocktail, followed by "daily soup" or tomato juice. Entree options included fried filet of sole, roast sirloin of beef, grilled pork chops, filet mignon, fried half spring chicken and roast duckling. With each of these dishes came carrots and peas, and mashed potatoes. And for dessert: jello with whipped cream and milk. At the start of 1967, The Cave printed a poster featuring an upcoming booking with "Mister Entertainment," Wayne Newton. On the bottom of the poster was the following notice: "Opening Wed. Feb. 15th for 10 days only Ricky Nelson." Though Nelson had changed credits on his records in 1961 from Ricky to Rick, in 1967 The Cave (and likely other venues) were still billing him as "Ricky."
Rick Nelson had one last Top 40 hit single in 1972 titled "Garden Party". The song was about his experience of singing at a rock 'n roll revival show at Madison Square Gardens in New York City on October 15, 1971. He'd sung "Hello Mary Lou", but then launched into some new material. However, he was booed off stage by an audience only interested in hearing oldies.
On September 5, 1976, Rick Nelson and the Stone Canyon Band appeared in concert at the Pacific Coliseum in Vancouver.
In 1985 Rick Nelson put the "y" back in his name and billed himself again as Ricky Nelson. He went on tour with Fats Domino as part of a "comeback tour." The tour was short-circuited when Nelson's small plane crashed on December 31, 1985, near the Louisiana-Texas border by the town of De Kalb, Texas. The plane had already flown about 550 miles, having originated in Guntersville, Alabama. Nelson and his band were on route to a New Year's Eve celebration in Dallas. Ricky Nelson and six other occupants in the plane were killed, though two survived the crash. Nelson was 45-years-old.
May 17, 2021
Ray McGinnis
References:
Dean Martin and Ricky Nelson sing "My Rifle, My Pony and Me" in Rio Bravo, 1959.
The Wackiest Ship In The Army, Columbia Pictures, 1960.
The Adventures of Ozzie and Harriet, ABC (1952-1966).
Penny Pagano, "Probe Discounts Drugs as Cause of Air Crash That Killed Rick Nelson," Los Angeles Times, Los Angeles, CA, May 29, 1987.
Editors – Rolling Stone, "Rick Nelson – biography," The Rolling Stone Encyclopedia of Rock & Roll, (Simon & Schuster, 2001).
"Your Kind of Lovin" as sung by Rick Nelson on The Adventures of Ozzie and Harriet, ABC, January, 1966.
Rick Nelson sings "Love And Kisses" on Hollywood A Go-Go, November 13, 1965.
Andrew Godfrey, Ricky Nelson Wasn't Partying at the Garden Party, Nostalgia.com, October 3, 2013.
Spencer Leigh, "Baker Knight: Author of such songs as 'Lonesome Town', 'The Wonder of You' and 'Somewhere There's a Someone'," Independent, UK, October 17, 2005.
Ariana Seigel, "Courtship 'Rules' Women And Men Were Forced To Follow In The 1950s," little things.com, December 28, 2015.
"Hi-Fi Forty," CFUN 1410 AM, Vancouver, BC, October 16, 1959.
For more song reviews visit the Countdown.