#417: Love Has Finally Come My Way by Faron Young
Peak Month: September 1961
10 weeks on CFUN's Vancouver Charts
Peak Position ~ #2
Peak Position on Billboard Hot 100 ~ did not chart
YouTube.com: "Love Has Finally Come My Way"
"Love Has Finally Come My Way" lyrics
Faron Young was born in Shreveport, Louisiana, in 1932. He learned to sing at a young age. In 1948 he was enthralled by Hank Williams' performance on the Louisiana Hayride where Williams gave nine encores. In 1951 he was discovered by Webb Pierce who took Faron Young to the Louisiana Hayride. He signed with Capitol Records in 1952 and released "Goin' Steady". Though the single climbed into the Top Ten country charts in the USA in the spring of 1953, Faron Young's music career was derailed when he was drafted into the United States Army. Another record he cut before he was drafted, "I Can't Wait (For The Sun To Go Down)", also made the Top Ten on the country charts later that year.
Faron Young performed for the troops while he was in South Korea, along with a young actor named Leonard Nimoy. Young was discharged from the U.S. Army in 1954. In the winter his single "If You Ain't Lovin' (You Ain't Living)" spent 22 weeks on the Cashbox country chart, peaking at #2 in March 1955. His followup was "Live Fast, Love Hard, Die Young", peaking at #2 on the Cashbox Country Singles chart, and topping the Billboard Country singles chart. In 1955 Young had another hit titled "All Right" which spent 28 weeks on the Cashbox Top 15 Country Best Sellers chart, peaking at #3 in November. The Hillbilly Heartthrob had several other hits that year and it was not unusual for Faron Young to have two singles on the Cashbox Top 15 Country Best Sellers chart.
In 1956 Faron Young kept charting into the Top Ten on the Country Best Sellers chart with "It's A Great Life (If You Don't Weaken)", "I've Got Five Dollars And It's Saturday Night" and "Sweet Dreams" written by Don Gibson. Young's latter Top Ten hit spent 33 weeks on the Cashbox County Best Sellers chart.
In January 1956, Faron Young starred as Deputy Faron Young in the western movie Hidden Guns, along with John Carradine and Angie Dickinson. Later that year he starred as Faron Callaway opposite Bruce Bennett and Lon Chaney Jr. (star of many wolf man films) in Daniel Boone, Trail Blazer. In the film he sang "Long Green Valley". In 1957 Faron Young played in the role of Marshal Faron Young in the post Mexican-American War western Raiders of Old California. One of the other co-stars was Marty Robbins, who had a Top Ten hit in '57 titled "A White Sport Coat". In the 1958 film Country Music Holiday, Faron Young performed as a country singer named Clive Wood who surprises an audience when he does an Elvis Presley imitation while performing "When It Rains It Pours". Young starred with Ferlin Husky, June Carter and Zsa Zsa Gabor. And in 1958 Faron Young starred in a pilot for a proposed western series called The Young Sheriff, about a young man who followed in his slain father's footsteps. After he appeared in the western TV pilot Faron Young was given the nickname the "Hillbilly Heartthrob."
Meanwhile, Faron Young kept releasing more singles in the late '50s. Among his bigger singles on the national country charts in the USA were "I Miss You Already (And You're Not Even Gone)", "Riverboat", "Your Ole Used To Be", and his number one Country hits on Billboard "Alone With You" and "Country Girl". One of these, "Love Has Finally Come My Way", peaked at #20 on the Cashbox Country Best Sellers chart in September 1957, and #12 on the Billboard Country Singles chart. Faron Young was also a regular guest on Ozark Jubilee between January 1955 and September 1960.
In May 1961 Faron Young had his fourth number-one hit on the Billboard Country Singles chart. It was titled "Hello Walls" and topped the chart for nine weeks (ten weeks at #1 on the Cashbox Country Top 50) into July '61. The single entered the CKWX Fabulous Forty in April 15, 1961, spending eleven weeks on the chart and peaking at #6. A parody of "Hello Walls" by Ralph Emery titled "Hello Fool" became a Top Ten hit in Vancouver (BC). Given Faron Young's crossover country hit onto the pop charts with "Hello Walls", CKWX and CFUN decided to chart Faron Young's 1957 single, "Love Has Finally Come My Way". It appeared on the pop chart in Vancouver (BC) in September 1961.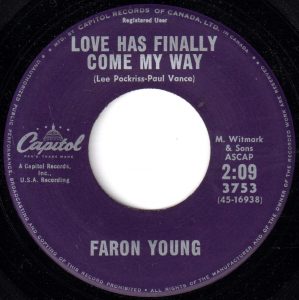 "Love Has Finally Come My Way" was co-written by Paul Vance (born Joseph Paul Florio) and Lee Pockriss. Paul Vance was born in Brooklyn in 1929. At the age of 18 he wrote the R&B classic "King Size Papa" for Julia Lee and Her Boyfriends in 1948. Lee Julian Pockriss was born in 1924, in Brooklyn. He attended Erasmus Hall High School and Brooklyn College, and studied musicology at New York University. He served in the Army Air Forces during World War II as a cryptographer in the South Pacific.
"Love Has Finally Come My Way" is a song about physical cues letting a guy know he is in love with his girlfriend and "begging for more." The catalyst for romantic feelings is "the thrill of your kiss." He also is enthralled with her "dreamy eyes", and how her presence makes his "heart begin to skip a beat." In addition, he starts "to get that certain glow."
In an article titled "How to Tell If He Really Loves You," Natasha Pelati writes "A kiss can be magical and you can feel the electricity run through your body if there is an attraction. He doesn't have to be a great kisser for you to feel the love. If there is passion and he feels something for you, then you will feel it in his kiss…. the chemical reaction that is caused from a kiss can tell you if you have a matching partner or not. Obviously if a kiss is not great and there is no chemistry then you will know immediately." So, based on Pelati's advice to people dating on the lookout for the "real thing," the lyrics in "Love Has Finally Come My Way" are on the mark. "The thrill of her kiss" is indicative of a connection. There may be other things on your "list" of what is important to you: financial security, addition issues, anger management, style of communication etc. But, the kiss will tell you something about how much it is worth pursuing a romantic relationship.
Natasha Pelati also writes that eye contact is another important indicator of a possible match. "If you are talking to him, you might notice that he is staring deep into your eyes and his pupils will dilate if he is truly in love with you." So those "dreamy eyes" Vance and Pockriss are writing about in "Love Has Finally Come My Way" are a call to pay attention. After all, it is not commonplace to find another person's eyes dreamy. Otherwise, we'd be falling in love with every bank teller, grocery clerk, dental receptionist, bus driver and postal worker we encounter, plus all the pedestrians we pass on the street. When we meet someone we notice has "dreamy eyes" this is more uncommon and worth our paying attention. Our bodies send us signals that tell us "this guy could be a keeper," and it's no big surprise.
In an article titled "5 Tell-Tale Signs You're Falling In Love, According To Science," Elyssa Goodman writes "Your heart beats faster. You can hear your blood pulsing in your veins. Every time he even looks at you, you feel a burst of energy. Could it be? Am I in love?" Goodman asked a neuroscientist Dr. Lucy L. Brown, a professor at Albert Einstein College of Medicine, about physical signs you're in love. Brown offered ""Being in love is like being high on cocaine." As with a cocaine high, when we are in love we experience "increased energy, increased heart rate and blood pressure (especially when you see the person), and the inability to sleep or eat. These symptoms occur because, while the brain produces dopamine on its own, it produces even more when in love. The brain also produces more of the chemical norepinephrine when we're in love, speeding up the heart when we're nervous, as we might be upon seeing our beloved." In the song "Love Has Finally Come My Way" the guy who is falling in love notices his "heart begins to skip a beat." Seeing the object of his desire gives him a natural high, and an elevated sense of excitement, increasing his heart beat. He also gets a "certain glow," perhaps blushing when his amour enters the room.
Paul Vance and Lee Pockriss wrote a number of hit songs including "Catch A Falling Star" (Perry Como – 1957), "Little Miss Stuck-Up" and "Wait For Me" (Playmates, 1961 and 1960), "Tracy" (the Cuff Links – 1969) and "Playground in My Mind" (Clint Holmes – 1972). Pockriss also wrote "No" for Dodie Stevens in 1960, a top ten hit in Vancouver (BC), and Shelley Fabares number-one hit in 1962 "Johnny Angel". "Itsy Bitsy Teenie Weekie Yellow Polka Dot Bikini", a number-one hit for Brian Hyland in 1960, was actually inspired by Paul Vance's shy 9-year old daughter, Paula, and an actual incident at a beach locker. The duo also wrote a song titled "3 Vanilla, 2 Chocolate, 1 Pistachio Ice" for Kris Jensen. Lee Pockriss went on to write the theme songs for the 1961 film One, Two, Three, the 1964 film The Subject Was Roses, and the 1966 film, Stagecoach. In later years Pockriss wrote a number of compositions for the TV series, Sesame Street. Vance and Pockriss also wrote a parody of the Shangri-Las' 1964 #1 hit, "Leader Of The Pack". Their Top 30 rejoinder was titled "Leader Of The Laundromat", recorded by The Detergents. Vance and Pockriss also wrote another of Brian Hyland's novelty songs in 1960: "Four Heels (The Clickety Clack Song)". Though it made the Top 30 nationally in Australia and the UK, it stalled at #73 on the Billboard Hot 1oo.
Vance and Pockriss penned songs recorded variously by Petula Clark, the Kingston Trio, Julius La Rosa, Johnny Tillotson, Jimmy Dean, Tony Bennett, Doris Day, the Brother Four, the Four Preps, Frank Sinatra, Brook Benton, the Fleetwoods, Tommy Leonetti, Patti Page, Nancy Sinatra, Tommy James & The Shondells, Sandie Shaw, Bert Kaempfert and others. Paul Vance also wrote "Gina" and "What Will Mary Say" for Johnny Mathis, and "Hurry Up And Tell Me" for Paul Anka. In 2011 Lee Pockriss died at the age of 87. In 2014 Paul Vance published his biography Catch A Falling Star.
On Top 40 radio, "Love Has Finally Come My Way" peaked at #2 in Vancouver (BC), #8 in Fargo (ND) in 1961, and in 1957 #10 in Seattle.
In 1966 Faron Young appeared in Second Fiddle To A Steel Guitar along with Carl and Pearl Butler, Sonny James, Webb Pierce and others. In 1967 Faron Young starred in musical film The Road to Nashville, alongside Marty Robbins, Johnny Cash, Webb Pierce, Ralph Emery, June Carter, Hank Snow and others. Young starred in several three more films featuring country music stars, the last in 1977 titled That's Country. In 1968 Faron Young had his first number-one hit on the Canadian Country chart titled "I Just Came To Get My Baby". Other notable hits for Faron Young included "Keeping Up With The Joneses", "Your Time's Coming" (about extra-marital relations) and "Wine Me Up" (about an alcoholic). In 1974 Faron Young managed his second and final number-one hit on the country charts in the USA (and Canada) titled "It's Four In The Morning".
Over the years Faron Young charted 41 songs into the Top Ten of the Billboard Country singles chart between 1953 and 1974. He charted 84 songs onto the Billboard County singles chart between 1953 and 1988. After 32 years of marriage, Faron Young divorced his wife, Hilda, in 1986. He had shot a pistol into their kitchen ceiling. He also had an escalating relationship with depression and alcohol. Faron Young died by suicide from a gunshot on December 9, 1996. His ashes were scattered outside the home of Johnny Cash and June Carter Cash while they were away.
In 2012 Diane Diekman published her memoir of Faron Young titled Live Fast, Love Hard: The Faron Young Story. A review said of her book that it "tells the tale of two Youngs: one, a talented, flamboyant performer and charitable man who helped the community and struggling songwriters like Willie Nelson and Bill Anderson, and who helped country music by founding the long-running periodical Music City News; the other, a raging alcoholic and jealous husband with an explosive temper, whose addiction and poor self image . . . led him to abuse and cheat on his wife, and verbally abuse his children, band members, and friends when he was drinking." In 2016 Faron Young was played by Fred Parker Jr. in the Hank Williams biopic I Saw The Light.
References:
Diane Diekman, Live Fast, Love Hard: The Faron Young Story, (University of Illinois Press, 2012)
Paul Wadey, "Obituary: Faron Young," Independent, UK, December 12, 1996.
Anita Gates, "Lee Pockriss, Songwriter Behind 'Itsy Bitsy' Bikini, Dies at 87," New York Times, November 16, 2011.
Its Bitsy Bikini Songwriter Lee Pockriss Dies, BBC, November 18, 2011.
Leslie Gray Streeter, "'Itsy Bitsy' songwriter Paul Vance looking for another hit at 85," Palm Beach Post, January 25, 2015.
Natasha Pelati, "How to Tell If He Really Loves You," Pairedlife.com, June 14, 2019.
Eylssa Goodman, "5 Tell-Tale Signs You're Falling In Love, According To Science," YourTango.com, April 27, 2020.
"C-FUN-Tastic Fifty," CFUN 1410 AM, Vancouver BC, September 30, 1961.
For more song reviews visit the Countdown.