#191: Sunny Goodge Street by Tom Northcott
Peak Month: August 1967
10 weeks on Vancouver's CKLG chart
Peak Position #1
Peak Position on Billboard Hot 100 ~ #123
YouTube: "Sunny Goodge Street"
Lyrics: "Sunny Goodge Street"
Tom Northcott is a Vancouver folk-rock singer with hits on the local pop charts from the mid-60s into the early 70s. He became known to a Canadian audience by his regular appearances on CBC Television's Let's Go music program in 1964-68. He was nominated as best male vocalist for a Juno Award in 1971. Later he co-founded Mushroom Studios in Vancouver and produced records. His hits are played regularly on Canadian oldies music stations.
Born in Vancouver in 1943, when he was in his teens Tom Northcott was gaining a reputation performing on the Vancouver coffeehouse circuit in the early '60s. In particular, he was a regular in the Kitsilano neighborhood, the nexus of the hippie scene north of San Francisco. Northcott performed at the Jewish Community Centre on both October 26th and November 2, 1963. In 1965, Northcott took over from Ronnie Jordan as the lead singer for the Vancouver Playboys, a group that wore identical suits. The Vancouver Playboys were an exciting new band that fused the Beatles look with music resembling of The Ventures (of "Walk Don't Run" fame). Northcott performed with his band at the Bunkhouse Coffeehouse in Vancouver on November 17, 1965. Northcott founded one of Vancouver's first labels, Syndrome Records. Warner Record executives in Los Angeles were amazed at Northcott's savvy and offered him distribution. While the Playboys toured the country that summer and fall, the label served home to their first single, "Cry Tomorrow". It was the first of eleven Top 30 hits on local AM radio stations in Vancouver.
But by the end of the year Northcott left the band. With a 12-string guitar, Northcott formed The Tom Northcott Trio with drummer Chris Dixon and Rick Enns on bass. In December 1965 they released "Just Don't" to overall good reviews. It charted on both CKLG and CFUN peaking in January 1966. Northcott's trio performed at the Kitsilano Theatre on January 14th, 15th and 16th, 1966. This was followed by a concert at St. John's Church Hall at 27th & Granville on January 20th. Then the trio appeared at The Afterthought (St. John's coffeehouse) Vancouver on January 28th.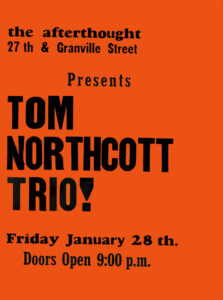 They were soon regulars on CBC TV's Let's Go program. Meanwhile they were selling out the top clubs in the area like the Pender Auditorium on April 7, 1966, and again on June 30, 1966.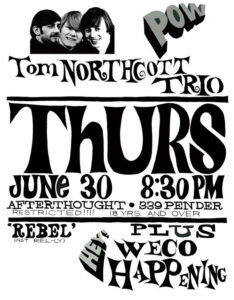 The Tom Northcott Trio traveled to California and played gigs in San Fransisco and Los Angeles. This exposure got them further performances as and they opened for The Who, The Doors and Jefferson Airplane. His next song, "Goin' Down", with the Tom Northcott Trio, has been reviewed at position #1138 on this Countdown.
His biggest hit song was the sunshine pop psychedelic tune, "Sunny Goodge Street".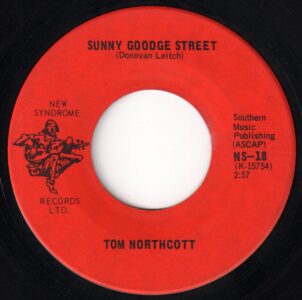 "Sunny Goodge Street" was written by Donovan and first recorded on his album, Fairytale. It became Tom Northcott's signature tune. Donovan Phillips Leitch was born in Glasgow, Scotland, in 1946. As a child he contracted polio and was left with a limp. At the age of 14 he began to play the guitar and when he was 16 years old he set his artistic vision to bring poetry to popular culture. He began busking and learned traditional folk and blues guitar. Music critics began branding him as mimicking Bob Dylan's folk style. Like Dylan, Donovan wore a leather jacket, the fisherman's cap, had a harmonica cradle and a song with "Wind" in the title. Dylan wrote "Blowing In The Wind" and Donovan had a hit in 1965 titled "Catch The Wind". Donovan was nicknamed by music critics in the UK as the "British Dylan." His notable hits include "Sunshine Superman", "Mellow Yellow", "There Is A Mountain", "Jennifer Juniper", "Hurdy Gurdy Man", "Barabajagal", and "Atlantis"/"To Susan On The West Coast Waiting".
"Sunny Goodge Street" is a reference to Goodge Street Station, a Tube stop in the Fitzrovia district of London where Donovan would get hashish. The song takes us on a journey where he makes the score, smokes it, and goes on a mind-expanding trip where in the end, there is love.
The song is one of the first to explicitly mention the drug, as Donovan sings: "Violent hash-smoker shook a chocolate machine." As a result of the song, Donovan was in the crosshairs of the London police who were enforcing the 1965 UK Dangerous Drugs Act. "I was the first to actually mention it in a song, and that's why I would be the first to be busted in London."
Tom Northcott altered the lyrics of "Sunny Goodge Street" to get it on the radio in Vancouver and elsewhere. Donovan's "violent hash-smoker shook a chocolate machine," was changed to "fearless believer shook a chocolate machine." Next up, Donovan's "Smashing into neon streets in their stonedness" became "Smashing into neon lights in their stillness." While Donovan's recording got him a police raid in London, Tom Northcott's cleaned-up lyrics for "Sunny Goodge Street" earned him a number-one hit in Vancouver in August 1967.
"Sunny Goodge Street" by Tom Northcott peaked at #1 in Vancouver (BC), #4 in Quesnel (BC), #7 in Redding (CA), #8 in Spartanburg (SC), #9 in San Jose (CA), and Sioux Falls (SD), and #10 in San Francisco and Vernon (BC).
For a follow up to his local success Northcott drew from American folk-singer, Harry Nilsson, and his song "1941", from his December 1967 album Pandemonium Shadow Show. Northcott quickly made his own recording. "1941" first appeared on the CKLG Boss 30 in Vancouver on January 13, 1968. On February 4, 1968, Tom Northcott performed in concert at the Village Bistro in Vancouver, and on March 1, 1968, at the PNE Agrodome as an opening act for The Who. On July 13, 1968, Tom Northcott was an opening act for The Doors at the Pacific Coliseum in Vancouver. And later that week, on July 18th, he gave a concert at Simon Fraser University in the Vancouver suburb of Burnaby. This was followed by concert dates at the Retinal Circus in Vancouver on August 13th with Mother Tucker's Yellow Duck; And again on August 18th – which was billed as a Teeny Bopper Concert in the afternoon.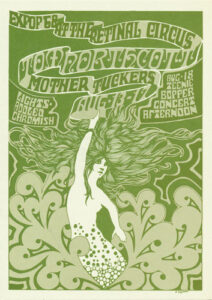 Tom Northcott's subsequent hit single in Vancouver was "Girl From The North Country", written by Bob Dylan. He had another chart success in Vancouver in 1969 with "The Rainmaker".
In 1970, Tom Northcott had another Top Ten hit in Vancouver titled "Crazy Jane", followed by "I Think It's Going To Rain Today".
In 1971 Tom Northcott had his final Top 30 hit in Vancouver, "Spaceship Races", which missed the Top Ten peaking at #15. The song was written by the songwriting team of Gerry Goffin and Carole King. The week "Spaceship Races" peaked on the CKLG and CKVN charts, Carole King's double-sided single "It's Too Late/"I Feel the Earth Move Under My Feet", and her album, Tapestry, were number one single and album on those local charts.
Northcott changed careers in the early 1970s and got a license to become a commercial fisherman in British Columbia. At the end of the decade Northcott ran for public office under the banner of the Social Credit Party of British Columbia in the New Democratic Party stronghold of East Vancouver. He lost the campaign. Once again he switched careers and, after studying law at university, he specialized in maritime and admiralty law. Northcott is now retired and living in Kamloops, British Columbia.
March 9, 2022
Ray McGinnis
References:
Mark Allan, Ron Grahame, Susan Jacks, Dennis McFadden, Fred Robinson, "Tom Northcott," Canadianbands.com
Dennis MacFadden, Vancouver Playboys ~ Pacific Northwest Bands, October 2008.
"Tom Northcott Concert Setlists & Tour Dates," Setlist.fm.
The Doors on the Road, "Pacific Coliseum – 07/13/1968, Vancouver, B.C. Canada," mild equator.com.
Donovan's official website (bio)
Donovan Leitch, The Hurdy Gurdy Man, (Arrow Books, UK, 2005).
"Boss 30," CKLG 730 AM, Vancouver, BC, August 12, 1967.
For more songs reviews visit the Countdown.