#592: What Can The Matter Be by the Poppy Family
Peak Month: April 1969
7 weeks on CKLG's Vancouver Chart
Peak Position ~ #3
1 week Hit Bound
Peak Position on Billboard Hot 100 ~ did not chart
YouTube.com: "What Can The Matter Be"
Lyrics: "What Can The Matter Be"
Susan Pesklevits was born in 1948 in Saskatoon, Saskatchewan. When she was seven years old she was a featured singer on a local radio station. At the age of eight her family moved to the Fraser Valley town of Haney, British Columbia. When she was 13 years old she had her own radio show. In a December 1966 issue of the Caribou newspaper, the Quesnel Observer noted that Susan Pesklevits had auditioned for Music Hop in the summer of 1963 when she was only 15 years old. She had her first public performance at the Fall Fair in Haney when she was just 14 years old. It was noted she liked to ride horseback, ride motorcycles and attend the dramatic shows. Asked about what she could tell the folks in Quesnel about trends in Vancouver, Pesklevits had this to report, "the latest things in Vancouver are the hipster mini-skirts, bright colored suit slacks, and the tailored look. The newest sound is the "Acid Sound," derived from L.S.D…. it is "pshodelic" which means it has a lot of fuzz tones and feed back. As an example, she gave "Frustration" recorded by the Painted Ship" a local band from Vancouver. Pesklevits added that on the West Coast "the latest dance is the Philly Dog. It mainly consists of two rows, one of girls and one of boys. The idea is to take steps, move in unison, while doing jerking motions and using a lot of hand movement."
In the summer of 1966 Pesklevits formed a trio with Tom Northcott and Howie Vickers called The Eternal Triangle who released one single titled "It's True". Vickers went on to form The Collectors which later morphed into Chilliwack.
Terrence Ross Jacks was born in Winnipeg, Manitoba, in 1944. March 29, 1944, Winnipeg, Manitoba. During his career as a recording artist he became a household name and recognized as a singer, songwriter, record producer and environmentalist. His family moved to Vancouver in 1961 and he formed a band named The Chessmen along with local guitarist, Guy Sobell. The Chessmen had four singles that made the Top 20 in Vancouver, two which were double-sided hits. These included "Love Didn't Die", "The Way You Fell" and "What's Causing This Sensation", and Top Ten hits. Jacks met Susan Pesklevits who had him recommended to her by a friend who knew she was looking for a rhythm guitarist. Pesklevits needed a rhythm guitarist to help with her upcoming gig at the Elks Club in Hope, British Columbia, in early September 1966. They were married in 1967 and she became Susan Jacks. In 1967, along with Craig McCaw who had been a member of the Kelowna band The Shadracks, they formed a trio called Powerline. They changed their name to The Poppy Family and Craig subsequently sought out a young tabla player in Vancouver named Satwant Singh. Terry and Susan Jacks agreed to have Singh join The Poppy Family.
On June 26, 1968, the Poppy Family gave a concert at the Village Bistro in Vancouver. They returned to the venue to perform on November 26, 27 and 28th. They also gave a concert in Vancouver at the Kiview Boys Club on November 10, 1968. In the fall of 1968, the Poppy Family had a regional hit with "Beyond The Clouds". It climbed to #2 for two weeks on the CKLG Boss 30 in November '68.
On January 23rd, February 28th, and on March 14, 1969, the Poppy Family gave concerts at the UBC Student Union building in Vancouver. Their follow up in 1969 was a gentle anti-racist, pro-environmental, pro-marijuana legalization tune titled "What Can The Matter Be". It appeared on the CKLG Boss 30 the week of March 21, 1969.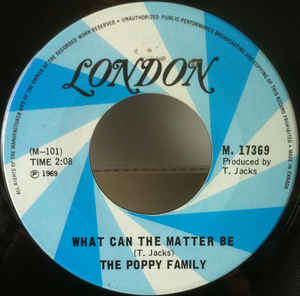 "What Can The Matter Be" is a song about social issues written by Terry Jacks. The first verse concerns a mother telling her young son that because he is black there will be people who won't accept him because of the color of his skin. The second verse concerns industrial pollution, a factory is built displacing a fishing hole. The final verse questions the values of a society where people are put in jail for six months for smoking marijuana.
Fifty years after "What Can The Matter Be" was on the pop chart in Vancouver things haven't changed much regarding racial prejudice. In 2019, the CBC reported that in Halifax, Nova Scotia, a study by University of Toronto criminology professor, Scott Wortley, concluded that Black male residents are six times as likely to be stopped by police on the street than caucasians. One of the outcomes of such racial profiling was the "criminalization of black youth." The frequency of street checks by police had a negative impact on Black male youth. In America, a recent article reported that although Americans elected African-American President Barak Obama twice (2008 and 2012), since the election of Donald Trump, hate crimes have been on the rise. White supremacists have been emboldened. Anti-immigration rhetoric has intensified." In America African-Americans make up 13% of the population, but 40% of the prison population. While in Canada it is actually the indigenous community that makes up 26% of the prison population, while they represent only 4% of the general population.
"What Can The Matter Be" raises a specific environmental issue about a factory with "billows of smoke" replacing a fishing hole. In 2019, environmental issues are in the forefront of political debate. Provincial and federal governments have been having disputes over whether to build more pipelines for oil and gas. In January 2018 the CBC reported "A new study has found pharmaceuticals and other contaminants are forcing Hamilton's fish to work harder to survive. A team of researchers from McMaster University have found that when exposed to elevated levels of pollutants in water, fish are burning more energy that would otherwise go towards vital functions, ultimately making them more vulnerable. "The evidence is mounting that these sorts of chemicals are having impacts on the natural environment," said Graham Scott, a biologist at McMaster University and senior author of the paper that was published in the journal Environmental Science and Technology."
The Poppy Family song also questions why a society would put someone in jail for "just smoking pot." Forty-nine years later, Canada legalized possession of marijuana.
"What Can The Matter Be" is originally a children's nursery rhyme from England dating back to 1770. The English tenor Samuel Harrison made the song popular when he began to include it in his set list of songs starting in 1792 at the London social club Willis's Rooms. The original lyrics provided in Cuddon's and Preston's A Dictionary of Literary Terms and Literary Theory are:
O dear, what can the matter be?
Dear, dear, what can the matter be?
O dear, what can the matter be?
Johnny's so long at the fair.
He promised he'd buy me a fairing should please me,
And then for a kiss, oh! he vowed he would tease me,
He promised he'd bring me a bunch of blue ribbons,
To tie up my bonny brown hair.
The melody was familiar into the 20th Century in all British Commonwealth countries. And pilgrims brought the song to the American colonies. In some versions there are additional verses in American folksong collections, this one dating back to 1795:
He promised he'd buy me a basket of posies
A garland of lilies, a garland of roses;
A little straw hat to set off the blue ribbons
That tie up my bonny brown hair, and it's oh dear…
By choosing the nursery rhyme "What Can The Matter Be", the Poppy Family were ascribing to the current generation of both children and adults an innocence and naivety about their contemporary social conditions and political issues.
"What Can The Matter Be" climbed to #3 in Vancouver. It got airplay in Winnipeg, Manitoba, and a few other radio markets in Canada.
Their next single, "Which Way Is Going Billy?" went #1 in Vancouver in became an international hit. Terry Jacks won a Juno Award for this recording. The Poppy Family racked up numbers of Top 30 singles in Vancouver through to 1973 including local #1 hits "I Was Wondering" and "That's Where I Went Wrong". Concurrently, Terry Jacks released several solo records. The first was "I'm Gonna Capture You" followed in 1972 with the pro-environtalmentalist tune "Concrete Sea".
Meanwhile both Craig McCaw and Satwant Singh left the Poppy Family. In 1971 Singh co-wrote a children's song titled "Country Kangaroo", recorded by Mary-Lou Buttons. And in 1975 Singh was a session musician on several tracks for Canadian country recording artist Mya.
"No Good To Cry" was the third of six singles released on the Poppy Family's second album, Poppy Seeds. The singles from that album were released in 1971 and 1972 in the following order: "I Was Wondering", "Where Evil Grows", "No Good to Cry", "I'll See You There", "Good Friends" and "I Thought of You Again". And on May 24, 1972, the Poppy Family gave a concert at the Chilliwack Coliseum in Chilliwack – about a 90 minute drive east of Vancouver.
While Susan enjoyed performing live, Terry Jacks wasn't interested in touring. As a consequence, The Poppy Family lost the momentum they had briefly achieved internationally and their career was hampered. The professional relationship began to unravel and so did the marriage. Susan Jacks may have taken her own advice after the marriage ended in divorce and told herself "it don't do no good to cry."
The Poppy Family's next single from the album, Poppy Seeds, was "Good Friends". This follow-up hit extended the musing about what people say to each other when a relationship ends.
And when the love died, I never asked why,
you never know what makes it end.
You said, "I'll see you again soon,
and we'll always be good friends."
In fact, the lyrical trajectory of most of the subject matter released by the Poppy Family was brooding about relationships ending and regrets. "That's Where I Went Wrong" finds a single woman asking if she can confide to the stranger beside her riding on a bus:
Cause the one that used to talk to me
well he don't want me.
See this ring? Tell me what's it mean to you
Yeah, it's pretty, but to me it just rang true
I'm so sorry for being such a bore
Cause this ring and everything means nothing anymore.
And in "I Was Wondering" Susan Jacks asks:
I was wondering if you cried today
for the love that died here yesterday?
Tears are something people hide away…
Susan Jacks went on to record over a dozen singles that charted on either the Canadian pop charts, the country or the Adult Contemporary charts in the nation. In the midst of her string of hit singles she had a son and took a few years out of the music scene as a young mother. She married Canadian Football player Ted Dushinski in 1980. She won a Juno nomination for her single, "All The Tea in China", in 1982, which charted best in Ottawa.
In 1983, Susan Jacks moved with her family to Nashville, Tennessee, and had a award winning country hit titled "Another Woman's Man" in 1984. She became a staff songwriter in Nashville. After her husband died in 2004 after a cancer diagnosis, Jacks moved back to Canada only to suffer kidney failure. Some years later her brother, Billy, donated a kidney for a successful transplant operation. More recently she has faced health challenges again with her kidneys.
Meanwhile, in 1974 Terry Jacks international hit with "Seasons In The Sun". Jacks released eight more singles though only one of these, "Christina", made the local pop charts. He also produced records for other recording artists including Nana Mouskouri, Valdy, George Jones and Buddy Knox. Terry Jacks remarried and moved to Haida Gwai on the northwestern coast of British Columbia. He has worked on a number of environmental films over the years.
On the Roundhouse website in Vancouver, Craig McCaw writes that after he left the Poppy Family in 1970, he studies "composition and theory in Delhi India under Asad Ali Kahn. I returned to Vancouver to play in many bands and on many recording sessions. My long time love of astronomy eventually led to the HR MacMillan Planetarium. Working in a wide variety of roles including special FX design, air brush art, and scripting work, it seemed inevitable that music would get into the mix and I became the defacto resident composer at the Planetarium composing the music scores, recording the narration, and mixing the audio for dozens of Planetarium shows over 20 years and releasing two Planetarium soundtrack albums. One of these albums was released in 1978 and titled A Journey Through The Galaxy. Satwant Singh was one of the studio musicians on the album.
In 1994 Satwant Singh was a studio musician on the Australian band Single Gun Theory's album Flow, River Of My Soul.
On July 9, 2014, the Poppy Family performed in concert at the Fox Cabaret in Vancouver. And three days later on July 12th, they appeared at the Khatsahlano Street Party on Vancouver's West 4th Avenue.
In 2016 Terry Jacks suffered two strokes.
June 19, 2019
Ray McGinnis
References:
susanjacks.com (bio)
Terry Jacks Facebook.com page (bio)
Professional Talent Highlights Knot Hole, Quesnel Observer, December 1966
John Mackie, Susan and Terry Jacks Fight Serious Health Issues in Hospital, Vancouver Sun, Vancouver, BC, September 21, 2016
"Black People in Halifax 6 Times More Likely to be Street Checked Than Whites," CBC, May 27, 2019.
"7 Ways We Know Systemic Racism Is Real," Ben & Jerry's, 2016.
Leonard Monkman, "Indigenous incarceration rates: Why are Canada's numbers so high and what can be done about it?," CBC, June 29, 2019.
Laura Clementson, "Pollutants in Water Making Fish Work Harder Just to Stay Alive, Study Suggests," CBC, January 19, 2018.
Bani Sapra, "Canada Becomes Second Nation in the World to Legalize Marijuana," CNN, June 20, 2018.
"Samuel Harrison (Singer)," Dictionary of National Biography, UK.
William Chappell, Popular Music of the Olden Time: The Whole of the Airs Harmonized by G. A. Macfarren. Volume 1, (Adamant Media Corporation, 2005)
Craig McCaw, "Craig F. McCaw Original Music for Television, Film, & Planetariums," Roundhouseproductionshows.com.
"Boss 30," CKLG 730 AM, Vancouver, BC, April 25, 1969.
For more song reviews visit the Countdown.