#328: Concrete Sea by Terry Jacks
Peak Month: September 1972
9 weeks on Vancouver's CKLG chart
Peak Position #2
Peak Position on Billboard Hot 100 ~ did not chart
YouTube: "Concrete Sea"
Lyrics: "Concrete Sea"
Terrence Ross Jacks was born in Winnipeg, Manitoba, in 1944. During his career as a recording artist he became a household name and recognized as a singer, songwriter, record producer and environmentalist. His family moved to Vancouver in 1961 and he formed a band named The Chessmen along with local guitarist, Guy Sobell. The Chessmen had four singles that made the Top 20 in Vancouver, two which were double-sided hits. These included three Top Ten hits: "Love Didn't Die", "The Way You Fell" and "What's Causing This Sensation". In 1966 Terry Jacks met Susan Pesklevits on a local CBC music show called Let's Go.
Susan Pesklevits met Jacks after she had him recommended to her by a friend who knew she was looking for a rhythm guitarist. Pesklevits needed a rhythm guitarist to help with her upcoming gig at the Elks Club in Hope, British Columbia, in early September 1966. They were married in 1967 and she became Susan Jacks. In 1967, along with Craig McCaw who had been a member of the Kelowna band The Shadracks, they formed a trio called Powerline. They changed their name to The Poppy Family and Craig subsequently sought out a young tabla player in Vancouver named Sawant Singh. Terry and Susan Jacks agreed to have Singh join The Poppy Family.
On June 26, 1968, the Poppy Family gave a concert at the Village Bistro in Vancouver. They returned to the venue to perform on November 26, 27 and 28th. They also gave a concert in Vancouver at the Kiview Boys Club on November 10, 1968. In the fall of 1968, the Poppy Family had a regional hit with "Beyond The Clouds". It climbed to #2 for two weeks on the CKLG Boss 30 in November '68.
On January 23rd, February 28th, and on March 14, 1969, the Poppy Family gave concerts at the UBC Student Union building in Vancouver. Their follow up in 1969 was a gentle anti-racist, pro-environmental, pro-marijuana legalization tune titled "What Can The Matter Be". It appeared on the CKLG Boss 30 the week of March 21, 1969.
The Poppy Family's next single, "Which Way Is Going Billy?" became an international hit. Terry Jacks won a Juno Award for this recording. In January 1970 the Poppy Family topped the Vancouver pop chart for two weeks on CKLG with "That's Where I Went Wrong".
Then in June 1970 Terry Jacks debut solo single, "I'm Gonna Capture You", entered the record survey on CKLG. It climbed to #2 in Vancouver the following month, kept out of the number-one spot by Three Dog Night's "Mama Told Me Not To Come".
In 1971 the Poppy Family topped the Vancouver Top 30 with "I Was Wondering", while the B-side "Where Evil Grows" peaked on CKVN at #12. The group had another Top Ten hit in Vancouver with a cover of the Wildweeds "No Good To Cry" in the winter of 71-72. And in the spring of '72, the group had another Top Ten hit in Vancouver "Good Friends". And on May 24, 1972, the Poppy Family gave a concert at the Chilliwack Coliseum in Chilliwack – about a 90 minute drive east of Vancouver. The hits kept coming as Terry Jacks released his second solo single in August '72, the environmentalist tune "Concrete Sea".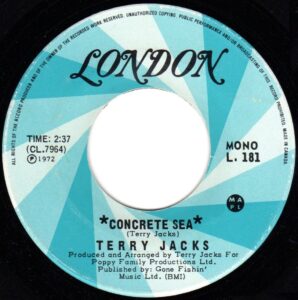 "Concrete Sea" was written by Terry Jacks. In the song the narrator is feeling disoriented. He listens to a song "but the words were wrong." He looks up to the sky that is "so far away," presumably since the skyscrapers of concrete make it seem even further away. He also complains "I've got too many things inside my head," and wishes he could be up in the sky instead of on the ground. He concludes that everyone living in the "concrete sea…wishes he could be set free."
In a final verse he looks at the ocean and thinks about how quiet it is, and how blue. He wishes he could be a fish in the ocean, because in the concrete sea "there's just too many people everywhere."
The concrete sea is a metaphor for the modern city and its urban landscape with its concrete skyscrapers, shopping malls, sidewalks, bridges, roads and highways. The "concrete sea" is suffocating for the singer.
In 1925 the term "concrete jungle" was coined to describe a modern city/urban area filled with large buildings. A concrete jungle was regarded especially as a harshly competitive, unwelcoming, or dangerous place.
In an advertisement, published in The Sun, Baltimore, Maryland, on July 5, 1925:
Ask Dad
—He Knows

Poor old soul, he knows that all these years his city-bred heart has bottled up a love for green grass, trees and flowers. That's why he's so crazy about golf; taking pleasure in little sips when he might live in Ten Hills and enjoy hour upon hour out of doors… It's positively foolish to live in the "concrete jungles." Buy in Ten Hills and start LIVING.

TEN HILLS
"The Country Suburb"
Caughy & Company, Inc.
Agents
220 E. Lexington St.
In 1969 English zoologist, Desmond Morris, wrote about animal and human behaviour. He contrasted the "concrete jungle" with the "human zoo" in the introduction to his book The Human Zoo.
When the pressures of modern living become heavy, the harassed city-dweller often refers to his teeming world as a concrete jungle. This is a colourful way of describing the pattern of life in a dense urban community, but it is also grossly inaccurate, as anyone who has studied a real jungle will confirm.

Under normal conditions, in their natural habitats, wild animals do not mutilate themselves… attack their offspring, develop stomach ulcers, become fetishists, suffer from obesity…or commit murder. Among human city-dwellers, needless to say, all of these things occur. Does this, then, reveal a basic difference between the human species and other animals? At first glance it seems to do so. But this is deceptive. Other animals do behave in these ways under certain circumstances, namely when they are confined in the unnatural conditions of captivity. The zoo animal in a cage exhibits all these abnormalities that we know so well from our human companions. Clearly, then, the city is not a concrete jungle, it is a human zoo.

The comparison we must make is not between the city-dweller and the wild animal, but between the city-dweller and the captive animal. The modern human animal is no longer living in conditions natural for his species. Trapped, not by a zoo collector, but by his own brainy brilliance, he has set himself up in a huge, restless menagerie where he is in constant danger of cracking under the strain.
At the end of 1972, Terry Jacks released a cover of the Buddy Holly "I'm Gonna Love You Too". While Susan Jacks enjoyed performing live, Terry Jacks wasn't interested in touring. As a consequence, the Poppy Family lost the momentum they had briefly achieved internationally and their career was hampered. The professional relationship began to unravel and so did the marriage.
Terry Jacks is best known for his 1974 hit song "Seasons In The Sun". Jacks sone is an English-language adaptation of the 1961 song "Le Moribond" by Belgian singer-songwriter Jacques Brel with lyrics rewritten in 1963 by American singer-poet Rod McKuen. The lyrics portray a dying man's farewell to his loved ones.
In an interview he recalls what happened when the "Seasons In The Sun" became a hit. "…at the time Sonny & Cher had the top show. They'd phoned me, because I didn't want to do it. The producer got quite pissed off. He says, 'Well, how do you expect to sell any records if you don't do our show?' So, anyway, I didn't do it. So then Dick Clark, he had the big music show…American Bandstand... His producer phoned me and they wanted me to do it. I said, "Golly, I just don't want to do anything like that." In fact, I took off and went scuba diving down in the South Pacific for two months." When Jacks got back to Canada Dick Clark phoned him and the singer agreed to appear on American Bandstand because no one says 'no' to Dick Clark. Jacks appeared on American Bandstand on February 9, 1974.
In 1974, Jacks got royalties from "Seasons in the Sun" which sold over 11.5 million copies. Terry Jacks bought a boat and spent a lot of time sailing between Vancouver and Alaska. Feeling committed to the preservation of the ocean and clean air, Jacks took on Canadian companies who were polluting the waters and the atmosphere. For 12 years, he left music behind to protest these companies through legal actions. Jacks recalled in an interview, "I met with one of the CEOs of one of the big pulp mills and I had a big picture of one of his mills. I had a picture of my little girl in the smoke that was coming out of the mill, and I showed it to him. I said, 'I don't want this for my little girl, and you're breaking the permits.'"
His followup singles from the Seasons In The Sun album, "If You Go Away" and "Rock N' Roll (I Gave You All The Best Years Of My Life)" peaked at #15 and #22 in Vancouver. In 1974 Terry Jacks won a Juno Award for Best Male Vocalist.
Between 1975 and 1987 Jacks released nine more singles. Only one of these, "Christina", made the local pop charts in Vancouver.
After the mid-70s, Terry Jacks withdrew from the music industry. He got remarried and became a father. In 1985 he formed Environmental Watch. Jacks also produced a number of documentary short films over the following decades on the environment with titles The Faceless Ones, The Tragedy of Clearcutting, The Southern Chilcotin Mountains and The Warmth of Love (The Four Seasons of Sophie Thomas).
Jacks love of nature never wavered. He eventually moved to Haida Gwai on the northwestern coast of British Columbia, while also maintaining a home on British Columbia's Sunshine Coast in scenic Madiera Park. The unincorporated community is adjacent to Pender Harbour where Joni Mitchell lives.
On July 9, 2014, the Poppy Family performed in concert at the Fox Cabaret in Vancouver. And three days later on July 12th, they appeared at the Khatsahlano Street Party on Vancouver's West 4th Avenue.
In an interview with Songfacts.com in 2014, Terry Jacks reflected on the music industry and recording artists. "…so many of these guys, they get into too many evil things. Too many wives, too much wine, too much alcohol, too much drugs. You get wrapped up and you've got so many people; they've got agents and managers and everything. I never had to answer to anybody. I answered to myself. I did what I wanted to do and sure, I could have probably made millions of dollars, but I didn't really care. I got everything I wanted. The nice boat, the nice car. I had the same car for 44 years. I just got a new car, finally. I had a Mercedes 280SL, a nice little sports car. When I got the money I bought that car, and I just kept it. And then my boat, Seasons in the Sun, I just sold it last year. I'm getting too old for the wild. And I had a beautiful ranch, I had to give that up in the marriage. I'm happy. I think the less you've got, the happier you are. One of my sayings is on my fridge. It says, 'Simplicity.' And then it says, 'I think everybody should get rich and famous and do everything they ever dreamed of, so they can see that it's not the answer.'"
In 2016 Terry Jacks suffered two strokes.
March 31, 2021
Ray McGinnis
References:
John Mackie, "The Many Seasons of B.C. Singer Terry Jacks," Vancouver Sun, April 1, 2016.
Carl Wiser, "Terry Jacks Seasons In The Sun," Songfacts.com, March 6, 2014.
Terry Jacks bio, Canadian Bands.com.
Terry Jacks bio, The Canadian Encyclopedia.ca.
Dick Clark, "Terry Jacks, Al Wilson guest stars," American Bandstand, ABC, February 9, 1974.
Desmond Morris, The Human Zoo: A Zoologists Classic Study of the Urban Animal, (Jonathan Cape, 1969).
Pascal Tréguer, "Asphalt Jungle| Concrete Jungle," Wordhistories.net.
"CKLG Thirty," CKLG 730 AM, Vancouver, BC, September 15, 1972.
For more song reviews visit the Countdown.