#412: I'm Gonna Capture You by Terry Jacks
Peak Month: July 1970
7 weeks on CKLG's Vancouver Chart
Peak Position ~ #2
1 Hit Bound
Peak Position on Billboard Hot 100 ~ did not chart
YouTube: "I'm Gonna Capture You"
Terrence Ross Jacks was born in Winnipeg, Manitoba, in 1944. March 29, 1944, Winnipeg, Manitoba. During his career as a recording artist he became a household name and recognized as a singer, songwriter, record producer and environmentalist. His family moved to Vancouver in 1961 and he formed a band named The Chessmen along with local guitarist, Guy Sobell. The Chessmen had four singles that made the Top 20 in Vancouver, two which were double-sided hits. These included three Top Ten hits: "Love Didn't Die", "The Way You Fell" and "What's Causing This Sensation". In 1966 Terry Jacks met Susan Pesklevits on a local CBC music show called Let's Go.
Susan Pesklevits met Jacks after she had him recommended to her by a friend who knew she was looking for a rhythm guitarist. Pesklevits needed a rhythm guitarist to help with her upcoming gig at the Elks Club in Hope, British Columbia, in early September 1966. They were married in 1967 and she became Susan Jacks. In 1967, along with Craig McCaw who had been a member of the Kelowna band The Shadracks, they formed a trio called Powerline. They changed their name to The Poppy Family and Craig subsequently sought out a young tabla player in Vancouver named Sawant Singh. Terry and Susan Jacks agreed to have Singh join The Poppy Family.
On June 26, 1968, the Poppy Family gave a concert at the Village Bistro in Vancouver. They returned to the venue to perform on November 26, 27 and 28th. They also gave a concert in Vancouver at the Kiview Boys Club on November 10, 1968. In the fall of 1968, the Poppy Family had a regional hit with "Beyond The Clouds". It climbed to #2 for two weeks on the CKLG Boss 30 in November '68.
On January 23rd, February 28th, and on March 14, 1969, the Poppy Family gave concerts at the UBC Student Union building in Vancouver. Their follow up in 1969 was a gentle anti-racist, pro-environmental, pro-marijuana legalization tune titled "What Can The Matter Be". It began to chart on the CKLG Boss 30 on March 21, 1969.
Their next single, "Which Way Is Going Billy?" became an international hit. Terry Jacks won a Juno Award for this recording. In January 1970 the Poppy Family topped the Vancouver pop chart for two weeks on CKLG with "That's Where I Went Wrong". Then in June 1970 Terry Jacks debut solo single, "I'm Gonna Capture You", entered the record survey on CKLG.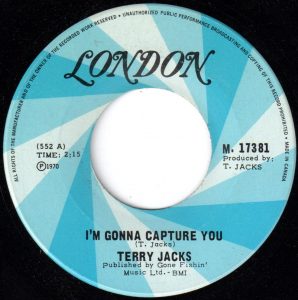 "I'm Gonna Capture You" is a song written by Terry Jacks. In the song he offers that he doesn't like to judge people by what they've done, but "by what they are." Regardless of personal history, it is his physical reaction to the woman in front of him that fills him with a certain purpose. When he sees this woman's smile he feels weak and confides "my heads' aglow with wild thoughts you should never know." And so he decides he wants to "capture" this woman and begins to think about how to, metaphorically or literally set his trap for her. He contemplates sneaking up on her "behind your back." But then he decides "that's not nice to do to someone like you." So, instead he plots to capture her mind "to make you see the fire in me."
In the Bible's Song of Songs chapter 4, verse 9, the writer confesses "You have captured my heart, my sister, my bride, you have stolen it with one glance." In various English translations of the original Hebrew, the word "capture" is rendered "ravish," "captivate" and "stolen." In "I'm Gonna Capture You", the singer is aware that this woman has started a fire inside of him. She has captured him with one smile. And so he wants to impress on her how much he is filled with thoughts and physical desire for her. The Song of Songs is ancient poetry. In the same way, Terry Jacks is using the word "capture" to try to describe an infusion of passion one feels when they are at first infatuated and filled with excitement and desire for someone. If there was no initial spark, or fire, there would be no effort made to pursue exploring a relationship. As this is poetry, Terry Jacks character is not thinking of capturing her as synonymous with kidnapping her, to apprehend, seize, or imprison. The use of capture in the song is synonymous with enamor, fascinate, enchant, charm and attract.
In an article titled "10 Best Ways to Win Her Heart," the following advice is given to male suitors of the girl of his dreams.
1) Be Clever: if you come across as smart and the woman feels like she needs to keep on her toes when she's around you, this has a good chance at adding to her interest. After all, it is a turnoff for many women if the guy trying to woo her is a dullard.
2) Get Honest: being caught in a lie is a surefire way to get shown the door early in any dating relationship. However, if you are able to genuinely express emotions that make sense in the moment, you will have a better chance at winning her confidence in your being "the real thing."
3) Get Friendly: Be friendly not only with your date, but also be sociable and take interest in her friends. Of course, if it is like pulling teeth to have a pleasant time with her friends that may be a warning sign. But, optimally, you'll choose someone to date whose friends are the cherry on top, adding positively to your social life. Getting along with her in the company of her friends will be a confirmation that you don't want her for yourself at the expense of her existing friendships.
4) Get Passionate: If she knows you have passionate feelings for her, and aren't afraid to express them, this will be alluring – providing she also feels attracted to you.
5) Get Chivalrous: Being a gentleman is not old fashioned. While it is traditional to open the car door for her, and drive her home, it is an indication of other ways she can anticipate your being considerate.
6) Get Funny: As things unfold, let your playful and humorous side express itself. Being earnest and serious all the time can be a bit tense. Or treat her to a comedy feature film that is one of your favorites. Or ask her what comedy films she likes. Find out where your natural places of connection are that tickle each other's funny bone.
7) Get Talking: When you communicate and learn about each others thoughts, you will discover what kinds of things she likes, and what she doesn't care for. Your ability to make choices that reflect her input will let her know you've been observant.
8) Get Attentive: If you say you care about her, but never listen to what she is saying, she will get the impression that she really doesn't matter to you. So pay attention and listen when she has something to tell you.
9) Get Perseverance: If things get rocky and you take a break, or break up, you can persevere (if she is still interested). If you can remain at ease with setbacks, you can win her heart by demonstrating that you think she is worth the extra effort. Just be sure she hasn't given up on you.
10) Get a Life! If you come across as needy, high maintenance, disturbed, jealous or distraught, she'll run for the door. While people who have emotional issues can find a way to successfully date, be sure not to sabotage your dating relationship by sending out all sorts of red flags. She'll look forward to a future with someone who she can relax with and enjoy, not someone who constantly stresses her out or gives her a headache.
"I'm Gonna Capture You" climbed to #2 in Vancouver (BC), #3 in Victoria (BC) and #9 in Toronto. The song climbed into the Top 20 in Lethbridge (AB) and Pointe Claire (PQ). It made the Top 30 in Calgary (AB), Winnipeg (MB), Seaside (OR), Hamilton and Ottawa (ON). It also made the Top 40 in Vancouver (WA) and Orlando (FL).
In 1971 the Poppy Family topped the Vancouver Top 30 with "I Was Wondering", while the B-side "Where Evil Grows" peaked on CKVN at #12. The group had another Top Ten hit in Vancouver with a cover of the Wildweeds "No Good To Cry" in the winter of 71-72. And in the spring of '72, the group had another Top Ten hit in Vancouver "Good Friends". The hits kept coming as Terry Jacks released his second solo single in August '72, the pro-environtalmentalist tune "Concrete Sea". At the end of the year Terry Jacks released a cover of the Buddy Holly "I'm Gonna Love You Too".
While Susan enjoyed performing live, Terry Jacks wasn't interested in touring. As a consequence, The Poppy Family lost the momentum they had briefly achieved internationally and their career was hampered. The professional relationship began to unravel and so did the marriage.
Terry Jacks is best known for his 1974 hit song "Seasons In The Sun". His followup singles from the Seasons In The Sun album, "If You Go Away" and "Rock N' Roll (I Gave You All The Best Years Of My Life)" peaked at #15 and #22 in Vancouver. Between 1975 and 1987 Jacks released nine more singles. Only one of these, "Christina", made the local pop charts.
After the mid-70s, Terry Jacks withdrew from the music industry. He got remarried and became a father. In 1985 he formed Environmental Watch. Jacks also produced a number of documentary short films over the following decades on the environment with titles The Faceless Ones, The Tragedy of Clearcutting, The Southern Chilcotin Mountains and The Warmth of Love (The Four Seasons of Sophie Thomas).
Jacks would go on to produce records for other recording artists including Nana Mouskouri, Valdy, George Jones and Buddy Knox. Jacks remarried and moved to Haida Gwai on the northwestern coast of British Columbia.
On July 9, 2014, the Poppy Family performed in concert at the Fox Cabaret in Vancouver. And three days later on July 12th, they appeared at the Khatsahlano Street Party on Vancouver's West 4th Avenue.
In 2016 Terry Jacks suffered two strokes.
July 27, 2020
Ray McGinnis
References:
John Mackie, "The Many Seasons of B.C. Singer Terry Jacks," Vancouver Sun, April 1, 2016.
"Terry Jacks bio," Canadian Bands.com.
"Terry Jacks bio," The Canadian Encyclopedia.ca.
John Mackie, Susan and Terry Jacks Fight Serious Health Issues in Hospital, Vancouver Sun, September 21, 2016.
MQ, "Interview with Terry Jacks of The Poppy Family," Stage Door, Vancouver (BC), May 7, 1970.
"Terry Jacks, Recording Artist, Producer and Filmmaker," Sophie Thomas.org.
Song of Songs 4:9
"10 Best Ways to Win Her Heart," Newsmax.com, January 31, 2011.
"Boss 30," CKLG 730 AM, Vancouver, BC, July 3, 1970.
For more song reviews visit the Countdown.