#403: Echo Park by Keith Barbour
Peak Month: November 1969
9 weeks on CKLG's Vancouver Chart
Peak Position ~ #3
1 week Hit Bound
Peak Position on Billboard Hot 100 ~ #40
YouTube: "Echo Park"
Lyrics: "Echo Park"
Keith Barbour was born in 1941 in New York City. He is an American singer-songwriter. While he was an undergraduate, Barbour was a member of the Jabborwocks, Brown University's oldest male vaudeville-inspired a cappella group. He was a member of The New Christy Minstrels from 1967 to 1969, singing their hit song "Green Green". During that time the 'Minstrels were singing their own versions of happy songs like "Chitty-Chitty Bang Bang". Barbour left in 1969 to pursue a solo career, signing with Epic Records. Barbour released an album, Echo Park, in 1969, which hit #163 on the Billboard 200.
From the album came the title track "Echo Park".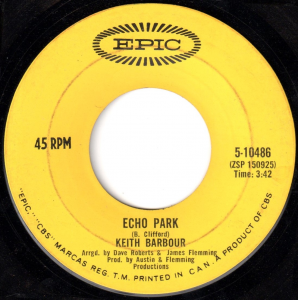 "Echo Park" was written by Buzz Clifford. Reese Francis Clifford III was born in 1941 in suburban Chicago. He learned to play guitar and won some talent contests in his youth. Clifford was signed to a record contract with Bow Records at age 15. He released "14 Karat Fool" and "Pididdle (The Car With One Light)" in 1958, but these got little interest. His debut single with Columbia Records, "Hello Mr. Moonlight", was a flop in 1960. But in early 1961, Clifford had a #6 hit on the Billboard Hot 100 with the million-seller, "Baby Sittin' Boogie." The song featured a real baby making cute "goo-goo" noises at the end of each refrain. Eager to cash in on the success of "Baby Sittin' Boogie," Clifford's record company tried unsuccessfully to turn him into a teen heartthrob. Buzz Clifford had a #12 hit in Vancouver (BC) with "Three Little Fishes" in the spring of '61, but the single failed to crack the Billboard Hot 100. He released four more singles into 1962 with little success.
So Buzz Clifford joined the National Guard. When he was released in 1964, he moved to Los Angeles and wrote songs recorded by Connie Stevens, the Music Explosion, Cliff Richard, Ruby And The Romantics, The Friends Of Distinction, Vic Dana, the Sandpipers, John Travolta, Clyde McPhattter and Lou Rawls. He was also part of the band Carp, which included actor Gary Busey. Clifford also collaborated on an album in 1969 with early Beach Boys member David Marks, but it was never released. Buzz Clifford died in 2018.
"Echo Park" tells of an old man who walks in Echo Park with the photograph of his son. Earlier in his life the he gets a letter from the U.S. military saying "Dear Sir, We regret to inform you, your son will not be coming home…" With the Vietnam War still raging and about to expand into Cambodia and Laos, the tune was discomforting for many American listeners, and was banned in numbers of radio markets. But in Canada, there were numbers of radio markets that sent the song into the Top Ten, including Vancouver with its tradition of having peace marches. Keith Barbour asks in the song's bridge: "Old man…do you measure life in years, or is one day all you'll ever know?" The impact of the tragic news of his sons loss haunts and consumed the father. And in his daily ritual of grieving, it is as though the only day that he remembers is the day he learned his son died in combat.
"Echo Park" was one of many anti-war songs from the late 60s and early 70s. Other anti-war songs at the time include "Eve Of Destruction" by Barry McGuire, "American Woman" by the Guess Who, "Ball Of Confusion" by the Temptations, "Daniel" by Elton John, "For What It's Worth" by Buffalo Springfield, "Fortunate Son" by Creedence Clearwater Revival, "Gimme Shelter" by the Rolling Stones, "Simple Song Of Freedom" by Tim Hardin, "Universal Soldier" by The Doors, "The Universal Soldier" by Glen Campbell and Buffy Sainte-Marie, "Brain Washed" by David Clayton-Thomas & The Bossmen, "Fly Little White Dove Fly" by the Bells, "Summer Side Of Life" by Gordon Lightfoot, "Lay Down (Candles In The Rain)" by Melanie, "One Tin Soldier" by the Original Caste, "Question" by the Moody Blues, "Sky Pilot" by Eric Burdon And the Animals, "Sweet Cherry Wine" and "Crystal Blue Persuasion" by Tommy James and the Shondells, "War" by Edwin Starr, "Imagine" by John Lennon, "Woodstock" and "Ohio" by Crosby, Stills, Nash and Young, and "War Song" by Neil Young.
"Echo Park" is about the profound loneliness the father feels. In the first verse we learn he has photos of both his departed wife and his son "who's been gone for many years." With these losses, the chorus tells us what he does with his time: "The old man walks in Echo Park. From bench to bench he moves from morning 'til dark. For the ducks some bread he brings. Wonder if he'll feed them this time next spring."
On one YouTube post of "Echo Park", a listener left this message:
"In memory of my brother:
L/Cpl Feliciano Rocha
B Co 3rd Recon Bn 3rd Marine Division
KIA July 27, 1969
Quan Tri Republic of Viet Nam
Belmont HS 1967″
Another listener, Jon Michael Rose, left this message:
"As a Vietnam vet, after all of these years, I still cannot listen to this song without completely falling apart. When we were little kids, we used to play army. After we would fake getting shot, we would all get up, laugh, and then play some more. In Vietnam, my buddies got shot. I am still waiting for them to get up……………….JMR"
Echo Park is a real park that is located just north of downtown Los Angeles and about a mile west of Dodger Stadium. It is located in the neighborhood of Echo Park, a community of 43,000. Some of its residents over the years have included actors Charlie Chaplin and Leonardo DiCaprio, film directors Mack Sennett and John Huston, musicians Jackson Browne, Glenn Frey, J.D. Souther and Frank Zappa, and evangelist Aimee Semple McPherson. In the heart of Echo Park is Echo Park Lake, a reservoir built by the City of Los Angeles in 1868. Land adjacent to the reservoir was acquired and in 1895 Echo Park was established, including boathouses. The park became popular for filming silent movies, especially Keystone Cops sequels. By the end of the 1910s the city had banned film studios from going to Echo Park on location since too many flowers were being trampled during shootings.
Several scenes from the 1974 Jack Nicolson film Chinatown, are shot in Echo Park, including one scene with people boating in Echo Park Lake. The Fast And The Furious and Training Day were shot in Echo Park. The 2011 film Drive, starring Ryan Gosling, was set in Echo Park. In the 2018 remake of A Star Is Born, Lady Gaga's character lives in Echo Park. The park features grassy picnic spots, water fountains, BBQ pits, a promenade around the lake and a dozen swan-shaped paddle boats.
In "Echo Park" the old man chooses to spend his time in nature to deal with his grief. Many studies suggest that when a person is grieving, or struggling with stress and anxiety, spending time in nature is mentally and emotionally constructive. One study out of Stanford University concluded that people who spend time in nature reduce the amount of time they ruminate about thoughts in their heads that are unresolved.
"Echo Park" peaked at #2 in Boston, #3 in Vancouver (BC), Pointe Claire (PQ) and Springfield (MA), #5 in Tulsa (OK), #6 in Bangor (ME) and Victoria (BC), #8 in Columbus (OH), and #9 in Providence (RI), Milwaukee (WI) and Edmonton (AB). The song stalled at #40 on the Billboard Hot 100.
Barbour had four follow-up singles in 1970-71, including "Bake Me A Woman" and "My God and I". But none of these broke out of the regional radio markets where they were minor hits. Barbour made one last attempt at a comeback in 1977 by releasing a cover of the Lovin' Spoonful's "Do You Believe In Magic". As with his other releases, it failed to chart. This made Keith Barbour a one-hit-wonder.
With his music career fading away, he got made some effort to get roles as an actor on TV. In September 1974, Barbour appeared in an episode of McCloud titled "The Barefoot Girls of Bleecker Street". In January 1982, Barbour was cast as a piano player in an episode of the action-adventure TV show The Fall Guy. And in December 1989, he played a cop in a TV series pilot called Chameleons.

"Echo Park" is Keith Barbour's legacy, with his gritty vocals evoking an experience of many parents who lost sons in the Vietnam War (and other wars before and since). Keith Barbour has kept a low profile and what he's been up to the past thirty years is off the radar.
October 7, 2020
Ray McGinnis
References:
"Keith Barbour biography," Imdb.com.
"Passings: Buzz Clifford (1941-2018)," Vintage Vinyl News, January 29, 2018.
"Glenn Frey's Echo Park Days," The Eastsider, January 18, 2016.
"On the Record: How old was Winwood when he recorded 'Gimme Some Lovin'  '?," Bradford Brady and John Maron, On the Record, August 23, 2020.
John Bengston, "Charlie Chaplin's Echo Park Home – 100 Years Later," Silent Locations.com, August 12, 2014.
Lauren Beale, "Shock Rocker Alice Cooper Readies to Give Up his In-town Retreat," Los Angeles Times, August 12, 2018.
"Leonardo DiCaprio Lists L.A. Property With Spanish-Hacienda Character for $1.75M," American Luxury, 2018.
"Memory Lane: The History and Landmarks of Echo Park," Echo Park Historical Society.
"Steve McQueen in East Los Angeles," Dear Old Hollywood blogspot, March 5, 2011.
Vanessa McGhee, "Mack Sennett: A Film Visionary," Echo Park Historical Society.
"Spend Time in Nature to Reduce Stress and Anxiety," heart.org, August 1, 2018.
"Boss 30," CKLG 730 AM, Vancouver, BC, November 7, 1969.
For more song reviews visit the Countdown.